The Tampere Supercross took place this past weekend, and although it didn't attract as much attention as the Genoa Supercross in Italy, don't tell the Finnish fans that were packed in there that this race wasn't the place to be. A couple of hours north of Helsinki, Tampere was hosting the supercross for the second time, and they were pumped—no, ecstatic—that one of their own, Harri Kullas, swept four main events over two nights.
I caught up with Kullas back in the pits after his fourth win to talk about this race, what he's doing next year, and some other topics.
Racer X: You had a really nice weekend. Talk about it.
Harri Kullas: After I got back from the USA, I had the German Supercross, and I had really bad luck there this year. I was really tired but tried to make the best out of it. I just wasn't good in Germany. I came here and was a little bit concerned about my riding because [Boris] Maillard and [Phillip] Neugebauer were here and they were in Germany and rode really well. I was thinking it's going to be a tough weekend. But the track was good here. I felt good. Every time I went out it was going better and better. I felt really good, especially today on the second day. I got good starts, I holeshot all of the races. It was easy going. I was picking up my pace and didn't have so many guys behind me. I had a good gap. I managed to make the quad and triple all the time. It felt really good. I think my riding was much more relaxed and much better than last weekend.
Maillard ran into some trouble today, but yesterday you caught and passed him in that second main event. That had to feel pretty good.
Yeah, I was in the lead there yesterday in the first day in the second race. But I made a small mistake. I hit neutral and Boris passed me. I was riding behind him, trying every different line there was, but I couldn't make it happen. Then in the end I saw some guys making a good line after the whoops, so I tried that and passed him before two laps to the finish. So it was good to race against him also. But today I was hoping in the second race that somebody's coming behind to have a good race. It felt also good to be in front and lead in the home crowd.
There were a lot of crashes behind you in that last main event.
Many guys like [Aaron] Lampi, he had a few crashes this morning. Some other guys also, all day long. I don't know, the track was maybe a little bit softer. You need to be careful in the super soft stuff. It makes it difficult. The past two years we have had a really soft and rutted track. It's really difficult, and you can make really big mistakes. But the track here was good, especially the first day. The second day was a little bit softer, but I think it was good. Perfect race for Finland I think. I think it wasn't so dangerous for our slower guys. I think it was quite good.
But then there was also a quad or triple for guys to try that was a little bit better.
Exactly. So we could make some difference. So it was nice for the fans also to have something different and bigger.
Speaking of the fans, it must feel good to win in front of the Finnish guys.
For sure. I've been here three years. First year Weston Peick was here and we had good battles, but he managed to take the win. Last year we had some guys over here, and I managed to take the win. So it was really nice to see that the guys are really supporting me. This year I knew they were going to be supporting a Finnish guy trying to win.
It also helps for next year. They want to come back and see another Finnish guy.
I hope that it continues. It's difficult in Finland to have a race more than three years because the fans stop coming for some reason. I think we got the most people out of these three years here watching. I think that's a positive thing. We had some guys from the USA, some guys from Europe riding. I think we had a good group, a good level of riding also. It was a good weekend.
You just got back from California. How do you like going there and practicing?
It's nice. It's warm. I have a good friend and coach; he's over there having a holiday. It's nice. The weather is good, the tracks are open every day, and they are prepped. It's good to go riding every day there.
Which track's your favorite?
When I first started going to Milestone, it was difficult because it was a little more supercross-like. So Milestone was difficult, but then I started liking it better. Lake Elsinore was also nice. They were good tracks for preparing for coming back here. It was quite good. I even rode there with motocross suspension. But still, when I compared myself to other riders I had good lap times, but hey, it is different. But every day there was some good riders there.
And you see some US guys, pull in behind them, and see how your speed is right?
Exactly, and try some different rhythm sections to get some confidence. The feeling was really good. To prepare for supercross, I think it's [USA] the best place. Also I have friends in France. They have some tracks, but in this time in October, November the weather is so bad, raining, windy, you can't ride every day. But in California it's good. I got an offer to ride East Coast Supercross, but I got already a deal done for British championships. I would really like to do some supercross in the future. With the bike difference, it's a little bit difficult. But let's hope that in maybe 2016 I can do some supercross in the US. That will be really nice.
I first heard of you when you got the ride with Geobors' team on the Rockstar team. Now you're saying goodbye to the GPs and riding the British Championship. Talk about that a little bit.
For me, the GPs have had some ups and downs. There were some good years with good races. Also, this year I had some good races like in Sweden and Finland. I think it was good. Lommel wasn't so bad. I like the sand. In Finland we have many sand tracks. The GPs has been a good experience, but it's time to make some change. I want to try some different championships.
I think the British Championship will be tough next year. It's a good level with good tracks, and I have a good team behind me. I think it will be something new, good new motivation. I think it will be good to try something new. The thing is you can win some bonus money and prize money. That's the thing. Our sport is risky; it's a risky life we lead. We put in a lot of effort. Every day we are training, riding, and it's hard. You put so much money in; you put so much time there, and then it's so risky and you get nothing. I have so good sponsors in Finland that I can go to races and at the end of the year maybe I break even. But I get nothing in the pocket. So it will be nice to have some Euros.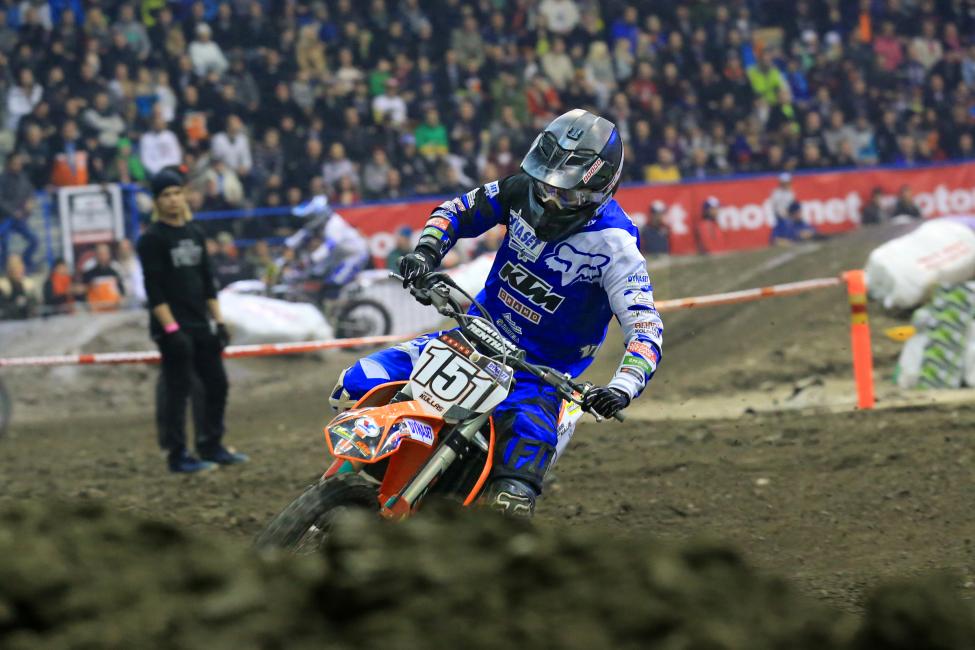 It seems like the British Championship is gaining some momentum over the last few years. It seems like a lot of good riders who could go to the GPs choose to race there.
Also in France, in Holland, there are a lot of different races. I think after racing GPs my opinion is we need to pay the riders and the teams that they have a bit of a budget also. Let's say 2015, we haves six overseas races. That's so much money just to do six races, but you have sixteen GPs overall, so you need to put so much money there. I think that's a bit crazy, but it's not my thing. Guys are riding there. I have a different thing going on. I changed my championship and I'm happy there.
How's Ryan Villopoto going to do next year?
It's going to be nice to watch. I think the Euro tracks are way different. But he's a tough guy. I think he's really, really hard worker. I've seen some videos that sometimes it seems he loses his motivation, but it's every rider's thing. Every rider loses motivation, and they don't want to ride. But I think he is a tough worker because you can see he won four straight supercross, so that's a lot.
I don't think Americans realize how good Antonio Cairoli is though.
That's also true. The Euro tracks are different, and we also work very hard. I think the tracks get a little bit tougher and more bumpy, but differently of course. You need to get used to it. Tony, he has been like when he was a child racing all the tracks. He has the advantage for that, but I think we are at a high level now with RV and Antonio. Everybody's speaking about Antonio and RV, but I think there are some other guys also next year who are going to be really good. Like [Gautier] Paulin, I hope he can stay "on" more often next year. He had some bad luck also with the injuries. It's not his fault, but I hope he can stay there to get more exciting. I like Maximilian Nagl. He did a good job. He did a contract with ICE Racing. He really liked the KTM, and now the Husqvarna is quite close to that bike. So I think if he has some good starts he can stay in the top ten. We'll see. It's going to be a nice year next year.