Some don't understand motorsports. They can't appreciate a sport where a machine does part of the work. But those that do love it understand completely that the machine doesn't subtract from the hero's work; it adds to it. That's because the machine can kill you.
Adding gasoline to the mix adds speed, and speed adds danger. Fearlessness is the main ingredient to doing well in motorsport, but the riders and drivers all possess it, so it gets taken for granted. Fear first must be overcome before talent, hard work, dedication, or any other factors can come into play. A road racer must be willing to scrape a knee puck at triple digits before anything else can matter. A car racer must be willing to break traction at 150 mph. A motocrosser must be willing to huck something huge. Without the machine, these feats aren't possible. Without the fearlessness to push the machine, the machine itself doesn't matter, either. This is the essence of man and machine, and the essence of motorsports.
Take it a step further and realize the machines are built and tuned by human hands, and you can remove the unemotional and scientific part of the equation altogether. It's still people against people, really.
Motocross and supercross take it further because the rider does a larger percentage of the work, making it the most realistic racing series of all. All motorsports crown an individual champion at the end of the season, but most know that the champion himself was just a portion of the picture. The car or bike matters a lot. In this sport, the best rider usually wins, regardless.
Usually.
As of late, we're seeing the debate swing a little further in the other direction. There are more riders talking about bike changes than usual, from setting changes during the weekend to full-on team and brand switches during the off-season. The debate of bike versus rider will rage forever without an answer, but I can say that right now the bikes seem like a bigger topic than usual.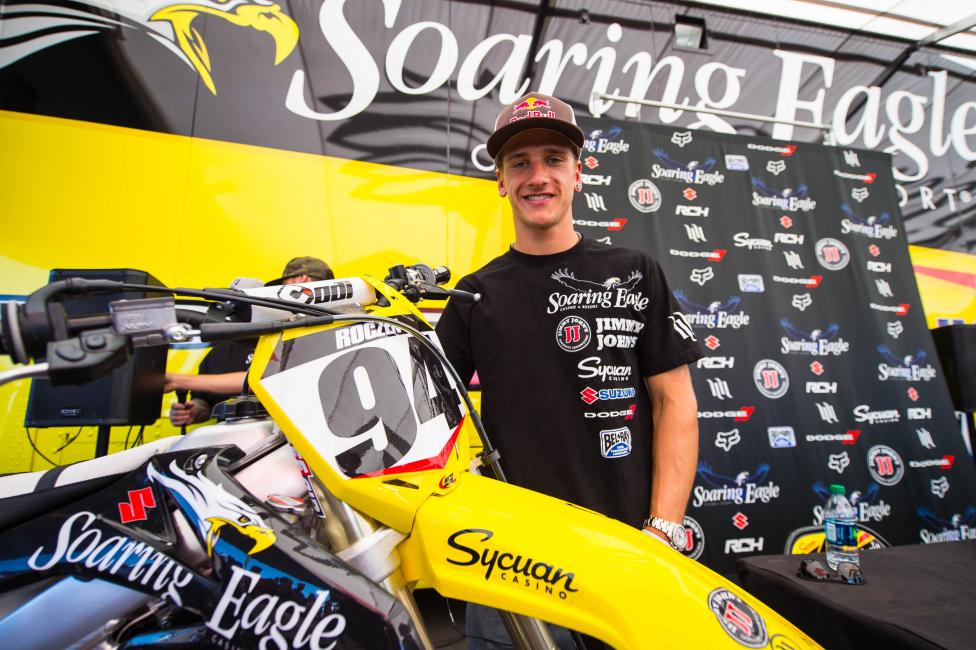 When we get to Anaheim for the start of Monster Energy Supercross, we'll still talk rider versus rider. We'll compare Roczen to Dungey, Barcia to Tomac, Canard to Millsaps, and beyond. We will frame it as man against man. Deeper inside, though, it is man against his own machine. Whoever finds the better combination becomes champion.
Let's just think about all the huge questions for 2015 that crop up simply from rider and team switches. Have a look:
Ken Roczen to Suzuki: Here comes the standard question: "How could Roczen say he needs a new bike? He just won the title on the KTM!"
Fair point. Yet Roczen has now outlined what he didn't like in that steel-framed KTM. He's said he could feel the steel frame flexing and then had to change his suspension to compensate. He is confident that he will be better on a Suzuki, which is the brand he grew up riding.
Still, the move struck some as odd considering the success Roczen has had on orange bikes and the general momentum for the brand. Who could leave KTM now? But even that could strike some as odd. We're really in a world where some see KTM as a more solid bet than Suzuki? My how quickly things change.
Also, Roczen will be the first RCH Factory Suzuki rider ever expected to win a 450 title. It's new ground for the team, but ground they're ready to tread. A look inside their hauler reveals a very experienced staff that has been there before, just wearing different shirts while doing it. And I'm not just talking Ricky Carmichael here; I'm talking about suspension and chassis and data guys who have held high positions with other winning teams. Over the last two years RCH just kept adding staff, and now we see what they were preparing for. There's still this debate going on whether RCH is a factory team or not. That debate should be over—they have the good parts from Japan. Full stop. Now the question is: Will the brand switch Kenny wanted really make him better?
Remember, though, that all of Suzuki's troubles in the market have never really been reflected in the bikes. The RM-Zs have been considered solid machines for years, and some high-profile riders made big career decisions because of these bikes. See below for an example.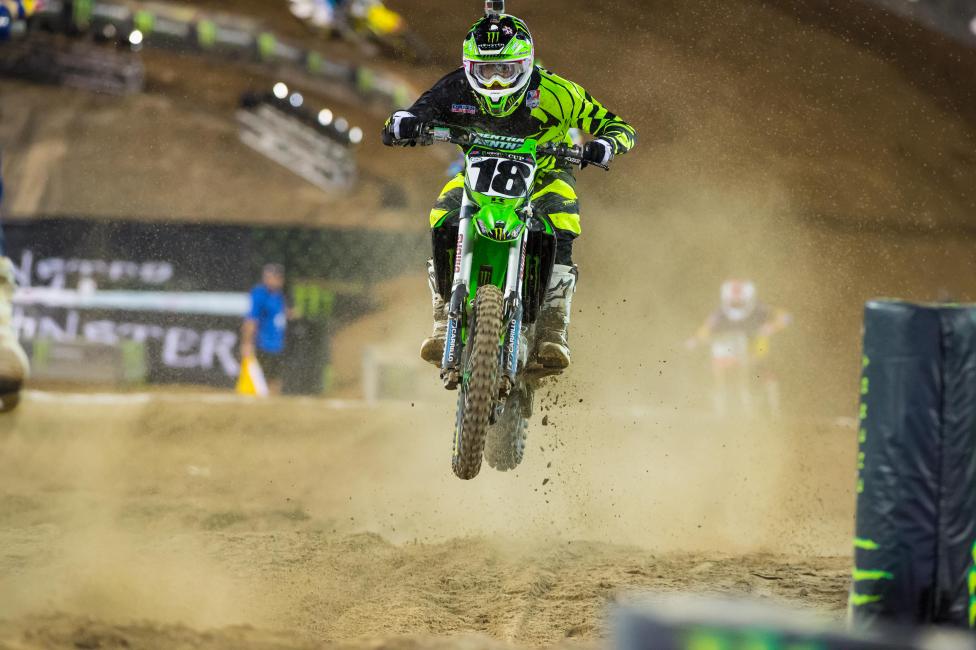 Davi Millsaps to Kawasaki: You want to talk about bikes making a difference? Davi Millsaps didn't race at all in 2014 due to injury…at least that's what we were told. There was also this undercurrent that said Millsaps didn't like the Rockstar Energy Racing KTM he was supposed to ride last year. Hmmm, Millsaps did well on a Suzuki in 2013, so does his love/hate for the RM-Z/SX-F actually prove Roczen made the right move? Can you really draw brand parallels between different riders on different teams?
Now Davi's on a Kawasaki. Unlike Roczen, he doesn't have a previous connection with the brand, but the brand is connected to the last four supercross titles. It's connected to Chad Reed choosing Kawis and winning on them. All of this sparks that age-old debate: How much of this recent success came from bike or rider? Does stuff that worked for Villopoto's style even translate to Millsaps?
Justin Barcia to Yamaha: Barcia walked the tight rope last year by nearly saying negative stuff about his current team—almost. At one point, he did tell me of his struggles: "It's not all me."
You do the math.
He's switched from the brand he's always ridden to a brand he's never ridden, which speaks volumes. But the data is still light on this Yamaha. The previous gen bike was not loved by most in the pro pits. The new one debuted a year ago and seemed better, but it's a huge jump to go from "bike no one wanted" to "bike to beat" in twelve months. Can it be that much better? Maybe it doesn't matter. Barcia wanted a change, and I think he gels with this new team personality wise. Sometimes with man and machine, it's the men behind the machine that matter just as much.
Trey Canard and those new forks: I don't know if a set of forks has ever gotten this much attention, but I also don't know if they've ever made this much of a difference! We can now chart a line between Canard before and after KYB (BKYB and AKYB). BKYB, he was a notch off of Roczen and Dungey in the nationals (yes, and they were on those darned KTMs that Millsaps and Roczen, um, wanted to leave). AKYB he was as good as anyone. His performance in the Monster Energy Cup only furthered the point. Now Eli Tomac has grabbed those forks, too. Perhaps not coincidentally, Barcia has the same KYB forks on his new Yamaha.
Look, now that everyone is on EFI four-strokes, air forks are probably the biggest bike change going these days. Engineers will tell you the suspension action is superior (and, by the way, they weigh and cost less), but riders at the top level haven't been so sure. This push and pull has led to big fluctuations in performance, so maybe it's not crazy that fork changes can make such a difference right now. But, will it make all the difference in Canard winning races again in supercross?
There is, of course, the chance that none of this adds up to a difference at all. This sport will always be more rider than bike, and maybe the percentages of change discussed above won't be enough to impact the results. Come next season, as always, may the best man win. But how much of that man will be made by his machine? That might end up as the most important question of all.