Welcome to Racerhead. It's a slow week, race-wise, but next weekend will be a big one: The 2014 Motocross of Nations will go off next weekend at the Kegums track in Latvia. You can watch it live online with a weekend package at www.mxgp-tv.com. We're already planning on getting some kind of Racer X office viewing-party going, though with the race starting at around 6 a.m. ET Sunday morning, we can't figure out if we're going to stay up late or wake up early! Either way, we'll be watching. More on that later.
A different kind of motocross race will be going on next weekend (September 26-28) down in Texas. The Jesse Masterpool Challenge will be implementing some new ideas and concepts into motocross/supercross racing that will hopefully add measures of safety as well as competitiveness. It's all in the spirit of Jesse Masterpool, a rider whose life ended too soon and will never be forgotten by his family, his friends, and his fellow competitors. Ever since Jesse's tragic crash at Lake Whitney back in 2010, the entire Masterpool family has dedicated themselves to the mission of making motorcycle racing safer at all levels. Jerry Masterpool can often be found on the track at major amateur events (including Loretta Lynn's), doing whatever he can to improve the racing while always keeping an eye out for ways to make it safer. He's been a very positive influence, and his help is not only greatly appreciated, it's very beneficial in helping organizers present a smart, fair, and safe motocross track. While we may not always agree on theories and concepts involving race-craft and track design, we do agree to never stop the conversation about making the sport better and safer. The Masterpool Challenge is yet another way to present these new concepts, and I hope riders and their families turn out in Paradise, Texas, to support this new event. For more information, check out the website or call 775-848-8470.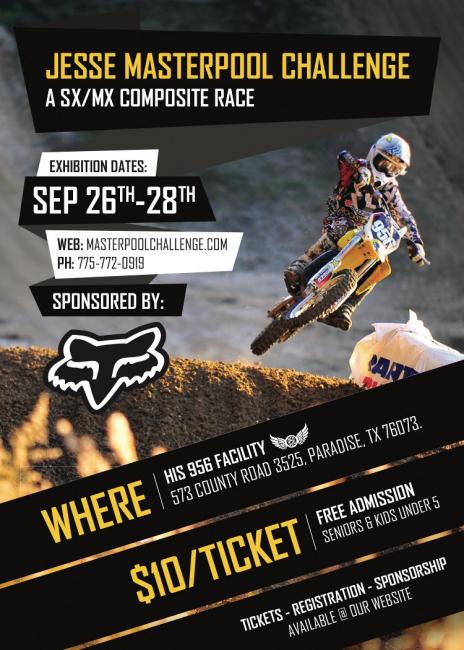 On the professional level, there's not much going on this weekend, as the FIM Motocross World Championships (which started back on March 1 in Qatar) finally came to a conclusion in Mexico. As you recall, soon-to-be-ex-Red Bull KTM rider Jordi Tixier had a chance to overtake the injured points leader and teammate Jeffrey Herlings for the MX2 crown, only to have Herlings bravely show up and race with a still-mending femur that he broke less than two months ago. Herlings gave it hell—full respect—but Tixier did what he had to do to win both the race and the championship. The drama included a second-moto crash where Tixier was practically landed on Aleksandre Tonkov, who then got stuck in the Frenchman's back wheel. All seemed lost at that point for Tixier, as even the limping Herlings went by. But with only fifteen actual GP riders in the race, Tixier didn't have to pass thirty-nine other guys to get to the front (none of the four Mexican riders even finished on the lead lap). He just needed to beat Herlings by a few positions. Tixier did it, and again, to Herlings' immense credit, he still finished tenth in the moto.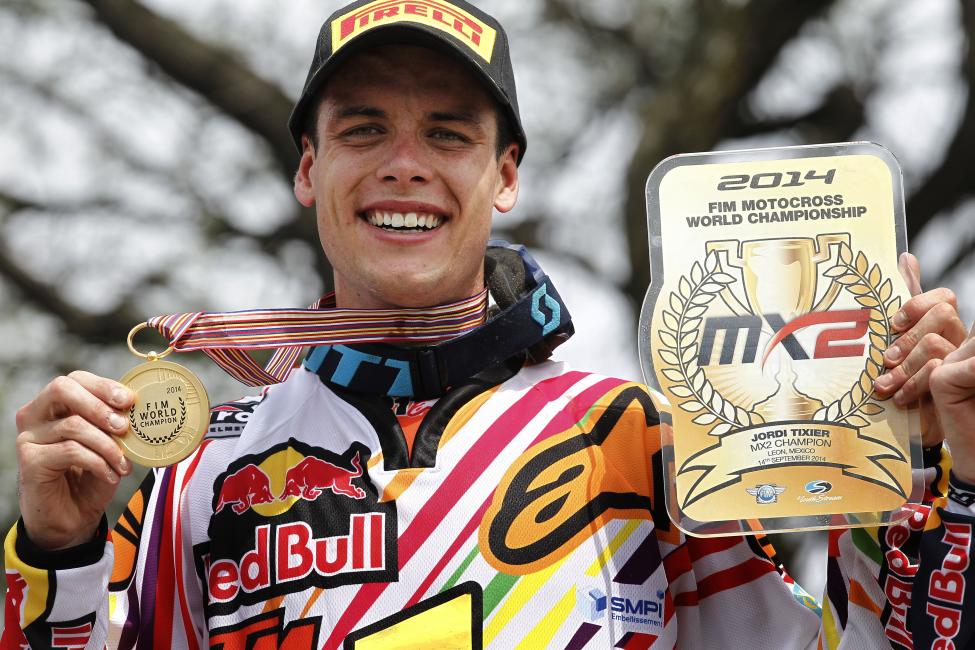 Hidden in all of the drama of Herlings' painful attempt to hold on to his title was the personal pain that Tixier and his whole family were going through, as just a couple of weeks earlier his brother had a crash on a bicycle and suffered a spinal injury. When asked about it after the race by our GP correspondent Adam Wheeler, Tixier said, "For sure my brother was on my mind, and when I was behind [Glenn] Coldenhoff, I knew I had to push with everything I had to overtake; if I died after the race, then I would not have cared! I made it to third, and the fact that I had managed to get my dream just hit me when I crossed the line. Jeffrey was injured, but I just did my best, and it feels so good to be another world champion for France."
Tixier and Herlings did well, and afterwards told Wheeler just how gnarly the whole deal was, which you can read right here.
Of course Herlings won't ride the Motocross of Nations next weekend, but neither will Tixier—he was not selected to the French team, which shows how overlooked he was by everyone before Herlings' injury. France will still have a strong team with Gautier Paulin, Dylan Ferrandis, and Steve Frossard, though one can only guess what a team of, say, Tixier and former world champs Christophe Pourcel and Marvin Musquin might have done!
In the MXGP class, Max Nagl continued his great year-end run with another win in Mexico, though Tony Cairoli had already completed the task of clinching his eighth title the previous weekend in Mexico. Now Cairoli is getting ready to ride for Team Italia on a KTM SX-F 250, as he feels riding the MX2 class will give Italy it's best shot at the win (and maybe he can pull off one of those epic riders to win against all of the big bikes, like Steve Lamson did in 1996 and Cairoli himself did ten years later, and of course Ryan Villopoto's 2007 masterpiece at Budds Creek, where he won both motos for Team USA).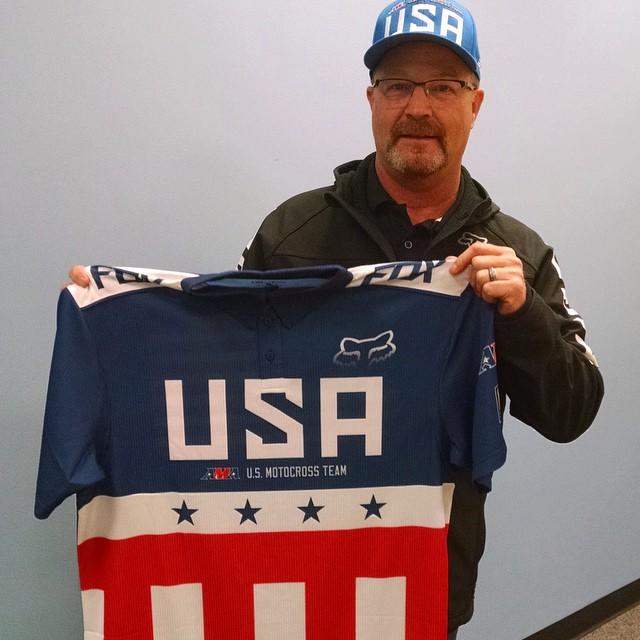 Which brings us to Team USA 2014. I spoke to the AMA's Kevin Crowther this week about some of the logistics for Team USA's Ryan Dungey, Eli Tomac, and Jeremy Martin, who will all be heading to Latvia early next week. The team is traveling lighter than normal this year—Latvia is a little further away and harder to get to than recent venues like France, Belgium, and Germany—and he hopes that helps build some extra camaraderie and spirit among the riders themselves. For instance, Ryan Dungey's mom Michelle and fiancée Lindsay are staying back—they have a wedding to plan! ("I immediately apologized to Lindsay for throwing off her wedding after Ryan told us he wanted to race after all!" said Crowther.) They are planning on riding Thursday near the Kegums track, and then move-in day is Friday, with practice and qualifying on Saturday (and www.mxgp-tv.com will also have the Saturday qualifying races live). As for the bikes and team equipment, it's already been delivered to Latvia.
Crowther was in Mexico last week for the GP finale and got a chance to speak with Youthstream's Greg Atkins, in order to get a little intel on the track the Americans will be seeing for the first time next weekend. It sounds (and looks on video) like it will be a soft track (not anything like Lommel two years ago), though it should get pretty rough given a full weekend of racing.
So, one more week, and then it will be time for the world's fastest motocross nations to all gather again and race it out. Belgium's reigning champs, Joel Smets' Red Knights will be back, and they certainly have some inspiration in the career-ending injury to longtime Belgian favorite Joel Roelents, who broke his back at the Italian GP at Maggiora earlier this season. The Americans were second last year, which was a great result for any other country, given our history at the Motocross of Nations. After helping lead the team to three straight wins from 2009-11, Dungey has had two "off" years at this race and certainly has something to prove, as does Eli Tomac, who threw it away at the end of an epic duel with Ken Roczen last year in Germany. And for Martin, this is his first go-around at the MXoN, which is not exactly a small race to make your international debut! Knowing all three of these guys well, I think they will do us all proud next weekend—thanks to all three of them, as well as their support crews and families and team officials for taking the time and effort to stay in the gym this past month after the Lucas Oil Pro Motocross Championship ended in August, all in the hopes of winning the Motocross of Nations for Team USA.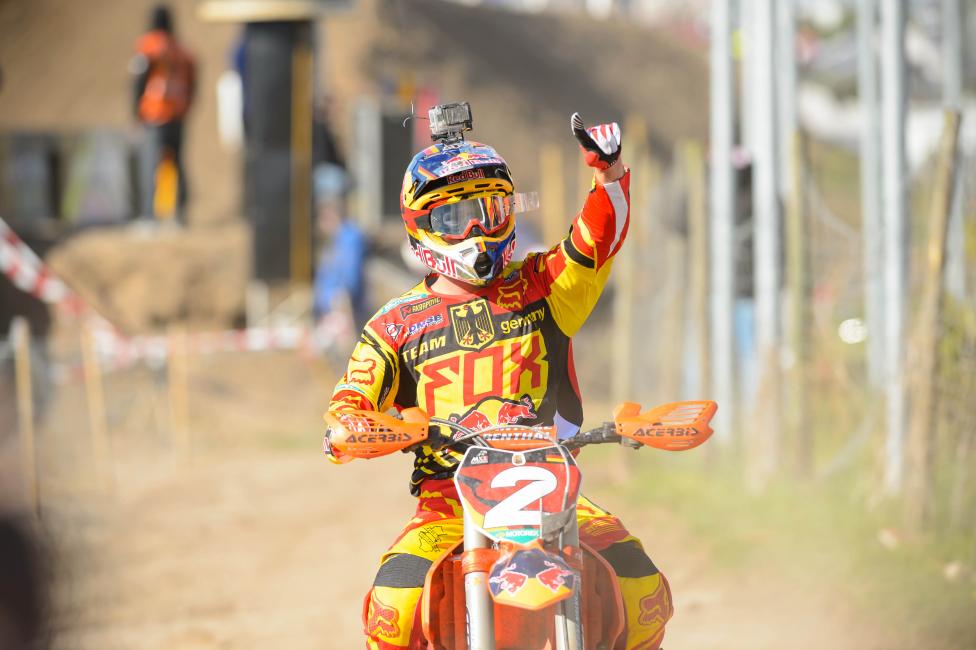 And finally, let me mention Ken Roczen, our new AMA 450 Motocross Champion and winner of the MX2 class the past four years at the MXoN (yes, four straight years). Roczen is not going this year, much to the disappointment of his fans in Europe and especially back home in Germany. He's switching teams right now, but that's not the reason he's not going. Rather, Roczen is in the U.S. on a limited visa and is working on an extension. Leaving the country without having all of your paperwork in order is a HUGE risk—ask Dean Wilson, who once couldn't get back in from Canada to race, or Mackenzie Tricker, who was having difficulty returning from Australia. Roczen just raced his first full season on the AMA circuit, as in seventeen supercross races and twelve outdoor nationals, and he would surely keep going if not for the risk in returning before his work visa is extended. Once that's all sorted, I am sure he will be back in 2015 to race for Germany when the Motocross of Nations is held once again in France.
PRO SX MX TECH (Andrew Fredrickson)
If you've ever wanted to spin wrenches for a professional rider, there's a new program in place to put you right there every weekend working on bikes. Pro SX MX Tech is an eight-month education course based out of Morgantown, WV, designed to get you working on the bikes of the best riders in the sport. Chistophe Pourcel's mechanic from this season, Scott Adkins, is heading up the course. Getting through a year of motocross while winning races without a single DNF is an impressive task for a mechanic, and Adkins did just that in 2014. He's also won supercross races while working for Ryan Sipes! Speaking with Adkins, we've learned that it's not just learning about fixing up bikes, but more of a program to get you on a race team itself. "When a student shows promise, I would not hesitate to introduce them to Bobby Regan or Mitch Payton," Adkins said. He still holds many close ties with the Star Racing and Rock River teams, too, and he plans to work with them during his courses to show students exactly how a team operates. And if field trips are your thing, you're in luck. His plan is to get you under the tent of a team at one Monster Energy Supercross race and two Lucas Oil Pro Motocross races in 2015, to introduce you to the people who might end up hiring you one day. That being said, if you're looking to learn a thing or two about working on race bikes, check out http://www.prosxmxtech.com. Spots for the course starting on October 20 are still open. And hey, if you're in Morgantown, you can check out the Racer X Headquarters too!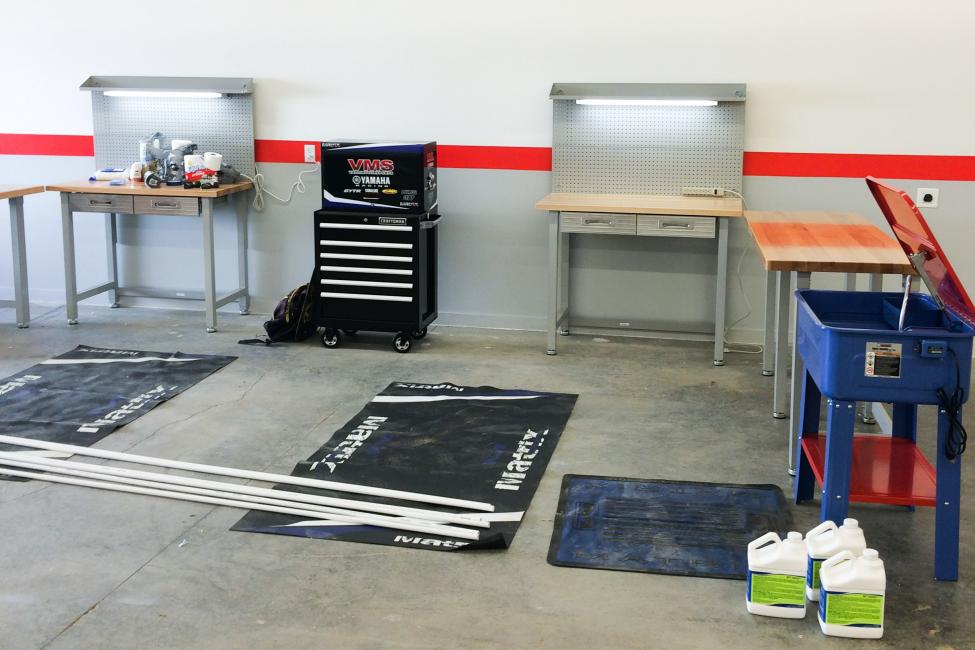 MORE RIDERS FOR STRAIGHT RHYTHM (Chase Stallo)
Red Bull confirmed eight more riders today for the inaugural Straight Rhythm race presented by Dodge Dart at Auto Club Raceway in Pomona, CA. The first eight riders announced for the 250 Class are Marvin Musquin, Justin Hill, Zach Bell, Jessy Nelson, Nico Izzi, Darryn Durham, Jordon Smith, and Ryan Surratt. The name that sticks out the most of the first eight is former Motocross Rookie of the Year Nico Izzi. He last raced in 2013 with Rockstar Energy Racing, before suffering a torn ACL in the same knee that was repaired in October 2012. Izzi did not race Monster Energy Supercross or Lucas Oil Pro Motocross in 2014, but has been posting updates on social media that he is looking to return next year.
Red Bull announced last week that Travis Pastrana, Ryan Dungey, James Stewart, Josh Hansen, Josh Hill, Brett Metcalfe, Cole Seely, and Dean Wilson had been confirmed for the 450 Class. The inaugural event takes place on October 4, and NBC will be airing the event as part of the Red Bull Signature Series on Saturday, December 20 at 4:00 p.m.
And if you live in Southern California and you're looking for something fun to do tomorrow, head out to Milestone MX and check out their Red Bull Straight Rhythm Ride Day, a primer for the big one coming up in two weeks at Pomona.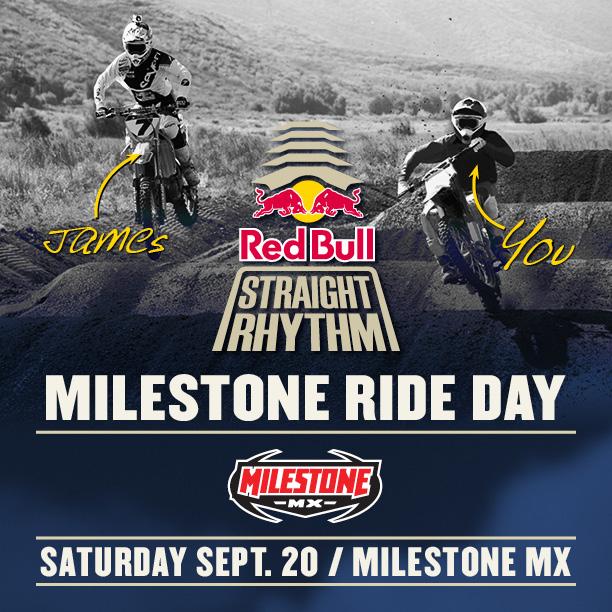 GNCC RETURNS TO THE KEYSTONE STATE (Jared Bolton)
GNCC Racing makes its return to the Keystone State this weekend with the Mountain Ridge GNCC in Somerset, PA. The series last visited Mountain Ridge back in 2011, where Charlie Mullins took the overall win while Paul Whibley, Josh Strang, and Nate Kanney all battled down to the wire for second place. This year, all eyes will be on Factory FMF KTM's Kailub Russell, who looks to clinch his second straight career GNCC National Championship at round eleven.
The rocky Pennsylvania terrain will offer up a challenge to the riders. Kailub Russell has developed his technical riding skills immensely since the last time we visited Mountain Ridge, but he'll still have a challenge in the form of Josh Strang, who has climbed into second in series points. There are also a number of other challengers such as Thad DuVall and Chris Bach, who both had a stellar performance at the previous round at Unadilla. Then there's Pennsylvania's own Andrew DeLong, who is fresh off of wrapping up the AMA National Enduro title last weekend on his Husqvarna.
It's definitely going to be a great race to watch, so be there! Or if you can't make it, catch all the action LIVE on RacerTV.com with ATV action at 1 p.m. EST on Saturday and the bikes at 1 p.m. EST on Sunday. Don't miss it!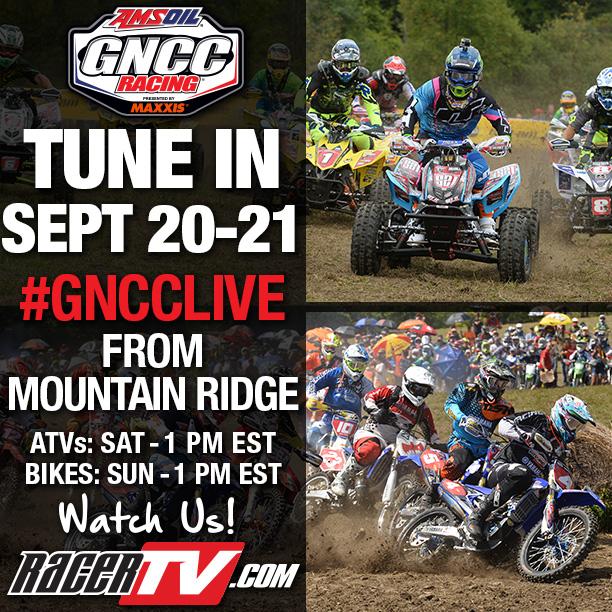 CLOSING STATS (Andras Hegyi)
Even though he never got to hold the red plate as the points leader in any of the first thirty-three motos of the series, Red Bull KTM's Jordi Tixier held it when it mattered most: after the thirty-fourth and final moto in Brazil.
Here's what the stats look like on the whole MX2 series—the statistical notes for this year's MX2 World Championship
In every statistical list, Jeffrey Herlings was ranked the highest, but these outstanding results weren't enough to get the title. His broken femur kept him back from getting his third consecutive title.
GP Wins
Jeffrey Herlings 12
Jordi Tixier 2
Romain Febvre 1
Arnaud Tonus 1
Max Anstie 1


KTM 14
Husqvarna 1
Kawasaki 1
Yamaha 1
GP Podiums
Jeffrey Herlings 12
Jordi Tixier 10
Arnaud Tonus 7
Tim Gajser 6
Dylan Ferrandis 4
Romain Febvre 3
Max Anstie 3
Glenn Coldenhoff 3
Valentin Guillod 2
Christophe Charlier 1


KTM 24
Kawasaki 11
Honda 6
Yamaha 4
Suzuki 3
Husqvarna 3
Moto Wins
Jeffrey Herlings 22
Jordi Tixier 3
Tim Gajser 2
Glenn Coldenhoff 2
Romain Febvre 1
Dylan Ferrandis 1
Arnaud Tonus 1
Christophe Charlier 1
Max Anstie 1
Laps led
Jeffrey Herlings 349 laps
Jordi Tixier 61
Max Anstie 51
Tim Gajser 31
Glen Coldenhoff 29
Arnaud Tonus 22
José Butron 22
Romain Febvre 17
Christophe Charlier 12
Valentin Guillod 8
Dylan Ferrandis 4
Jeremy Seewer 1
Julien Lieber 1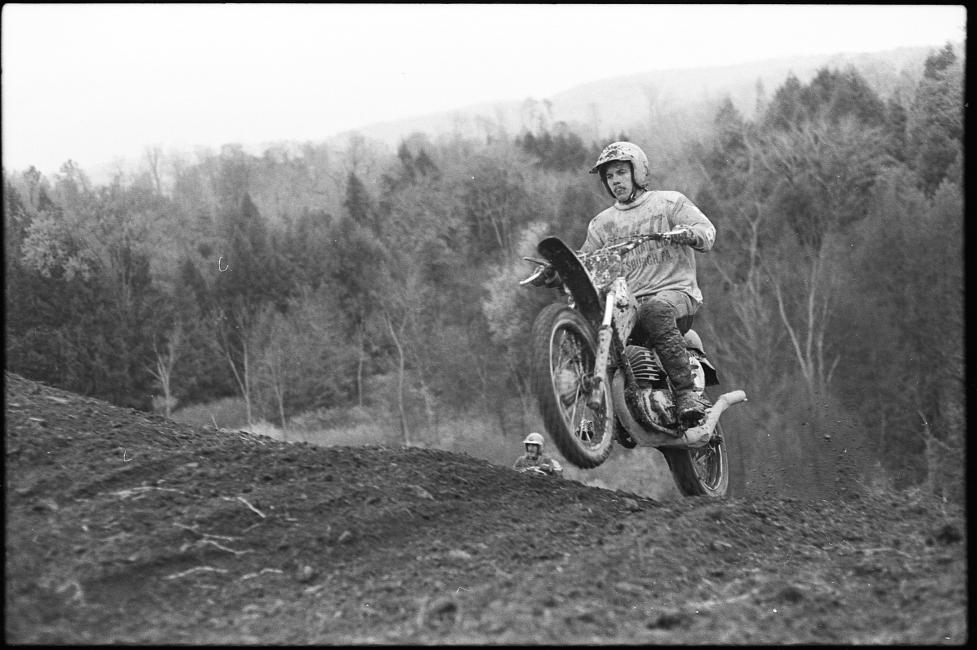 Check out this cool old-school photo we found of John Ayers at the 1975 Unadilla Trans-AMA, riding a Maico. Ayers is the Operations Director for MX Sports Pro Racing as well as the founder of Gear Racewear and Moto-Tees. He's probably been to more outdoor nationals over the years than anyone except maybe Bevo Forti!
COBRAS DOWN UNDER (DC)
In The List yesterday, we provided an overview of brands that have enjoyed periods of sheer dominance, like Husqvarna's off-road teams in the seventies and eighties, or Team Honda's impressive supercross run with Johnson, Stanton, Bayle, and McGrath. The American-made junior minicycle juggernaut that is Cobra was included in this. The brand has won at least one title at Loretta Lynn's in the 50cc classes in each of its twenty years of existence. And next weekend, while Team USA's Ryan Dungey, Eli Tomac, and Jeremy Martin are taking on the world in Latvia, a trio of Cobra kids will be carrying the flag down under in the Australian Junior Motocross National Championship held at MacArthur Motocross complex in Appin, New South Wales—the Loretta Lynn's of Australia.
Wisconsin's Johnny Weber, Missouri's Brock Lassiter, and Pennsylvania's Mason Tucker will all be there battling for 65cc and 50cc Australian titles.
"What a great experience this is going to be for Johnny, Brock, and Mason, along with their families—extending far beyond the racing side of things," said Cobra Moto President Sean Hilbert in a press release from the Michigan-based factory. "Educational, cultural, and global competition—this is going to be something special for all of our Cobra Moto kids involved. Everyone at Cobra Moto is thrilled we were able to help bring this great opportunity together."
Remember those three names—Weber, Lassiter, Tucker—because someday they just might be the Dungey-Tomac-Martin of pro motocross. Good luck down there, boys!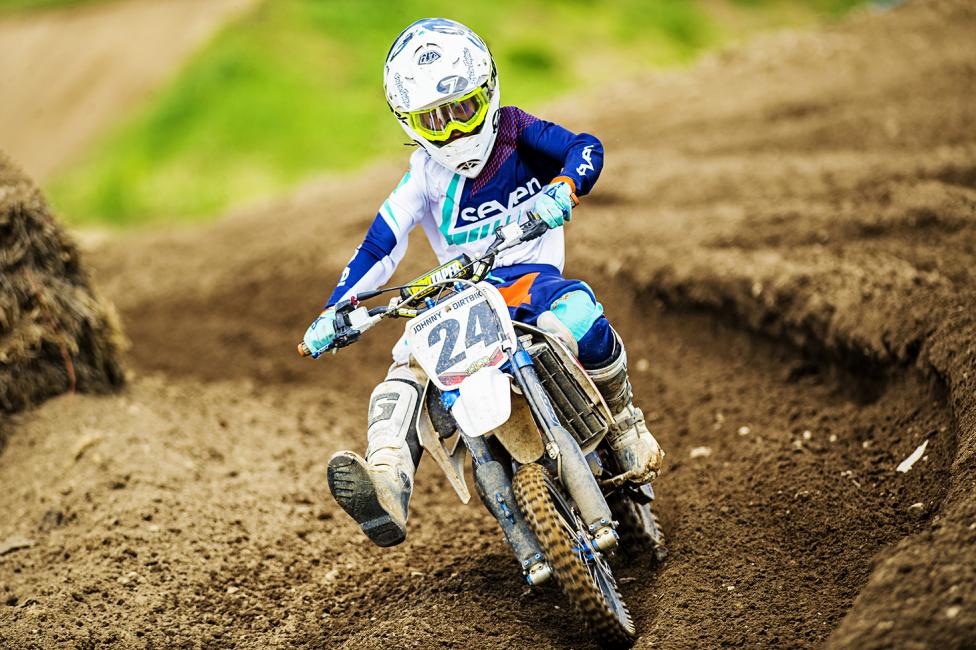 "After years and years of trying to achieve his dream, @aaronplessinger57 has finally reached where he has always wanted to be. Saturday he is moving to Cali to pursue the rest of his dreams! It's crazy that he is actually going pro this coming year and I'm so excited for him. I can still remember the days of Aaron, dad and I going to the harescrambles and dad having to push Aaron around cause it was too muddy for his bike to even move or the days on little bikes at Loretta's. I can't even tell you how excited I am to see you race supercross this year! I know you're gonna kick ass just like you always do. I love you @aaronplessinger57 and I'm so proud of you!"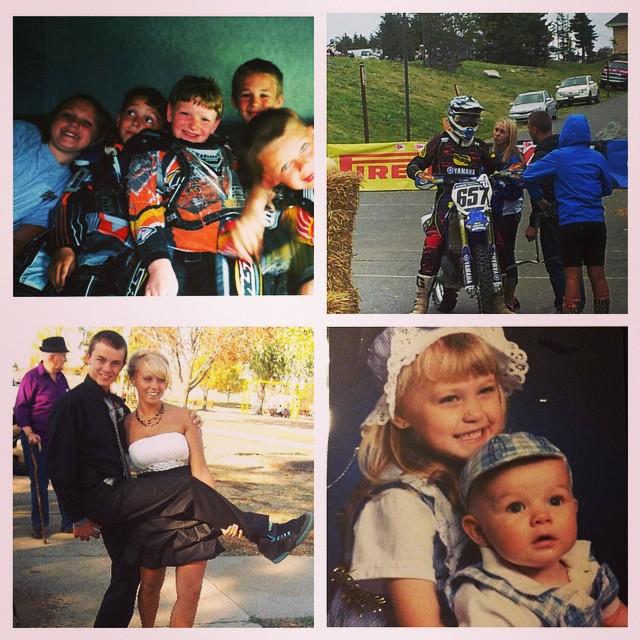 HEY, WATCH THIS!
MXoN 2014 2 days LIVE - FIM Monster Energy FIM Motocross of Nations
RANDOM NOTES
A couple of cool off-track events have been added to the Jesse Masterpool Challenge, which is coming up next weekend at the Masterpool facility in Paradise, Texas. On Friday night the Bonfire Concert will feature live performances from Gary Kyle and The No Standards Band for what they are calling the Bonfire Concert. And then on Saturday Night attendees can take tethered hot-air balloon rides on "Spider Pig," one of the headline balloons at the upcoming Albuquerque International Balloon Fiesta.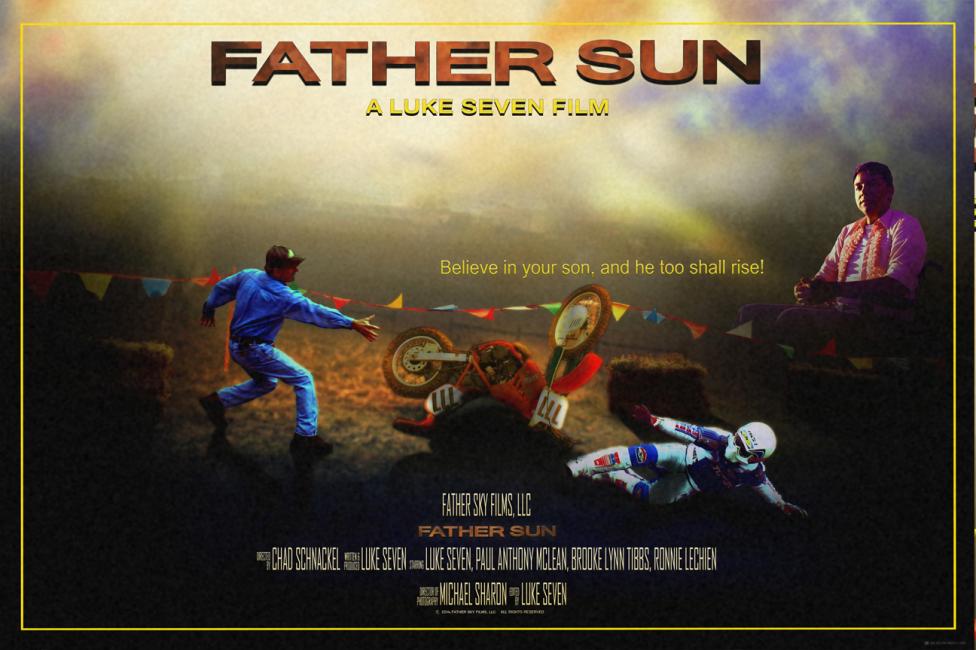 Father Sun is a motocross movie project by Luke Seven. He is currently running a crowd-funding campaign with the help of Ronnie Lechien and Green Mountain High School in Lakewood, Colorado to complete the picture. Father Sun shares the epic journey of how the sport of motocross brought a father and son together, and how one ill-fated race tore them apart. According to Seven, "This movie is guaranteed to warm the hearts of the motocross community and keep them on the edge of their seat." The plan is for the film to be released on DVD in the summer of 2015. Here is a link to the crowd-fund campaign.
There are several different ways readers and riders can participate: from donating $25 and getting a photo of yourself riding into the film, to donating $2,500 and actually appearing in the movie—a final race scene, made out to look like a mid-80s outdoor national, will be a major scene in the film. For more information and opportunities, check out www.FatherSkyFilms.com
That's it for Racerhead. Thanks for stopping by, see you at the races.