At last weekend's FIM Motocross World Championship finale in Leon, Mexico, Red Bull KTM's Jeffrey Herlings defied odds, advice, and the feeling in his own left leg—just seven weeks after snapping his femur—as well as the effects of a stomach infection to try to defend his shrinking advantage in the MX2 standings. With a 23-point lead (almost one moto) over teammate Jordi Tixier, the 20-year-old Dutchman hobbled to Mexico to try for a third crown to complement his twelve victories this year (eleven straight) and nine Grand Prix shut-outs. Tixier, though, won the first race and came back from a first-lap collision with Alex Tonkov in the second to take third place and the championship; Herlings managed a 14-10. We grabbed an exclusive chat with a gaunt and pale outgoing #1 after the race. Herlings was clearly in pain and disappointed. Here's what he had to say.
Racer X: Jeff, did you believe you would win it anyway this year? One hundred forty-five points was still a lot when you were lying in a hospital bed.
Jeffrey Herlings: Well, I wish it had been 149 points! It's racing. I'm happy for Jordi, but I'm also disappointed because I worked so hard and there have been many disappointing things and bad luck happening this year. Obviously, Jordi had all the luck in the world with me being injured and [Arnaud] Tonus and [Glenn] Coldenhoff also out. Anything can happen in motocross. He is World Champion and I'm not, but I know I was the fastest guy and dominated all season. In my heart I know I was the best.
Was it hard to watch those races in Czech, Belgium, and Brazil and see Tixier taking all those points away?
Definitely. That's why I came here. There was so much frustration. Before the Grand Prix in Brazil, I was not planning to ride until I had totally recovered, and then in Brazil he didn't do so well. So I was hoping if he would go 5-5 here and I could manage something like a 12-12, then I would get the championship. I must say that I was really shocked. He had a lot of pressure on him, whereas I'm kind of used to that now. I was going for my third championship and had faced bigger fires. Still, he did a good job.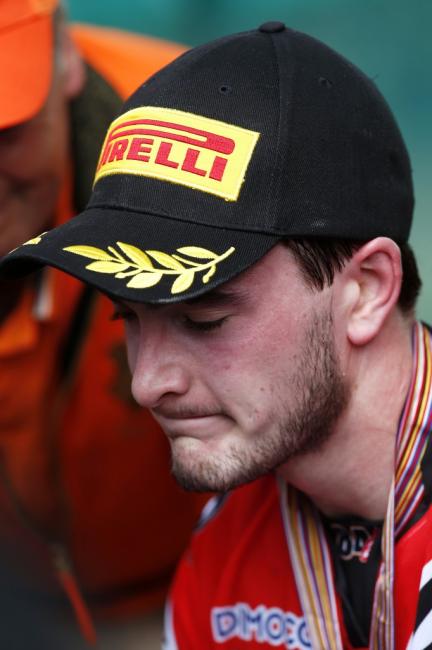 Was there a point when you got the stomach infection and you thought, Man, anything else?
I was like, "God hates me so frickin' bad!" So much bad luck. This is just a year to forget quickly. I've done some great things and have shown some great speed but, f--k, I want it to be 2015 already.
You must have had people telling you not to come here. Was it a tricky decision?
Yeah, I just had to follow my heart. All the doctors said I should not go, except for one really good one in Belgium, who said there was a possibility. But whenever I'd put my foot on the ground or hit a jump then I would die with the pain. I didn't know beforehand that this track would feature so many left turns and big jumps, so that was a bit of a surprise. If I had to do it again then I wouldn't. I've learned a lot this year and made some mistakes, but I will get better in the future. I'm crazy about breaking records, so it is painful to lose this third one by just 4 points.
Was it awkward coming into the paddock and having everybody in your face and wanting your time?
I hadn't seen the team in a long time, and all the press just wanted to get news, but I didn't really have any for them because I was so busy with my leg. Whenever I rode I had to get it treated, iced, taped. It has been a crazy two days. What a drama.
Did you come in with a plan to try and psych out Tixier a little bit?
My main goal was to break him mentally. Nobody knew how I was going to ride and whether I would have pain. Obviously, he was riding really well yesterday, but he could not have known how I would do. I knew already that I would be in a lot of pain, but he didn't. In the first moto I expected him to fail and take a top-five, but he didn't give a kick and won it. Since I got injured, Jordi has been learning a lot and hasn't failed. It didn't work out like I hoped.
This is an extreme example of why staying in MX2 for another year wasn't such a bad idea. You cannot count your chickens.
Yeah, obviously, this wasn't planned. I was 20 years old two days ago, so I'm starting to be an old man! One more year in MX2 should be okay, and then normally the plan would be MXGP the year after. Also, my contract with KTM finishes at the end of next year. I really feel like I have failed, especially for the team. I was the number-one guy and had all the "Herlings, best MX2 rider on the planet" blah, blah, but I didn't bring the championship home.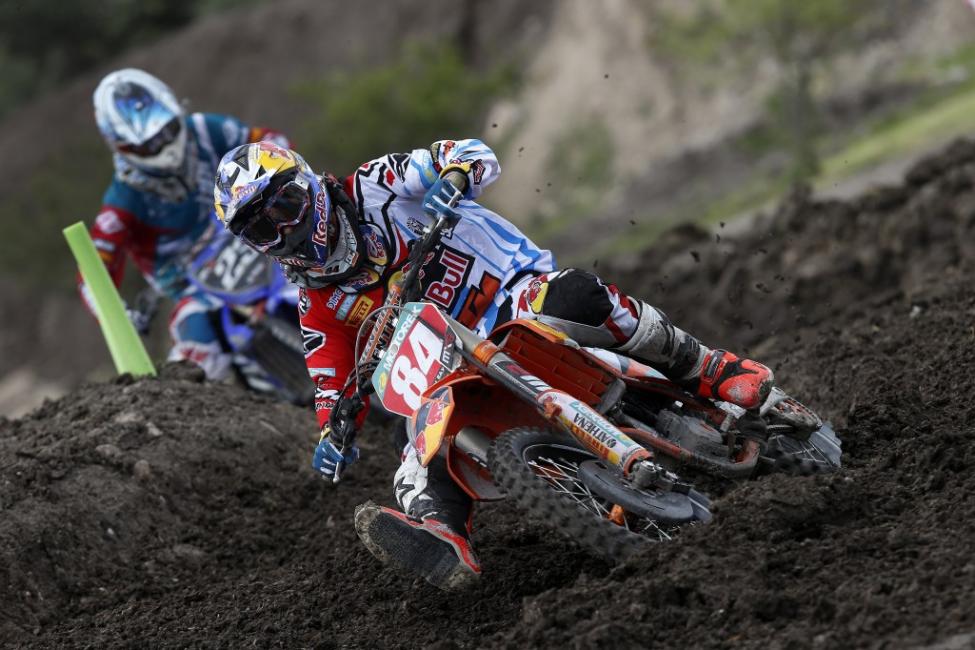 So you are never going to touch an 85 again.
Oh, don't ask me about that ever again.
Even though it has been traumatic, it has still been a fantastic story this weekend, especially for people watching here and on TV.
They had a good race to watch! Like I said, I've shown some great things and some crazy things. It is not normal to race with a broken femur after seven weeks, because normally it takes three to six months. To do that makes me feel a bit stupid, but at the same moment I feel like I have shown everybody how badly I wanted it. I know in my heart I was the best guy, and this is not the Max Anstie way of talking bullshit, but I won twelve out of the thirteen GPs I raced, and the one I didn't get was because I had a broken leg. Next year will be a new season and I'll hope for more luck.
What now?
I am going to lie on the couch for two months! I have nothing planned. I guess the next race will be sometime in February. I just want to get healed and have the bone like new, as well as the pin out. Hopefully, I should be riding sometime in December.