Crawfordsville, IN
Indiana
Lucas Oil AMA Pro Motocross Championship
Seeing Ryan Sipes up front at a motocross race isn't a shocking sight. He spent a decade showing speed indoors and out, so his 10-3 performance and fourth overall at the Indiana National should look normal. But remember, Sipes retired from motocross at the end of last season (Now he's an off-road racer in the Amsoil Grand National Cross Country Series). But when Rockstar Energy Racing needed someone to ride their KTM 450 in place of Davi Millsaps, they gave their old friend a call.
"I hadn't ridden moto more than three or four times all year, so I really had to work my butt off because I didn't want to be all over the place," Sipes says. "My goal has been to be right around tenth, and I think in the motos where I haven't had problems, I've been right around there."
Sipes actually rode the Lucas Oil Pro Motocross Championship on a 450 for the Rockstar team last year, too, but the situation is much different now. He hasn't done any testing away from the races on his race bike and only has his own bike at home to practice on. So there's an adjustment process each weekend. In the meantime, he's been trying to up his game on the roots, rocks, and mud of the GNCC tour. Some of that experience paid off on Saturday.
"You take that track we ran on Saturday and compare it to the Snowshoe GNCC and this is like a walk in the park," he says. "I mean, really, it's nothing compared to that. But I didn't think about it when I saw it was going to be muddy. I didn't think it would even help. I was just telling someone it didn't even feel like I was going super fast, but it just seemed like everyone was going slower! It wasn't until after the race when I looked back at it that I realized how much better I felt in the mud than I usually do."
Sipes never considered himself a mud rider before, but he seems at ease in those conditions now. On the other side, he figures another summer of motocross will only help him when GNCC resumes in September at Unadilla. He'll race Utah this weekend and then it's back to the woods.
"One third-place finish in a moto doesn't change my life," he says. "The thing is, I quit doing the full season for a reason, because being able to stay home with my family is cool."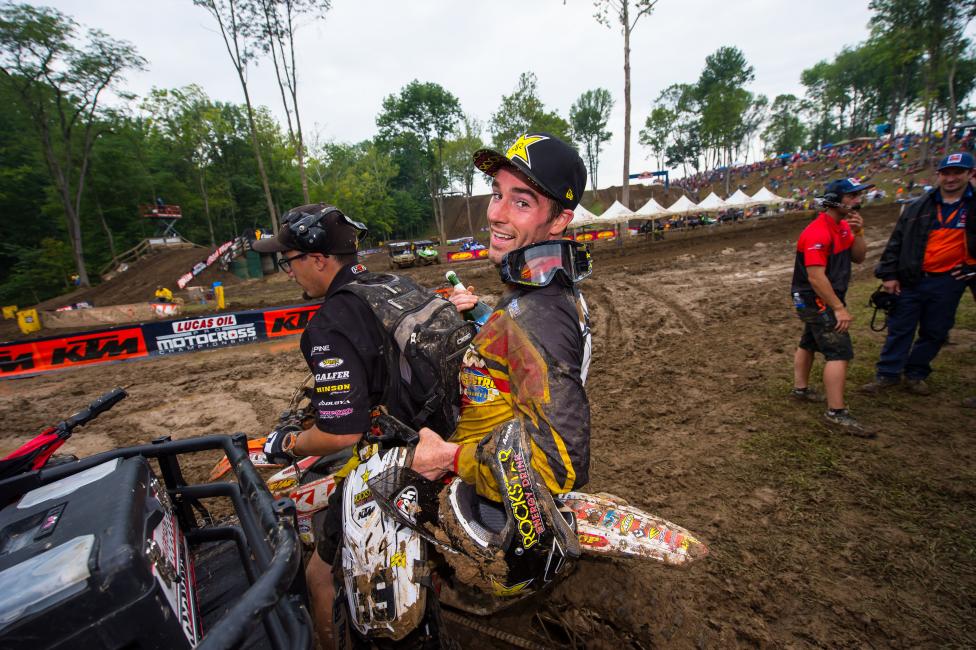 Sipes, in fact, had just finished picking his daughter up from school when we called him. That's his priority these days.
He was darned proud to stand on that second-moto podium, though. His old friends from Rockstar, like Mike Kelso and James Hanson, got to share it with him. "It was cool for them, because we've always been like a little family over there," says Sipes, who still has Rockstar support for his GNCC efforts. "It was good for me, too, because they're still letting me run my graphics on the bike. I put together my own deals for the GNCCs, so I'm kind of like a team owner now, and that's good exposure for my sponsors."
Sipes has to juggle a lot these days, racing in two different series in what are essentially two different sports, while wearing his business hat at times and still being a family man. "For a guy who is supposedly retired, it's been a pretty busy summer!" he says. "But it's been fun. I wouldn't trade it for anything."