Thunder Valley Motocross Park
Lakewood

,

CO
Thunder Valley
Lucas Oil AMA Pro Motocross Championship
There is a marked difference between the first two California Nationals, Glen Helen and Hangtown, and this one, the Toyota Trucks National at Thunder Valley. Glen Helen and Hangtown are both hot, and both get very, very rough, which can play havoc with a riders' ability to get his bike dialed in. But this one stayed nice, cool and dry all day, and the track wasn't ripped up quite as deep as usual--many riders commented that it was fast. Based on that, there was the thought that we could either see some new faces up front, or it could be even more of a bloodbath for riders who have struggled to find form. It turned out to be a little bit of both.
For a complete listing of current point standings and overall results, go here.
In the first 450 moto it was James Stewart, who wasn't happy with the way his bike handled at Glen Helen and Hangtown, who was the new face up front. He started out the right way too, by nabbing the holeshot and leading wire to wire. It's not uncommon to see Stewart check out in these situations, but that wasn't the case this time. He opened up a small gap over Josh Grant, but once Ryan Dungey, Ken Roczen and Trey Canard all got around Grant they closed up on Stewart rather quickly. Dungey applied the pressure and nearly passed Stewart, but couldn't make it stick. Then Roczen snuck past his teammate and challenged Stewart hard several times, but Stewart didn't budge, taking his first moto win of 2014. It was an impressive show of cool under fire for Stew.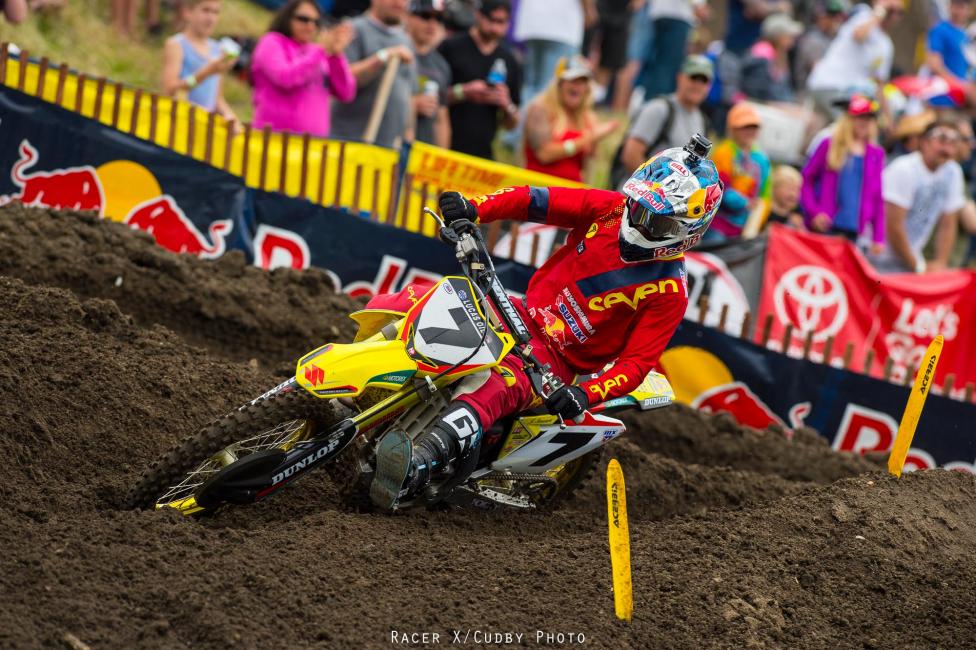 While Stewart's moto win would make it seem like he's "back," he was quick to point out that the team still has more work to do on his bike. They made some changes for moto two and he admitted they ended up going the wrong direction--and he wasn't the same rider in the second race.
Although it was far from his moto-winning ride at Glen Helen, Grant had a great day, going 5-6 for fifth overall. It's especially impressive when you take into account the fact that Grant was sick all week, even opting to skip the second practice of the day in order to conserve energy.
Ken Roczen is just on a roll right now. Even though he wasn't able to get by Stewart in the first moto, you had the feeling that if he'd made the pass he would have motored away. And when he got into the lead in the second moto, that's exactly what he did. Dungey kept the gap steady for a little bit, but in the end Roczen crossed the line over six seconds ahead of his teammate, who in turn beat Stewart by half a minute.
First race back for BTO Sports KTM Matt Goerke, who's been out for quite some time with an elbow injury suffered during supercross. Goerke qualified eleventh fastest and went 14-16 for fifteenth overall. Not too shabby for coming off the bench.
After setting the fastest qualifying time of the day, it looked as though Trey Canard might be one of the new faces up front, and while he did indeed lead laps today, he just didn't have the pace of Roczen, Dungey and Stewart. Canard shot out to an early lead in the second moto and managed to hold off Roczen while the two put in a few thrilling, scrub-tacular (yes, that's a word now) laps, but by moto's end he wasn't even close to Roczen or Dungey. Still, a great ride from the Team Honda Muscle Milk rider, who, like Stewart, is showing he's at least determined to fight off the KTMs.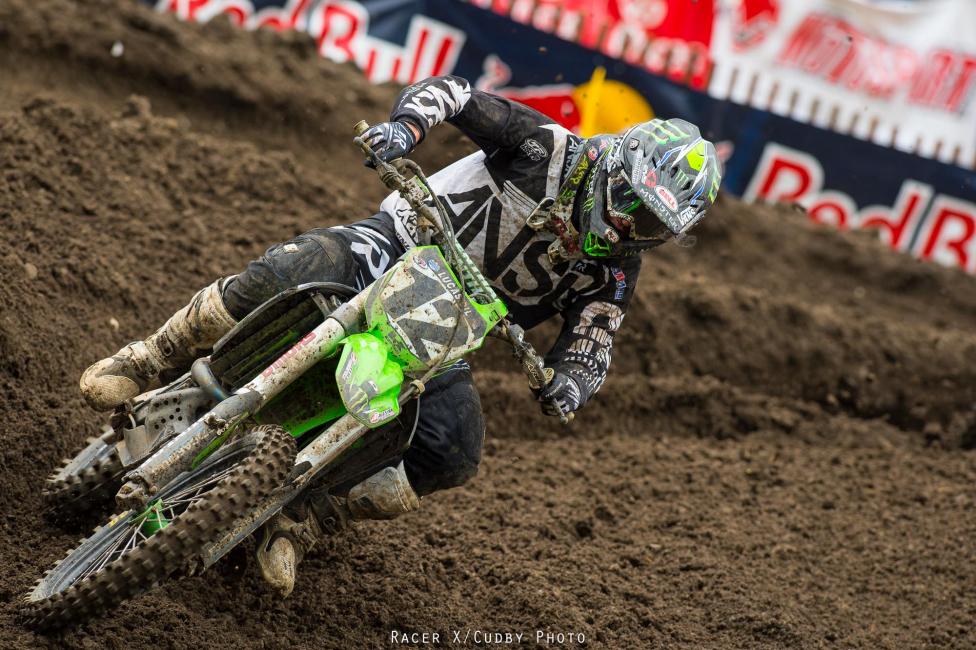 Oh what could have been for TLD Lucas Oil Red Bull Honda's Jessy Nelson, who holeshot the first 250 moto and immediately started working on a lead. Even when Jeremy Martin and Cooper Webb got into second and third, Nelson's lead just kept on getting bigger. Then he spun out in a corner, nearly went down, and spun a full 360 degrees before getting going again. He lost about ten seconds, and when he had righted the ship, Martin could see him, which was all he needed to get his hooks into Nelson and take away the lead. If you're Nelson, who afterward admitted he panicked a little when he spun out and tightened up, you're bummed you throw away your first (and the team's first) moto win, but probably pumped on the confirmation that you do indeed have the speed to run up front. And the second place finish was still a career high in a moto.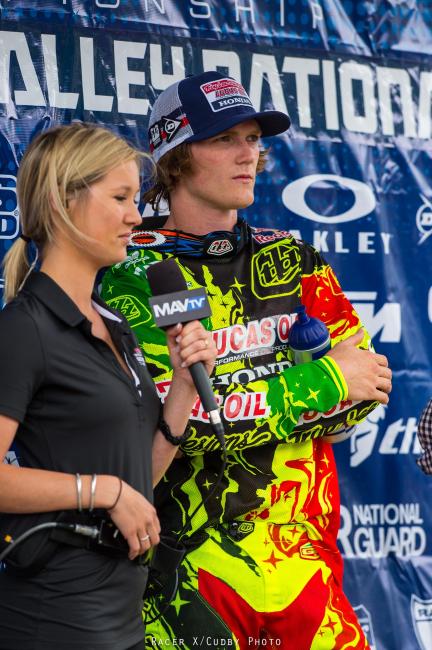 Bad day for Justin Hill, who was very fast in practice. Hill just struggled off the gate and got terrible starts in both motos, which kept him from battling for the lead. Afterward a frustrated Hill said he's confident that if he can start up front, he can win motos.
We've been waiting to see what Jason Anderson can do with a good start and a moto that's free of bad luck. He finally got both when the gate dropped for his second moto. But after moving into second behind Christophe Pourcel, he wasn't able to challenge for the lead and ended up getting passed by Blake Baggett, and later, Justin Bogle, Jeremy Martin and Marvin Musquin, although he got the spot back from Martin when the Star Racing rider went down. Certainly not a bad ride for Anderson, but likely not one he's happy with after being in a position to challenge for the win.
Weird first moto for Pourcel. He got together with a few other riders off the start and lost his front brake which caused him to tighten up and start losing spots. His brake actually came back though, and a quick chat with team manager Erik Kehoe revealed a suspicion that his caliper had gotten knocked in the dustup on the start, which pushed the brake piston back into the caliper, which in turn left open space between the pads and brake rotor. Don't think that can happen? Go push your brake caliper hard against your rotor and you'll find you'll be able to pull your front brake lever all the way to the handlebar.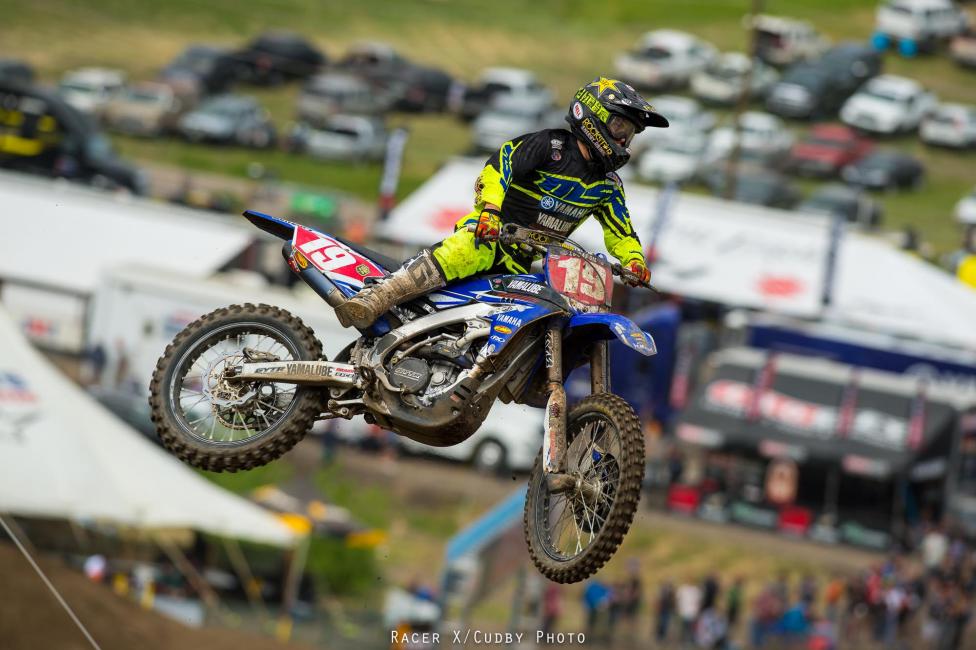 Blake Baggett finally got a moto win, which no doubt lightened the mood a bit over in the Pro Circuit pits. He didn't luck into it either, as he was just untouchable in the second moto. Afterward a crowd stood around the truck chanting, "Baggett! Baggett! Baggett!" You gotta love fans at the Nationals!
Hey how about Marvin Musquin? He didn't come into Glen Helen 100 percent after injuring his knee a while back, and to add insult to injury, or in this case injury to injury, he hurt his shoulder during practice at round one. But today he was great, especially in the second moto. He rounded the first lap in eighth place, but by the end he'd worked his way up to fourth and almost got Pourcel on the final lap for third. He went 7-4 for fifth overall, and we're betting he's going to be better than that next week.