Jeremy Martin, Yamalube Star Racing Yamaha, 1-1 for first in 250MX
Pretty impressive way to start the second year of your professional career. What's it feel like? Is it a dream or is just what you've been focusing on for the last couple months?
I think this is what I've been focusing on. And supercross obviously went bad so the goal was just to get better and I'm going to keep getting better. I was out there and we had great motos today. My teammate Cooper [Webb], we went 1-2 again, and the Yamahas are strong.
You won your first one last week but you didn't go nuts and kind of took it like you were expecting it. Did you seem a little more emotional on the podium today?
Yeah, I was a little more excited. I think that moto two was good. Christophe [Pourcel] was second, Cooper was third. I was fortunate enough to get out of the gate and get the holeshot. Those guys were right there for three or four laps. We were pushing it hard. I think Christophe's going to get better and Cooper's going to get better. It was pretty cool. I think Yamaha swept the podium so that's a pretty cool thing for those guys and I don't think it's been done in a long time, so I'm pumped for Yamaha.
Do you and Cooper end up even riding together much? Is it just coincidence or are you guys motoing down every day and that's part of the reason you came in so strong?
No, I do my own program, he does his own program. After Daytona Supercross Bobby Regan and the Star team said you're coming out to California and I've been staying out there for a while. We had a chance to go back to the Carmichael farm in Florida for about a week and a half and that helped a lot. We go to the same tracks and we just do our own separate deals. California's the land of stop watches and team members and managers and everything. Everyone's got someone out there and they're timing. When you're out there you just got to focus on you.
You've live on the East Coast in Florida, and there's a track that's literally in your back yard in Minnesota. Do you think you're going to get better actually when we go to some other tracks?
Yeah, I think I'm going to get better. I'm looking forward to the East Coast tracks. I like Thunder Valley, I liked Hangtown today. It was a little wet in practice and they really tried to get the water down. But I think it helped for later on in the day for the motos. The track stayed a little more moist. I like that soft dirt. I think when we go back to the East Coast, when the races are back there, staying there, the flights are not as long either and you're on the same time zone so it's easier to adjust and easier just to go into the program on the day.
You're talking about stop watches… You've beaten the field by roughly 20 seconds each moto. Is that hard to put your mind around, that you're dominating that much?
I don't really look at it as dominating. I think these guys are really strong. I came in strong. They're going to get stronger. I just try to keep pushing and race the track. The track was tough today. It was kicking me around a little bit and I was having a few fits with it but I was able to figure it out, get the flow and show them that I'm the boss.
Did I see you have a big endo in practice?
Yeah, practice was scary. They put that big double down the hill. The first lap, the green flag came out. I was going for it and I went off the face and I went to shift and I didn't get third gear and the front end dropped. I was like, "Oh no, here we go." I was fortunate enough I landed on my feet on the landing and then slammed down onto my butt and rolled off the track. My bike was all bent up and I was like, you know what? You need to go and you need to try to put in a faster lap, because practice was still going. I was only 11th. So I tried to go out there and put in another fast lap. I got about halfway around the track and I couldn't grab the front brake coming into one of the corners and I just stuffed the front wheel and I went off again. I was like, I think it's time to go get the bike straightened out and come back out.
You talked about tracks you like. Do you have any opinion of Spring Creek?
[Laughs] Spring Creek's an all right track. My mom and dad could definitely do a better job. They were both here today so hopefully they learn a few things so that way they can make it that much better. When it comes time for the race I will be extra hard on them. I might have to pull them aside and have a talk with them.
Two wins in a row. What do you do for celebration? Are you taking the team out to dinner, are you a guy that buys yourself something nice? What's the protocol for Jeremy Martin's celebration after an overall National motocross win?
Celebration for me is save that money and then probably go out tonight and maybe have a splurge on a dessert or something like that and hang out with my mom and dad. I don't really get to see them that much anymore, and my sister's here. So my splurge is just having a nice gluten-free dessert.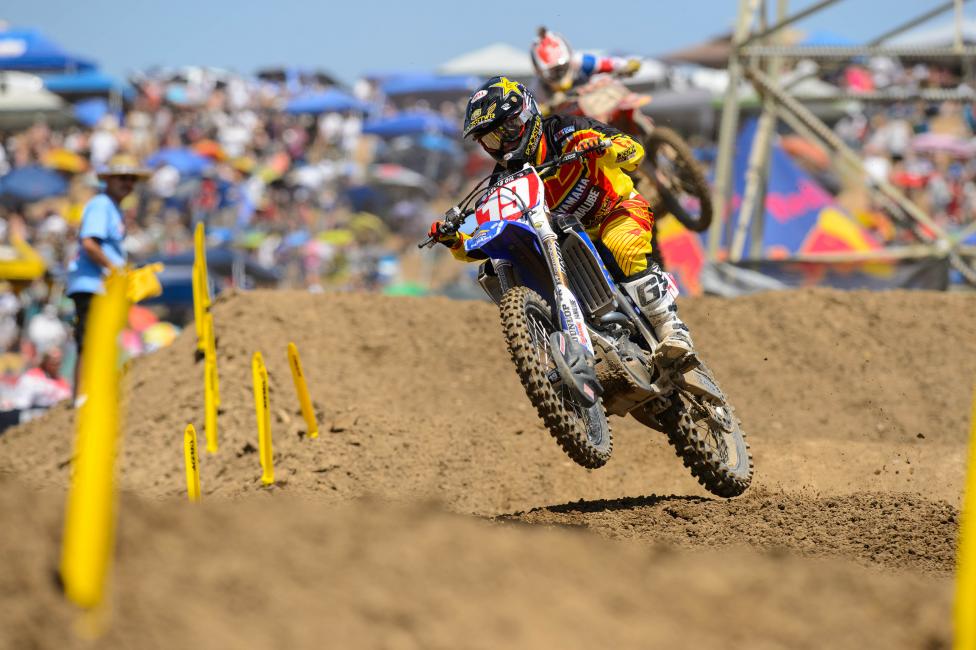 Cooper Webb, Yamalube Star Racing Yamaha, 2-2 for second in 250MX
We were able to get some better starts today but still the same result. I'm happy. It's a really good start for the season and we're not too far behind. Still going to be a long summer and just try to get better and better.
Let's talk about that second moto. Christophe Pourcel gets a good start, your teammate gets a good start, and so do you. You had a battle with Christophe Pourcel. Early on he had some fast lines.
Yeah, we were all going for it. I actually passed him I think in the second turn and then he got me back. I was behind him and Jeremy was out front trying to slowly pull away. I got to Christophe and I felt like we were going pretty fast. He actually kind of let me by and we tried to pace each other and try to catch Jeremy but made a few mistakes.
For a young guy, finishing 2nd for the second week in a row, early in the championship, is it something you're excited about or are you starting to get a little frustration?
I'm excited. Obviously it's only my second time racing outdoors here. I'm doing a lot better than I was last year. It's going good. Obviously I want that win but, like I said, it's a long season and going to some tracks that I really enjoy.
Yamaha went 1-2-3 today. Do you feel like your bikes are a huge advantage or do you guys just happen to be riding well?
I would say the bikes are really good, but I think we also have our program down for sure. Kind of learned some things. We were rookies last year; this year we're not. Obviously my program got a lot better. I'm sure Jeremy's, and obviously Christophe. We're all fighting for this title. So I think it's a combination of both.
We're going to Colorado next week and the elevation changes. Are you going to go sleep in a hyperbaric chamber or do any great mountain bike hill climb or anything to get ready?
No, just first gear starts. That's the main thing. The bikes are a lot slower. I think the track's really cool. It's got some big jumps. It's a fun track.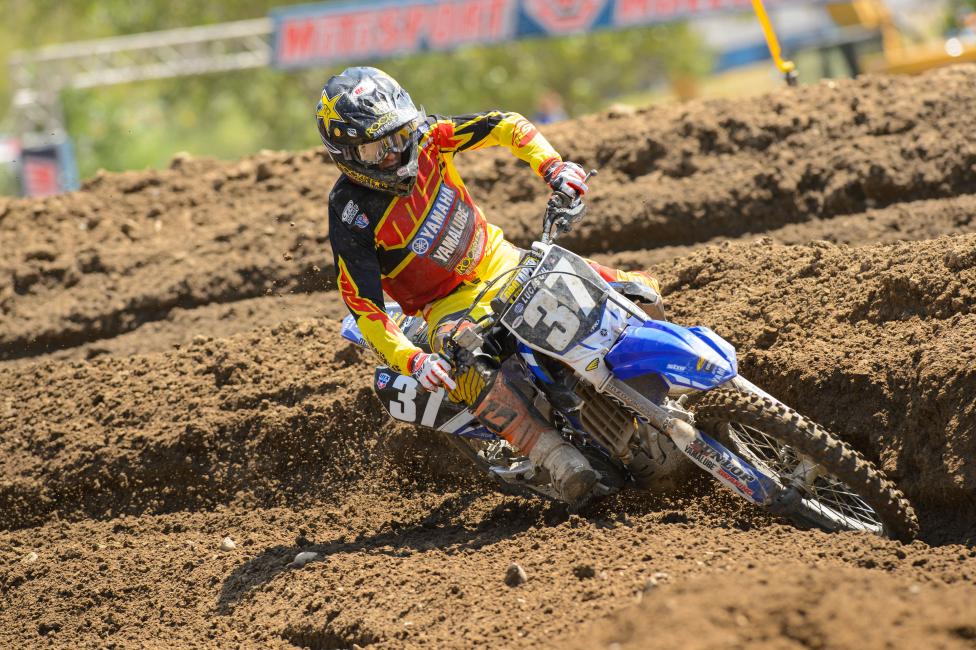 Christophe Pourcel, Valli Motorsports Yamaha, 8-3 for third in 250MX
You were out of racing for roughly 18 months before Glen Helen. What have you been doing in that 18 months? Was it all training? Was it rehab? What was the program like?
I broke my spleen 18 months ago and then it took 10 months for my spleen to heal. It's a big injury. So I was just training some kids and not riding. A few months ago I was thinking about coming back. I have my house in the U.S. and I like to be here racing a lot. I like riding in the U.S.
At Glen Helen you seemed to be sitting back a little bit and today you seemed to go after it a little more. Are you still trying to get comfortable?
It's a new bike. I've been on the Kawi forever. It's not easy for me to get used to the new bike but I need to get used to it. I feel better every weekend. Last weekend it was super rough and that was my first race back, so I kind of took it easy and I was kind of slow, but I did what I did and tried to get better and not crash. Those two guys in front, they go really fast. I'm trying to kind of get their pace and get better every weekend.
When you were here the last time, I know the heat, second motos and stuff you had some problems. Is that behind you now, or is that something you're still worried about as the summer goes on?
Not really. I think we all need to do work. I've been doing pretty much everything the same as everybody else in front. I'm not doing the same technique as I used to do and not going jet-skiing or anything like that. I'm on a good diet. I know it's a lot of work so I'm doing everything right. One day it will just pay off.
You've been having trouble with your starts and obviously that second moto you got a good start finally. Did you consciously decide that this is the time that I need to test to see how I can run with these guys and put the hammer down? Or was it just opportunity?
I was mad after the first moto. I got a bad start. Like I said, the new bike, it's just not easy for me to get used to it. So maybe the few bad starts I'm doing it was this bike. I always kind of wheelie off the start and I just lose all my speed. After the first moto I told the team, let's go there next to the box and get it done. So I had more space to kind of play and that's what we did. The bike is so good, it's so fast that I know we can be up front. Those two other guys, they're always in front too. That's what I did. I went next to the box and Jeremy was in front of me. I kind of tried to follow him and stuff and got the pace. Then Cooper passed me or I kind of let him by. It was a good moto for me to kind of get back into it.
Talk about the track a little bit today. On the podium you mentioned it seemed a little rough.
When I raced in 2009 and 2010 the track wasn't like this. It's been very, very rough. I feel like they should kind of fix some stuff on the track so it kind of makes room to pass instead. All the takeoffs are a little sketchy and you see all the guys crash at the second moto. There's a lot of people who got hurt already and it's only the second round. That would be nice, they got to do a little something [with the track on the takeoffs].
When you did decide to come back, what made you chose to come back down to the 250 Class?
The main reason is I missed the title twice. I think a 250 to come back is better for me than a 450. It's a lot more work and the bike is big. I think it's good for me to… 250 or 450, anybody's fast. In front it's always fast. It's just for me it's easier to get my pace back on the 250 and get ready and get stronger to move on to 450.
You mentioned getting stronger. Is your deal with Valli for next year as well? Will you be in supercross and outdoors on a 450 next year or are you just going to ride outdoors? Or is it going to be just a one-year contract?
The main focus of the team is just doing the summer, that's it. That's my main goal and that's their goal. Then we'll see for the future how we do, if I step up because to go on the 450, right now the main focus is to try to get comfortable on the 250 and try to get more podiums and ride with those two guys in front.