Hangtown Motocross Classic
Rancho Cordova

,

CA
Hangtown
Lucas Oil AMA Pro Motocross Championship
By Jason Weigandt and Steve Matthes
Ryan Dungey, Red Bull KTM, 2-2 for second in 450MX
Today was pretty good, but the first and second moto kind of played out the same. Kenny rode well today and we were a little behind the ball. Kenny's a good rider, he's really talented, he rides with finesse and he's light on the bike.
What's it like racing with a teammate?
We're on the same equipment, although we probably end up with different settings, so overall we have a different feel. Right now we've been together in California for the last three or four weeks, we don't train together but we're riding together every day. But we do have different setups, mine's a little bit stiff, and I'm a little bit taller and he's a little bit shorter.
Second moto, were you sitting back and waiting?
I knew getting by those guys would be key, and Kenny was in third and I was in fourth, so he could get by them before I did. Honestly we made some changes for the second moto and it didn't help. It's a compromise, though, so I have to keep that in perspective. Track got a bit rougher so it was tough. Overall, that's just the way it goes—it's early in the season so we just have to keep building. – Post race press conference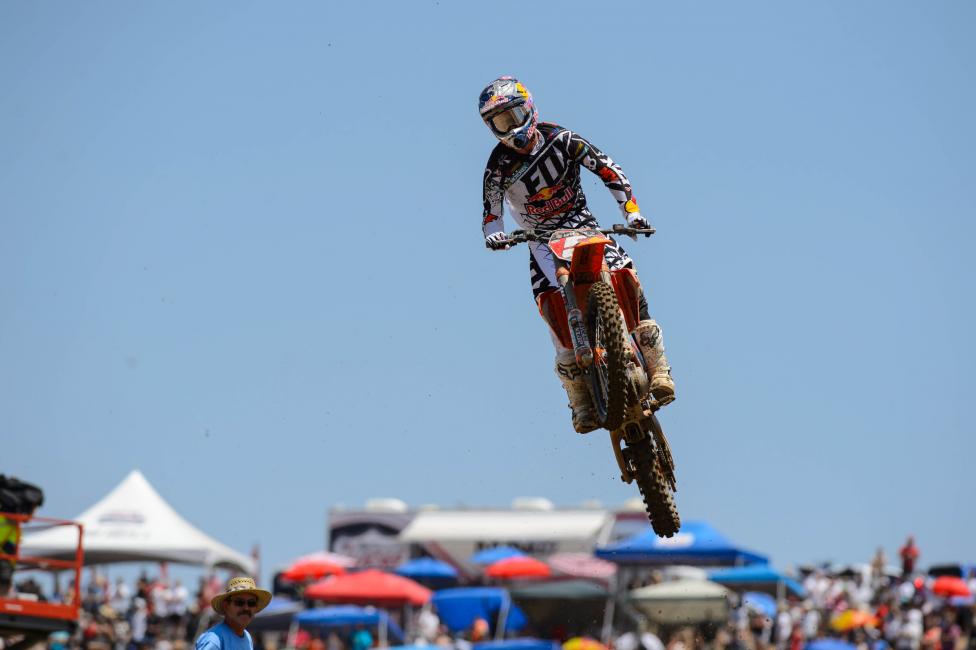 Trey Canard, Team Honda Muscle Milk, 3-4 for third in 450MX
The main goal today was to get into the press conference and talk to you! We made some changes and it was such a big help today. I was really bummed because my start position wasn't good on the first lap. I kind of got tangled with some other riders way back and really, I was pretty upset. I was bummed because especially halfway through the moto I was really comfortable. I was like, man, I could have maybe done a little better this moto. I was really just trying to do the best that I could. I knew those guys had a little bit of a gap. I know that every point is going to count come August. You have to take advantage of everything when you're out there. Really though, I was comfortable and having fun. It feels good to ride a motorcycle that you're comfortable on, and can go anywhere you want.
Late in that race you had to take matters into your own hands. Bret Metcalfe, I know you said you didn't mean to run into him or bump him, but that's all part of racing.
A little bit, but I'm not the kind of the guy who wants to put someone on the ground, but I'm the kind of guy who wants to do well at the same time. That's what we're trying to do. I was really just concentrating on riding. I was really happy about feeling more comfortable in the race. It's hard to change setup between races because you don't really know what the bike is going to do. Lap after lap you kind of have to test the motorcycle and get more comfortable.
Before you ask me another question, I have one for you. Who wrote the summer predictions in the latest Racer X? Prediction number eight was that Canard wouldn't have a good summer. I feel like there are better things to predict than that.
[Crickets]
Okay, nobody is owning up to that. Talk about the bike changes you made.
Honestly it was very subtle. It was nothing internal. It was the right combination of ride height and a clicker here and there and a few other small changes. It made a world of difference. I was pretty miserable with the first moto and we all owned up to it. You make your own decisions. We have done a lot of testing and really tried to make that bike the best it can be. I think we shouldn't stray so far from what we know.
Last week you asked Ryan Dungey what it was about the color orange that he likes so much. The same question to you. What is it about the color red that you love?
It's really just an organic color. If you look at strawberries and red apples, you know, it's really just an organic color.
Do you realize how much you made Tim Ferry [Canard's coach] stress out with that bad start in the second moto?
Yeah, you should see the guy eat M&Ms. He eats like eight packs in a day, it's pretty impressive.
We're heading to Colorado and high elevation next week. We know the bikes will run different, we know the air is thinner. What's your prediction for Trey Canard next week?
I'm going to do the best that I can during the week and show up and have confidence. I think a good start is a good way to start the moto. The two KTM's were one and two off the gate today, so starts will be very key to a good race. You just have to stay on the charge. Hopefully we can be up on that podium again and mix it up a little bit more. – Post race press conference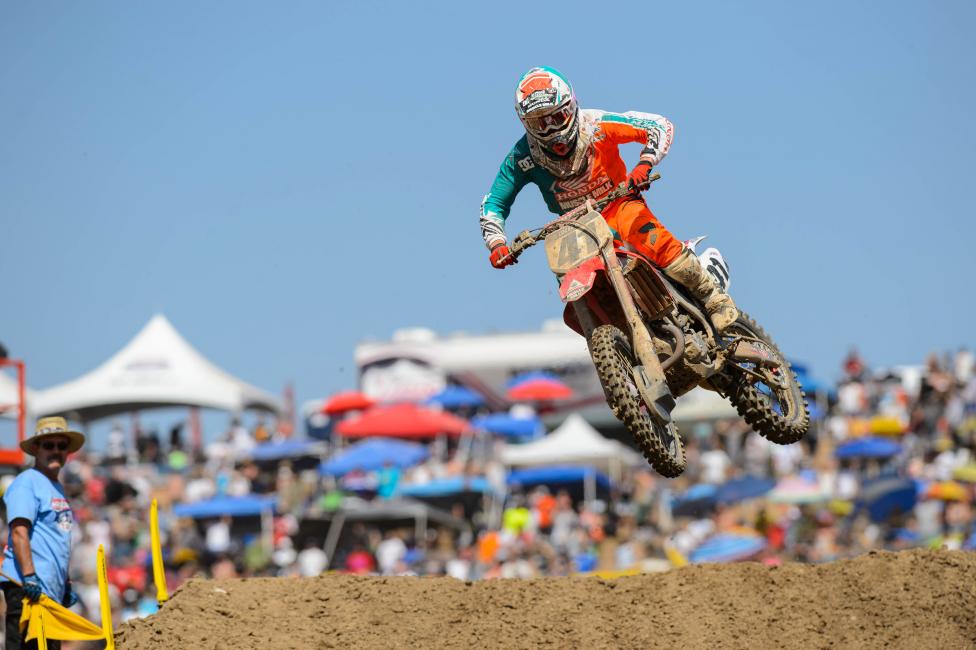 Brett Metcalfe, Monster Energy Kawasaki, 6-9 for eighth in 450MX
Some good racing. You kept it exciting. How'd it go?
Glad I kept it exciting for you. It was good day. The results on paper don't look good. I'm not satisfied with that but as a whole, the first round last weekend being my first go with these guys, the Monster Kawasaki team, and then learning. Changed a few small things this week and I felt like it was a better weekend riding for me. I qualified fifth which is a rarity for me. Anywhere in the top five is good, great. I think I was sixth in the first moto. That was all right of a result. Right now I'm just having a tough time finishing off the motos like I need to and losing spots. Again, the second moto getting a great start, taking the lead, I felt awesome up front. I was relaxed, riding nice, worked with the team and we made a few nice changes to the bike. I was really feeling good. But again, I hit that kind of mark and I started to lose spots, lose time.
You actually looked comfortable when you were leading. You were hitting all your marks. But does that take it out of you? Does that change things when you're leading compared to when you're starting fourth or you're just staying there?
You get the advantage when you're fourth to move around the track freely. I had to protect some insides, obviously the guy behind me, Justin [Barcia] I know I had to protect the insides tightly. Justin was on me. But it was good. I felt good. I wasn't nervous. Hey, I turn 30 this year. I'm ready for that stuff. That's what I'm living for right now. That's where I want to be. So that felt good to be up front leading laps. I started to feel like I was losing the pace, having to over-ride myself to be there so I started to let it go. And then when Trey [Canard] got me, that was kind of a bummer. Just stalled the bike, that lost a lot of time obviously. Then the next freight train of guys that were coming through there were on my rear wheel.
And I think that takes a lot out of you, to lose your rhythm like that.
It did. To nearly go down and stall, restart. It takes energy. Lost the rhythm there and then I had some heaters on me for the rest of the race. We're going to continue to find ways to make me better and finish off the motos easier. I know I can do it. I know I have it in me. Today the speed was there.
But you were handing over your championship in Canada starting today.
It's over for me. I'm not returning there this year. And I thought about that today. I wish everyone luck up there. I had a great year but it's so awesome to be a part of this series, being involved with this Monster Kawasaki team. – Jason Weigandt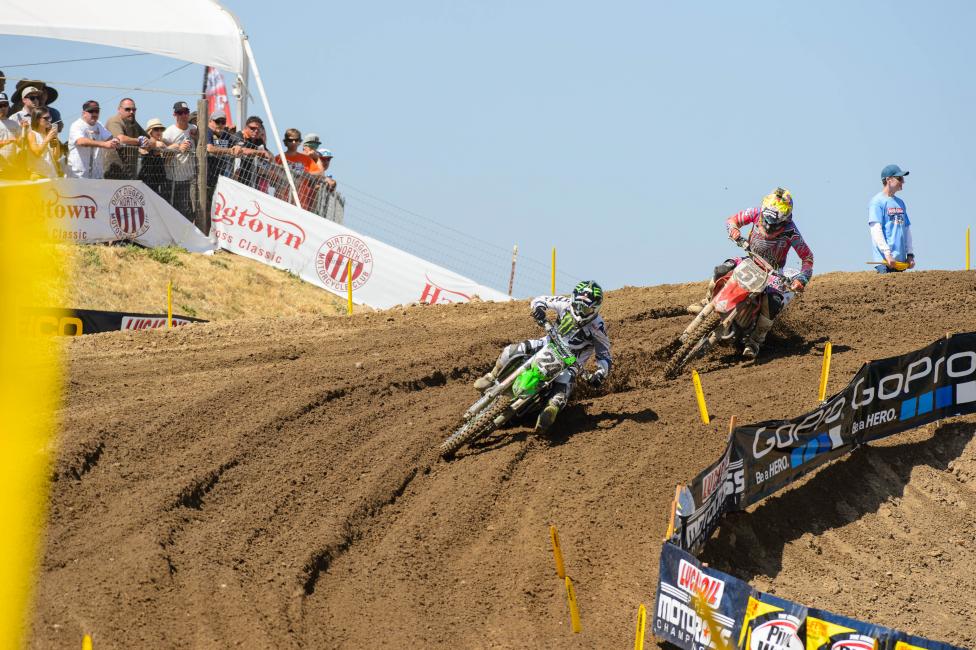 [And now let's turn it over to two guys who weren't as happy as the others]
Jake Weimer, Monster Energy Kawasaki, 7-8 for seventh in 450MX
Decent I guess is the way to describe it—but decent is not good. Decent is decent but we need good. You have to take the positives but… again, the first half of my motos I'm not doing what I need to be doing. If I could feel on the first laps like I feel at the end I'd probably be pretty good. It's frustrating. At the end, I ride like I should. That second moto, the start was awesome and it was like, "Alright let's go let's go let's go. And then it's like… I'm in hell!"
I don't feel like I'm super far off, but I just feel like if I could just do something in the first 15 minutes I'd be fine! Maybe I should take some boxing lessons or something and get pissed. – Matthes
Jimmy Albertson, Albertson Racing, 17-18 for ninteenth in 450MX
I got 19th this interview is over!
Yeah, there are guys who start at the back and work their way forward…
Yeah, I did the opposite! Second moto I started in 20th, went to 11th, but I didn't like it there so I went back to 18th.
Tough day!
It was one of those days, man. Track was super rough. It was alright, I got points in both motos. It is what it is. We're having a blast out here on the road. I hate to be like that, and kind of be laying down like that, but I'm tired of being pissed off at myself… - Matthes