Matterley Basin
Winchester

,

United Kingdom
MXGP of Great Britain
FIM Motocross World Championship
The 2014 British Grand Prix will show up as victory number 68 for Red Bull KTM's Tony Cairoli. His career has involved so many ups and rarely any downs, but for the charismatic champ this latest success through the ruts and flow of Matterley Basin in England carried special and emotional resonance. Just over a week prior to this round eight of seventeen the MXGP World Champion lost his father in sudden and tragic circumstances. Cairoli has rarely missed a Grand Prix—the second half of the 2008 season was wiped out through a knee injury—but since then he has been ever-present with the exception of the 2011 Italian round where, having already defended his MXGP title, he sat out his home event in the wake of his mother's death after a long term illness.
Cairoli and his sisters were battered by the loss of their mother but the latest sadness involving Benedetto—a regular around the paddock and seen only two weeks previously sipping drinks in the Red Bull hospitality are at the Spanish round—was a seismic shock for the Sicilian's family.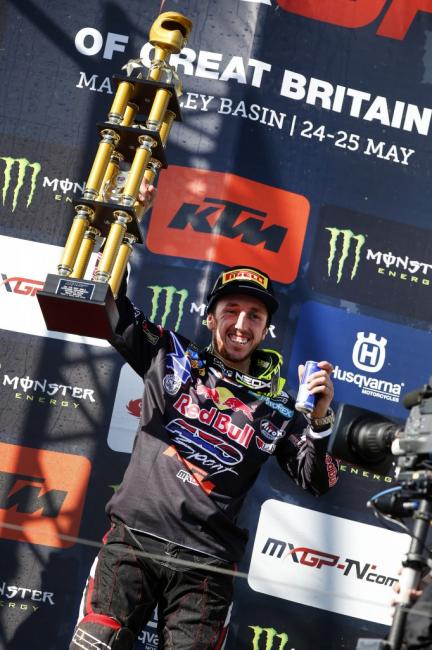 Against this backdrop Cairoli found the strength to compete and it shows something of the extent that he draws every nourishment from this sport that he not only coped with the weekend and the attention from the passionate British public but also got quicker and better. So much so that he controlled the first moto and gave chase to Rockstar Suzuki's Clement Desalle in the second ultimately wrapping up a fitting dedication with a 1-2 performance.
"I came from the worst two weeks that anybody can have," he said afterwards. "Losing somebody of the family… especially my father who is the one that put me on the bike and let me ride without any pressure. He was the best I could have and I spent a lot of time with him training. It is pretty tough to miss this part of your life… when you are not expecting it [to be gone]. I didn't train at all and didn't sleep for three or four days. I had to move on and this week was better. This is one of my favourite tracks and it gets pretty rough, with the rain it was even better. It turned out to be a really good weekend..."
Nobody would have expected the best of Cairoli at the rain-hit but finally sunny Matterley venue and it did seem like the Grand Prix was Desalle's to lose. The Belgian came to the UK off the back of a dominant run in Spain and swept to such a convincing pole position on Saturday that not many would have bet against him. However a sluggish few opening laps in Moto 1 were followed with a crash that set him back to fourth and opened the door for Cairoli. Desalle, nursing some neck pain, recovered in the break and was imperious again in the second moto (for 3 wins from the last 4) but 222 had the overall prize. As expected Yamaha's Jeremy Van Horebeek rounded out the top three for what is the Belgian's seventh consecutive rostrum appearance in eight rounds; a sterling record for JVH who is only into his second term in the class and first with the YZ450FM.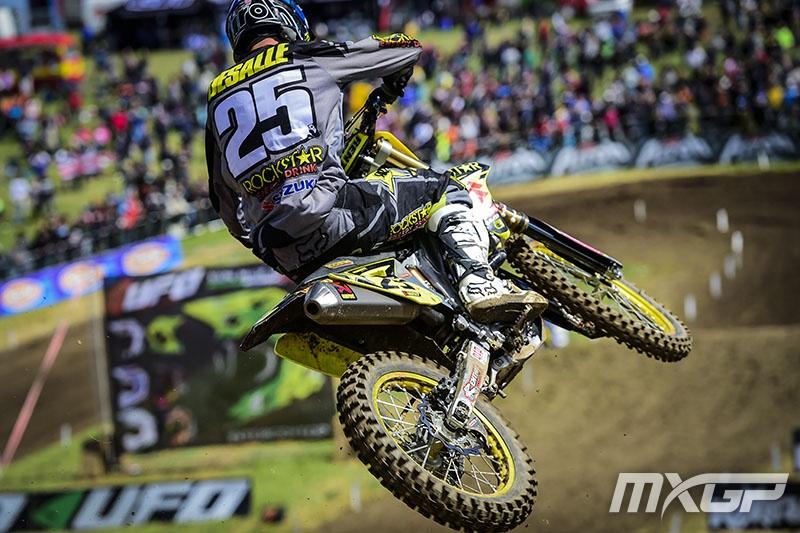 Elsewhere Monster Energy Kawasaki's Steven Frossard was unlucky not to be hunting a first podium result since 2012 after following Cairoli in Moto 1. The Frenchman was taken out in the first corner of Moto 2 and retired with a broken rear brake. Tyla Rattray is getting up to form on the FC350 Red Bull IceOne Husqvarna by grabbing fourth overall—with a better set of starts—was his best showing of 2014 so far. He's fully recovered from a broken finger that caused him to sit out the first three meetings. CLS Monster Kawasaki's Tommy Searle restarted his campaign after the spectacular crash in Thailand for round two that led to a broken wrist. Fifth overall and being cheered on by the home fans was apt tonic for the Brit who now has to work on getting closer to that maiden podium finish in MXGP; only two years previously Searle had emphatically beaten Herlings on the Matterley gradients.
Matterley Basin has always been a popular circuit with the riders. When the more technical and demanding athletes of the group start to revel in the ruts, lines and choice on offer then you know you have a motocross layout to reckon with. Matterley flows and furrows around the English "bowl" setting and when bone-dry can become limited with effective overtaking spots. With the natural watering of the dependable English rain on Friday and through stages on Saturday the mud was almost in a perfect moist and tacky state, enabling lines to spring up within several laps; there was an upside for the fans having to cope with the awkward muddy parking scenarios and damp green hillside viewing areas. Some meaty triple jumps and the large quad up into the bank (where Cairoli landed so heavily at one point in the second moto that he again broke wheel spokes, this time on the rear compared to the front that affected his Dutch GP at the beginning of the month) were feature highlights of the course.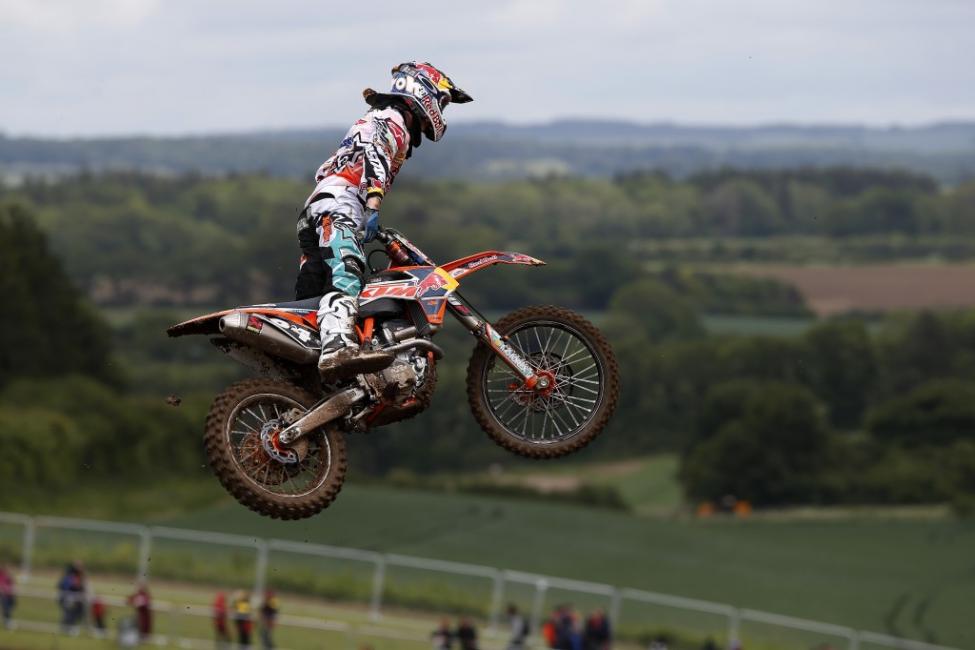 On this stage Jeffrey Herlings ran to his fourth double in the MX2 category and was utterly convincing once again. The Dutchman is now up to 38 career wins by the age of nineteen and by beating nearest title "threat"—and no disrespect to him—CLS' Arnaud Tonus, further established his lead in the MX2 standings.
With every passing week and win, Herlings is increasing the opinion that yet another year on the 250 in 2015 seems like a ridiculous prospect and despite his assurance of seeing out another season on his current KTM contract the rumours have not stopped about his future services and a reported seven figure approach has been made by another factory team for 2015.
Herlings is clearly worth the dosh, and the sight of him in MXGP next year will be eagerly anticipated. It is just a matter of waiting for confirmation of how KTM might structure their team for 2015 with the Austrians allegedly considering expansion of four riders to six; three per class.
At Matterley, Tonus was the best of the rest but even the Swiss' speed was eclipsed by the progress made by seventeen-year-old HRC-backed Tim Gajser from the confines of the Gariboldi Honda set-up. The Slovenian has been nearing podium contention for the last few rounds and his pace to go 4-3 created the small career landmark. It also gave the hefty HRC technical crew reason to exhale after their MXGP line-up was obliterated thanks to Evgeny Bobryshev's visa problems to enter the UK. Fellow Russian Alex Tonkov had no hassle (and went through Belgian channels as opposed to Dutch for Bobryshev) and there is no evidence to suggest it might be down to political influence. Honda apparently tried everything they could to speed up a process that they believe had already been approved, but Bobryshev missed the fixture due to red tape—the same predicament that ironically Tonkov faced in 2013.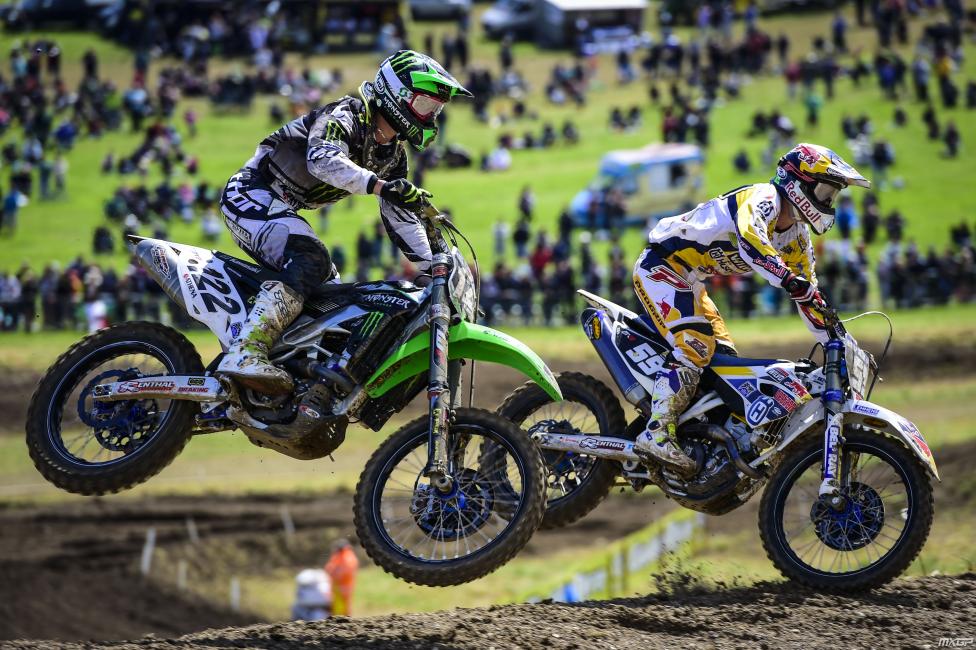 Thomas Covington still needs to dial-in his starts on the CLS Kawasaki. Seventeenth indicated that he is still a distance away from that in Moto1 but he was suitably proactive in Moto2 and eleventh place was his equal best since that eye-catching debut at Qatar for round one in March.
The British Grand Prix has opened a ripe phase of the calendar. Trips to St Jean D'Angely—site of Team USA's last Motocross of Nations success in 2011 (Villopoto, Dungey and Baggett were the riders that day)—in France next week will be followed by the Italian Grand Prix at Maggiora and then to Teutschenthal in Germany.
MXGP Moto1
1. Antonio Cairoli (ITA, KTM), 35:06.163;
2. Steven Frossard (FRA, Kawasaki), +0:03.859;
3. Jeremy Van Horebeek (BEL, Yamaha), +0:13.248;
4. Clement Desalle (BEL, Suzuki), +0:19.366;
5. Kevin Strijbos (BEL, Suzuki), +0:27.520;
6. Tommy Searle (GBR, Kawasaki), +0:40.699;
7. Jake Nicholls (GBR, KTM), +0:42.154;
8. Tyla Rattray (RSA, Husqvarna), +0:53.366;
9. Shaun Simpson (GBR, KTM), +1:12.119;
10. Tanel Leok (EST, TM), +1:12.857;
MXGP Moto2
1. Clement Desalle (BEL, Suzuki), 35:00.023;
2. Antonio Cairoli (ITA, KTM), +0:17.717;
3. Jeremy Van Horebeek (BEL, Yamaha), +0:31.838;
4. Tyla Rattray (RSA, Husqvarna), +0:35.822;
5. Tommy Searle (GBR, Kawasaki), +0:42.005;
6. Shaun Simpson (GBR, KTM), +0:43.077;
7. Kevin Strijbos (BEL, Suzuki), +0:54.148;
8. Matiss Karro (LAT, KTM), +0:59.449;
9. Jake Nicholls (GBR, KTM), +1:01.224;
10. Joel Roelants (BEL, Honda), +1:03.625;
MXGP Overall
1. Antonio Cairoli (ITA, KTM), 47 points;
2. Clement Desalle (BEL, SUZ), 43 p.;
3. Jeremy Van Horebeek (BEL, YAM), 40 p.;
4. Tyla Rattray (RSA, HUS), 31 p.;
5. Tommy Searle (GBR, KAW), 31 p.;
6. Kevin Strijbos (BEL, SUZ), 30 p.;
7. Shaun Simpson (GBR, KTM), 27 p.;
8. Jake Nicholls (GBR, KTM), 26 p.;
9. Steven Frossard (FRA, KAW), 22 p.;
10. David Philippaerts (ITA, YAM), 20 p.;
MXGP Championship standings after 8 of 17 rounds
1. Antonio Cairoli (ITA, KTM), 351 points;
2. Clement Desalle (BEL, SUZ), 323 p.;
3. Jeremy Van Horebeek (BEL, YAM), 316 p.;
4. Kevin Strijbos (BEL, SUZ), 250 p.;
5. Gautier Paulin (FRA, KAW), 205 p.;
6. Maximilian Nagl (GER, HON), 166 p.;
7. Steven Frossard (FRA, KAW), 164 p.;
8. Shaun Simpson (GBR, KTM), 159 p.;
9. Joel Roelants (BEL, HON), 153 p.;
10. Xavier Boog (FRA, HON), 145 p.;
MX2 Moto1
1. Jeffrey Herlings (NED, KTM), 34:59.916;
2. Jordi Tixier (FRA, KTM), +0:21.339;
3. Max Anstie (GBR, Yamaha), +0:24.047;
4. Tim Gajser (SLO, Honda), +0:25.259;
5. Arnaud Tonus (SUI, Kawasaki), +0:29.250;
6. Valentin Guillod (SUI, KTM), +0:38.942;
7. Dylan Ferrandis (FRA, Kawasaki), +0:56.260;
8. Romain Febvre (FRA, Husqvarna), +0:59.972;
9. Aleksandr Tonkov (RUS, Husqvarna), +1:06.233;
10. Jose Butron (ESP, KTM), +1:10.803;
MX2 Moto2
1. Jeffrey Herlings (NED, KTM), 35:08.239;
2. Arnaud Tonus (SUI, Kawasaki), +0:16.689;
3. Tim Gajser (SLO, Honda), +0:41.286;
4. Romain Febvre (FRA, Husqvarna), +0:42.239;
5. Jordi Tixier (FRA, KTM), +0:59.739;
6. Aleksandr Tonkov (RUS, Husqvarna), +1:02.273;
7. Jose Butron (ESP, KTM), +1:05.939;
8. Damon Graulus (BEL, KTM), +1:10.042;
9. Jeremy Seewer (SUI, Suzuki), +1:12.980;
10. Ivo Monticelli (ITA, KTM), +1:16.153;
MX2 Overall
1. Jeffrey Herlings (NED, KTM), 50 points;
2. Arnaud Tonus (SUI, KAW), 38 p.;
3. Tim Gajser (SLO, HON), 38 p.;
4. Jordi Tixier (FRA, KTM), 38 p.;
5. Romain Febvre (FRA, HUS), 31 p.;
6. Aleksandr Tonkov (RUS, HUS), 27 p.;
7. Jose Butron (ESP, KTM), 25 p.;
8. Damon Graulus (BEL, KTM), 23 p.;
9. Dylan Ferrandis (FRA, KAW), 23 p.;
10. Jeremy Seewer (SUI, SUZ), 20 p.;
MX2 Championship standings after 8 of 17 rounds
1. Jeffrey Herlings (NED, KTM), 344 points;
2. Arnaud Tonus (SUI, KAW), 305 p.;
3. Romain Febvre (FRA, HUS), 263 p.;
4. Jordi Tixier (FRA, KTM), 253 p.;
5. Dylan Ferrandis (FRA, KAW), 248 p.;
6. Tim Gajser (SLO, HON), 209 p.;
7. Aleksandr Tonkov (RUS, HUS), 197 p.;
8. Jose Butron (ESP, KTM), 184 p.;
9. Glenn Coldenhoff (NED, SUZ), 176 p.;
10. Valentin Guillod (SUI, KTM), 173 p.;