Glen Helen Raceway
San Bernardino

,

CA
Glen Helen
Lucas Oil AMA Pro Motocross Championship
By Aaron Hansel, Steve Matthes and Jason Weigandt
Ken Roczen, Red Bull KTM, 2-2 for second in 450MX
Glad to get the first race out of the way, but just finishing it good and being out there feels really good. I think going from here it's going to be a long season. Not really focusing too much on just that one race. Obviously I did well and I felt great and everything, so we'll take it from here.
I've actually raced a couple of GPs here, and I would actually say it's somewhat the same. You come in for practice and it gets really hard, harsh and when you come in for racing they usually water it and groom it deep so it's basically a difference like day and night. I kind of knew what to expect. They definitely changed it up with that little bit of a sand section, but at one point it had a really hard base. It was kind of tough. What definitely helped me today is the starts. Actually the second wasn't as great of a jump but I shifted good and was up front. That feels awesome.
That second moto was pretty intense. Talk us through that moto as well and the exciting ending.
Me and Ryan, we were close together basically the whole time. I would actually say I could have ridden better. I think my line choice wasn't really there and I made some little mistakes and stuff. But when you're leading and someone is close to you, it's a little bit of a gamble to try a different line. We just battled the whole way and then came down to the last two corners. He just got that inside on me. I tried to come back but it didn't really work out. Put it this way, it's three points that could be important and I kind of can say he stole it from me. I kind of threw it away, which I was bummed about. But overall I was happy about my riding, and like I said, we'll take it from here.
Are your bikes [Dungey and Roczen] really that similar or do you run totally different setups?
Actually, pretty sure that we run quite a different setup, just because I've been actually trying to get the power down a little bit and make it more rideable for me since I'm just stepping on it for outdoors. I usually like my bike a little bit softer so that's kind of where I'm at right now.
Have you thought about riding the 350 instead of the 450? Is that an option for you?
It would definitely be an option. To be honest I think coming back from the 250 I actually think it would have probably been a better choice, but I made my choice riding the 450 for supercross and I didn't really want to change that for outdoors. I think it's important to not really think about it and just do as good as I can on the bike I'm on. – Jason Weigandt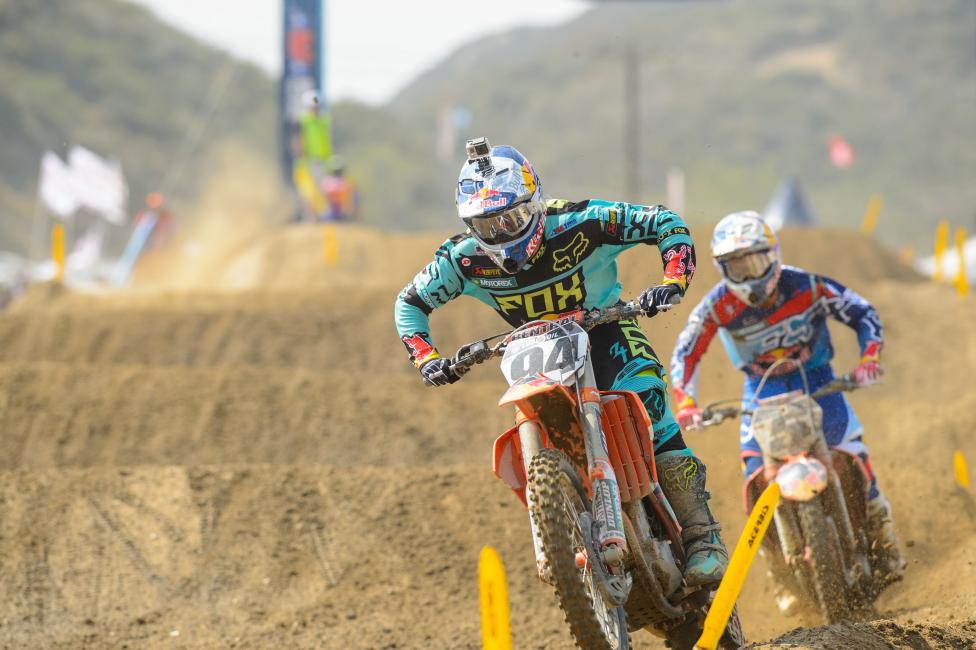 Trey Canard, Honda Muscle Milk, 7-3 for third in 450MX
That's obviously what we're shooting for every time. I think any guy that lines up on the gate, they're shooting to win the race, but I was glad to leave Glen Helen on the podium. I think it's a good start. I think we've got some more work to do on the bike. I think we're in a way, way better spot than we were last year, but I don't think we're there yet. I think we need to all agree on the direction we want to go. I think we all have a good idea. I'm really happy about it. The team is really gelling right now between us all. They're not ready to kill me yet, even though I've been out here for three weeks, so that's nice.
Can you just talk us through both motos? I think the first moto you had a couple little close calls there.
First moto I actually thought I was going to get the holeshot. I got a super sweet jump. I shifted into 5th gear for some reason, like immediately out of the gate—we saw that on the data. Kind of started rough but I was making ground, made some passes. Got around Stew [James Stewart] and there was a lapper right in front of me so I needed to slow down and kind of go underneath him. I guess he wasn't really expecting me to slow down that much and we collided. His front wheel was stuck in my rear tire so I couldn't really shake the bike free to get it in neutral so I had to try to start it with the clutch in and it just wasn't working. So I kicked and kicked and kicked and went back to 12th. I was just thinking while I was kicking that bike, every point is going to count. I don't know where the end of the series is going to go. Just tried to make ground. The second moto I was kind of in no-man's land. I was in third the whole time and those guys were steadily just pushing away. But we look at the day and we really feel like we know where we can be better, so I think that's a good place to be rather than having no idea what to do and just kind of searching. I'm looking forward to next weekend.
You came in late in supercross. Did you put any extra emphasis on motocross that other riders wouldn't? Or was it about the same as it would have been?
No, I went straight to a supercross track. I didn't even break it in on an outdoor track. [Laughs] No, I really didn't do that, I'm kidding. I wanted to try to come back to supercross as soon as I could. I spent probably two weeks riding outdoors just to kind of get my feet underneath me. But I wanted to come back in supercross just because if I came in with no racing under my belt I think that would be more trouble than spending time after time, week after week, doing outdoors up until this race. – Jason Weigandt
Weston Peick, Soaring Eagle Casino RCH Suzuki, 5-13 for ninth in 450MX
The day was going good. We finished the first moto in fifth and I was feeling good. In the second moto I think I'd caught up to about ninth place and me and [Jake] Weimer were going at it. We came down Mount St. Helens and I think I was on the inside, and I don't know if he saw me or not, but he just came over and clipped my front wheel and I high-sided and went down pretty hard. I was bummed on that. We went 5-13 for ninth overall, so not the best way to finish the second moto, but we're headed to Hangtown and I'm looking forward to getting a top five there, maybe a podium.
How was the first race with the new team?
Everything was smooth, man. It's been awesome working with these guys, everything is at my fingertips. They're willing to give me everything I need and I'm happy. It's an awesome team with an awesome staff and I'm looking forward to the rest of the season with them.
Big difference in the equipment?
It's the same bike, but it's different. There are a lot of different options and different things to try and change. It's definitely different than my program. My program, we built what we had and raced it. Here, there are so many more options. Anything I want changed, they have it available. It's awesome. -Hansel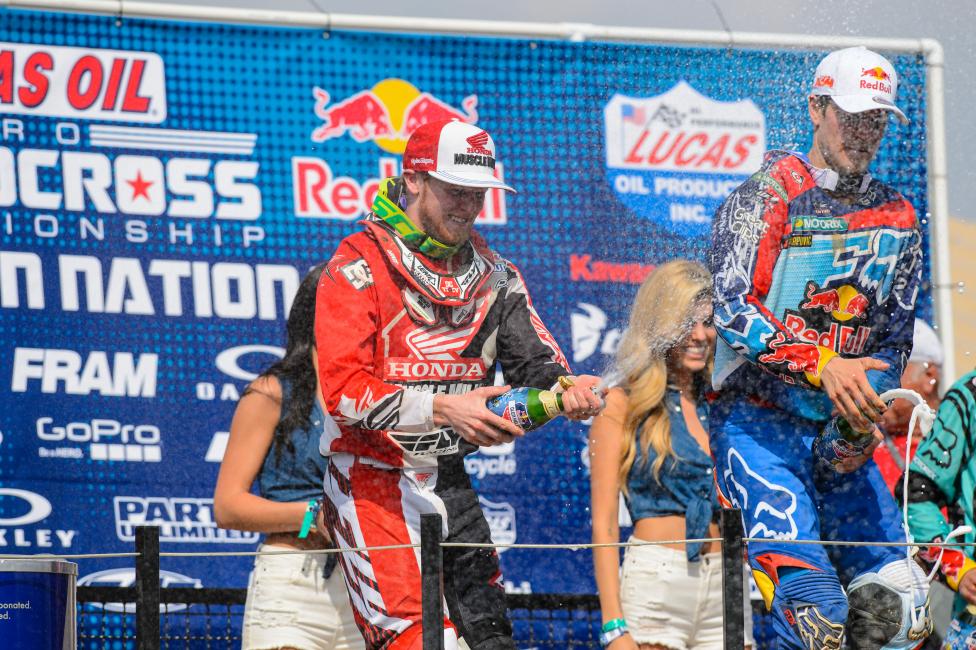 Chad Reed, Discount Tire TwoTwo Motorsports Kawasaki, 9-10 for tenth in 450MX
It wasn't JT, but it was one of your inner circle people that told me you would be happy to walk away from Glen Helen with a top 10, and you seem like you are.
Yeah, the goal was to try to come here and be inside the top 10. It's easy to say and then be happy with it once it actually happens and be on the backside of the top 10, not on the front side. But we just have to take it. Three weeks is just not enough. I've just been fighting myself and trying to be super patient on trying to get back and not blow out my hand. It's just a matter of taking the steps. The positives are the bike felt good and I couldn't tell you that I've ever been at Glen Helen and been happy with the bike. And we only spent two days of testing. I think we're in the window, I just need to get stronger and get some bike fitness and I think we'll be fine. I think we'll be back in this thing pretty soon.
How's the shoulder itself? Obviously your hands, like you said, got to get in shape, your whole body's got to get in shape, but the shoulder itself, that probably was a big worry coming down the hills?
Honestly I didn't have any moments. Just rode well within my limits and didn't really push it anytime. It's kind of like part of me, I feel like I left a lot out there. But I tried to be smart. There was a goal and I tried to fight to stay with that goal. No matter who was around me, I just tried to be consistent and just ride my race. It was slower than what I would have liked.
So was the opener in '09.
In 2009 there was a lot less guys. I want to say I went 6-3. I think I was on the podium in the last one. The only reason I say that is because I remember being up on the podium. I don't know if I pulled a K-Dub and they just put me up there just to say hi to the fans or not. But way less guys, and I was battling today with those same guys that I was battling back then. Stew wasn't there, but Tedesco and Short. So honestly we're happy. Now the challenging thing is to make big strides in one week and then do that again for Denver. Denver's a place that I actually really like the track, but for whatever reason I struggle there. So I'll try to not struggle there this year. And to answer your question about my shoulder: no pain, nothing like that. Just a little weak. I just felt like I didn't have the strength to just bulls-eye it down the hills and if I was to get a little out of shape. I didn't want to put myself in a vulnerable position so I just tried to be smart today.
Shorty had a good one right in front of you.
Actually it was funny… it wasn't funny, but he stopped by the truck and we had a laugh about it. I was kind of in the middle of the track and I tried to push him in there hoping that he would get in there, try to gauge off of me and actually go in there a little bit too hot and run wide. But then he was pretty committed to the inside so then I pretty much aborted trying to get to the inside. I went outside and then next thing I just see him eject towards me. I'm glad he's all right and I was able to hold him off. – Steve Matthes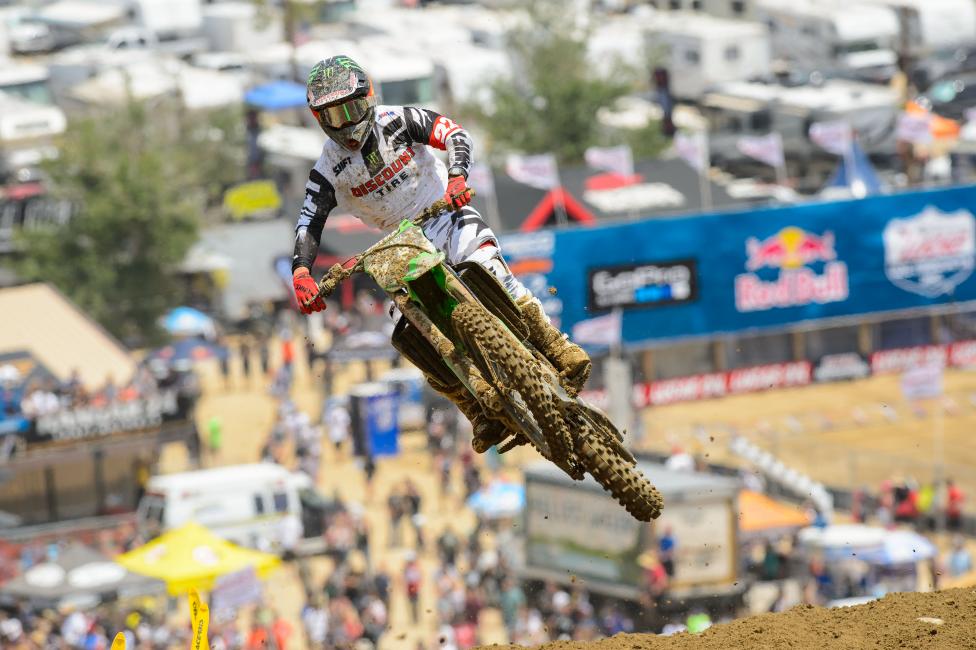 Phil Nicoletti, JGR Toyota N-Fab Yamaha, 11-11 for twelfth in 450MX
What actually happened out there? The starts were good.
Yeah, starts were good. I was really pumped about that. My JGR bike was my rocket ship out there. First moto I just about the fifth lap in, probably moved back to about 5th but I got really bad stomach cramps and honestly almost crapped my pants. It was pretty close. I barely made it to the porta potty when I pulled off the track. Took me a little while to recover with that during intermission. The second moto was good. I was running third for a little while then I went back to 11th. I don't like this track. Actually, I hate it. It's a squirrelly track. I'm not good with the hard, square-edged bumps. Good to make it out of here alive and with an 11-11 and somehow ended up 12th. But it was good. I was happy. Did two motos, solid and didn't hit the deck like old Steve Matthes said I should do. I took his advice for once.
You getting a great start, which is what everybody wants, when you first realized you were having stomach problems, were you like, "Why now?" You were in 2nd or 3rd, right?
Yeah, I was in 2nd. As soon as it started happening I was just like, try and hold the guys off long enough for JG to pull a little bit of a gap.
You were thinking about that?
It definitely passed through my head. Tried to be a roadblock for a bit but it was over. My stomach hurt so bad I could barely squeeze my bike. Like I said, I'm glad to make it out of this awesome of a track alive and just happy. – Jason Weigandt