Glen Helen Raceway
San Bernardino

,

CA
Glen Helen
Lucas Oil AMA Pro Motocross Championship
By Aaron Hansel and Jason Weigandt
Cooper Webb, Yamalube/Star Racing Yamaha, 2-2 for second in 250MX
Obviously it was an awesome day for me and Jeremy [Martin]. Couldn't be much happier. I kind of struggled on the starts today. It kind of held me back, I feel like. But Jeremy rode great, checked out both motos. Overall I'm happy with the day.
When you look at the track and you see somebody that really gets accustomed to it quickly, where do you think were the differences? What did you struggle with a bit out there?
At first it was pretty wet. They watered it pretty gnarly, some puddles and getting splashed and roosted those first couple laps and you're eating dirt, it kind of sucks. Once I got in third behind [Blake] Baggett I could kind of put some laps in. Then once I got around him Jeremy was gone so I just kind of stayed at my pace.
Since your team did so well, what were you guys doing? Were you riding here? Did you go east? What have you been doing the last couple weeks? Obviously whatever it is, it worked.
We've been out here in California. I've been out here since… all year. I have an apartment here so I stay here most of the year. We've haven't ridden together that much. Jeremy rides his track but I think our bikes are just dialed in and honestly we're both in shape. It's kind of hard to beat. – Jason Weigandt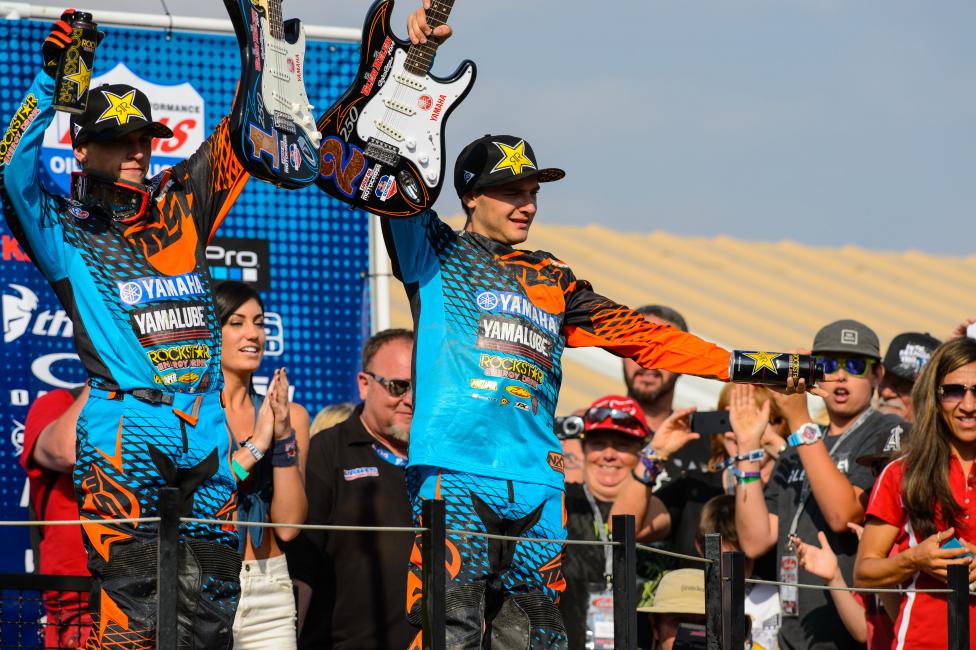 Cole Seely, Lucas Oil/Troy Lee Designs Honda, 4-4 for third in 250MX
Pretty topsy-turvy day out there. A lot of different riders had the shot at podium spots. It seems like your consistency really paid off. What was it like out there and stepping out of supercross and into this?
It was tough, especially the second moto, I didn't get a good start. I think I started like 13th. Just kind of clicking away at my lap times and had to put my head down. I got into fourth there at the end. I don't even know how, I didn't even really know where I was on the track.
You've been noted as a very successful supercross rider. Is this you're now rounding the clay and you're becoming an all-around weapon every time you throw your leg over a bike?
Yeah, I think with supercross just the way my riding style is it fits it so good, that my fitness really wasn't that big of an issue. I think outdoors I just needed better fitness and now it's there so it's helping.
Last year, you had a big injury the year before. Did you ever feel you were 100 percent full strength last year outdoors?
No, I didn't. Last year was tough for me. Going into the outdoors last season, I didn't really realize what missing 12 rounds in 2012 would do to me. It was a major step back; a bigger one than I thought it was going to be. But this year, put my head down, put the work in earlier this year. Now I feel like I have a good enough base to put me through two solid motos.
Did you think you could be a podium guy this year? Because you struggled last year and didn't even race in '12, I don't think people had you on the list. Does that fire you up at all? Do you think about that?
No, because I don't feel like I've proven myself enough in the outdoors to have it in people's minds that I'm going to go out there and get podiums. But in my mind I knew that I was in good enough shape. It feels good to have the fitness and feel like I can run with a podium position each weekend.
Was that first moto weird? It was such a weird group of guys up front. Were you wondering where people were?
Yeah, it was different for sure. I feel like there's so much hype around some of the names going into that first moto. I was like sixth and I could see Jeremy up front and I was trying to stay with him and he was just plugging away and pulling us a bunch. By the time I made my way to second I felt like I was leading because he had such a big gap. I just tried to put my head down and I cramped up a little bit there at the end and Cooper and Jason [Anderson] got by me, but I felt like I rode pretty solid. – Weigandt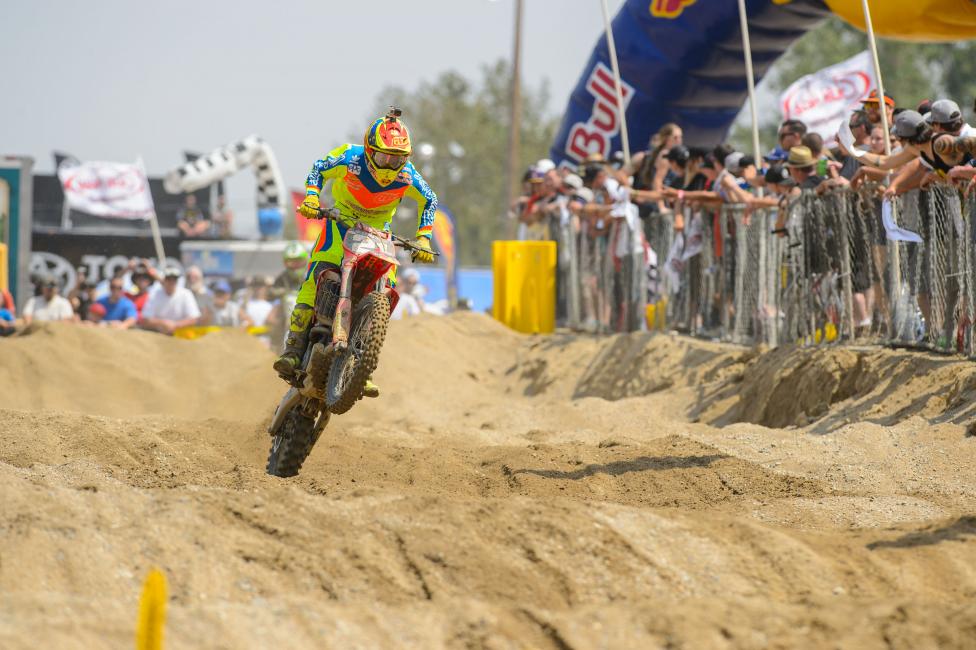 Christophe Pourcel, Valli Motorsports Yamaha, 7-5 for fifth in 250MX
The first moto I got a bad start. My starting device was a little too high. I was battling with Baggett and [Dean] Wilson and couldn't find a lot of lines. The track was getting very rough, and I was trying to improve my position, but I couldn't pass anybody. I was following Dean Wilson and Baggett was doing the same thing, and that's pretty much it for the first moto.
In the second moto we moved the starting device down and it felt a lot better. I got a good start and I was up front, top five or something, but still couldn't find many lines. I was following Anderson I think, then Seely. It was super rough, and it's been a long time since I've raced. I didn't want to crash in my first race back. I wanted to get a top five overall, so it's good. If you can win you'll win, for sure, but it's been a long time since I've raced so I have to get used to it again. I know it will come around and I'll feel better every moto.
Was it a big deal to you that you were fastest in both qualifying sessions?
It's not a big deal, but it's always cool to know that you can be the fastest guy. I think things will come together, and if I can keep my speed from this morning it will be good.
Any differences than the last time you were here?
In 2009 when I raced here with Dungey, the track wasn't bad. But today I think they could have made some of the downhills better. A few guys crashed and got hurt, and that's too bad. We were all going so slow because it was so rough and you couldn't find any lines going downhill because everything was so deep. In 2009 I think the track was a lot better with more lines. – Aaron Hansel