In The Mag, On The Web is an online feature where we take a behind-the-scenes look at one of the print features in Racer X Illustrated. Check out some more information on "Super Something" by Davey Coombs.
When the first supercross series started back in 1974, no one probably could have guessed that it was going to become the global success that it is today, attracting the world's best riders to jam-packed stadiums all over the country, and beamed live all over the world... In fact, things were so uncertain forty years ago that they didn't even know what to call it! They settled on "Yamaha AMA Super Series of Motocross," and it lasted all of two weekends: Daytona and the Houston Astrodome. Not all of the factory teams participated, and there is little if any quality video footage found of it. But both races are incredibly important in retrospect, and I wanted to build a feature in the magazine that showed what supercross looked like back then, in the eyes of not only the racers, but the fans and promoters and officials.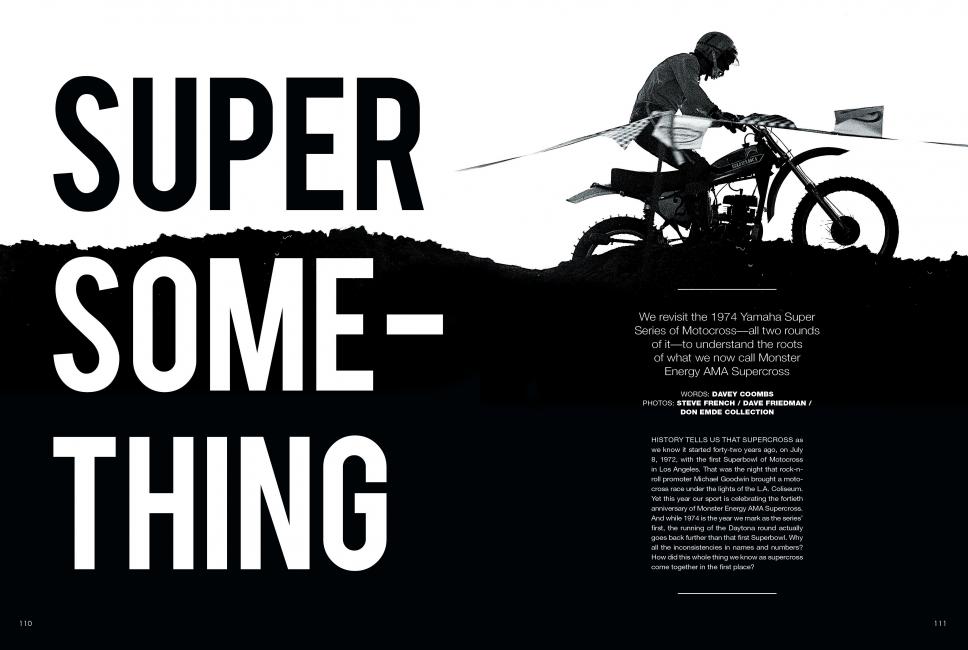 Fortunately, we have a huge photo archive here at Racer X that goes back even past the first Superbowl of Motocross at the Los Angeles Coliseum in 1972 (the catalyst for what became that first series two years later). But we still couldn't find enough good photography to illustrate this feature, so I called Don Emde, another collector who's archives of American road racing and dirt track are extraordinary in both their scope and size. Don didn't recall having anything from that '74 Daytona race, but promised he would take another look. He called back two days later laughing into the phone, saying, "You're not going to believe this, but there was a guy there that week that was shooting the Daytona 200 for a street magazine, and he apparently decided to fire off a few rolls of film on the supercross race. I found them all mixed in with his road racing shots!"
From those few photos, along with some beautiful old black-and-white shots by Steve French, we were able to pull together a look at what was then called the Yamaha Super Series of Motocross, but what we all now know as Monster Energy AMA Supercross. It's amazing how different it looked back then, and also how small and downright cool it was too. That's why we called the whole story "Super Something."
Read the entire "Super Something" feature in the June '14 issue of Racer X right now or look for the cover below on Newsstands to pick up the issue in person.