Sam Boyd Stadium
Las Vegas

,

NV
Las Vegas
Monster Energy AMA Supercross Championship
Las Vegas' Sam Boyd Stadium hosts the last round of Monster Energy Supercross and presents some unique challenges for the riders. For those of you currently residing under a rock, Vegas is right smack in the middle of the desert. The arid climate produces some fairly horrific dirt regardless of how much effort goes into preparing it. When I was walking around Manhattan the previous weekend, I heard that the base dirt had already been placed into the Vegas stadium. My first thought was what ended up coming to pass: the dirt would be past the point of recovery and it would be a slippery affair in Nevada.
You see, once that adobe clay sets up, it's virtually impossible to work any moisture back into it. The only way to keep it pliable is maintaining moisture from the get-go. In fact, the only years I can remember Vegas having decent traction it had rained in the days leading into the event.
This was not one of those years.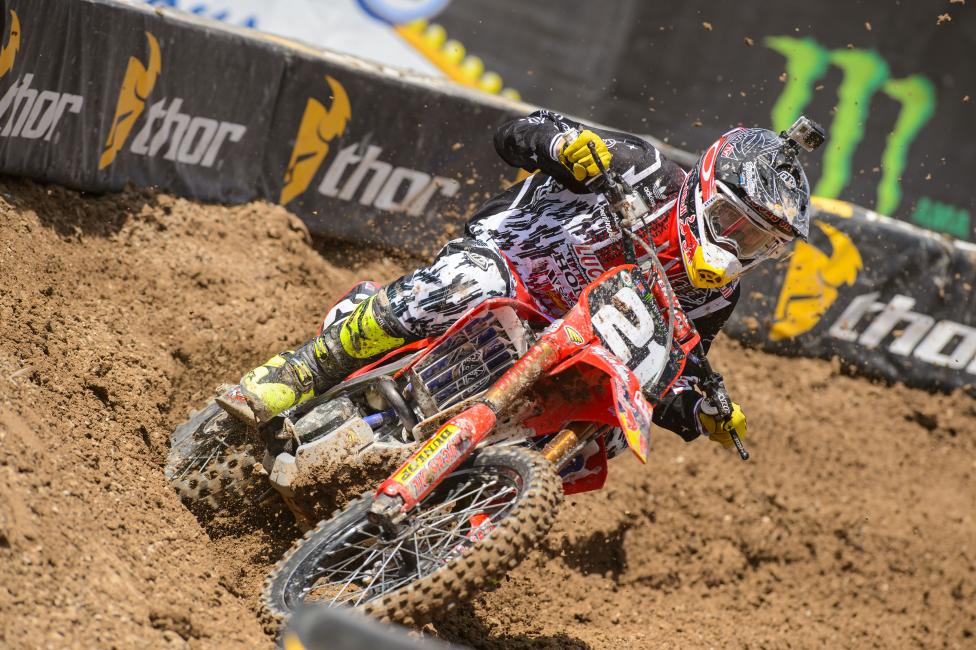 From the first lap of the first practice, it was evident that though Dirt Wurx had generously applied water to the course, it was in vain. The water turned the dirt into a top layer of ice and mud but couldn't penetrate the surface nor soften up the terrain. Even the tractor disc--rarely ever used at a supercross event--was powerless to dent Sin City's crust. Yes, this track is known for hard packed dirt, but this year's dirt was worse than usual. Sitting out in the unforgiving sunshine all week pushed it past the breaking point.
Besides the lack of traction, Vegas presents another issue: The roost coming off the rear tire is easily the most painful of the series. It certainly is attributable to the length of "Monster Alley" and the fact that riders are reaching 70 mph. No other race on the schedule comes close to that speed. Hitting that speed actually isn't as crazy as it sounds, since that section of the course is smooth--it's not nearly as scary as hitting a rough, rutted straight in a motocross national at high speed. But, that high speed combined with incredibly hard dirt makes for a painful race. In fact, if you watch closely, you can often see riders bobbing and weaving away from the spray in front of them. Heads are ducked behind the handlebars on the start and if riders wore microphones inside their helmets, we would need censors. Some of the chest and arm welts I have experienced would make even the most devilish of dominatrices blush. Most years the bruising would lead me to remain fully clothed at the pool the next day, simply because I looked like I had been stoned in Tehran town square. It is not necessarily a health hazard, but it is certainly overlooked in terms of what riders deal with when Vegas comes calling.
Even with the inevitable roost torture and treacherous track conditions, the toughest task facing riders is a simple one … Motivation. Every rider coming into Vegas is battling some level of burn out. They have been practicing supercross for over eight months and the end is looming. Most of the riders aren't vying for any sort of championship and there usually isn't much up for grabs other than one last chance at a great finish. The grueling Lucas Oil Pro Motocross Championship lies ominously ahead on the calendar and everyone seems to be hoping to get there unscathed. With all of the pre and post race Las Vegas festivities, it feels like the actual race is merely a formality for some. In all honesty, it seemed like that's what I was watching Saturday. I didn't see much intensity from a vast majority of riders and having been there, I can certainly understand why. There were more than a few fans and industry members alike whispering about the lack of excitement. Unfortunately, that's the price paid for 17 races in 18 weekends. While there is no one to blame, it was certainly apparent to me that the riders had tapped out on this year's series. The 450 championship was decided, as well as the runner up spot. The 250 class titles weren't locked in stone but unless Cole Seely was granted a magic wish, there wasn't a surplus of suspense there either. It was just one of those races where riders seemed to be going through the motions.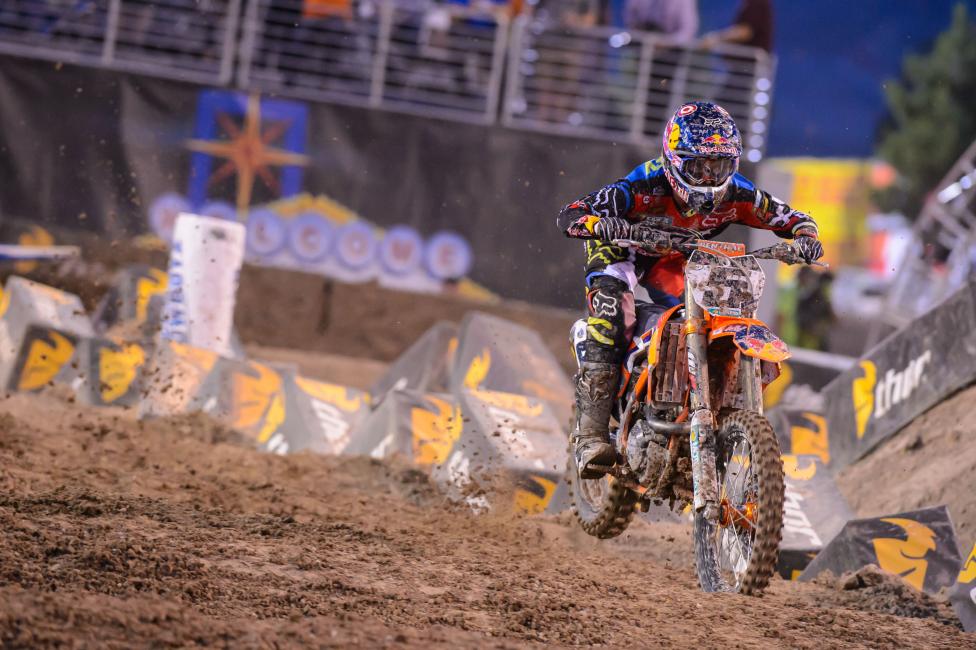 Every now and again, the racing action reminds us that there is a difference between incredibly tense action and just another night of supercross. As we transition into summer and kick off another championship, I expect the excitement and motivation to return in full force. The two weekends off will recharge many batteries and prepare everyone to tackle 12 more rounds.
Or at least that is what I am telling myself.