Sam Boyd Stadium
Las Vegas

,

NV
Las Vegas
Monster Energy AMA Supercross Championship
Annnnnnnd that's a wrap. The 2014 Monster Energy Supercross Championship was all done when Ryan Villopoto collected the checkered flag after twenty laps in the 450SX main event. The season that started out with so much promise, and came in like a lion, went out like a lamb as Villopoto collected his fourth straight win in the series (he unofficially clinched the title many, many weeks ago) and led every lap of the main event. We still had the Western Regional 250SX Championship to fight about though so there was that, I guess.
I'm not sure how I feel about the new 250SX format that was introduced a few years ago where the final 250SX mains play out before the Dave Coombs Sr. East/West Shootout. I've always loved the Shootouts and I'm all about trying new things and changing up the format of the series, but I'm not sure having the mains in Vegas is ideal. I do like Feld changing up the order of races like they did this year and having the 450 heat races go first. The previous way, with the very first and second races of the night going for all the marbles in the 250SX class, felt a bit weird and anti-climatic for sure.
But now the Shootout has lost some of its luster as the riders seem to be going through the motions. I couldn't believe it after the race when I asked the winner, Justin Hill, if he got a win bonus for the Shootout and he didn't know! He didn't know if he just made a lot of money or if it was just the regular old pay. This astonishes me on many levels but it sort of proves my point: the riders don't seem to care that much about it, so why should I?
There used to be a truck up for grabs for the winner and it was the only main event for the 250SX guys so the intensity was there. Now, though, if you're a champion of the class you just went through a majorly stressful main event where you clinched the title (or you clinched it beforehand and have one eye on the Nationals) and you're just relieved it's all over. If you're the dude who just missed the title after a fifteen-lap main event, then you're dejected and don't care much about a ten-lap shootout with nothing up for grabs. And you can see it out there—the riders aren't really going balls out. Name me some shootout winners off the top of your head the last few years. If you can, chances are you're related to them.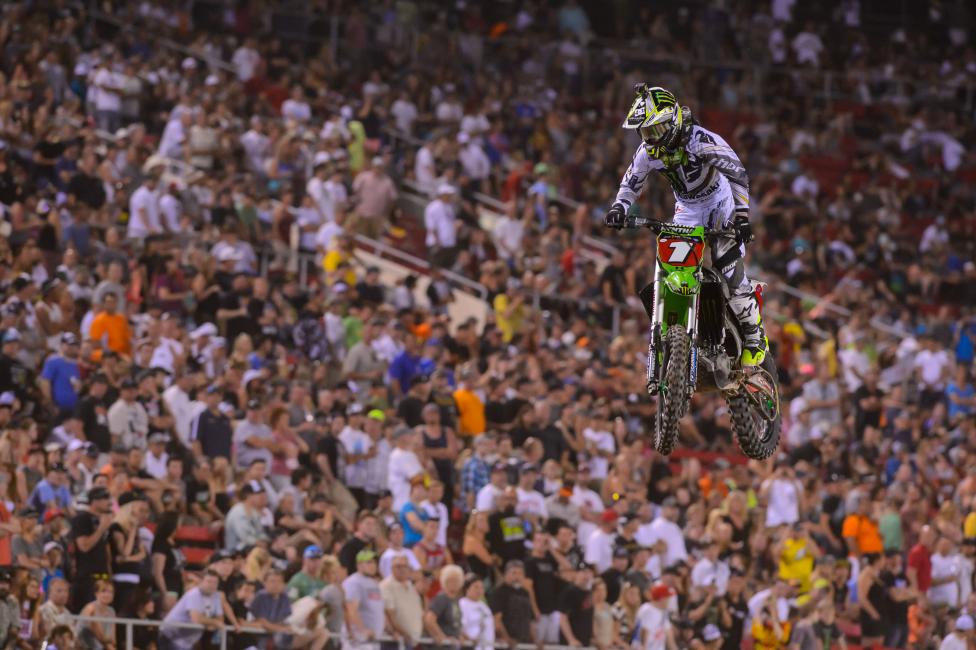 As far as the track is concerned, it's Las Vegas. It is what it is: the dirt is going to suck and be hard packed. It's the desert and it's going to be hot and dusty. Las Vegas is just never very good but the design itself I though was okay, and the prep seemed pretty good in that there wasn't too much water thrown down like so many other years. And there did seem to be fewer rocks than ever before. BUT (there's always a but, right?), the over-under bridge was there but the crew only used the over as the landing to the finish line (this is bad) and the two single jumps that were supposed to have sand in between them but didn't, which was an incredible failure. The "sand" was rock hard and when the crew went out there to loosen it up it didn't work at all. This was a very confusing section for me and I couldn't figure out what the plan was. There was no real sand there, it was just left there with the rest of the pad and became cement over time. Weird deal.
There was a time where there were whispers about Villopoto not being his usual dominant self this year, he was going to use James Stewart and Ryan Dungey's mistakes and Chad Reed's injuries to back himself into a fourth supercross title. I myself wasn't believing this talk, but there's no doubt the wins and domination from his other three championships hadn't been there in 2014. In St Louis, Villopoto led early only to have Stewart catch and pass him for the lead and after the race Ryan was very angry. He was not happy at the clear-cut "betterness" of Stewart (yeah, I just made a word up). And all he's done since then is absolutely destroy the field to pretty much shut everyone up.
Starting in Houston, when he went down hard in the heat and had to ride the semi to get into the main event, he really picked up his game. Four straight wins to close the series and get this, HE LED EVERY LAP OF ALL THOSE MAINS. Yes, it was a stamping of a title if there ever was one. Seven wins on the season (the most wins out of any rider for the fifth straight year) and a fourth straight supercross title. Years from now no one will talk about Ryan only having two wins through the first nine rounds of supercross. Nope, they're going to talk about all those stats I spoke about above and the fact that he didn't ride practice in Toronto yet he still scored a sixth place in that night's main event.
Now that the PR is out we all know Villopoto is out for the Lucas Oil Pro Motocross Championship due to a knee injury, but many of us that knew about it for a while were confused when Ryan said he was racing the Nationals after the New Jersey SX. It was a weird thing to say and people that were close to the team even wondered why he would say he was in when he knew he was out. After we put out a Racer X Rapid ReaXtion he was not pumped with the things we said in there and I imagine it was because he is getting a lot of heat from fans. We've got to stand by what we know in regards to a situation but let me tell you that this is a pretty strange deal. A lot of people didn't know what was going on and I'm not sure even the Kawasaki guys know what exactly is wrong with Villopoto's knee. Maybe some of his desire to not race the Nationals has something to do with his issue that hurt him in Toronto? Maybe he's burnt out and needs a break? (Obviously he can't come out and say that). Maybe it simply is what the PR says it is, and his knee is hurting. Like I said, this is a bit of a strange situation and his absence from the Nationals will be felt.
No matter what it is, we witnessed history this year with Villopoto. He's got nine combined MX/SX National titles (second all-time) and his place on the Mount Rushmore of the sport is further secured.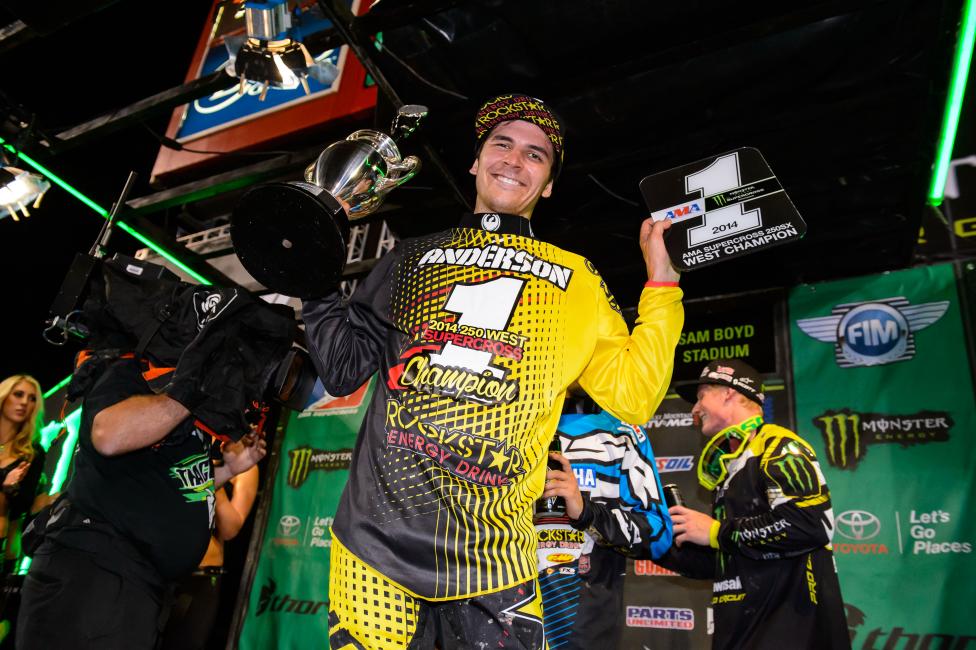 The Western Regional 250SX championship was the only title left to be decided and it was for all intents and purposes over after the first turn. The points leader Jason Anderson didn't get the start he needed but title rival Cole Seely didn't get a good start, either. Cole needed Jason to get that bad start while he grabbed the holeshot and checked out. Had Cole gotten that start, there's no doubt Anderson would have been pooping bricks because Dean Wilson, Cooper Webb and Justin Hill were riding great and really could've beaten him straight up, which would have cost the #17 the title.
But if ifs and buts were candy and nuts, right? All Ando had to do was follow Seely through the pack and the title would be his. And that's exactly what happened. Anderson revealed after the race that he had a bruised lung/collapsed lung/almost died (depending on who you talked to) and that this race was indeed hard for him. For some reason Jason chose to deny this injury before the race to anyone who asked and this decision always baffles me. What's Seely going to do, run up to him under the tent and whack his chest with a baseball bat? There's no downside to admitting you're hurt, it happens and it makes you out to be a hero when you're out there. I don't get that mentality, but then again I don't get a lot of decisions made in the pits. There are people who make key decisions on teams and they look like circus clowns. But I'm getting off track here…
Congrats to Jason Anderson, Rockstar KTM owner Bobby Hewitt, team manager Dave Gowland and everyone on the team for their first professional title. As Gowland was telling me afterward, they are the first privateer team to win a title in the sport in that they have to purchase their motors and suspension from KTM.
Jeremy Martin's had a shit supercross season. There I said it. The highly touted Minnesota kid came into his second supercross season as a potential title contender on the East Coast. His rookie year was pretty good, he got a podium and another fourth before exiting with an injury. He really caught fire in the Nationals last year. And with an all-new bike from Yamaha, Martin should have been one of the guys this year.
But incredibly enough he didn't qualify for the first two main events of the year. Yeah, that's right. He didn't qualify at last year's first round and that was a shocker. Not qualifying for either of the first two rounds this year was a REAL shocker. Championship guys just don't do that (thank you Steve for that wisdom). And when Jeremy started making the mains he wasn't exactly setting the world on fire. It was a baffling sophomore jinx like we've never seen before. About the only race that Jeremy did perform well was Daytona and that led some people to think that he was just maybe not that good at supercross. But to his credit he kept working away at it and in New Jersey he finished a strong second place. Yeah, the field was depleted with injuries and he was one of only three factory guys left, but still, it was where he should have been all season.
In Vegas he got his first career win with a nice ride. He caught and passed a surprisingly just-okay Justin Bogle and pulled away. It could be just what he needs going into the outdoors and more importantly going into supercross in 2015. Martin baffled some big-time pit insiders with his decision to not field any offers from other teams and just re-sign with the Yamalube Star Racing Yamaha crew, and he's looking to try and get better indoors in 2015. I'm no Donnie Hansen but qualifying for round one is the first step to doing better.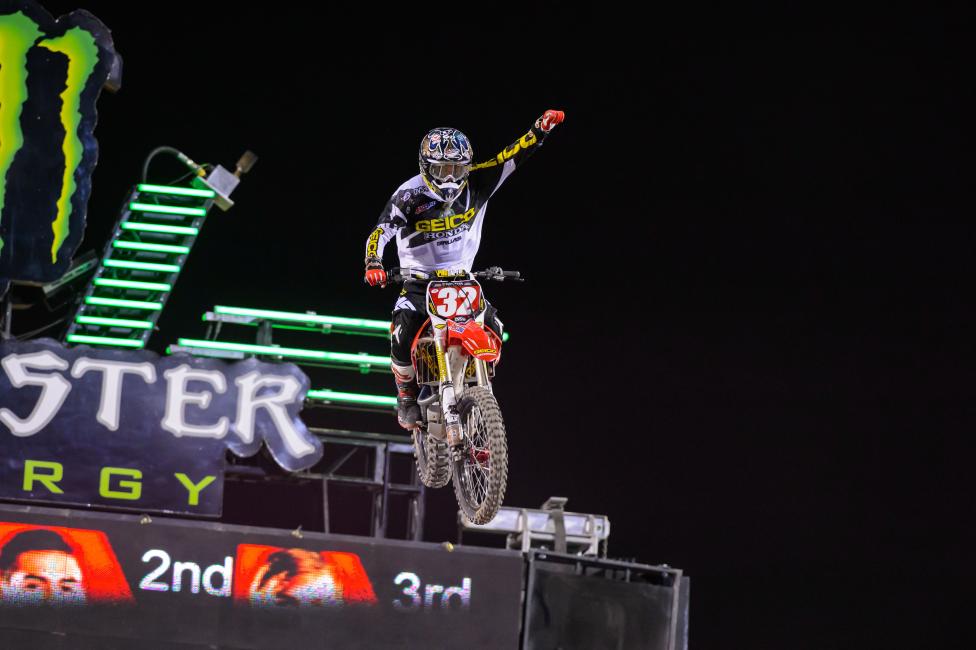 Martin's teammate Cooper Webb put in his career-best supercross ride in the West to finish second, so Yamaha came this close to sweeping both 250SX main events in Vegas. Webb told me after the race that he also re-signed with Star and is excited for the future with Martin as his teammate. Let's hope that either Martin or Webb can break Yamaha's seemingly 73-year-long win drought for 125/250MX overalls this summer.
With the Eastern Regional 250SX series racked by injuries, the lack of depth of that class really showed up in Vegas. Jeremy Martin was the fastest qualifier in the East and his best time would have put him seventh in the west. SEVENTH! That's pretty remarkable and although the East didn't start off as weak as last year it certainly looked a lot like last year by the time this race rolled around. Want another "West is best" stat? The West took eight out of the top ten in the shootout.
We had four main events in Vegas but let's break this down with just the shootout list and go from there, shall we?
250SX Shootout Results
1 35 Justin Hill Yoncalla, OR Kawasaki KX 250F- Hill's contract is up with Pro Circuit Kawasaki and there's talk of him going to Rockstar KTM (soon to be Husky) but Hill told me after the race he wants to stay with Kawasaki. With his supercross season being so strong I think Kawasaki will do everything they can to keep him green. There's no rider more improved in the 250SX class than Justin Hill.
2 15 Dean Wilson Wesley Chapel, FL Kawasaki KX 250F- Dean won the 250SX West final in a nice ride that left a lot of us just wondering why in the hell he was nowhere near the front at every single race this year. Wilson is going to Red Bull KTM next year for a full-time 450 ride so this was his last ever 250SX race. With his win he further extended his record for most main event wins by a 125/250SX rider to never win a 125/250SX title.
3 17 Jason Anderson Rio Rancho, NM KTM 250 SX-F- Anderson's got a big summer ahead of him here as I think a lot of people are underestimating what he can do outdoors. He had a crappy end of the season last year, but before that he was consistently top five.
4 37 Cooper Webb Newport, NC Yamaha YZ250F
5 19 Jeremy Martin Millville, MN Yamaha YZ250F
6 21 Cole Seely Lake Elsinore, CA Honda CRF 250- Seely had a nice year, he's fast and won a few races but there was no doubt that start to finish, Anderson was the slightly better rider. At least in my opinion.
7 66 Jake Canada Sun City, CA Honda CRF 250- Nice ride for Canada in this shootout and in the West main to secure a top ten in the series. Unfortunately for Canada, as I explained above, no one will remember this finish and it won't mean anything. Hey, don't shoot the messenger.
8 30 Kyle Cunningham Aledo, TX Honda CRF 250- Cunningham is always good in Vegas and he collected his third fourth place of the season in Vegas and ended up fourth in the points. A decent season for Kyle as he didn't show the raw, crazy speed he's had in the past but he also didn't cartwheel a lot this season either.
9 87 Shane McElrath Canton, NC Honda CRF 250
10 50 Jessy Nelson Paso Robles, CA Honda CRF 250
11 89 Michael Leib Menifee, CA Honda CRF 250- Leib's going to the first couple of outdoors to see how he can do and hopefully pick up a fill-in ride or something else if he puts in some good results. Could we see the Leibonator head to Europe for the sixty-third time to ride some GPs?
12 96 Matthew Bisceglia Weatherford, TX Honda CRF 250- The rookie collected his first career podium in the 250SX East main with a third and that's good for him. When you're on a GEICO bike podiums are expected.
13 60 Jackson Richardson Australia Honda CRF 250
14 55 Alex Martin Millville, MN Yamaha YZ250F- Troll ended up beating his brother in the points. We all love Troll but this is NOT a good thing for Jeremy.
15 62 Mitchell Oldenburg Alvord, TX Honda CRF 250
16 854 Landen Powell South Jordan, UT KTM 250 SX- Powell did well in his 250SX main event. The amount of privateers in the 250SX East main event who did well and were factors was astounding.
17 32 Justin Bogle Cushing, OK Honda CRF 250- The best thing about Bogle's shootout was the gold rims he had on his number 1 GEICO Honda. Seriously, that was about it.
18 533 Gannon Audette Tallahassee, FL Kawasaki KX 250F
19 56 James Decotis Peabody, MA Honda CRF 250- JImmmmmmmmyyyyy DDDDDDDDDD didn't have a good Shootout, but he did finish fifth in the East main.
20 34 Malcolm Stewart Haines City, FL Honda CRF 250- Mookie was looking GOOD and then splattered himself after the two single jumps in a crash that made no sense. It was a hard crash. The ground shook. Seriously.
21 78 Matthew Lemoine Pilot Point, TX Kawasaki KX 250F- Lemoine was a sneaky pick for a podium in his main event but then he went out there and wadded it up while in fourth. That sucked.
22 16 Zach Osborne Chesterfield, SC Honda CRF 250- Bad night for Osborne as he went down in the first turn and called it a night. Is that what they mean when they say "turned down for what"? Like, the first turn? No?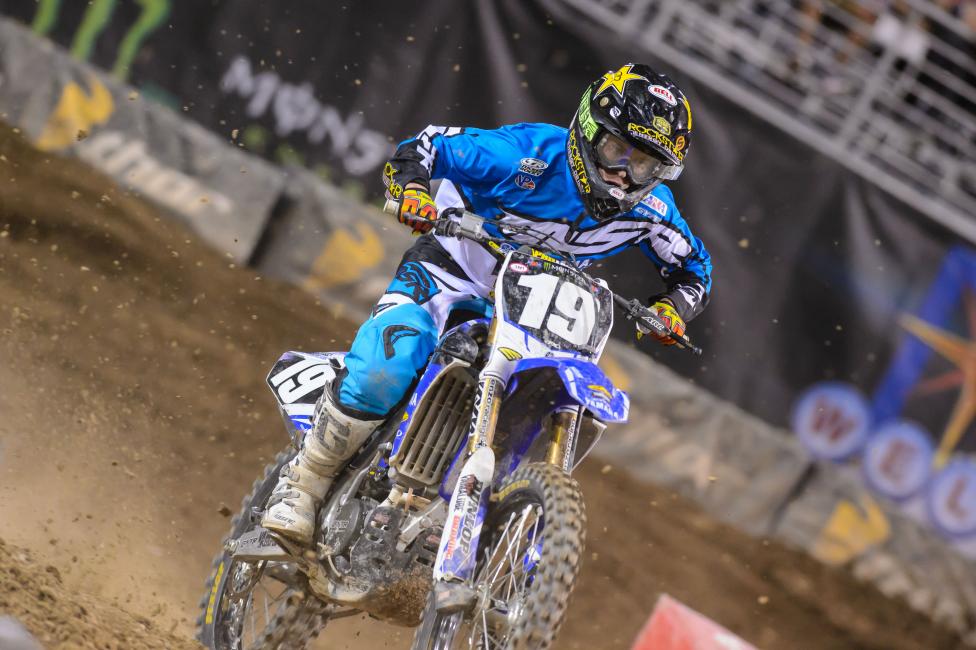 450SX Results
1 1 Ryan Villopoto Seattle, WA Kawasaki KX 450F- Just crushing it out there. When Villopoto came into the stadium in the lead I literally saw people get up out of their seats and head to the exits. And I can't say I blame them.
2 5 Ryan Dungey Belle Plaine, MN KTM 450 SX-F- Dungey was Dungey. He had nothing for Villopoto but he beat the crap out of everyone else. I'm sure he had one eye on the upcoming Nationals and wasn't really trying to push too hard. Vegas was the type of track where if you pushed hard you could end up on your head.
3 94 Ken Roczen Germany KTM 450 SX-F- With Stewart's DNF, Roczen jumped back into third in the series and that's a very impressive rookie 450SX season. Two wins and some great races for the German.
4 51 Justin Barcia Pinetta, FL Honda CRF 450- No wins, fifth place in the series, two races missed with injuries and just three podiums on the season. There's no possible way I would have ever said he would do this bad this year. Onto the Nationals for the #51 and let's hope better days are ahead or Jeff Stanton is going to just lose it.
5 41 Trey Canard Edmond, OK Honda CRF 450- Ah crap, I was telling everyone that Canard was going to podium one of the races he made it back for but it didn't happen. Oh well, chalk that up to another thing I was wrong about. Just like the flying cars prediction.
6 75 Joshua Hill Yoncalla, OR Suzuki RM-Z450- Hill told me sometime late Saturday night that he was a big fan of Observations. That was nice of him.
7 33 Joshua Grant Corona, CA Yamaha YZ450F- Grant is probably drooling thinking about Glen Helen coming up.
8 12 Jacob Weimer Rupert, ID Kawasaki KX 450F- Not a good night for Weimer. He's fighting for a contract next year, started second and ended up here. I don't expect him to challenge RV or even the top three but he shouldn't let some of the guys catch and pass him like he did. The good thing is no one was really caring all that much about the 450SX main event.
9 68 Chris Blose Phoenix, AZ Honda CRF 450- Blose took advantage of the injuries to the big guys to consistently finish pretty good late in this season. He's always good on the hard packed stuff and he proved it in Vegas.
10 29 Andrew Short Smithville, TX KTM 450 SX-F- About the only drama in this race was to see if Shorty could go out there and get yet another top ten. And it didn't look good early when he was buried in the back. But then Peick went out, Alessi had a mechanical and Short cruised on by for a tenth which was his sixteenth of the series and he ends up with a VERY respectable sixth in the series. All these kids, all these "cool guys" that get press, all these "hot new things" and there's old man Short finishing sixth and beating just about everyone. That's just what he does, people.
11 11 Kyle Chisholm Valrico, FL Yamaha YZ450F- Nice to see Chisholm get a good result this year. It's been a tough season for the guy with injuries and coming into the season late and not 100 percent. It took seventeen rounds for him to get back to where he used to be, which is a top ten guy (C'mon, give me the eleventh as a top ten) and he looked pretty good out there.
12 48 Ben LaMay Forney, TX Yamaha YZ450F- Rock River finally had both of its 450SX riders inside the main event at the same race. And both riders got a season best at that. Yay! Free Cycle Traders for everyone!
13 77 Jimmy Albertson Shawnee, OK Honda CRF 450- Good ride for Top Jimmy who needed a week or so to recover from his crash a couple of weeks ago. This finish tied for Albertson's best result of the season.
14 415 Nicholas Schmidt Marysville , WA Honda CRF 450- Okay, who had Nick Schmidt making twelve main events in this year's pool? The problem with Nick is that he almost always rode better in the heat and semi races to GET to the main than he did once he was IN the main. Still, solid season for the privateer.
15 374 Cody Gilmore Blair, NE Kawasaki KX 450F- Full props to Gilmore as he lawn-darted himself in the first turn into the bushes. It looked like he didn't even brake! But "Happy" dusted himself off and made yet another main event. Good job for Cody, this was his best supercross season by far.
16 771 Kyle Regal Grand Prairie, TX Honda CRF 450- Regal's going outdoors with Albertson and the Motosport Crossland Racing team and it should be interesting to see how he can do. The Regal Beagle has always been a better outdoor rider.
17 800 Mike Alessi Hilliard, FL Suzuki RM-Z450- Mike's bike developed some sort of chain issue late in the race and he was fighting to try and get it on before just giving up. We were up in the press box wondering why Mike was fighting with the bike while other riders almost hit him out there when it all started to make sense. Mike probably actually CARED about getting a top ten in the series.
18 606 Ronnie Stewart Easton, PA Suzuki RM-Z450- I got Tyler Keefe of the Troy Lee Designs team to look into this deal where The Candy Man only has two sets of gear. Keefe didn't get a definite answer one way or another but in doing some digging, he thinks that Ronnie only LIKES those two colors of gear. This is the stuff that I do during the week people.
19 792 Bracken Hall Rock Springs, WY Honda CRF 450- The Bracken was released again!
20 40 Weston Peick Wildomar, CA Suzuki RM-Z450- Peick was gunning for top ten in the series but had another mechanical early in the main and dropped out with another DNF. Still, this series was terrific for Weston and when he was upright and didn't have any problems, he was hella fast. And now Peick's going to get the red carpet rolled out for him on the RCH team. He's probably not going to know what to do when he's just sitting in a lawn chair and other people are working on his bike for him.
21 67 Tyler Bowers Danville, KY Kawasaki KX 450F- No one's really sure what happened to Bowers out there. He was certainly pretty good in practice. His team owner Chad Reed changed the subject when I asked him, another team member said the bike was fine and yet another one told me to "Ask him, he's a great kid". So, uhh, yeah. That's all I got. Word on the street is Bowers will be on the Pro Circuit squad for next year doing SX/MX.
22 7 James Stewart Haines City, FL Suzuki RM-Z450- He DNF'd the first race of the year and did the same at the last race of the year. Stewart suffered a fork problem on the first lap of the race and he was done. What a poopy end of the year for him as he went from second in the points to fourth. And when I asked Stewart if he cared, he said that he did indeed want second in the points. Still, a good SX season for James with his multiple wins and re-establishment as "James Effing Stewart" after a couple of years of "What's wrong with James Stewart?" James Stewart showing up.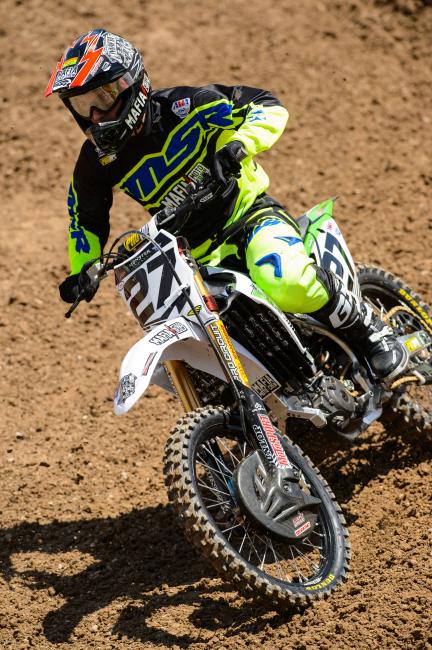 Some other news and notes:
- Nick Wey hurt his knee last week and tried to race Las Vegas but was unable to do so due to the wonky joint. So that in itself isn't a big deal but what is a big deal was that we might never see Wey on the track ever again. At this point the Mafia Moto Crew member is on a year-to-year basis and he already knows he's not doing the motocross series so this could be it for Wey. He might just not get to race again and he'll lack a proper send off. Sometimes that's how she goes but I do hope we'll get to see Wey out there in SX next year.
- Forget the El Cajon Zone, bro. It's the District 23 Zone! Minnesota is back and it's back big-time baby! I've touched on this before but the home state of Tommy Benolkin, Donny Schmidt and Ryan Dungey is quietly producing some riders these days. Besides the great Dungey, check out the finishes for these MN kids in the 250SX East Coast class:
Jeremy Martin 1st
Mitchel Oldenburg 6th
Alex Martin 7th
Gannon Audette 8th
Zack Williams 14th
That's FIVE guys in the twenty-two-man main event. Minnesota was for years just slightly above North Dakota in terms of great riders produced (apologies to the great Bill Stork) but nowadays they're doing pretty well. Call it the Ryan Dungey effect.
- I don't know what was going on with Justin Barcia's gear out there. I was also thinking the same way back at Anaheim 1 so Barcia went out of the series the way he came into it.
- I've been writing about the battle for 20th place in the overall standings for a while now and have been making some jokes that Trey Canard was going to bump his buddy Jimmy Albertson out of the top 20. The series ending bonuses for 20th is $8780 and the series-ending bonus for 21st is $0. So, yeah, I don't know about you dear readers make who are reading this, but in my world $8780 is a nice chunk of change.
So what did end up happening? Well Canard zoomed all the way to 18th in the final points and Jake Weimer got 20th place in the points via his ride in Vegas. And the real loser in this is Ivan Tedesco who went from 20th place and $8780 to zippo (Ivan hasn't raced for a while). Poor Ivan and yay for Jake!
Thanks for reading this column this year. We'll be back for the outdoor season to offer up some fact, opinion, conjecture and predictions that never seem to come true. Email me at matthes@racerxonline.com and we can talk.