Jason Thomas: Well, I have to say this: We were right. I, along with a couple other of my media colleagues, were ridiculed online for passing along what was then a rumor. This story has been brewing for quite a while now and I first heard of it over a month ago. For RV, he will deal with whatever issues he is facing. For the rest of the field, this is a Godsend. RV would have to be considered a heavy favorite this summer and with his absence, the door is wide open. For Monster Energy Kawasaki, it looks as though Brett Metcalfe will get drafted away from their Canadian cousin, Leading Edge Kawasaki, and head back down into the premier outdoor championship in the world. Josh Hill is set to replace Metcalfe up north and it's good to see Josh land on his feet after RCH let him go. All in all, life will go on and honestly I think there will be better racing with RV taking the summer off. We will have more variance and more suspense each Saturday morning. It's a bummer for the series in the fact that we won't have one of the greatest racers ever, but hopefully we will have some great racing to offset it.
Steve Matthes: It's bad news for Villopoto, his team and sponsors that he's missing the Lucas Oil Pro Motocross Championship. I'm not a fan of the way he handled it. Why not just say he wasn't sure what was up and he needed more time to see if he would be able to race? But anyways, with the news that he's out and Brett Metcalfe is in (first reported in Racerhead a couple of weeks ago) I can see that Kawasaki did the best job they could in getting a replacement.
We've seen instances where riders and teams just outright lie to the fans and media because of contracts or whatever and it's disappointing that it's come to that. We, the media, are not into just making things up about the riders and teams without any evidence. We have to see these people and work with them each weekend, and our relationships with them are key. There's no advantage in putting something inaccurate out there. Unfortunately the riders and teams don't do a great job of keeping things quiet. For example: I heard about Ryan's knee issue and missing the Nationals over a month ago from no one associated with the team or any of RV's personal sponsors. If the info comes from a credible source than we can start digging a little deeper and see what we can get. There's no glee from getting a rider-injured-and-not-racing scoop. That's always bad news. But the fans of the sport want to know what's going on so we try to get and report on as much as we can.
Anyway, I'm getting off track here. This news sucks for the series in general but I wouldn't worry too much because there are plenty of great racers left. Villopoto, though, was the clear and heavy favorite to win the 450MX title. So now what? Ryan Dungey is probably the slight favorite now. We'll have to see if James Stewart can carry his improvement during this year's supercross season into the motocross series. Stewart had Dungey covered in SX all year, but I think Dungey is a little better outdoors than indoors. And he was better than James outdoors last year. So this battle should be interesting to see. After that? I have no clue as Roczen, Reed, Tomac, Barcia, Canard, Metcalfe and others are capable of getting that last spot on the box.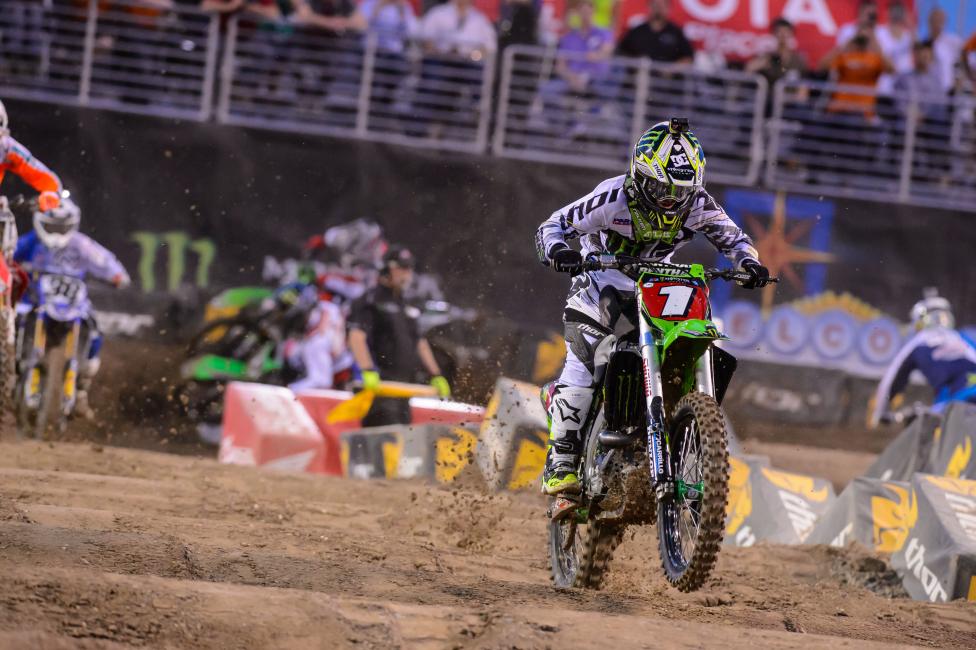 David Pingree: Hey, look, it's the worst kept secret in motocross! After vehemently denying that he would sit out the Lucas Oil Pro Motocross Championship to address a knee injury it appears Ryan Villopoto will indeed sit out the Lucas Oil Pro Motocross Championship to address a knee injury. RV's camp handles these situations in a weird way. The last time I reported he might miss the Nationals to fix his knee I got flamed by his mechanic saying that I was not a doctor and didn't know what I was talking about. Several days later they announced he was getting his ACL reconstructed.
Hopefully Ryan's knee isn't a serious situation (Not likely since he just won another supercross title on it). And hopefully a break will allow him a chance to step back and realize he will miss racing when he does decide to walk away from it. It's obvious the grind is wearing on him and recently he's come under some criticism for that from the likes of Jeremy McGrath, but I don't blame RV. Jeremy raced in a different era. Those guys spent off-weekends at Havasu letting it rip. The top guys now use an off-weekend to get in extra laps and miles on the road bike. It's a different time and some of the fun has been sucked out of it for these guys. Still, it beats digging ditches and unless Ryan has something else he wants to do or plans to scale back his spending habits he better have some serious wealth amassed; it goes away quickly when there is nothing coming in.
This summer just got interesting for a lot of guys. Dungey, Reed, Roczen and Stewart all smell blood in the water and know this news makes winning a title this summer much easier. Glen Helen should be amazing. I hope Ryan handles his business and heals up quickly. We'll miss the champ out there.