Metlife Stadium
East Rutherford

,

NJ
East Rutherford (New Jersey)
Monster Energy AMA Supercross Championship
On February 13, 2010, Josh Hill finished second in the Anaheim 3 450SX main event and left the race tied for the supercross points lead. A race win and possibly a championship appeared to be on a horizon. Instead, his career would start trending downhill, and a few months later, he was so far down to rock bottom that many thought he'd never race again.
Four years later, he's back on the podium. Of course, more ups and downs await for Hill, who will be without a ride after he parts ways with the Soaring Eagle Casino RCH team after next weekend's race in Las Vegas. We've been covering a dynamic last few weeks for Hill, and here's the latest chapter.
Racer X: I feel like all year you've said if you could just get a start you could podium. And you got a start and a podium!
Josh Hill: I'm glad I wasn't bluffing. I got a good start and just tried to stick to [Ryan] Villopoto. That lasted like three laps and he kind of got away. Then me and Tomac went at it a little bit. Once he got around me I had some breathing room and I just tried to settled down and ride the best race I could. There was a point in the middle I was worried about getting swallowed up by the guys behind me, but I stopped thinking about that and started thinking about trying to catch Tomac again and at the end of the race I was back on his rear tire.
That had to be hard because the guys behind you were battling and pushing each other and you were kind of by yourself. That has to be a tough situation to be in.
It was tough in the middle there. Laps 9-12 they were really catching me. Then I was getting screwed by the lappers. I think they thought I was … I've been battling with them all year. I think they were like, "This dude's trying to snake me again!" So they weren't letting me go by very easy. I think [Tevin] Tapia almost crashed into me. A couple other guys stopped in front of me in the rhythm section. It was hectic with lappers, so to get through that and not get swallowed up felt good.
When you finally get that start and you're finally in third, how hard is it to just not get freaked out by that and just treat it like another race?
All I thought about is I'm just going to try to stay on Villopoto's ass. And then when he took off and Tomac got around me I just wanted to stay on Tomac's ass. And there was like four laps there where I started to look back and that's when those dudes started to catch me. I had to tell myself to knock it off and start thinking about racing forward again.
You've said pretty good things about the team. We know you guys are parting ways after next weekend but you've been very cordial about that.
There are absolutely no hard feelings with these guys. If it wasn't for these guys I would not be standing right here in front of you guys on the podium. The RCH Soaring Eagle Suzuki Team, Carey Hart, Kenny Watson, those guys have been behind me since day one. There won't be any hard feelings at all. There definitely is none.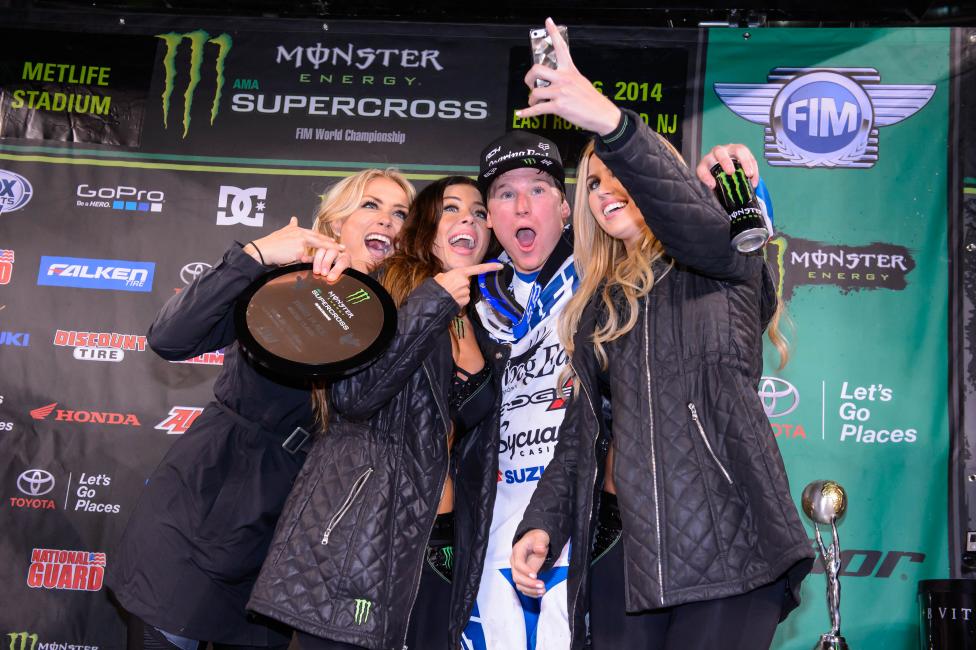 Four years ago when you were mangled. A podium, that was a long way off. What a climb!
I was told I wasn't going to be normal again. It was pretty much "Get used to being handicapped." But I found great people … I still can't feel my toes or move them, or feel the bottom of my foot. But I found people that just gave me the faith in myself that if I worked hard and I just tried to go through the motions and did the things to get better, and that was Dr. G. He was the main guy. Dr. Alexander and Dr. G were the two biggest inspirations to me to keep working.
So how good does it feel? It's been four years since you've been on the podium.
It feels great. I don't want to say this, but it feels deserved. As much hard work as I've put in it's great that I finally rode semi decent and was able to show you guys how I really ride in a main event.
Well you win a heat race and then it seems like every time you had one of those sorts of performances, like a really strong heat or something like that, then you're down off the start in the Tuff Blox or something crazy happens. Was any of that going through your head on the start? Like just don't let that happen, just let me get out there?
That was the last thing on my mind. I got out front and once I came to that first turn in first, it was just nothing but a grin. Villopoto slipped up the inside and took my 1500 bucks but I'll forgive him for that and congratulations to him on the championship.
You know where you're going after this? Do you have any plans yet set?
There's talks of me going to Canada right now. See how that works out. I don't know, hopefully this performance will give me a ride back here next year in the supercross series. I just want to keep climbing that ladder. I feel like I can get back up there and battle with these guys for wins.