Edward Jones Dome
St. Louis

,

MO
St. Louis
Monster Energy AMA Supercross Championship
It wasn't that Martin Davalos won in St. Louis; we all know he has the speed and talent to do so. It was how he won—mistake free for fifteen laps with title rival Justin Bogle applying pressure the entire way. We caught up with a very happy Davalos after the main inside the Edward Jones Dome.
Racer X: Incredible race. Pressured all night. How do you feel right now?
Martin Davalos: I feel great. Definitely stressful day and keeping the red number plate. But I just wanted to focus on my own laps. Justin [Bogle] rode a really great race, but I wanted this more than anything. I got a great start. We worked last week a little bit on the suspension. Bones came out with me and just wanted to get me a little more comfortable and it paid off. Definitely my bike was better out there. I felt great out there. I'm so happy. I'm happy we're going into the couple week break, do some outdoor testing and have fun.
Talk about the week leading up. You knew AC was out, you had the points lead. Was it any different? Did you feel the pressure?
No, I wanted to just focus on myself. I was really bummed about Adam and just the way it happened. It's racing and stuff. I just wanted to get me a little more comfortable on the bike and that's what we did. Bones worked with me on Thursday and Tuesday. We got that out of the way and the bike worked great tonight. Like I said, I didn't want to focus on me having the red number plate; I wanted to focus on getting a good start and just leading laps, trying to focus. It paid off.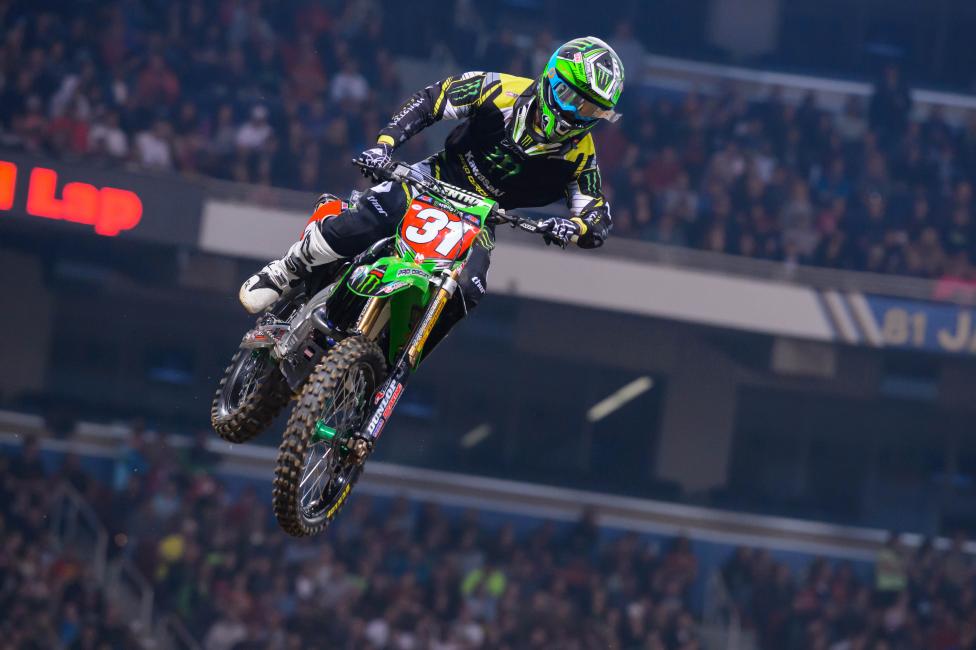 Justin was there the entire way. Did you feel him? Was it on your mind? What was going through your head at that point?
Definitely, I could feel him. He was really close the whole race. I feel like I got the lappers right in the dragon's back and that was the sketchiest part of the track, I felt like. But I just wanted to kind of focus on my own laps, just trying to polish stuff and made a couple mistakes here and there. It's hard to be up front and have somebody that is right behind you the whole race. It's definitely not easy, I would say. But I was able to pull it through and I'm pumped.
How tough is it going to be to sit on this points lead for three weeks?
I really don't want to think about it. I'm really happy I have the red number plate. We got three more points out of the championship. I just want to focus on some outdoor testing, have some fun, ride outdoors and approach the last two races like I've been doing the whole championship—just ride my own races and focus on my own laps, and just wherever God puts me I will be happy.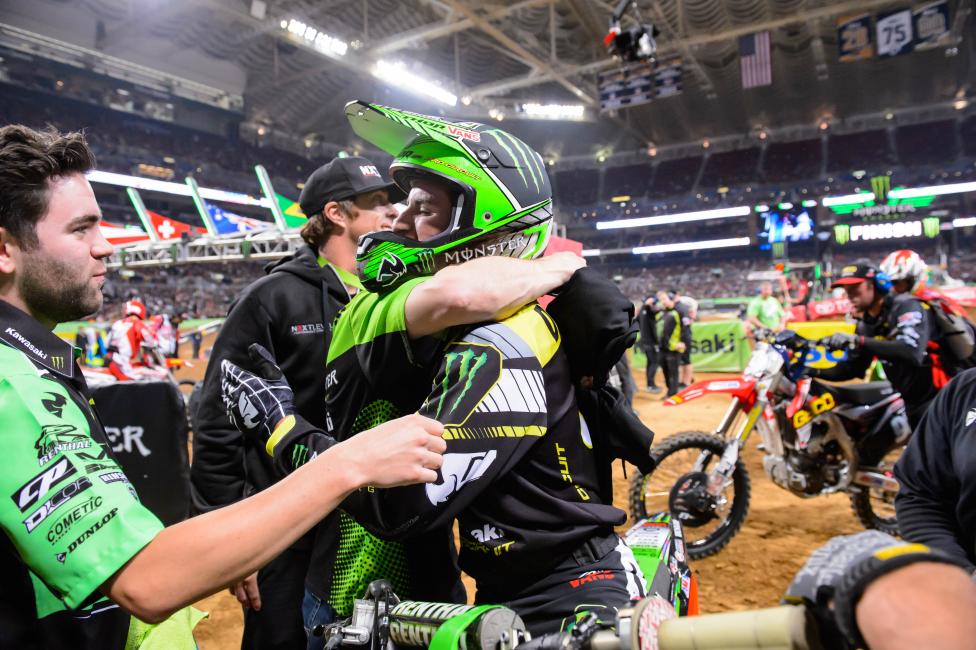 Does outdoor testing help you get away from it a little bit? Get away from that pressure, from thinking about supercross?
Yeah, definitely. It's totally different. You just kind of start doing some 30-minute motos here and there. It's definitely going to be a little bit mind-calming. But we still got a lot of work to do. There's still a lot of racing left. Just want to focus and finish this strong.
A lot of people talk about the physical aspect of racing, but when you have a lead what do you do mentally? Do you do certain things that help keep you calm, stay relaxed?
Mainly for me it's just stay positive. The off-season has been great for us and I have such a great group of people behind me, Ty, my trainer off the bike, and Brock, always helping me on the bike and on my skill. Just thinking about how strong we worked off-season, it's definitely paid off. The first couple rounds I was a little hurt and just fought a little bit of mistakes, crashes in the main event. Detroit was a really tough race for me. I threw a lot of points out there. I was lucky that I was even able to race. I'm glad this weekend I felt 100 percent. I definitely felt my fitness was on point this weekend.
You mentioned the mistakes you've made. How important was it to not make those mistakes with Justin right behind you tonight?
It was very important because he kept the pressure the 15 laps and he's behind me in the points standing. I was able to salvage a win and stand it up three more points.