St. Louis, MO
St. Louis
Monster Energy AMA Supercross Championship
Yoshimura Suzuki's James Stewart is really rolling now, overtaking Ryan Villopoto in the St. Louis main event to net his third win in a row, and fifth of the season. Our Steve Matthes caught up to James in the pits after the race.
Racer X: What a ride, catching and passing RV. Win number 50, and that might even be the best of the year.
James Stewart: Yeah, as far as me and Ryan going at it, [we did] at San Diego also, but it feels like forever ago. Last week was obviously something pretty special, to break Ricky's record, but to run him [RV] down on a track that was pretty basic, everybody was doing the same thing. I was able to find something somewhere, my corners got really good, and also in the main event I was able to get through the whoops good. In the heat race I was behind him, I caught up to him a little bit and I was just kind of looking at his lines in the heat race, you know, not really in a rush….
I have a theory about the heat race. I think you played possum a little bit.
I wouldn't say I played possum. I felt like I had more speed, but with the track being so one lined, I didn't want to give away my passing spots in the heat race. It was good. Not possum, but I didn't show everything I had.
Whoop speed was good, you were catching him. And that dragon back was tricky.
It definitely was tricky, you had to get in the whoops and make sure you hit every one or otherwise you'd skip over the top. I was going inside all day until we figured out the bike—it was smoother over there. But then RV started going to the inside so I had to switch it up and go somewhere else. The only time I think I went outside all day was in the main event and that was because of a lapper. I think it was quicker, but I didn't trust it, so I went back to the inside.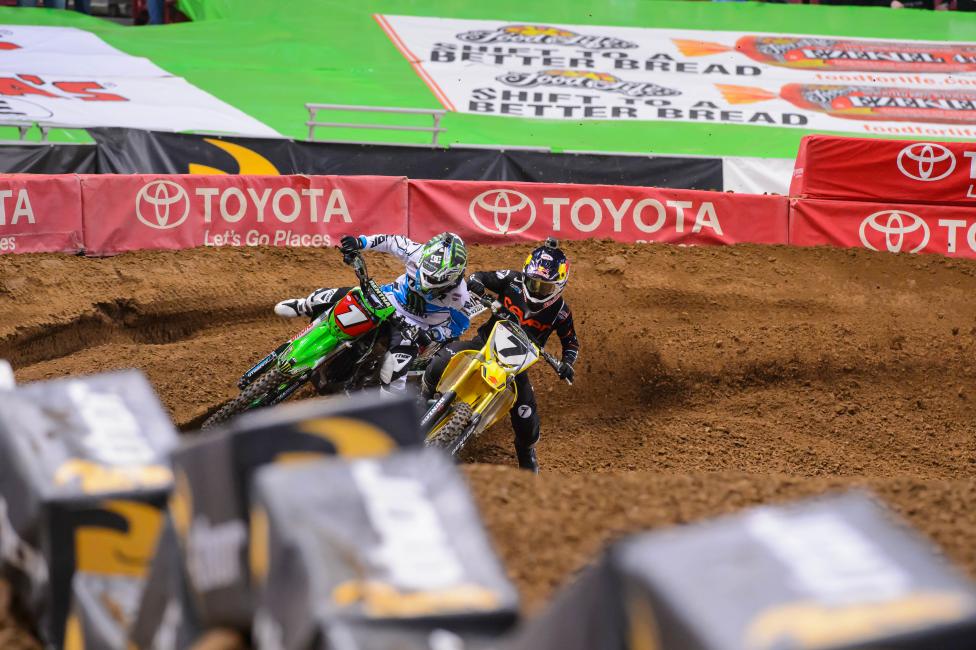 A little bit of a bike problem in practice but kudos to your team for getting you back out there. You said in opening ceremonies, "I guess we'll find out in about a half hour."
Yeah for sure, we had some issues and stuff. I think the hard part is, when these guys jet [map on EFI] for here, it's such a temperature change, even from here [the pits] to the tunnel to the track. They got it fixed, otherwise we'd be stalling all night.
I was talking to Tim Ferry (shocker) and he told me you would go quad 3-3 over that table. But I was surprised, we didn't see it from you.
I did it.
You did?
Yeah, I did it in practice and then I pulled off. It was two tenths faster but it was eighth tenths slower if you didn't make it. It wasn't worth it. That on-off was the easiest most consistent way to get it done.
I guess the only thing to work on is your starts a little bit, huh?
No … I just didn't have a good gate in that main event. Last week in the main event, I hit a rock. This week in the heat race, I hit a rock. I didn't have the best picks. I think I can pull them out if I need to.
Hey, congrats, 50 wins, 5 wins on the year and you never know, maybe this thing goes down to the wire.
Yeah, we'll see. All I can do is keep trying to win races and riding the way we are. Either way, I think we're something to be worried about