Edward Jones Dome
St. Louis

,

MO
St. Louis
Monster Energy AMA Supercross Championship
GEICO Honda's Justin Bogle didn't quite carry the momentum from his Toronto victory into a repeat win, but he certainly rode well in his pursuit of Martin Davalos. Still, he dropped three points in the championship (now eight back) with only two rounds remaining. So, was he happy or sad after the main? We tried to find out.
Racer X: Obviously you were there the entire time. I think you were no more than two seconds back the entire night. Was there a time where you were trying to pull the trigger?
Justin Bogle: I wasn't ever quite close enough to make it happen. I was planning something, but I had a couple issues with lappers where it was really frustrating. A couple of dudes that are like the same guys every weekend. It just makes it tough. But it's all good; everyone's got to do it. He had to pass them too. I wasn't in a bad spot I don't think. I could reel him in when I needed to. Obviously I didn't reel him in enough to make it happen but I could catch him, had a mistake and then I caught him again. I still feel like the moment was going my way and I'm feeling good about tonight. I'm happy. I'm definitely not satisfied with it. I want to be up there on top of the box and winning and getting those points. I'm not worried about the championship really because that's going to play out how it plays out, but definitely would like to get up there and get the win. Last weekend was too good of a feeling to not have that again. Got a taste of it and I want some more.
You did make that mistake on the dragon's back. Take us through what happened there.
Yeah, the whoops were my spot all night. I felt like I was really good in those. I love it when they're tough and they were tough tonight. There were like four lappers in the whoops at once and I had to try to split two guys and when I went to split them I kind of got off line and caught an edge and got a little bit out of control. I couldn't double off it. That definitely cost me quite a bit of time, but like I said it is what it is. I know for next time we've just got to make some stuff happen a little bit better than I did. We're in the ball game, so it's good.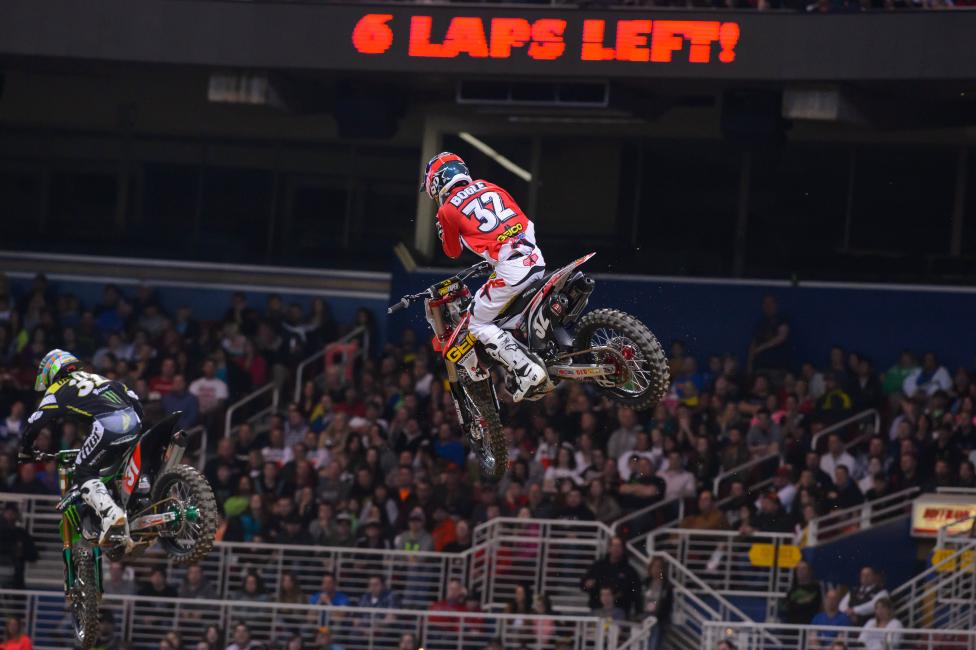 Obviously lappers are a part of it and he had to pass them, you had to pass them. But how tough is it to stay focused on him while you're getting through lappers?
It's definitely tough to keep it rolling but at the end of the day you just got to think of the end goal and just keep moving. It only gets frustrating when it's the same dudes every weekend you've got to deal with. At the same time everyone's got to deal with those same dudes so it's all good.
You're on a roll right now. Are you feeling that momentum? This is where you probably expected yourself to be before all the injuries. Are you happy to finally get to where you thought you would be a couple years ago?
Yeah, no doubt. It's been a long, tough road for me trying to get back up here. A lot of work with my trainer Ryan Fedorow. That guy's been such a huge help for me. I really can't even thank him enough. The GEICO Honda team sticking behind me through all of it has been pretty awesome too. I got to give it up to my crew. The whole support crew I've got is definitely the biggest part of this thing for me. It is nice to kind of start seeing some of this hard work paying off because it's been tough. I got a taste of that win and I want some more of that.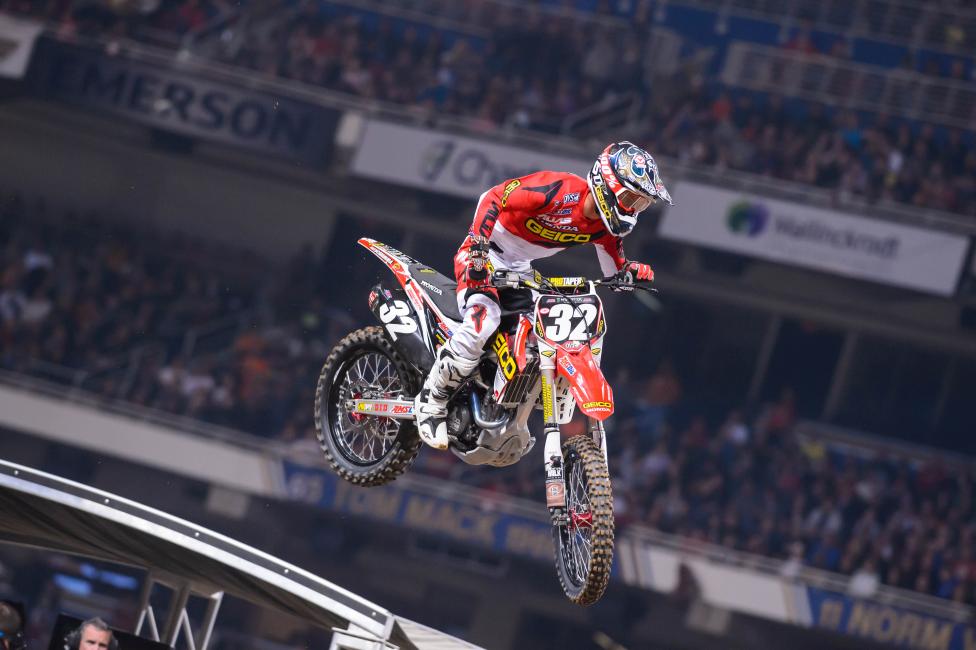 What are the plans now? Outdoor testing for a couple weeks and then back to supercross?
Yeah, the next few weeks I'll definitely be outdoor testing, trying to get ready to make a run at that one too. Just working on outdoors. I've been riding outdoors quite a bit during the week anyway. Back to some supercross, I think I got a little bit of testing, a little more stuff to do for supercross. Other than that, outdoors and just building and trying to get in shape for those 35s in the summertime.
Does outdoors help you take your mind off of the championship race, the mundane of doing the same supercross laps over and over?
It mixes it up and it makes it more fun when you switch back and forth, but as far as keeping my mind off the championship thing, dude I'm still the hunter right now. I'm still not even in that position. I'm not even thinking about that. I'm just trying to move forward and trying to make something happen. There's not really any pressure on me; I came in, two months ago I wasn't even supposed to be racing this stuff. There's no pressure on me besides pressure I put on myself to do good and I can handle the pressure I put on myself, so it's all good. I just want to keep getting up there. I've got to get starts. That's really the main thing. I finally got a holeshot last weekend and I got a holeshot in my heat race this weekend so they're getting better, they're coming around.