Time to bust out my buddy Jeff Emig's classic line: "I'd rather have momentum than points."
Fro knows this personally because he collected two AMA National Motocross Championships thanks to late-season surges, where he didn't have math on his side, but kept winning races. Math? Who cares? They don't have calculators on the handlebars because that's not part of racing. Most often, he who rides best ends up champ, so the riders in Toronto just tried to focus on riding well. The point leaders had troubles, but that's not something the others were worried about.
"I think it's important to race for yourself out there and race as if the guys are obstacles on the track," Ryan Dungey told me. "Villopoto's a good competitor and when you come into a race you know he's going to be there, you know he's a great guy, but you also have to believe that you're going to win. Him not being here, it doesn't mess with you so much because you already have a game plan for yourself. You need to put in the best performance you can each time. I believe in showing up, doing the same thing, one race at a time, focusing on yourself, putting a solid performance in and your best finish every race, no matter who's on the track or not on the track."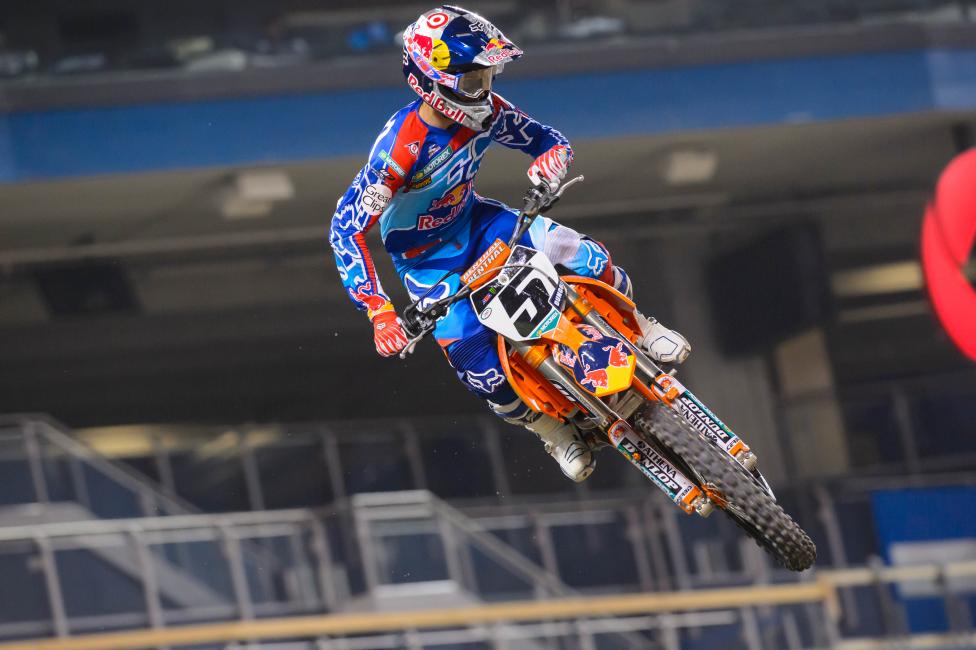 Typical Dungey talk? Well, yeah, but that's on purpose. Dungey can't gain any points on Villopoto unless he takes care of his own business first, which is learning the track, setting up the bike, riding well, staying off the ground, and ultimately end up on the podium. In fact, oftentimes teams will try to keep their rider away from the other drama to make sure they don't change their routine or thought process.
"A lot of people were wondering what was going on with Villopoto," said James Stewart's trainer, Pablo Toribio. "I told James, "You don't need to worry about that.'"
Indeed, there wasn't anything Stewart or his crew could do about Villopoto anyway. That was out of their control. What Stewart could control was his own riding, and he ended up logging one of the best supercross rides we've seen in a long time.
We've seen other situations where it didn't work out as well. The first parallel that comes to mind was the 2008 Detroit Supercross, when points leader Chad Reed went over the bars in practice and took a trip to the hospital. That kicked off a high-stakes drama game all day, with second-place ranked Kevin Windham and the rest of the world getting caught up in all of it. Would Chad come back? Did he get an IV at the hospital? Could someone block him from racing or getting the proper clearance and paperwork to get back to the track? Bad blood began to boil between the Reed and Windham camps. I heard words pointed in both directions, one side saying people were unfairly blocking Reed from racing, and other side saying he shouldn't have been allowed back out there. Much of it was just championship tension between the two riders and the brands they rode for. Six years later, Windham and Reed were literally talking about it on the 2014 Detroit TV broadcast without raising voices.
But there was a bigger problem that night. Reed showed up and gutted out a 12th. But Windham needed to win and take maximum advantage, and he only finished third behind Davi Millsaps and Tim Ferry, who were not in title contention. After the race, Windham admitted all the drama during the day might have taken his focus from the actual race a little bit. It's understandable. K-Dub had been behind in points and an underdog for the title the whole way, but things had shifted very quickly. It would be hard for anyone to process all of that and still ride like it was just any other race.
Remember, also, the dramatic Jacksonville round in 2011. Villopoto failed to make the main and everyone was basically handing the points lead back over to Stewart. Then James got crushed in a first-turn crash and didn't even complete a lap of the main event. It really doesn't matter what happens to the rivals if you can't capitalize.
Now we end up in another points versus momentum situation in the 250 East division. Justin Bogle has absolutely no championship pressure; this entire season is a bonus. He was hurt so badly during the off-season (five broken vertebra!) that GEICO Honda hired a replacement in Blake Wharton. Just racing at all was a great deal for Bogle, and now everything else is pure gravy, and bonus time. A few podiums and now a win? Superb. The title?
"That whole deal, I'm not even really worried about that," Bogle told our Chase Stallo after the race. "I'm just going to go try to get race wins and try to just put myself in a good spot off the starts and let that championship thing play out how it plays out and hopefully at the end of Vegas we're having a good conversation. But the main key to that is just going out and taking it race by race. It sounds super cliché but that's what it is."
It's cliché, but it works. It doesn't matter what the point leaders do if the guys behind them don't get good finishes. And the best way to get them is to focus on yourself and treat every race like it's just another round. There's enough to worry about while negotiating a supercross track at speed—that's why they don't put calculators on the handlebars.