A few weeks ago we found Wil Hahn inside the GEICO Honda rig, struggling after a big practice crash in the Anaheim whoops. He was trying to rehab his hand and suit up for the night show, but he clearly was in pain, and his hand looked mangled. Wil gutted out a 12th that night, but the worst was yet to come.
He couldn't ride during the week and then tried practice on Saturday at San Diego. He crashed again due to his lack of grip strength, and was forced to take the night off. Another week without riding followed. It's this type of downward spiral that can ruin a rider during that precarious transition into the 450SX Class.
But Wilbur didn't come back from a multitude of injuries and missed seasons to score last year's 250SX East Championship without being determined. After the Dallas Supercross, Hahn headed to Kevin Windham's house in Mississippi for a change of scenery. He emerged better than before. In Atlanta, Wilbur looked like a whole new rider—crushing the whoops, logging fast laps all day, and then grabbing a career-best fourth in the main event.
We talked to Hahn after the Atlanta main event to get his take on the season, and what might be ahead. It sure seems like a season on the verge of trending downward just reversed course. Could podiums be around the corner?
Racer X: There are some people around the sport that were wondering how successful you would be on a 450. This was pretty successful.
Wil Hahn: Yeah, but it took eight weeks. I'm not going to look a gift horse in the mouth, because I'm happy. I expected this out of myself from the get-go, and I knew it would be a building process. I didn't just go right out at Anaheim and get a fifth. I just never have been like that, since the day I got on Lites bikes or anything. I'm just pumped to break through and to do good. It's something that I've been looking forward to doing. Plain and simple, it was the start. I haven't been getting those all year. That's my biggest strong point I think as a rider, and my whoops, and I hadn't been good on starts all year.
And the track had gnarly whoops.
Yes, both my strong points were here tonight. I learned a lot from James [Stewart] in that heat race. All in all the night was a great building point for me. I can't complain about a thing. My bike was good all night. I felt great all night. There's something in the air here in Atlanta. I wish we could race here every weekend.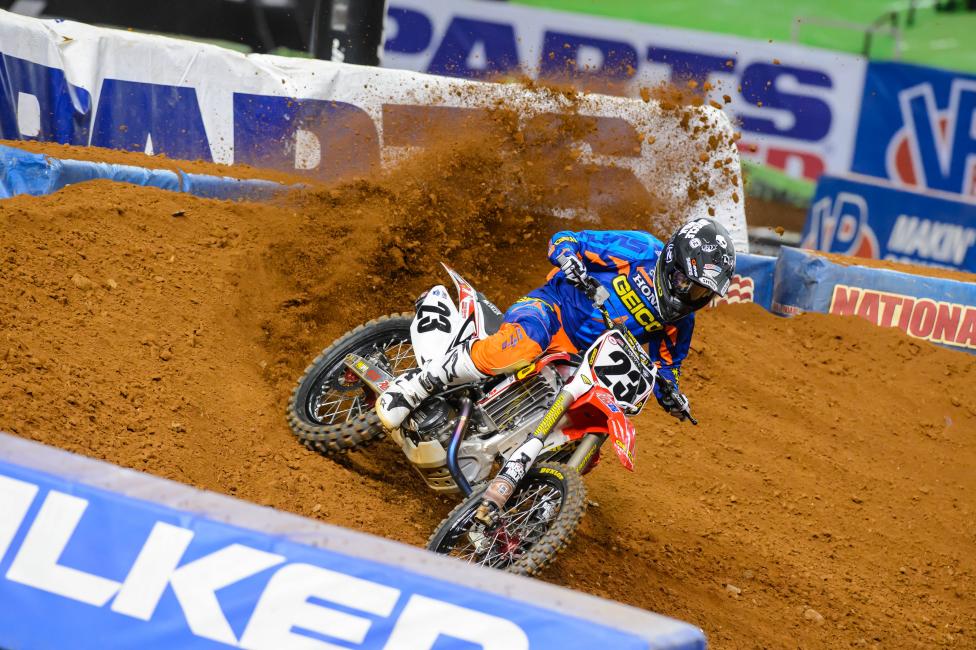 That's right, you had a big win here in the 250 class last year.
Yup!
You had some time off with the hand, and then did you go to Kevin Windham's?
I didn't ride at all during the week after Anaheim 3, which is kind of a shame but I didn't have a choice. It hurt and I needed to get it better. After Dallas I drove from there straight to Kevin's house, and we spent the week there and I got to ride this week. So that's the first time I've ridden since before Anaheim 3 other than at the races. So for me that was huge, just to get settled in there. His family's treating me like a son. I'm really happy to be in that relationship with not only him, but my trainer, Ryan. Those two are working together to make me better.
But it wasn't like this week specifically was a breakthrough during the week; it was more just a start and you just rode better tonight?
I think it was everything. The comfort was there, getting to ride during the week period, whether it was outdoors, motocross, supercross … it didn't matter. I got to get my sanity back a little bit.
I feel like this track is pretty gnarly tonight. When I was talking to your dad a couple weeks ago, he said you want that. Bring the gnarliness, make it tough. So was that good for you?
Absolutely. I invite ruts and I invite big whoops and hard rhythms and tricky stuff. I might crash in it just like the next guy, but I feel like it gives you extra separating. We're not all within a tenth. One mistake costs you five seconds tonight. I think that's the biggest thing about it. I love riding technical tracks.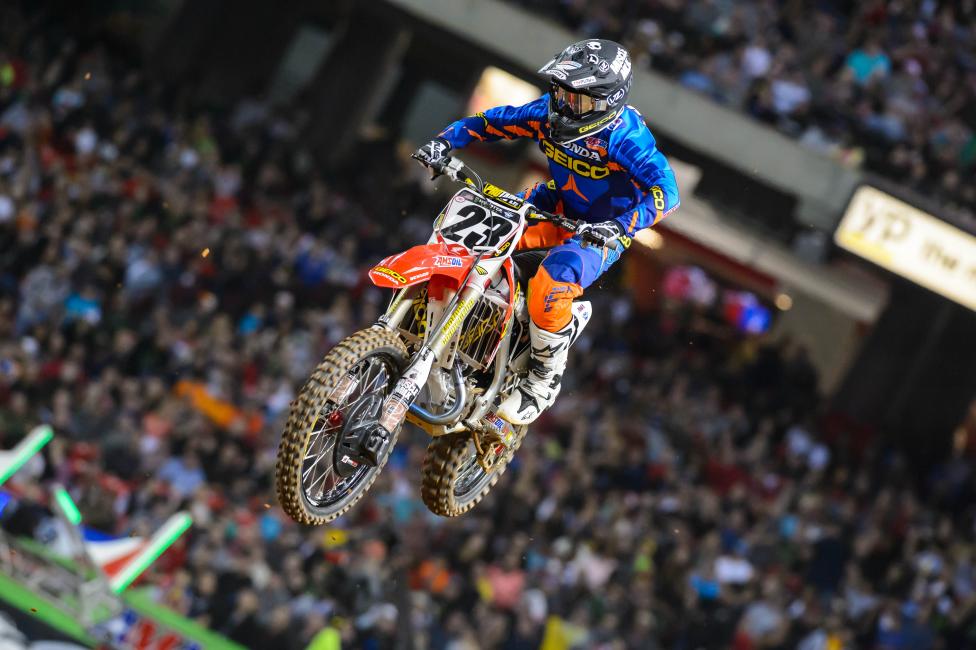 What's this mean going forward? Do you leave here saying, big weight off my shoulders, or is it not quite like that?
I think it's a weight because those last five laps of that main I felt the same way I felt winning the main last year. There's a pressure, there's mistakes coming. I was able to handle it. It was a breakthrough ride and in a small way for me that was a win tonight. I know I didn't podium but I was close and I think that's the next step for me. To get a top five has been my goal, so now we just look forward. Like I said, I'm not looking to make a leapfrog, like I'm going to just go win next weekend. I just want to continue with this momentum whether it's a 5th or 6th or 4th or 3rd. I think that's the biggest thing is to keep consistent. Just keep taking it how it is, get out of the heats like that, get a good gate pick for the main and just have fun.
Yeah, that heat race! Have you ever caught James Stewart before? How many times have you raced him?
Not that many. That was great for me. He's a good friend, via text and he'll talk to me during the week and talk me through things if I'm struggling. That guy's really cool so I have a lot of mutual respect for James. It was cool to get up behind him and learn a few things.