AT&T Stadium
Arlington

,

TX
Dallas
Monster Energy AMA Supercross Championship
Welcome to Racerhead, coming to you from the middle of some kind of strange winter wonderland back here on the East Coast. The "California Supercross season" is over and it's a whole new series beginning tomorrow night in Dallas, with debutants like Adam Cianciarulo and Matt Bisceglia and Jace Owen and Anthony Rodriquez and more getting out there in their first pro SX races as the 250 East Region gets underway.
The 450 class has, of course, been a real pressure cooker as yet another winner emerged last week in a revitalized James Stewart, who beat rookie sensation Ken Roczen and defending champion Ryan Villopoto on a crazy night in San Diego. I say crazy because of the last-lap carnage that took Chad Reed—the biggest story of the series so far—out of the race but hopefully not the series. More on that later.
Strangely, we've still yet to have anyone win two races in a row in the 450 class, nor have we seen wins by preseason title contenders Ryan Dungey or Justin Barcia. Tomorrow night could mark another big turning event in what's been an incredibly entertaining series so far.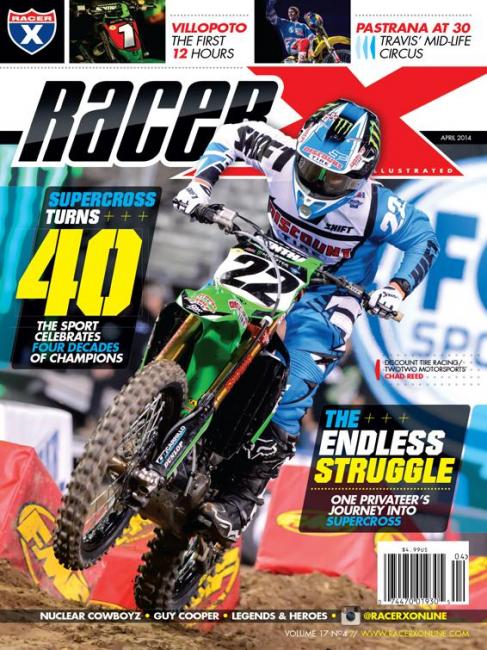 Check out FOX Sports 2 at 8:30 (ET) on Saturday night for live coverage from Dallas. FOX Sports 1 will re-air all the action late Sunday night at midnight (9 p.m. out west). In Addition, CBS' second episode Supercross: Behind the Dream airs Sunday at noon Eastern 9 a.m. Pacific. Why the change of TV channels? It's part of the transition the series is making to a new network and queuing up for better time slots in the future, just as the outdoors have done in moving over to NBC Sports and MAV-TV for the summer to come.
Before we get into the week's news, a nod to the whole military-themed race in "Fightertown USA" last weekend by all of the teams and the people at Feld Motor Sports. I know we've seen retro races and pink races before, and they are always fun, but this salute to the troops had some real soul to it. All of the Marines out of the field for opening ceremonies was inspiring, as well as the dropping in of the Navy SEAL team and even a truly inspiring national anthem by a service woman. I hope Feld continues to have an event like that each year because it made for an uplifting vibe for everyone, and I am sure all of the men and women who have defended our great nation over the years were thrilled to be remembered and honored in such a big event as the San Diego Supercross. Well done, Feld.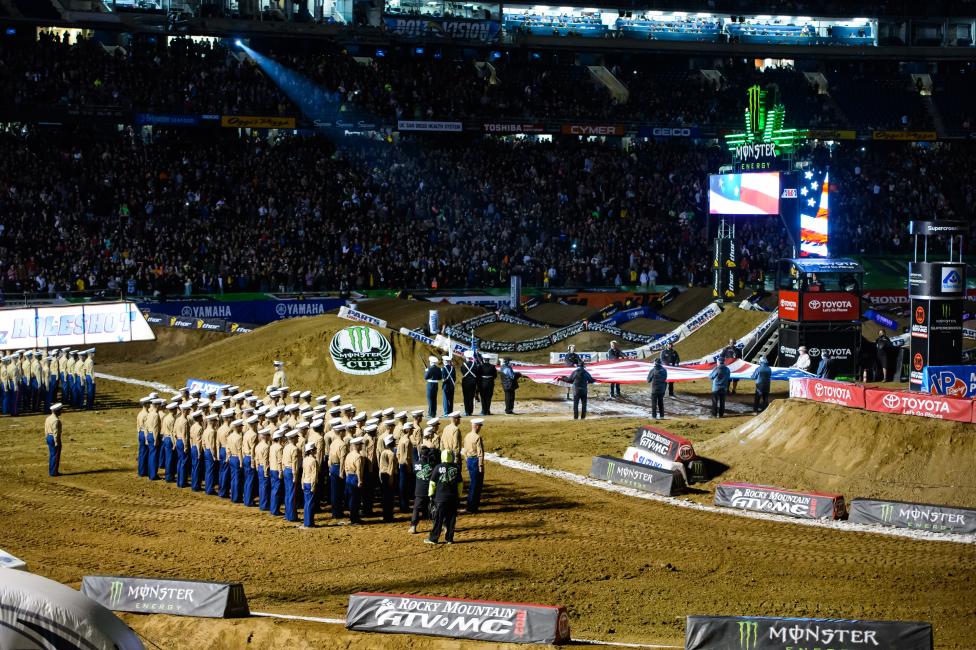 Now, let's talk about what happened on and around the tracks this past week.
REED'S READINESS (DC)
We all followed the saga of Chad Reed's injury this week through Chad's own social media, his wife Ellie's emphatic pleas for him to be brave, and even Discount Tire team manager Dave Osterman's mini-interview on MXA. The information was sometimes conflicting—Reed reported "3 broken bones: 1) scapula 2) collarbone 3) T1.." but he also vowed to be in Dallas this weekend. Ellie wrote (and Chad shared) "YOU ARE NOT DYING! THIS IS NOT CAREER ENDING INJURY. So get out of that hospital… Every minute counts in making u better… We have a championship to win!"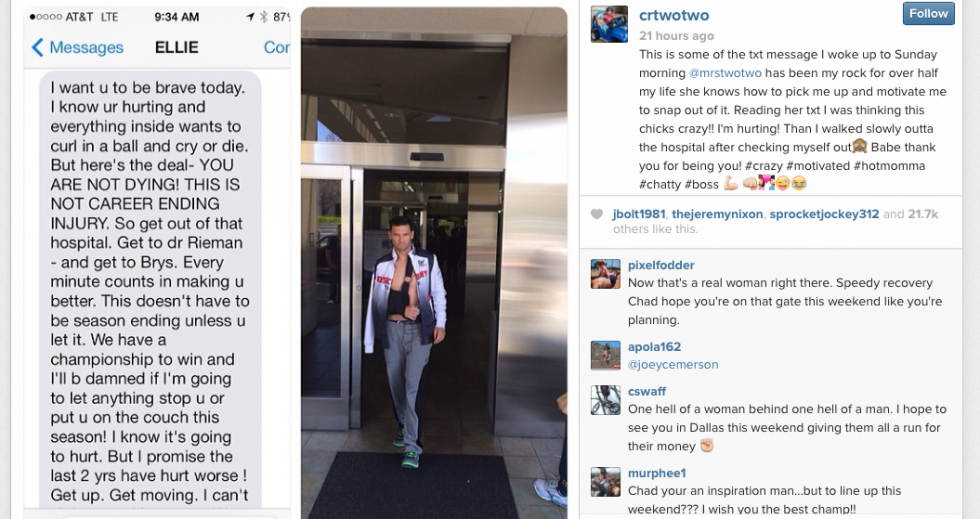 But then Ozzie told Motocross Action that maybe it wasn't that bad: "I'm not even 100 percent sure. I do know that nothing was broke, per se. He has told me that his scapula hurts more than his neck. There's a bunch of stuff that is messed up."
So what's the deal? Like the mid-December crash that left Ken Roczen temporarily in a cast with a possible fracture of his upper arm, it's hard to really tell. Anyone who saw (or heard) Reed's crash in San Diego knows that, broken or not, it's got to hurt like hell. He slammed into the whoop at nearly full speed, coming to an immediate and thudding halt.
But motocross is just different from other sports in the sense that there's rarely a complete answer or uniform message when it comes to injuries—everyone likes to play it close to the vest. Why? I honestly have no idea. I just hope the lesser injuries are the case here and #22 can get back out there this weekend and get back in the hunt. He's been the best story in a series filled with great stories so far, and he and his team are fighters.
THE NUMBER: $13,915 (Steve Matthes)
That's the amount of purse money won by privateer Weston Peick so far in this supercross season, and that sits tenth overall out of all riders. I know there have been some teams sniffing around Peick to see if he'd be interested in just jumping ship, but I've heard he's saying no. His sponsors that he got on board with him this year (Motosport and Fly to name just two) have helped out and he's not one to ditch out on them.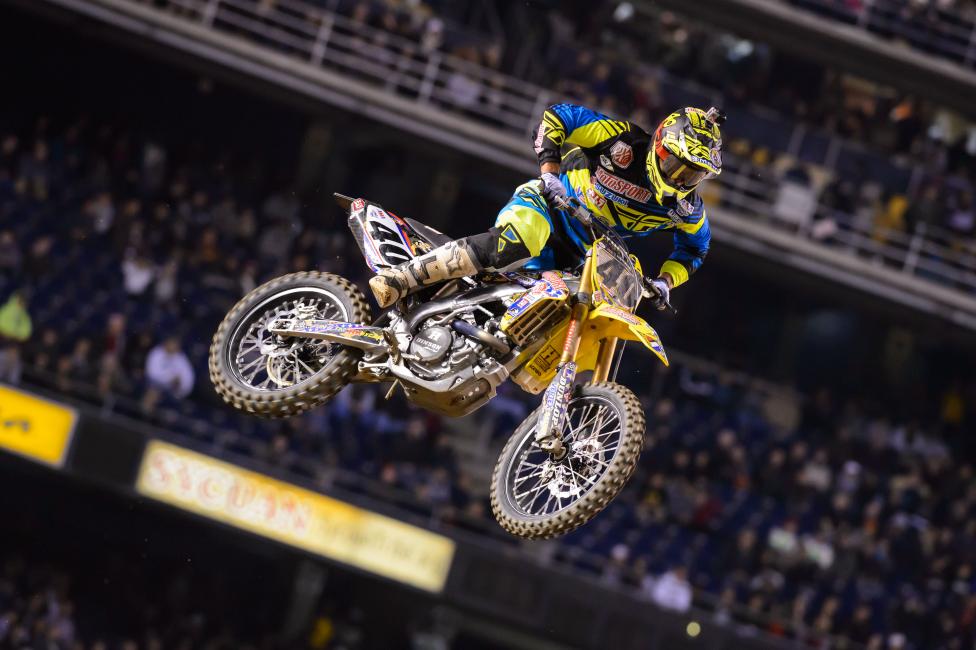 He's a big story with a lot of people in the pits, and he deserves the press he's getting—he's absolutely flying right now. And even though he's not going anywhere this year, I'd look for him to be under a top team's tent for next year. He's also rumored to be heading to quasi-Suzuki teammate James Stewart's house when the series heads east to train and ride at the compound. Life is good for Peick right now.
RAINING YELLOW (Andy Bowyer)
When Steve Matthes held up an umbrella in the Racer X Supercross Preview show, he predicted the winner of the 2013 Monster Energy Cup was primed to do damage in the 2014 supercross series. He was looking to prove prophetic when Mike Alessi won the first heat race of the year on a (white) Suzuki, then James Stewart drew alongside Ken Roczen and went for the main-event win … but he crashed. During the next few rounds, the only thing raining yellow for Suzuki were caution flags, as Soaring Eagle Casino RCH Suzuki teammates Broc Tickle and Josh Hill suffered crashes and injuries.
Recently a little yellow sunshine has broken through the fog by way of a big win from Stewart and back-to-back top-five finishes for Motosport.com-supported Suzuki rider Weston Peick. Stewart's win reinserted him into the championship picture, and when you scan through the results you will find there were six Suzukis in the main event in San Diego. In addition there are six Suzuki-mounted racers gracing the top twenty in points. Both statistics surpass all manufactures. That's quite a turnaround from the less positive news earlier in the season. And with Stewart signed again for 2015 (and a rumor beginning to build that the brand will be trying to land a very fast younger rider as well) it's been a good turn of events for everyone at Suzuki.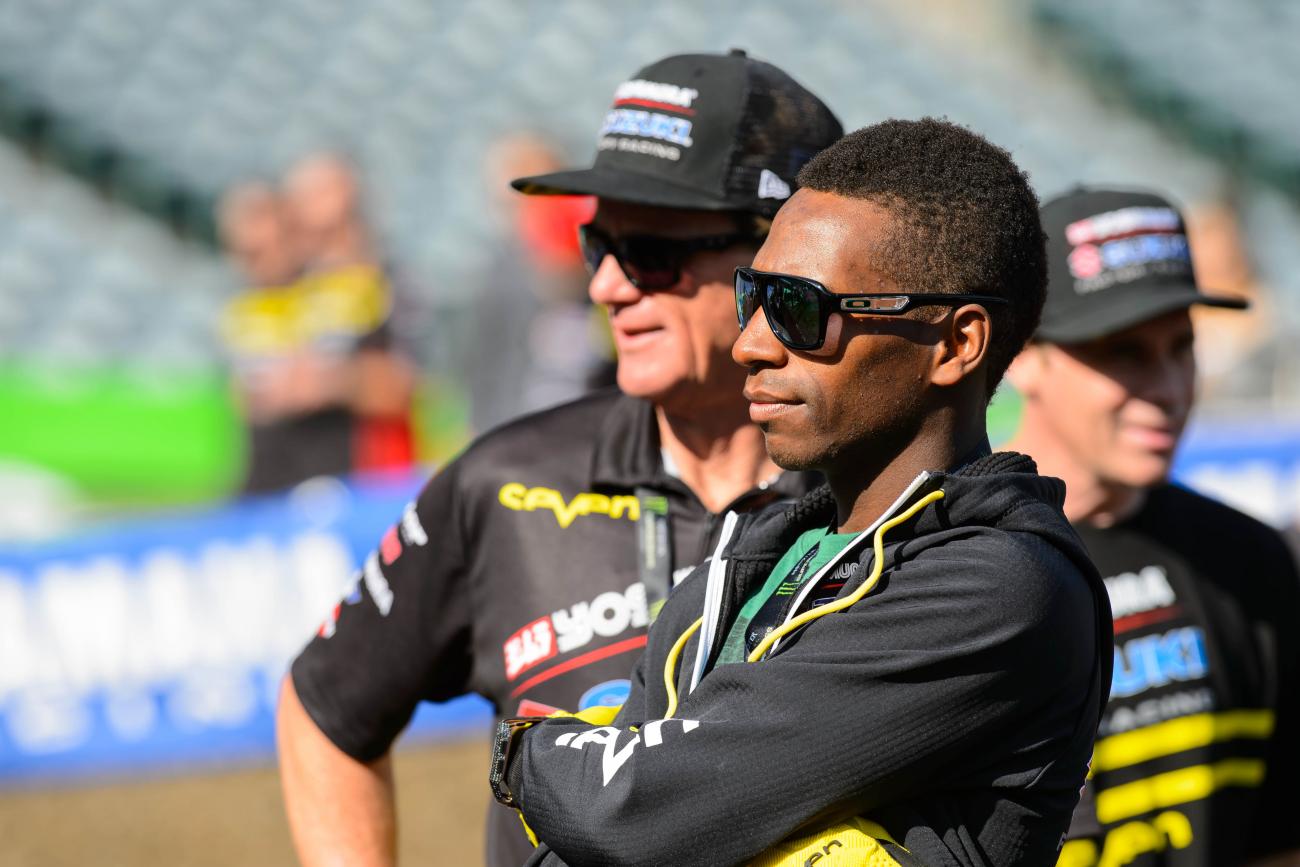 THE EAST IS NOT THE LEAST (Steve Matthes)
Last season we saw a noticeable difference in the amount of accomplished riders on the West Coast compared to the East. But now, on the eve of the 2014 250SX Eastern series kicking off, I think we can say that we're definitely seeing more parity.
Before this season we saw four riders who had won a race in their careers on the West (Seely, Anderson, Wilson, and Durham) and now on the East there are two (Baggett and Wharton). The number of factory-supported racers on the West is twelve (Wilson, Durham, Hill, Webb, Osborne, Bell, Anderson, Stewart, McElrath, Seely, Nelson, Ferris), but there are ten (Bogle, Bisceglia, Wharton, Cianciarulo, Baggett, Davalos, Jeremy and Alex Martin, Rodriguez and Thompson) on the east side.
In short, the East is pretty deep this year and it should be a great series. I think going into the West we all thought it would be Anderson, Seely, and Wilson in some order. For the East, just in podcasts this week, myself, Weigandt, and Thomas all had different title picks.
I'm a believer in the theory that it's rare to win your first career race and a title in the same season (but Wil Hahn proved me wrong last year in the East), so for that reason, one would think Baggett and Wharton have an edge. After all, they've been there and done that. I suppose if there is any one rider who can back up Hahn and win his first career race along with the title it's Jeremy Martin.
When you break down this East, though, I would not be surprised if one of five riders won it. And I'm not so sure I would say that about the West before the season. Hallelujah! The East is back and it's looking pretty good.
Make sure to check out Chase Stallo's East Region Preview.
BOGLE BOUNCES BACK (Chase Stallo)
Another Monster Energy Supercross was in serious question for GEICO Honda's Justin Bogle—the oft-injured, highly talented 2011 AMA Horizon Award winner—when in December he caught a footpeg scrubbing a triple and suffered a broken scapula, along with fractures in his L1 through L5 and a T3 compression fracture.
"It was by far the gnarliest crash in my life," Bogle said. "I caught my peg and hit the jump without my bike and kind of got turned around backwards, and I guess I landed in a little rhythm section after the triple."
As GEICO Honda has grown into a modern powerhouse, so have the expectations on their riders. Bogle entered 2012 expected to follow in the footsteps of Canard, Barcia, Tomac, Wharton, and Hahn, but injuries have limited the Oklahoma native to just one full season of supercross and motocross since his full-time professional debut in 2012. Looking another lost season in the eyes, Bogle took the injury in stride and fought to make a quick recovery.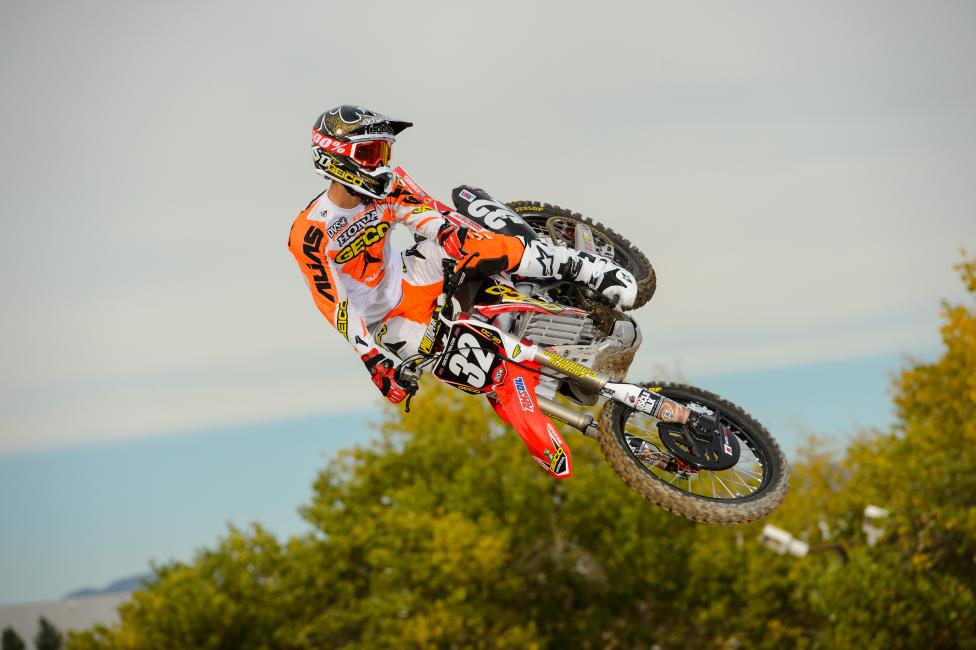 "Obviously I was a little bummed thinking I might miss another shot at it, but at the same time life is going to throw you curveballs whatever you do, you just have to keep swinging the bat," he said. "I have been making sure I was ready before I started riding. I didn't just start riding straight off the couch. I've had to really bust my ass to make this happen and to be able to get back to a spot to where I can race … and feel like I can be competitive, [I had to] put a whole lot of time in and fully dedicate myself to this."
In early November, Bogle felt he was ready to fill the shoes of the departing Eli Tomac and Wil Hahn: "I definitely feel that it's my turn to be in that spot." Have those expectations lessened?
"At the end of the day the goal is the same," he said. "I still feel confident in my abilities on a dirt bike and as a racer. I definitely feel like I should be up front and be a title contender."
But Bogle was quick to pump the brakes on his own expectations in his first Monster Energy Supercross race since 2012: "For the first round or two I'm not going to put a place on anything. I just want to go in and get some good points and put myself in a position to at the end of nine rounds be fighting for a championship."
Just a little over two months removed from a career-threating injury, all that stands between Bogle and Dallas is a little soreness.
PRO PERSPECTIVE (Jason Thomas and David Pingree)
JT$: This first week off has probably been a nice break for the 250 West riders. After months of endless training and riding, they now get a couple of months to not only recuperate but also to begin the arduous task of preparing for the Lucas Oil Pro Motocross Championship. This first week, though, has most likely been spent doing anything but riding and training. Both mentally and physically, most riders took a week off to recharge the batteries. Dean Wilson, for example, spent some time snowboarding. Cole Seely posted a picture of a Krispy Kreme donut run. Fun activities like that usually have no place in the schedule, but this was a great chance to loosen up and shake off the pressure of six straight weeks of SX, after two straight months of testing and training.
Come Monday, though, these guys will be back in the saddle with their eyes on the prize. If you head out to any of the SoCal outdoor tracks next week, you will catch many of these 250 West riders stretching their legs. There is a lot of outdoor testing to be done between now and May 24 at Glen Helen. Time to get to work!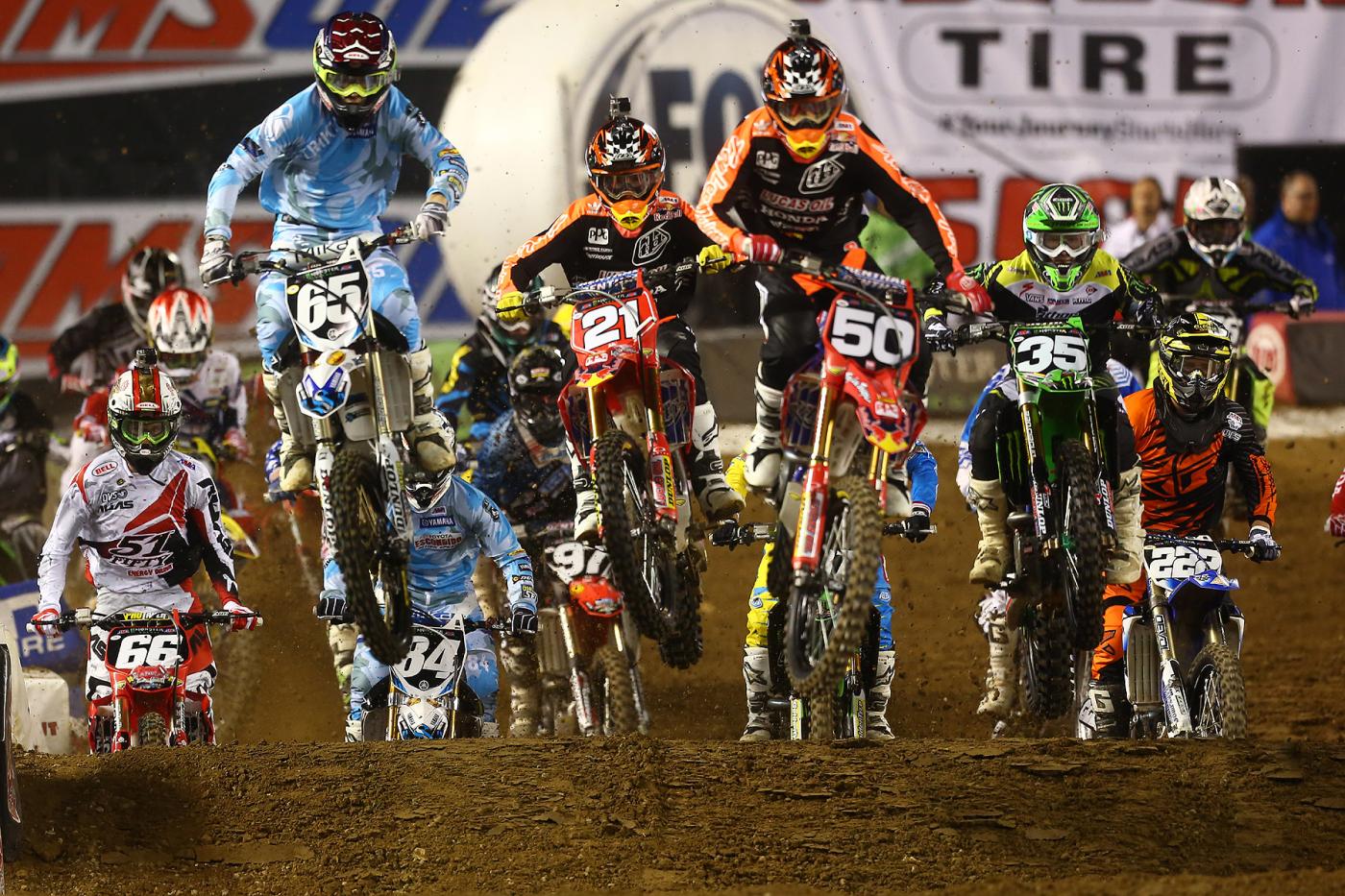 PING: The beach, the mountains, your couch … any place that isn't a motocross track is a welcome sight for the West guys at this point in the season. They've been grinding laps at the track and logging long miles on the road bike since September, so it feels good to live like a normal human being for a few days. However, the vacation can't last long, because for Cole Seely and Jason Anderson, you can't lose ground. And for guys like Dean Wilson (who does still have an outside shot), Justin Hill, and the rest, the outdoor opener at Glen Helen means a fresh start and a chance to compete for a title again. They'll be pouring themselves into motocross training and testing right away in an effort to gain an advantage on the East Region riders who won't have the luxury of a two-month break to test and train for long, rough motos. My guess is that guys with no stake in the West Region title fight like Osborne and Hill and Cooper Webb will be the guys at the front of the pack at Glen Helen.
CLUB MX ACCIDENT (DC)
Brian Haas of the Club MX team posted this story of an unfortunate occurrence on the way to the team's 2014 debut in Dallas:
Rough day... Our new race team has been in the works for 3 months now, building bikes and everything else. We have spent a few months working on our new 32' stacker trailer, with new wrap, canopies, skirting and all that cool stuff for the race team with the RV. Last night, 1 hour from Dallas at 11pm, the driver had pulled over to a rest area to eat and clean up. After a little break, he was back on the road headed to the stadium. A few miles later, the stacker disconnected from the RV while going down the interstate, flew in the ditch and hit a telephone pole destroying the trailer and most everything in it.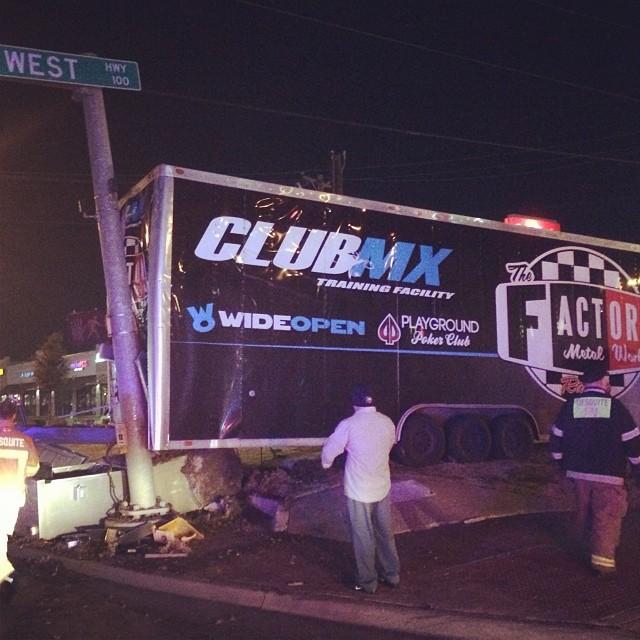 Once police got involved, it became known that this area has an issue with trailer theft. While he was at the rest stop, guys removed chains, and removed the nut holding the ball on the hitch, with attempts to lift the trailer off the hitch so the ball slid off, hookup and leave. Driver started the rig, scared them off after they had just disconnected everything and he only made it a few miles before losing the trailer. Trailer was locked to hitch, so they attempted to remove the nut that holds the ball of the hitch on and slide into new one to steal trailers in the area. The team has been working hard to get all of Jace Owen, AJ Catanzaro and Vince Friese's stuff to the track and fixed, so they can race this weekend. The world we live in is unreal, but thankful nobody was hurt, and guys will still be racing. Bummed we only had liability insurance on the trailer, and are out a huge amount before we even made it to first round. I've had a pity party with myself for a bit this morning, and now moving on and ready for all club guys to be racing this weekend! Thanks to all our sponsors for understanding, and something bigger and better will come together for us! -B. Haas
WHERE ARE THEY NOW? (Andy Bowyer)
Let's go back to the top five of the 250 East Class at the Dallas Supercross (then in Irving, now Arlington) in 2008.
1. Ryan Villopoto
2. Josh Grant
3. Martin Davalos
4. Trey Canard
5. Tyler Bowers
How much difference does six years make? At the top, Villopoto is now the three-time defending supercross champion and is leading the points. He will remember this particular year, but we'll get back to that. Josh Grant would actually win the 450cc Anaheim season opener the following year. Stuck in the middle is Ecuador's Martin Davalos. He's stayed right where he is, and it wouldn't be too far out of the question for him to land in the same place, in the same class, this Saturday night.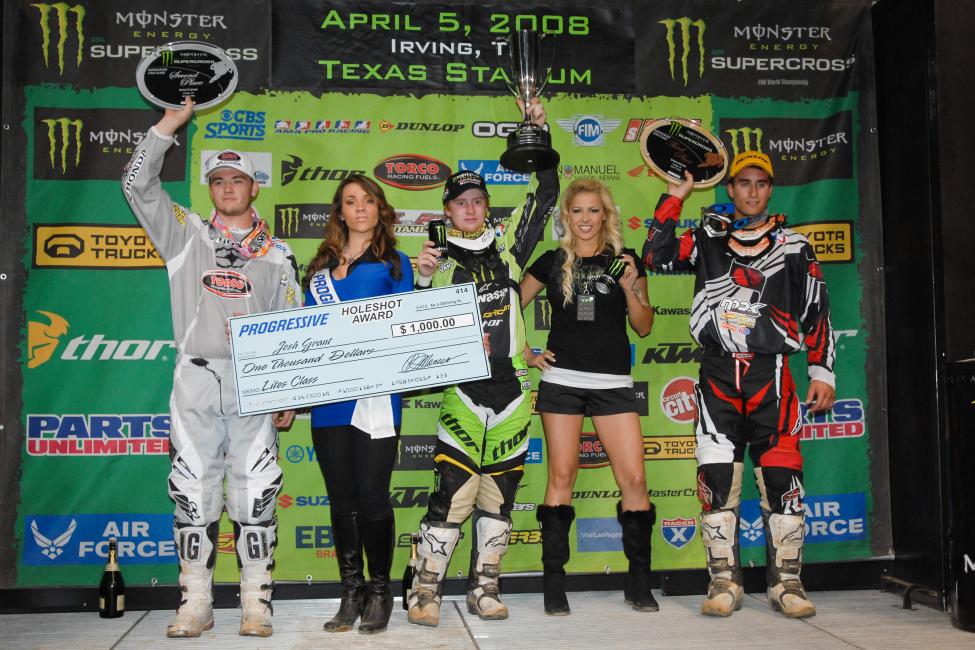 Trey Canard would eventually block-pass Villopoto into the finish-line beam and ride off with the 2008 250 East championship at the final round in St. Louis. He graduated to win in the 450 class, but it's been rough since then. His fans will miss him at his home race, as he is still on the mend from a badly broken arm. In fifth place was Tyler Bowers, who would transition into a lucrative arenacross career but returned to SX briefly in 2013 and won the season-ending event in Las Vegas.
It will be interesting to see what becomes of the top five in this class this weekend. There could be some very similar scenarios playing out in another six years.
TIME IN (DC)
At the last Anaheim race, I walked into the 100% rig and Bevo Forti was standing there with a seemingly familiar face and asked, "Do you know who this is?" It took a few seconds, but then the smile and the eyes hit me: Ray Sommo. I've known Ray since 1982, when he first showed up at Loretta Lynn's as a fast kid from New Jersey. In 1983 he won the super-competitive 85cc Stock (14-15) class as Kawasaki Team Green rider. Sommo turned pro in 1985 and his first race was the first 125cc AMA Supercross main event at San Diego, where he finished seventh. From there he would enjoy a long career, getting close the podium many times but never quite getting to step up onto it.
Sommo's more recent years haven't gone as well. He's been in trouble with the law, the result of drugs and alcohol, which followed a serious back injury and a dependency on painkillers. It's happened time and again to riders we've all come to know, and it's the same sad, horrible story.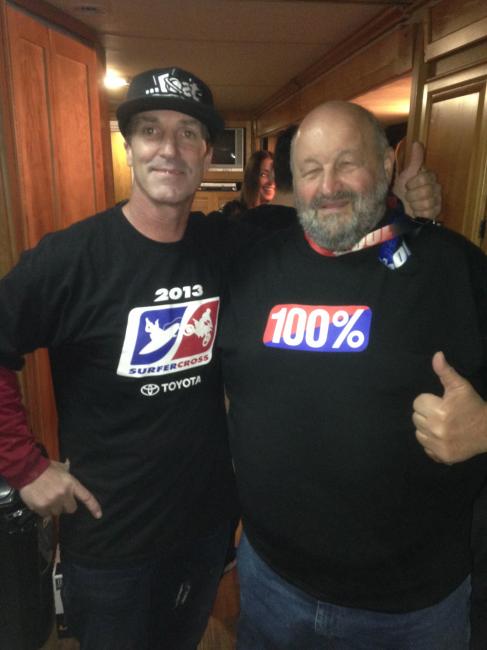 Ray has been trying to get his life back together and was even featured in a profile in the OC Register last year about his problems and the new outlook he has with the help of Zoo Ministries.
This week Ray posted a personal appeal for help and understanding on his Facebook page; he is returning to jail for undisclosed reasons and asked that people understand that he's trying to get his life back on track.
When we find an address to write Ray while he's doing his time, we will post it. We wish the best for Sommo—one of the nicest pro riders of the eighties and nineties—and really hope that he gets this sorted and behind him soon.
HEAD-SCRATCHING HEADLINE(S) OF THE WEEK

Jake Canada 'Lives the Madness'
51FIFTY Energy Drink rider has rough start, strong finish
"N.Y Fashion Week: Brian Lichtenberg goes motocross grunge."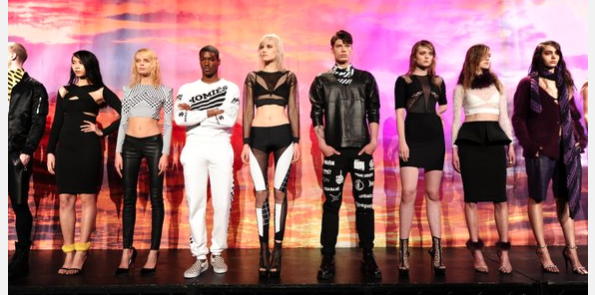 Sober Linkogle wants more control of Metal Mulisha
Larry Linkogle, now sober after a long battle with drugs and alcohol, wants to gain control of the direction of the Metal Mulisha brand from longtime company boss Brian Deegan....
"Thom Duma Fine Jewelers Named Official Jeweler of AMA Pro Flat Track"
HEY, WATCH IT!
Check out this kid from a recent AMSOIL Snocross Championship event and his short, sincere podium speech.
Starstruck: Matt LeBlanc Is All About James Bubba Stewart
RANDOM NOTES
If you have any plans over the next year, you may want to go ahead and reschedule them: Turborilla has announced that Mad Skills Motocross 2 will be released on the App Store (iOS) and Google Play (Android) on Thursday, February 20. We've played it, and it's awesome—a big improvement over the original, especially on Android. Get those thumbs ready!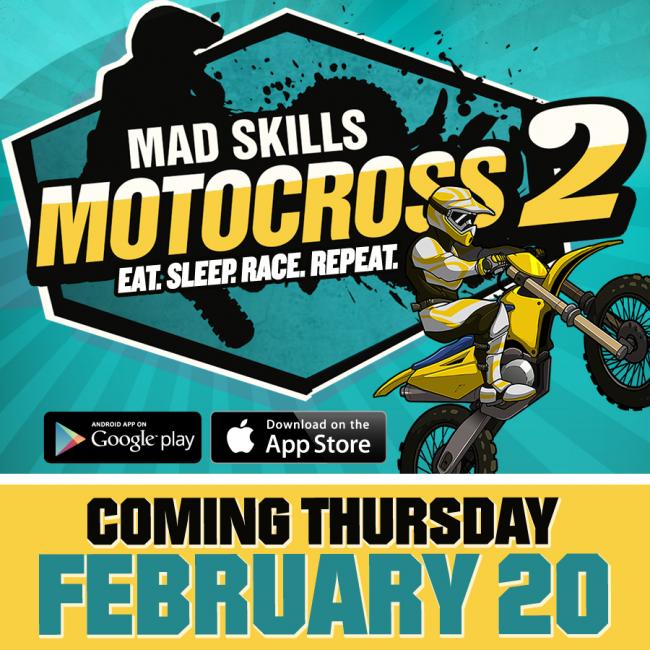 The 2014 FIM World Championships are just a little over two weeks away, with the opener set once again for Losail in Qatar. Youthstream has unveiled a new website that you can check out right here.
On the cover of our November 2011 issue of Racer X Illustrated, we featured a shot of amateur sensation Adam Cianciarulo from Loretta Lynn's. This weekend he will be making his Monster Energy Supercross pro debut sporting #46 on the Monster Energy/Pro Circuit Kawasaki. Coincidentally, 46 x 2 = 92.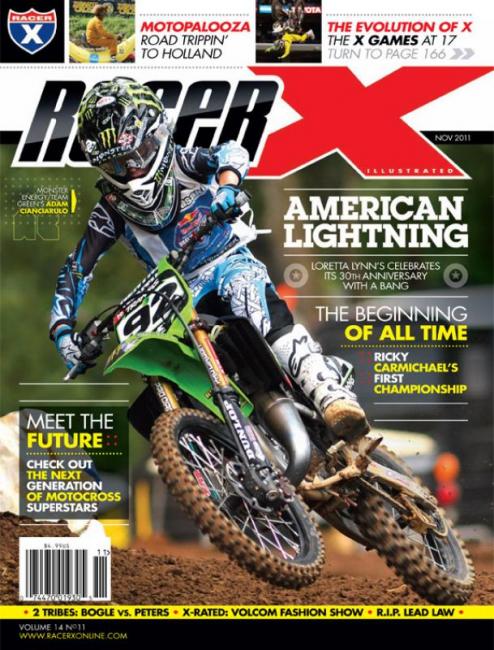 Headed to Arlington this weekend? Make sure to come by the Racer X booth to subscribe or renew—and get your Racer X wall-cling! Only $15 gets you 13 issues of Racer X plus a giant, wall-friendly Racer X decal featuring Villopoto, Dungey, and Stewart—and as an added bonus, you can give a digital subscription to a friend! (Are you in the U.S. military? Bring your military ID and we'll give you $5 off the subscription price as a small thank-you for your service.)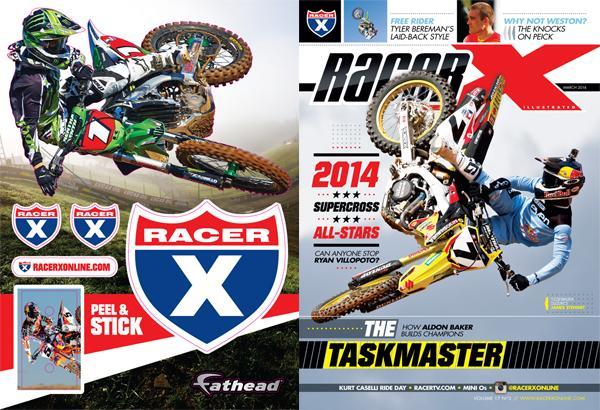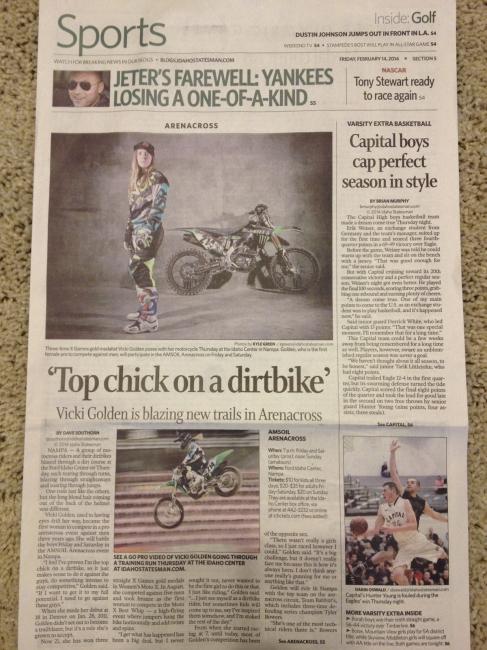 Every gearhead enjoys a good bike restoration. We received an email from reader Justin Fagan regarding a recently completed project. Check it out below:
"This is a before and after picture of my 1995 CR250R. I did all the work myself (to include the powder coating) and Randall Overby took the photos when I went out to Hog Heaven to test and tune the bike after it was finished."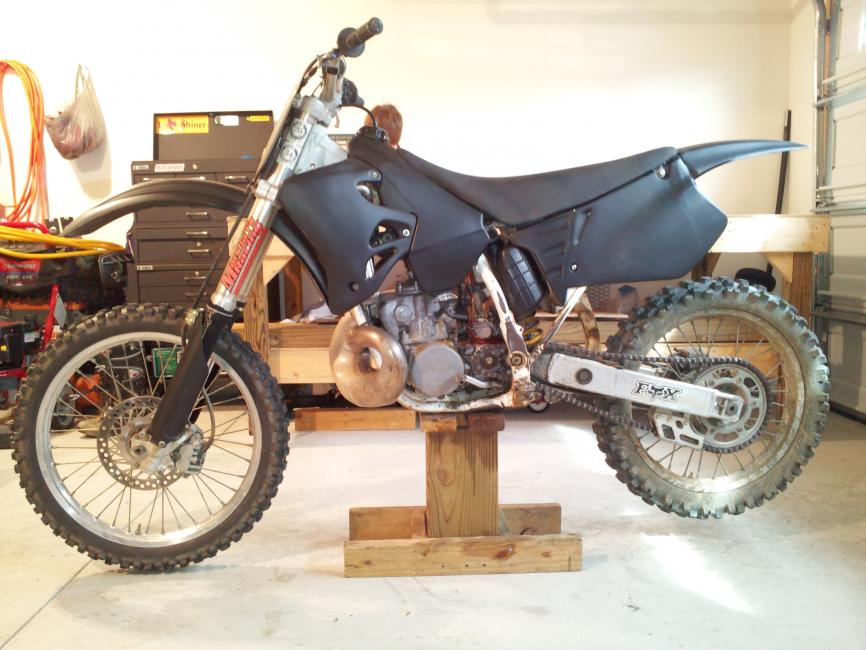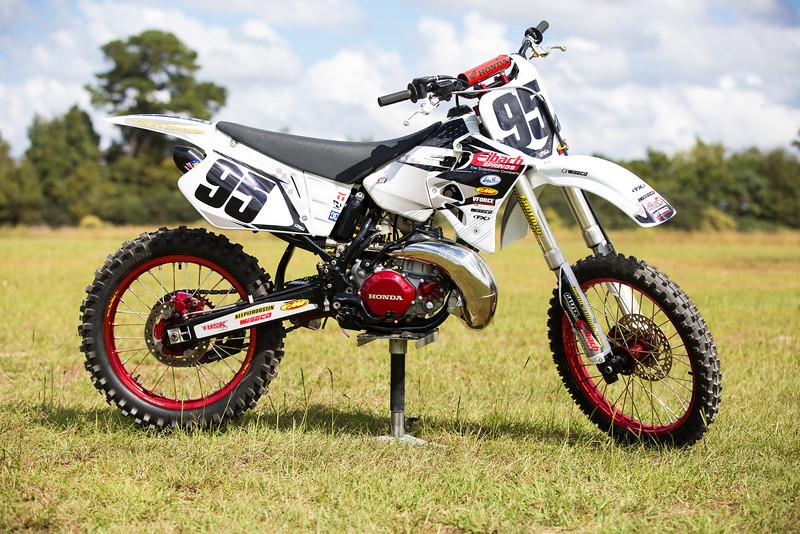 Paul Buckley just finished a re-release of a T-shirt that the late Johnny Bettencourt (MX racer, road racer, son of HOFer Dick Bettencourt) designed back in the early seventies. Paul did talk to the Bettencourt family first and they are fine with him bringing it back.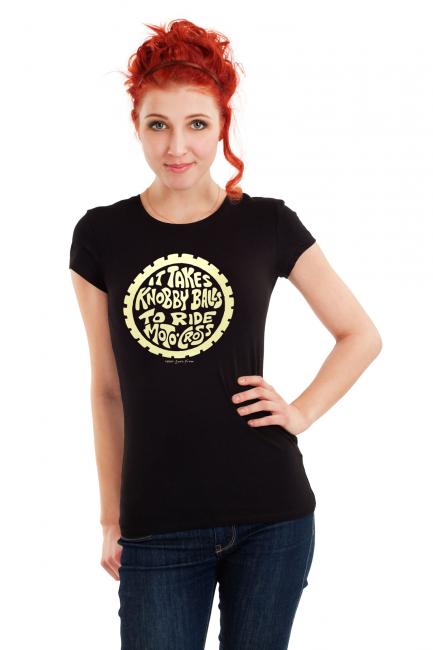 "Right now it's only available online and we're only taking orders for a limited time and then printing just what's been sold."
Got a cool note about a fun stunt from Warren Johnson at Troy Lee Designs: "TLD designed and painted a custom helmet and designed the car graphics for a Chevy Sonic that Rob Dyrdek was going to jump ramp-to-ramp backwards! He wadded up the car on the first attempt when he over jumped the landing, bounced and slammed a safety wall. Not satisfied, he climbed into the backup car and landed it perfectly the second time around. His jump was recorded by the Guinness Book of World Records for the Farthest Reverse Ramp Jump of 89 ft., 3 1/4 inches. The jump was filmed for the final episode of his Fantasy Factory show, which airs sometime in March! Because he was doing the stunt backwards, his name was spelled backwards on his helmet and on the car - Bor Kedryd. Pretty cool to see this in person!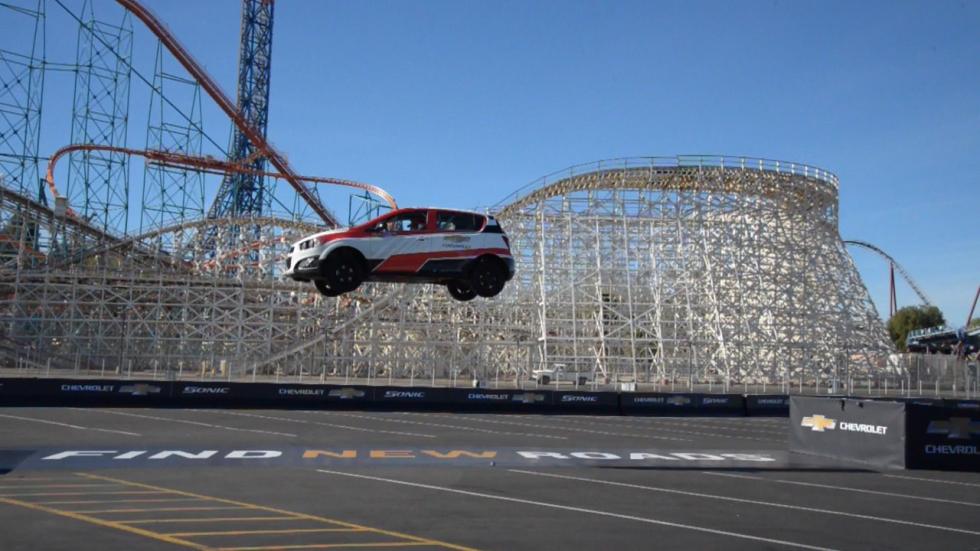 That's it for Racerhead. Stay warm. See you at the races.