Angel Stadium
Anaheim

,

CA
Anaheim I (A1)
Monster Energy AMA Supercross Championship
Before we begin, we offer our thoughts and sincere condolences to the family of Tiger Lacey, who passed away suddenly on New Year's Eve. Godspeed, #221. We will have more as details become available.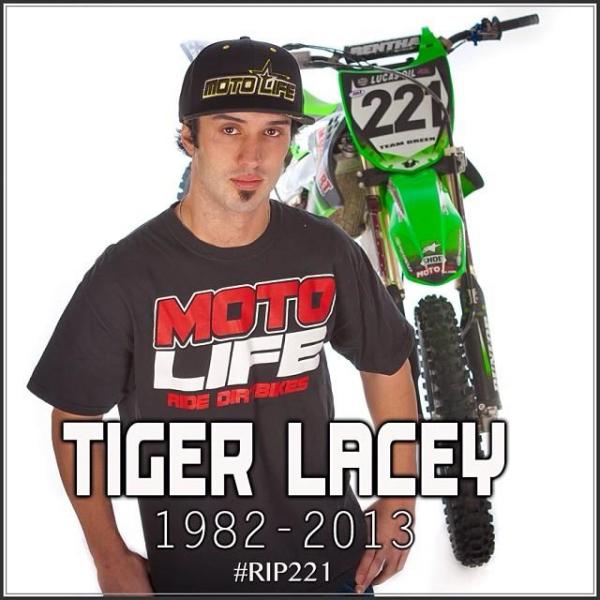 Tiger Lacey, R.I.P.
Jon Currier photo
We close our eyes and another year goes by.... I think I probably say that every year at this time, and this one went by fast. But now we're on to 2014 and a brand new season of Monster Energy Supercross is upon us! We've been hyping the event all week—everyone has—because this year just seems like it's going to be something special. Ryan Villopoto has a date with destiny—he can become only the second rider in the sport's history to win four straight SX championships—and former champs Ryan Dungey, James Stewart, and Chad Reed all have something to prove. Add in proven winners like Justin Barcia, Andrew Short, and Josh Grant; new-to-the-class contenders like Ken Roczen, Eli Tomac, and Wil Hahn; and even those always-fast-but-yet-to-win guys like Jake Weimer, Mike Alessi, Justin Brayton.…
And that's just the 450 class! If you can make it out to Angel Stadium tomorrow, come early and enjoy the cool new stuff that will be in the pits, where all the teams and series sponsors try to outdo each other. And if you can't make it, check out Fox Sports 1 for start-to-finish coverage, beginning at 10 p.m. ET. And stay tuned all day long to Racer X Online and @racerxonline on Instagram and Twitter for all the news. It's going to be a great big busy day!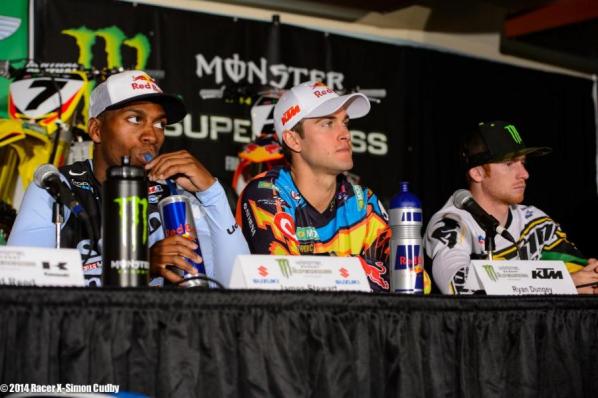 All the heavy hitters will be in action tomorrow night. Catch the race live on Fox Sports 1.
Simon Cudby photo
I'm glad I don't have to bet on a winner in either class, though I have a feeling we will see a couple of past winners in both classes show resurgent speed—James Stewart looked incredibly smooth and confident in the brief bit of riding we saw yesterday, and I'm hearing that Dean Wilson is looking and riding and feeling very good, with Ryan Hughes cracking the whip on his training program. (And don't count out Zach Osborne.)
But I do think we've all won—fans and race enthusiasts—in the sense that Monster Energy Supercross continues to grow and improve the opportunities for fans all over the world to watch. Throughout the last five or six years, during a very deep recession here in this country, Feld Entertainment Motor Sports continued to invest in this series and our sport, despite the financial risks. While many of us were tightening our belts, teams were shrinking, companies downsizing, bike shops going away, Monster Energy Supercross kept chugging along. Rather than peel back live coverage (and maybe sell a few more tickets), they went the other way, adding hours and channels and investment to the whole package. (There's even a sky camera that will debut tomorrow night during the show.)
Of course, no TV package will be perfect for everyone—some systems might not have that channel—but it's not for lack of effort. So before any starting gates drop on 2014, I would like to thank Feld Motor Sports for leading the way through some tough times in our sport and industry, and congratulate them on the 40th year of Monster Energy AMA Supercross.
Here's Racehead.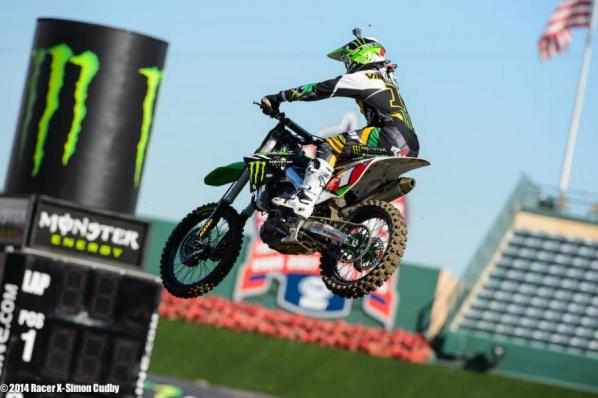 Ryan Villopoto begins his quest to join history tomorrow night.
Simon Cudby photo
ROCZEN'S NOT-BAD BREAK (Weege)
Two weeks ago we heard that Ken Roczen had broken his arm in a crash in Florida, but he later went on Instragram to say his arm wasn't broken. Indeed it's not, as evidenced by him riding during press day yesterday. We talked to his trainer, Aldon Baker, to get an understanding of what happened. Apparently, when Ken crashed in Florida, he went to the hospital for an X-ray and the doctor said he saw a small fracture in the humerus, and even gave Ken a forearm-to-shoulder cast. But Kenny wasn't in huge pain and didn't believe it was broken, so he went to California and had the X-rays looked at by a doctor he was familiar with (the Florida doctor was not someone Kenny or Aldon know, and not someone familiar with motocross injuries or riders). The California doctor didn't see a fracture, so Kenny took the cast off and was riding again a week later. So the arm was broken until it wasn't. That's good news, because it means Kenny will be racing Saturday without a problem. "We dodged a bullet there," Baker told us yesterday.
OTHER INJURIES (Weege)
Unfortunately, last year's Anaheim 1 heroes Davi Millsaps and Trey Canard really are injured. Both were hanging out at the stadium yesterday, so we caught up to Millsaps, who confirmed he'd torn his ACL and had surgery a few weeks ago. He said the surgery was quite simple compared to the work he had done on the other knee last year and he should come back fine. He doesn't know when, but considering the typical ACL recovery, we'd be surprised if he's back for any supercross.
Later, we found Canard in the Honda Muscle Milk pits sporting a bone stimulator on his arm. He's pain-free now after some surgery to have a plate inserted, and he was smiling and seemed happy. We expect Trey will be back a few weeks into the season, but don't expect him to rush back.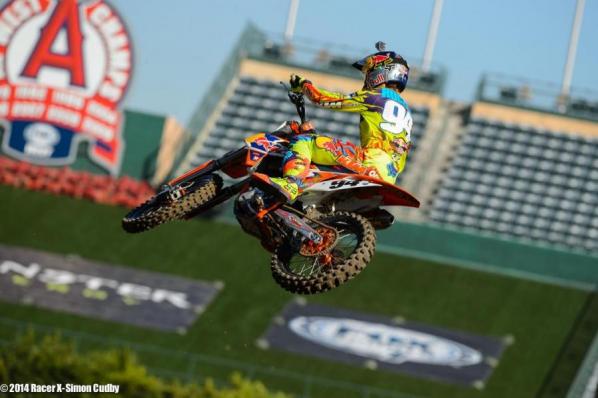 Ken Roczen will make his rookie 450SX debut at Anaheim.
Simon Cudby photo
PRO PERSPECTIVE – A1 PRESSURE COOKER (David Pingree and Jason Thomas)
Ping: A1 is a pressure cooker. Everything you've been training for and working toward during the entire off-season boils down to that one night, or so it seems. And no matter how many races you've been to, the sight of a packed house, the national anthem playing, the fireworks … they all kick your adrenal glands into overdrive. Add to that the statistic that the rider who wins the opener in Anaheim more times than not goes on to win the championship, and the pressure can be nauseating. I can't count how many guys I've seen sneak under the bleachers down in the tunnel and puke their guts out before heading up to the gate. I was able to win the opening round in 2000, and all day long I was doing my best to not think about the race. That year more than any other I was able to keep the focus on myself and not worry about every little detail leading up to the main event. I believe the riders who can stay relaxed have the most success at the opener.
That might seem like an obvious statement, but it is very difficult to do, and many riders just do their best to get through A1. Think about how many times Ricky Carmichael won Anaheim 1. See my point?
After a few rounds I would start to get into a routine and it was much easier to focus on your riding and block out the outside stimuli. A lot of times we don't truly see which riders are really going to shine until round three or four.
That said, the opener is important. It sets the tone for your season and gives you an idea of where everyone is in the pecking order. It's almost time to start the 2014 season and you can feel the tension building underneath that big A in Anaheim. Who's ready for supercross?

Tomorrow night will also mark the 450SX debut of Eli Tomac.
Simon Cudby photo
JT: For me, I was never in a position to win championships or contend for race wins. The first round was more about getting into that main event and scoring decent points. The teams I raced for depended on me to have their bike on the track in that main event at all costs. A top-ten was always my goal, but a decent result was acceptable and took pressure off everyone.
I was always fairly calm until those bright lights came to life and the moment of truth arose. Sitting on the starting gate for those qualifiers is gut-wrenching. This was the culmination of months and months of work, not to mention the pressure of having bills to pay and the entirety of the team's expectations riding on those six to eight laps.
Most nights things went to plan, and for me, the main event wasn't a nerve-wracking experience. Fitness was always my strong suit, and I knew I had plenty in the tank for twenty laps and probably would have done better had it been thirty. The main events were where the hard work showed. There's no hiding laziness in a twenty-lap main. I will always miss that feeling of wearing riders down that I knew hadn't prepared as well as I had, slowly catching them as their lap times were gradually falling off. That was a great feeling, and as I'm watching that same dynamic play out for someone else this Saturday, I'm proud to say I know what that feels like. For all of the injuries, disappointment, and heartache that racing brings, there is no better feeling than what those twenty-two riders will feel just before that gate drops. Absolute clarity. No distractions, no one in their ear telling them about another signing or appearance, nothing but man and machine for twenty laps. That I will miss.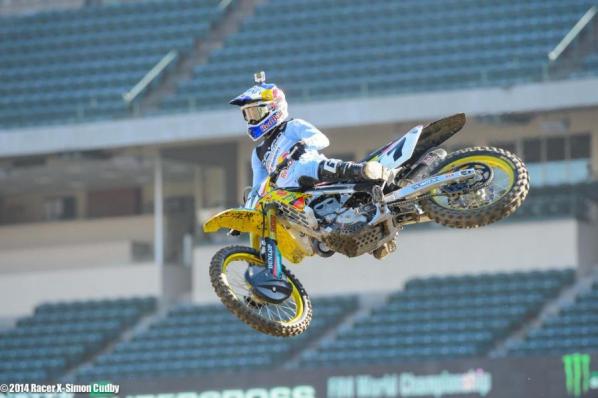 James Stewart comes to A1 on the heels of his victory at the Monster Energy Cup.
Simon Cudby photo
THE OTHER OPENERS (Weege)
In our industry, Anaheim 1 hype squelches everything, but in a bizarre twist, Amsoil Arenacross and the Nuclear Cowboyz and Nitro Circus shows are all starting this weekend too! Technically, the AX season starts first with Friday and Saturday races in Worcester, Massachusetts—you'll know how Tyler Bowers' title defense got started by tonight. Last year, arenacross featured a few live TV shows, but the shuffling of Fox Sports 1 and 2 has put the shows back on a delayed schedule—Feld preferred to have a consistent, weekly time slot on FS1 instead of getting pushed in and out of live slots on FS2. Look for a TV schedule to be announced soon—go to www.arenacross.com for info on all when it's available.
The Nukes tour starts in Lexington, Kentucky, with shows on Saturday and Sunday. The season runs until April and you can catch the full schedule at www.nuclearcowboyz.com and a quick New Year's Eve preview video here.
Finally, Nitro Circus Live's North American tour begins in Hamilton, Ontario, Canada, this weekend and then heads to the U.S. for shows in Boston and New York City the next two weekends. Check out some videos from those crazies here, and it's www.nitrocircus.com for more.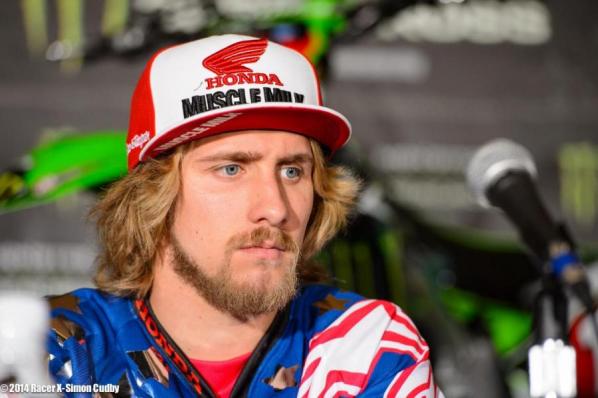 Justin Barcia looks to make noise in his second 450SX year.
Simon Cudby photo
HEAD-SCRATCHING HEADLINES OF THE WEEK
Journalist Dressed Up as Priest to Access Michael Schumacher's Hospital
Coach on 104-point win: 'Was all about us'
IN THE PAPERS
The Cortez Journal: Tomac Preparing for New Season
The Sydney Morning Herald: Jackson Strong, motocross star, in hospital after backyard fireworks mishap
Lexington Herald Leader: For some guys, Nuclear Cowboyz motocross show is heaven on wheels
RANDOM NOTES
Antonio Cairoli was named Sportsman of the Year in his home country of Italy earlier this week. "This is an important success for motocross and I hope we can place the sport in a higher position in 2014," commented Cairoli, the seven-time FIM World Motocross Champion.
From our friend Billy Disney: "Guys, this has got to be the coolest mail box ever! It belongs to Tanner Young of Marland, Oklahoma."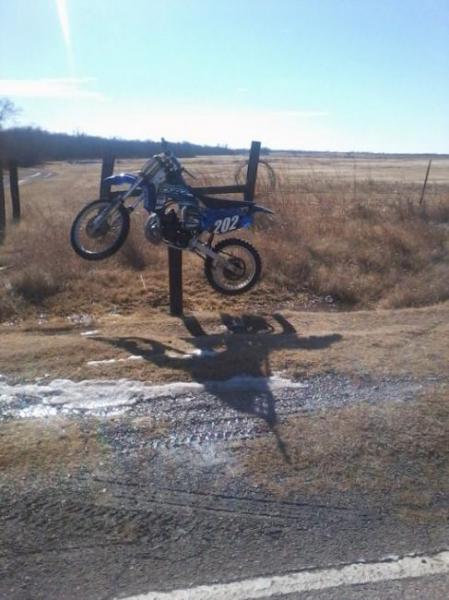 Finally, if you missed it, here's our year-end tribute to the friends and fellow riders we lost in 2013.
That's it for Racerhead. Thanks for reading, and see you at the races—starting tomorrow night!