Angel Stadium
Anaheim

,

CA
Anaheim I (A1)
Monster Energy AMA Supercross Championship
The press conference over, the 60-second lap times recorded, and the bikes up on stands, Monster Energy Kawasaki factory rider Jake Weimer walked out of the warm, bleached-out Orange County, California sun and into a hard-to-find patch of shade cast off by a motorhome. The pits, after a somewhat exaggerated practice session attended by most of 450 classification standouts, were still teeming with activity as mechanics and team members worked away at tuning on bikes, affixing graphics and tightening down their respective pit areas.
Dressed in his street clothes and running a pair of smoke-tinted black sunglasses, Weimer, smiling, was at ease, yet positively wired with enthusiasm, excitement and anticipation. The curtain-raising opening round at Angel Stadium was but 48 hours away and the accomplished racer from Rupert, Idaho was all too ready to get the show on the road.
You see, 2013 was something of a washout for Weimer as injuries and sickness—not to mention a serious loss in self-confidence—had shoved the veteran race all the way down to 11th in the final points standings. Weimer fought back, though, using the off-season as a time and place to dissect just what wasn't working and what needed attending to. After completing a compressively successful program, which saw him and his team addressing and fine-tuning his approach to racing for 2014, Weimer was able to put himself at ease, knowing that he was (as he'll explain here) in the best physical (race trim) and mental (bolstered confidence) condition since his ascent into the rank and file 450 division.
Racer X: Jake, did you watch the press conference at all?
Jake Weimer: No, I didn't see it.
What do you think of those things? Man, everybody at the front of the room was stoic!
Well, I guess maybe for the fans they're good. It holds them over a couple more days, I guess. As far as the riders, or anybody who is close to the racing, it's kind of pointless. We all know what the questions are going to be and what the answers are going to be. I mean what are you really going to ask? "Are you ready?" and "How was testing?" The answers you're going to get are, "Yeah, I'm ready and testing was good." I mean nobody is going to say, "I'm not ready and testing was terrible."
All the guys at the front of the room were very serious. It reminded me more of a MotoGP or Formula 1 press conference. It seems like it has become a lot more serious now. Has it, in your opinion, all become a lot more serious? Media, television, sponsors…
I feel like it's been serious for a while. Maybe we're getting a little more professional about it. I think everybody has been pretty serious, you know? Obviously there is a lot of money spent and a lot of hard work and everything else that goes into us getting here and racing. I think the seriousness has been there, I don't know, maybe it's just more organized and little more professional.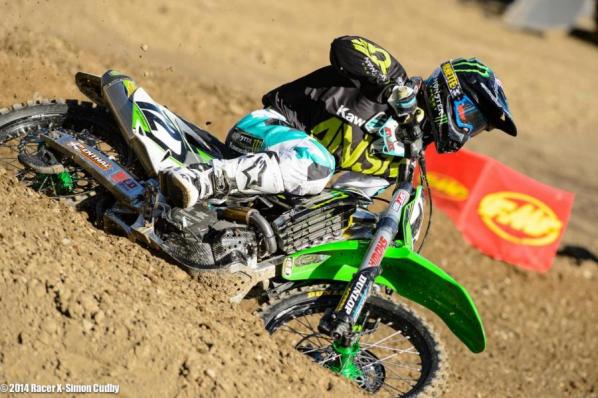 Jake Weimer is hoping to put a disappointing 2013 season behind him on Saturday night.
Simon Cudby photo
You were able to put a number of laps in out there on the track. Were you able to tell what the track will be like come race day?
We rode everything but the whoops. The whoops aren't there yet. The whoops can change the whole thing, you just never really know. The triples are the same and there is a long rhythm section on the third base line. I think it's pretty standard. I think it's fine. It'll be a good first round. There are a lot of 180-degree turns.
There appears to be a somewhat lengthy sand section out there. What's your take on that?
Again, that's one of those things where you never know what they're going to do with it on Saturday. I mean today it was just flat. The sand is fine, but to me, it's not like it creates fantastic racing. I guess what it does do is maybe slow people down a little bit so that the race might be a little bit longer. As far as for racing, I don't think it usually really plays a part.
Going back to the Monster Cup, it really seems like you've had a really good, steady, productive off-season. What do you think?
Yeah, it's been really good. I feel better than I've felt, ever, on a 450. I definitely think it was very productive. I felt like we worked on a lot of weaknesses. I feel like I've got more confidence. I'm excited to race where a year ago… I mean, physically, I was fine but I just didn't feel like I was where I needed to be. As soon you come in like that you're already not in a good spot. This year I definitely feel different. I'm excited to race, I'm glad to be here, it was nice to ride today. The off-season was good. I know where the hiccups were along the way. I'm healthy. I'm happy.
Just what weaknesses did you work on?
My riding, really. I was just at the point where I felt like I was riding so terribly. I was lacking so much confidence and I was questioning myself. When you're in a situation like that everything seems to compound. You struggle with the motorcycle—you struggle with everything. It's just tough when you're in a situation like that. I just really focused on riding and riding well and not just doing laps to put in the time. We really focused on everything, in and out. We paid attention to what I was doing and why I was doing it. I was on the motorcycle A LOT. It's all made a difference.
Have you been able to gauge your speed and fitness against Ryan, and maybe, Chad?
I haven't seen Chad once and I've only seen Ryan once this month. I saw him on Tuesday. I really have been by myself, which I don't think is a completely bad thing. It's allowed me to focus on myself and not worry about anything other than me. It's been good for me. I guess I've seen a few guys riding out at Milestone, but as far as riding with Ryan and Chad, I haven't really spent any time with them.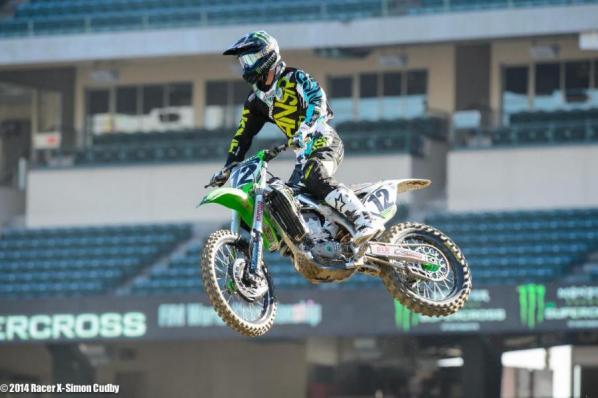 "I was lacking so much confidence and I was questioning myself. When you're in a situation like that everything seems to compound." - Jake Weimer
Simon Cudby photo
How is your bike? Has it been improved from last year?
It's definitely improved. Like I said, last year I wasn't riding well and when you're in that position, everything seems to be a struggle. Now that I feel like I've been riding better, it seems like everything just gets better and better. A lot of people, you'll hear them say, "The harder you ride it, the better it is and the better it works." I think there is truth to that. I mean, I think the better you're riding the more confidence you have and you just kind of gel with everything. I'm definitely the happiest I've been with the motorcycle.
There has been a lot of talk about the depth of talent we're going to see come Saturday night. How do you see it?
Well, it's deeper than it was last year! You've got a couple of the Lites guys moving up like Roczen and Tomac and Hahn, so there's three more that you can throw into the main event. It is deep. There are plenty of guys. I guarantee that you're going to have someone to race with every Saturday night. The competition is there. I mean for the racing it will be tough, but for the fans and the sport, that's a good thing. That's what we need.
I've done interviews here at the Big A after you won races on the 250F. You know what it feels like to win here. What'll stoke you out come Saturday night at 11 p.m. after the main event has run its course?
It's hard to say right now because that's why we're here and that's always the buzz around this time because you just don't know. You just don't. It's hard to say. I mean, hell, if I was top three, I'd be pumped. You don't know how the night is going to go. Top five, I'd be happy. What I will be happy with is if I can go out there and feel the way that I've been feeling while practicing. If I can do that I believe I can be towards the front. Obviously that's the goal: to be a top five podium guy. I would love to win some races, but for now you just don't know, I think you shoot for a top five and see where it all plays out. I'll give it my best!