Anaheim, CA
Anaheim I (A1)
Monster Energy AMA Supercross Championship
A 20 year-old young man from Australia named Chad Reed rolled up in a well-worn pickup. It was the December of 2001. The runner-up in the 2001 FIM 250cc World Motocross Championship as a member of the late Jan DeGroot's works Kawasaki team, Reed had packed his well-worn suitcase and jetted over to California in an effort to fulfill his dream of becoming an American supercross champion. A few months later, after five straight 125cc East Region main event wins, Reed was a champion in the U.S. "I guess we all expect to win, I guess it's just a matter of if and when we can win," Reed said to me at the season-ending Dave Coombs Sr. Memorial 125cc East/West Shootout in baking-hot Las Vegas, Nevada. "I really wanted to win the championship and that was what I trained for. I guess that's what I've been training my entire life for." Cut 12 years into the future. With two supercross championships and 41 main event wins to his name—not to mention the fact that Reed has competed for all four Japanese manufacturers—Chad Reed is, undisputedly, the most consistent supercross rider of his era, if not all-time.
Racer X: Chad, I first met you in the December of 2002 when you arrived here from Europe to ride the 125cc East Region Supercross series. Now it's almost twelve years later. What makes this year, namely 2014, different than the others?
Chad Reed: Well, it's been a blast for me. What can you say? I set goals and dreamt big and have had a blast along the way. Sure, I've had my ups and downs. I've had my fun years and my not so fun years. I'm in a position for 2014 that I know all too well—just coming off a tough year. I've got some doubters but we'll see what we can do. I'll just try and do my normal thing and prove them all wrong.
You've been at this for so long and have achieved so much, but I still sense that you feel you have something to prove to people…
It's funny because as you get older it's harder to put it into words. I guess I want to say that it's not about proving people wrong, but I'd be lying if I didn't say there wasn't a satisfaction in proving people wrong. The ultimate goal and motivation isn't about proving people wrong or anything like that, but I have goals that are still achievable. I honestly think I can win races and contend for the championship. That's what my feeling is. That's the goal: try to achieve my goals and try and contend for the title and put myself to be supercross champion again. I don't know any other way to put it. Yes, I do still think there is a lot left on the table and I think I can still achieve a lot more in the sport.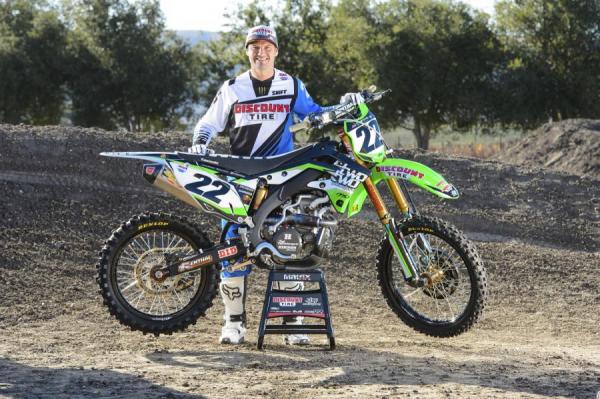 Reed returns to Kawasaki for 2014.
Simon Cudby photo
You were right there and running with all the young dudes in 2013 before an injury you suffered on the wet and greasy Seattle circuit took you out of the mix. Were you pleased with what you pulled off in '13?
My supercross season, for me and my standards, was horrible, but it certainly wasn't as bad as I think when I look back. I mean I missed a race and I was only on the podium twice. However, I was still fifth in the championship so it wasn't horrible. I mean a lot of people out there would be stoked to be top five, but I'm not.
You never really got in step with the 2013 Lucas Oil Pro Motocross Championship, did you?
My outdoor season was so exceptionally horrible that it kind of outweighed everything. And as in all things motorsport, you're only as good as your last race and at my last race I pulled off and called it a season (Note: The Utah National). It's just a matter of putting yourself in a good situation where you are around some good people and working hard to try get back to that spot where you know you can be.
It's been said that money does not buy happiness. In your opinion, can this adage be lost at times?
Honestly it is. So many people I know they're either doing that 9-to-5 job and they're mad at the world or they're just taking a particular ride because of the money. As a team owner now I deal with riders and talk to riders. The things that they want and all that kind of stuff just makes me think the way I did it was kind of unique and kind of cool. There are not a lot of people who do it the way I did it.
You have enjoyed otherworldly consistency throughout your career. Can you do the same in 2014?
I think it is still there. I still think I can achieve those results. It seems like every interview I do these days I'm giving the same answers in the fact that I don't know if I'm just delusional or if it's really possible. For me, I honestly think it's possible. In 2013, as much as you hear that I wasn't happy with the bike, I never felt good on the bike from the first day of riding after my knee surgery. It was just one thing after another. Basically, 2013 was a struggle right from the beginning. Sure, I didn't love the new bike and would have preferred to have been on the old one, but the results weren't really a reflection of the bike. I've never been so out of shape coming into a season. I mean I look back at the videos and I'm 30 pounds overweight and just out of shape. I could never get my head above water. Every time I trained during the off-season my knee would blow up. After a while I just had to go and have a second surgery. Unfortunately, it was just one of those years where it was just one thing after another. I feel like I've fixed all the things with my body that needed to be fixed and now I'm back healthy and training my ass off. I feel good. I'm back into race fitness and race shape and I'm on a bike that I enjoy riding. Things feel real good right now. It's time to go racing and see if all that lines up with the feeling I have.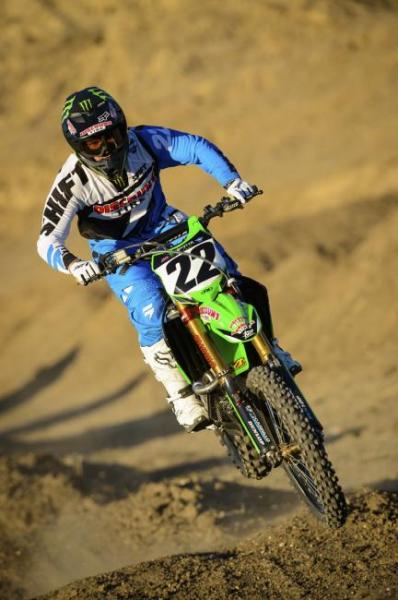 "I feel like I've fixed all the things with my body that needed to be fixed and now I'm back healthy and training my ass off. I feel good." - Chad Reed
Simon Cudby photo
Chad, you're seen by most everybody as the senior member of the sport now. An elder statesman who can still win, if you will. Are you happy about that?
I feel good about my position. I've been through a lot and I've lived the good days. I'm now living the harder days. It's an interesting industry. I've learned it and seen it from so many different angles.
You enjoy the lifestyle and living the life, don't you?
The schedule and the travel isn't an issue for me. I love it. Absolutely. I think that's why the whole team thing suits me. I go to the races and I'm genuinely stoked to be there. I can't wait to see the guys. I love bench racing and talking with them whether it be talking about the races, past or present, or talking about bike set-up and all those things. I absolutely love it. I'm a fanatic. I dream about it. I think about it constantly. All the ideas that come to my head and the things we throw around inside that semi, you could probable make a movie about it. And it's all I know. I've been traveling internationally and living out of a suitcase since I was 11 years old. It's the lifestyle I know. Love it or hate it, it's my normal reality. Being back on the road and traveling and racing is my normal reality.
Do you think about the legacy you'll leave behind?
As an active rider you try and shy away from making comments about that, but I'm thankful for my experiences throughout the years. You know, starting in Australia and going to Europe and all that. It's been a blast and to think of it ending sucks, but all good things come to an end. I still feel like I've got a few good years in front of me and we'll just keep grinding away. As far as my legacy, I just want to be the guy who did things my way and did what I felt was right. I stood up for what I felt was right and that's probably the biggest thing that this industry can't handle. In all aspects of this industry, anytime you challenge or go against those yes-men, you immediately become an issue. I was always okay with that, you know? If people think I'm a jerk because I stand up for what I want and what I think is right and what I think I deserve, than hey, fair enough. I'm happy with my life. I've made my millions of dollars. I'm good and I'm happy. And with this race team, I think we can take this whole thing to a new level. It's a matter of being patient and taking it year by year. There is no team that is staffed as good as mine. There is no team that does things right like mine. That may sound bold, but that's my true feeling. We have a bunch of bad asses on the team and I think it can only get better.
What about the close calls of 2005, 2007, 2009 and 2011? You placed second in the SX championship all four of those years!
There have definitely been a few years where you look back and go, 'Man, if only things swung a little different here and a little different there.' But that's what makes the journey so fun. There are the ups and the downs. I think, unfortunately, you learn a hell of a lot more from your down years and your down races than you do from your good races. With your good races, it clicks and it's just like clockwork. Sometimes it becomes so easy when you're having those good days that you kind of forget how it happened and why it happened. I think the down days and the tough days are the days where you really learn about yourself, the bike and the team. You can grow from them.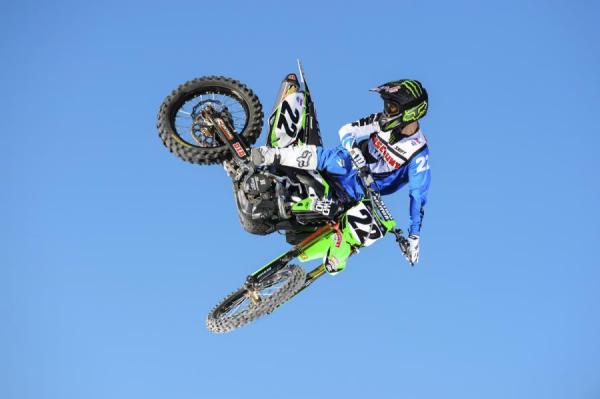 "I feel good about my position. I've been through a lot and I've lived the good days. I'm now living the harder days." - Chad Reed
Simon Cudby photo
We've seen your young son Tate in the pits at races on his bicycle. Now he is riding a motocross bike. If he wants to race will you let him?
Absolutely. I'd love it. I have my concerns, as any parent you always want your children to be safe. The fact that I've lived this sport, I know how dangerous it can be. To think of your son taking on those risks is not always easy to think about, but I always maintain the fact that if Tate wants to do something, I want him to do it because he loves it. When I think back to my early days at no point did I have any coaching or did I have anybody pushing me to do what I wanted to do. I just had this clear vision that I wanted to race a motorcycle. It was this single thing in my life that meant the most and I just dedicated my whole life to motorcycle racing. I think that's how you achieve the great days of winning races and winning titles. That's the journey that I've been on. I don't want him to race motorcycles because of the single reason that his dad does it. I could promise you that I'm not spending thousands of dollars traveling all over the USA and going to Loretta Lynn's for my kid to be average. A lot of people may think that's a totally wrong statement from a father to a son, but it's way too gnarly and dangerous of a sport for me to want my son to be half-ass committed to it and be average at. If he loves it then I'm with him all the way, but if I don't see the commitment and the will and the want to be great, than he's going to have to pick something else.
I know we've talked about that voice you've always had inside of you telling you to win. You want to talk about that?
Yeah, and you can't teach that, man. I've had so many parents come up to me over the years and ask me what did I do and who taught me, and just honestly, I just never got taught. You're just born. Champions are born, not made. That's my belief. Whether I'm right or wrong, it's what worked for me. From all of my living, that's what I believe.