Angel Stadium
Anaheim

,

CA
Anaheim I (A1)
Monster Energy AMA Supercross Championship
For Kawasaki, pro success has always started in the amateur ranks—and it probably always will be that way. Other brands have gone through streaks and slumps on the American amateur end, but no brand has been as consistently prolific as Kawasaki with its Team Green program. It's often actually easier to count the top pros that
didn't
ride a Kawasaki at some point than those that did—watch a battle for the lead with American racers, and there's a huge chance each of them came through the Kawasaki system at some point. Think about names like McGrath, Lusk, Carmichael, Windham, Stewart, Villopoto, Canard. Consider that of the top five riders in all-time SX wins, the only rider on that list who didn't ride for Team Green was the lone one who didn't come through the American amateur system, Australia's Chad Reed, who did, by the way, race a Kawasaki in Europe before moving here.
That Team Green thread drives Kawasaki's success right now, because Ryan Villopoto is doing what Carmichael and Stewart did with Kawi in the past, which is go from a Team Green minicycle ride to the top of the heap in supercross. The difference, today, though is that Villopoto is going to stay green right to the end, whereas the other riders above did not.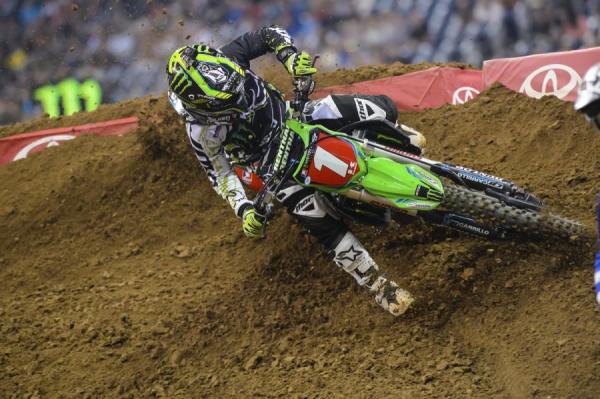 RV looks to bring more titles home to Kawasaki in 2014.
Simon Cudby photo
Such loyalty is hard to find in this sport, or any, really, but Villopoto has two years left on his current Monster Energy Kawasaki deal, and those two years could mark the end of the line for him. The 2015 season would mark his tenth full-time pro season, the same amount that Carmichael ran before reigning back to a part-time deal for season eleven, and then actual retirement. Even if Villopoto does race beyond his current deal, it seems logical he would just stay where he's familiar, anyway. It doesn't seem Villopoto's style to ride out the string for another paycheck—you'd expect him to try to leave on top.
The only other rider that comes to mind with so much green coursing through his veins is Jeff Ward, who raced for Kawasaki from 1979-1992. Ward's time came before the Team Green era, though, so there is pics circulating of his first pro season on a Suzuki, and of course his legendary 3x wheelie on a Honda in On Any Sunday. Villopoto, by the way, was a Yamaha rider at one point, but like Ward, when anyone thinks of him, they'll think green.
Quite a few perfect circumstances had to be put in place for such a perfect marriage to unfold. The general success of Team Green in the first place, and grabbing Villopoto when he was still racing 85s helped. So does the massive influence of Mitch Payton and Monster Energy/Pro Circuit Kawasaki. Villopoto came along at the right time and place, when 250Fs where just becoming the rule not the exception and Payton got a massive horsepower jump on everyone in the industry. RV didn't have to adjust, either, as his transition to big bikes happened just as the 250F came to fashion. Once RV's 250 days were up, Kawasaki chose to let Stewart go without a fight and put the future in Villopoto's hands, much like they did when Carmichael walked to Honda for 2002 and Stewart was entering the factory team.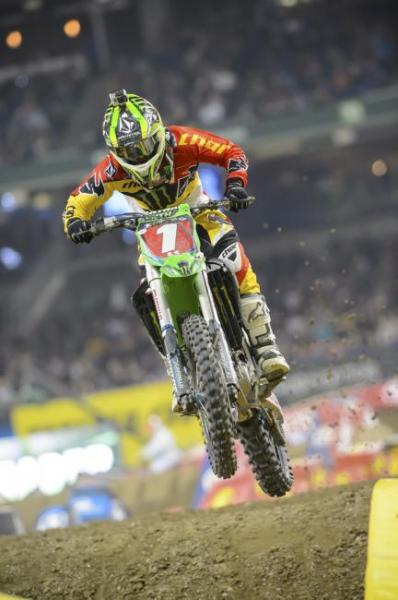 RV and Kawasaki have been a perfect match.
Simon Cudby photo
Throughout the Stewart/Carmichael runs, though, Kawasaki had ups and downs. Carmichael only got faster on the Honda, as the 1999-2001 generation KX250 was not the greatest of the breed—Carmichael forced it to work but most everyone else on that bike struggled. Stewart had to wait for a green 450 four-stroke. In Villopoto's time, though, the equipment has been unquestioned. It was good at first, then even better when the current-gen bike debuted as a 2012 model. Last season started with a few lumps while adjusting to new suspension, but soon he was faster and better than ever—and better than everyone else. The newest Kawasaki is so substantially improved over the already good bike of a few years ago that Chad Reed, who volunteered to leave KX450F behind three years ago, made it his weapon of choice this year.
Behind those scenes, the factory Kawasaki outfit has enjoyed the perfect pairing with Monster Energy, helping to insure no one outbids for RV's services.
Of course, a success story like this might begin and end with the outliers but ultimately Villopoto is the one most responsible for his results. He's the one with the talent, the dedication and the drive. But as in any relationship, the right set of circumstances helps. So while we all watch RV embark on a journey toward more history this year, realize that you're also watching one of the most perfect team/rider marriages in the history of the sport.