Angel Stadium
Anaheim

,

CA
Anaheim I (A1)
Monster Energy AMA Supercross Championship
We last spoke with Cole Thompson on December 12th, when the third year professional was in preparation for the 2014 250SX East Region, backed by factory KTM Canada—the team in which he spent the summer racing the Canadian Nationals. How quickly things change. Two weeks after that conversation, Thompson garnered a fill-in role with Rockstar Energy KTM—replacing the injured Joey Savatgy. The Canadian will be pressed into action, most likely starting in Phoenix, racing the 450 Class aboard a KTM 350 SX-F. When the series moves east, Thompson will transition back to the 250. We spoke with Thompson on Monday to discuss the move, his expectations and more.
Racer X: A lot has changed since we last talked a few weeks back as you'll be filling in at Rockstar Energy KTM. Can you talk about the details of the deal?
Cole Thompson: Basically I will be a fill-in rider for the injured Joey Savatgy. I will be riding a 350 for the west rounds. I won't be starting at Anaheim 1, because it's coming up so quick. I will more than likely be starting in Phoenix so I can get adjusted to the bikes and get set-up as quickly as possible and then go from there. Starting in the east I will be racing the 250. I'm just hoping to learn as much as I can and try to improve every weekend on the bike and do the best I can for the team and everyone that works for them.
How much will being able to ride the KTM in Canada last year help you in this transition?
It helps already being on KTMs for six months. Really liking the bikes and being comfortable with them will be a huge help for me. Switching to a different brand would be a hard adjustment this late in the off-season. Being on KTMs and being on a good team with great support and having this opportunity is great. I've done it on my own, so I know what that's like, so I think having the factory support behind me is what it's going to take to get to that next step and next level of being a guy that is fighting for top threes and chasing down wins.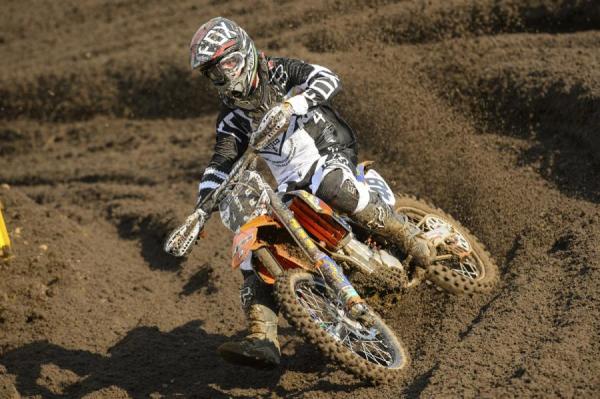 Thompson made the switch to KTM during the 2013 season.
Simon Cudby photo
You were scheduled to race the East Region with factory KTM in Canada. How does this new deal effect that going forward?
They have been really supportive. Andy White up here in Canada has been great. I asked them before I said yes to the deal and he said that's fine because the series up here [Canada] doesn't start until after supercross. Hopefully this will help me get some more opportunities. I will be coming back up to Canada to race the outdoors, but maybe this will open some more doors for next year in supercross.
If Joey were to return, would you continue with KTM Canada in the East Region?
Something like that. I was talking with Dave [Gowland, Rockstar KTM team manager] and he basically said they would keep me on and they would give me as much support as they could and help me get through the last whatever rounds came after he returned. No matter what, I'm really happy to be part of it and look forward to getting started.
Other than a few rides with Star-Valli Yamaha a few years ago, you've essentially been a privateer. What does this kind of support do for you?
It's a confidence booster, mainly. Having a team that believes in you and having everyone on there having so much experience and input is great. I'm going out to California tomorrow [Tuesday] and from that point I'm going to try and use every opportunity as a learning experience. Anyone that tells me something I'm going to try and learn everything I can from it. A lot of those guys have been working with great riders for a lot of years. Having everyone out there behind me is going to be a huge push and hopefully this can be the year I put everything together and I can make something of myself and everyone that's behind me.
This is the breakthrough you have been looking for. Do you look at it as, "Hey, this is my chance?"
Yeah, exactly. It's something that I've been pushing toward for a while now and this could be something that could turn into something great. I'm definitely going to make the best of this opportunity and make sure that I do it the best I can.
How familiar are you with the people on the team?
I talked to Dave a lot during the amateurs. He was working with Thor and I got to know him pretty well. Bobby Hewitt I've known for a long time from being with Xtreme for so long. The riders… I know Jason Anderson a little bit. I'm not too familiar with Ivan Tedesco, but both are really great riders and I'm looking forward to learning from them.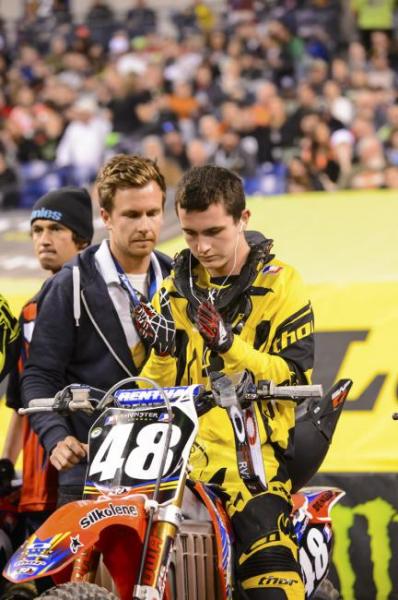 Thompson has recorded eight top-tens in twelve 250SX East Region races since turning pro in 2012.
Simon Cudby photo
You will be riding the 350 out west. How familiar are you with the bike?
I've actually never ridden the 350, so that will be new for me. I've been riding the 450 a lot in arenacross, so I'm sure I'll be able to drop down on that and be able to get comfortable with it right away with it being lighter.
How long of an adjustment period are you expecting?
Basically just taking it day-by-day. I'll know more once I get out there on how long it will take me to get ready to go. I've been racing and riding a lot, so I think it will just take time to get comfortable putting in 20 laps and making sure I'm 100 percent ready.
I would assume your expectations differ from the 450 class and the 250 class. But what are your hopes going into 2014?
Obviously the 450 class will just be to learn as much as I can and get adjusted to the bike and everything like that. Come east coast, the goal is top five and pushing for top three and doing everything I can to be a guy in the hunt. I think with the right equipment and the right people mentoring me, it's definitely possible.