It's thought that in racing the only thing that really matters is results. But over the last decade, winning races has actually been the least of Suzuki's problems. They've marched out the likes of Ricky Carmichael, Chad Reed, Ryan Dungey and James Stewart as premiere 450 riders, and it has resulted in plenty of titles and wins. They even grabbed up some more Ws last year with Davi Millsaps. In fact, Suzuki has probably had as much success at the highest level in the last ten years as any other brand out there, and certainly a whole lot more success than they had in the previous ten.
And yet somehow, it's not all rosy.
It started two years ago when rumors broke that the entire Suzuki factory effort was about to fold. It was high drama, but things settled down quite quickly. Suzuki just flipped the factory effort to a Yoshimura-run operation, with most of the same employees, the same parts, and even the same race shop staying in line. It seemed more of an accounting move rather than a huge shakeup, although it didn't feel that way for a few weeks in between.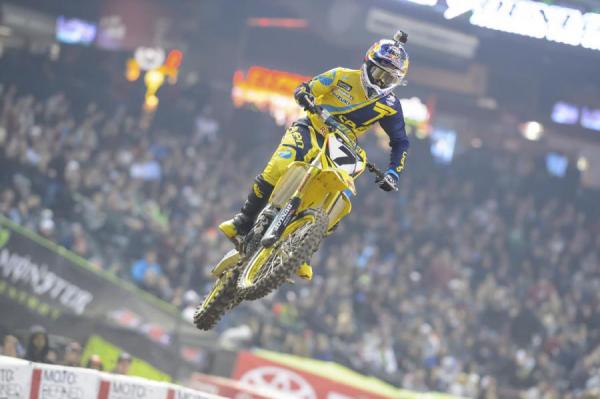 James Stewart returns to lead the 2014 charge Suzuki charge.
Simon Cudby photo
Such hesitation did prevent Suzuki from signing James Stewart for 2012, even though he really wanted on that bike. But six months later he wanted off Yamahas so badly that he ended on Suzukis anyway. But drama has continued. First, the Yoshimura (factory) team didn't have room for a second rider in 2013, leaving all eggs in the Stewart basket. If you need to rely on one rider to stay healthy and make it to all the races, James would probably not be the best bet. Tearing his ACL before last year's round one served as a painful reminder, but to his credit, he has hung tough and showed up just about every weekend.
Outside that, though, things were breaking loose. Rockstar Suzuki had dropped the Suzuki name from their team after losing support, and then started doing well last year in the 450 class with Millsaps. For Suzuki, it was a punch to the teeth and the gut at the same time, because Stewart had torn his ACL at the same time Davi was winning.
For Rockstar, the "are they or aren't they factory" story played out all year. I was pulled into the truck more than a few times trying to get the latest updates. Of course, the Rockstar team couldn't help but be proud. They were leading the standings in the most competitive dirt bike racing series in the world, and also taking 250SX wins on both coasts. This also meant they were beating not one, but two teams that actually did get factory Suzuki equipment.
Whoa, two? Yes, while the Yosh team was forced to go with a one-rider effort and Rockstar had to go it alone, Carmichael had worked his significant Suzuki ties to get works stuff from Japan for the team he now worked with, RCH Racing. For a few months, Rockstar got to crow about leading the series with Millsaps while Stewart was struggling, and RCH's Broc Tickle was riding well but not winning races, and RCH's Josh Hill was working his way back from injury, again. It was everything short of saying, "They bet on the wrong horse."
Suzuki didn't mend fences enough with Rockstar to keep them, and now that team is on KTMs. But it's far too early to say if the RCH and Stewart were the wrong horses, anyway. Stewart is still a threat. And do not sleep on the RCH team. Tickle might have been the first rider signed to the revamped Carmichael-Hart partnership, and he is solid, but he is just a start. Hill certainly comes into the season with the chance to make the more noise than he has in awhile. But mostly, the team keeps putting pieces into place. They have brought in factory Kawasaki's suspension man, Kaipo Chung, as well as veteran chassis engineer Sergio Avanto. They made a big run at Eli Tomac over the summer. Ultimately, GEICO Honda, partially because they were able to secure win bonuses from Honda right from the start, held onto Eli. But RCH will keep casting and one of these days they'll have an even bigger fish. This team is going about it right, building credibility, budget and results bit by bit. They'll be ready to win soon.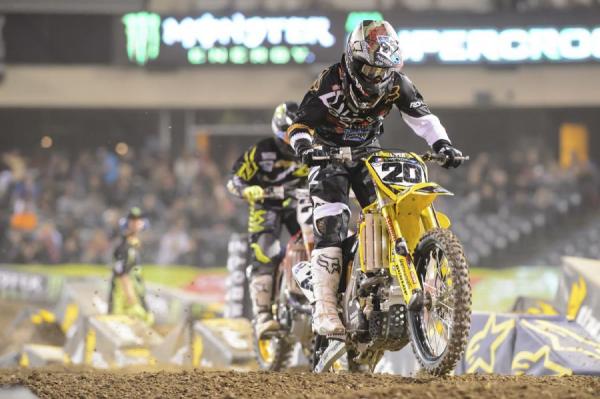 Broc Tickle (above) and Josh Hill will make up the RCH squad.
Simon Cudby photo
The only problem is, while the Yosh team has a name like Stewart, and RCH is poised to go free agent shopping for 2015, Suzuki's cupboard of young talent is bare. Rockstar was the 250 team, but now they're gone, leaving Suzuki, incredibly, with zero presence in the 250 class. Back when Suzuki was struggling in the big class, the 125 riders were their source of pride. And later, the Suzuki amateur program was probably the most stocked in the business, with the likes of Jesseman, Pastrana, Millsaps, Hepler and Dungey coming through. And at one time, Ken Roczen was a Suzuki rider, too.
Now Suzuki's situation is reversed. They're built like the New York Yankees, not developing the best talent down on the farm, but still looking to grab big hitters and big names and swing for the fences. If that gets results, hey, that's all that matters.