You know what could literally stuff a stocking perfectly? A big 'old four-stroke exhaust system. Only problem is, unless you can afford to hand out BMWs as party favors and live in a house with gold plated floors you probably can't afford to stuff a stocking with anymore more than some candy bars. We can't all be MC Hammer during an 18-month span covering 1990 – 1991. Sure, maybe you could put some 100 Grand bars in there, but you sure as heck don't have an actual grand to spend for a full-on thumper exhaust.
Ah, but the Flying Machine Factory (of course you know, that means FMF) is looking to put the hex on high priced four-stroke horsepower. Check out the PowerCore 4 HEX, which models FMF's top of the line products to deliver race-inspired performance at an economical price. The end result is a quality muffler with improved torque, increased horsepower and rugged durability all at a price that won't break the bank.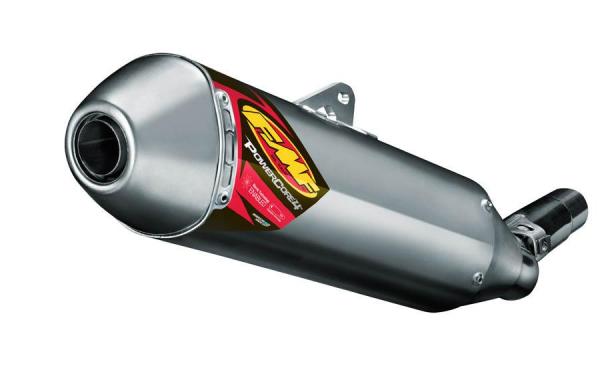 A reasonably priced four-stroke exhaust.
While you stuff the stocking with this muffler, you can be pumped that FMF has stuffed the muffler itself with space age packing for maximum longevity. The stainless steel and aluminum construction makes it durable, and the internal shape uses Hi-Flo technology for maximum power. You just slip this from the stocking and just slip it onto your stock exhaust header, or use it with an FMF header. Best part of all is the price—starting at just $299.99. Can't touch that!