Davey Coombs: Obviously 2014 is going to start much differently for two veterans than 2013 did. Davi Millsaps won the Anaheim opener last year, much to the shock of many in the grandstands, including Ivan Tedesco. Ivan was left without a ride when the musical chairs stopped, and so he took a seat in the Knothole Club and watched the big upset. Now Millsaps will be the one on the sidelines, watching as Tedesco, who never retired and has stayed in race-shape, fills in for him on the Rockstar KTM. I don't think anybody at Angel Stadium will expect to see #9 in the winner's circle, but it will be good to see the popular former 250 SX and outdoor champ in the field. (Ivan will also become one of the rare riders to have scored points on five different brands once he makes the top twenty. How many others can you name?)
Bobby Hewitt's Rockstar Racing team certainly had higher hopes as to how their tenure with KTM would start, but this is the nature of racing motorcycles at the level required to be on the starting line of a Monster Energy Supercross main event. By slotting in Tedesco he's at least going to have a 450 in the race, and if things all go perfectly well for Ivan and he reverts to his peak speed, he could find himself on the box. But with so many fast young men out there, he will have his hands full. But he will be helping to shake down the bike, teach his 250-class teammates a thing or too, and help the team continue its evolution into a better program. That's what a respected and experienced veteran like Ivan Tedesco brings to a team. Any wins or podiums would just be a bonus.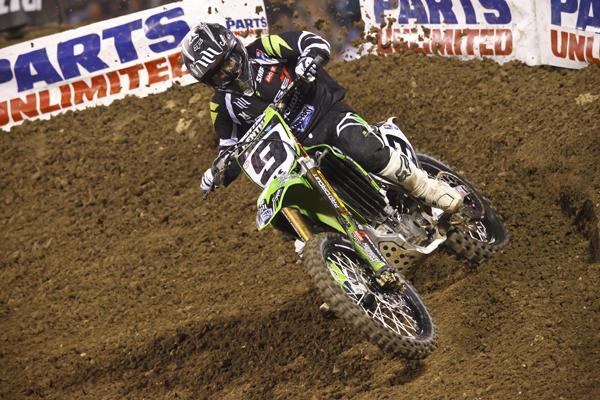 Ivan Tedesco is back after missing all of last year.
Simon Cudby photo
Jason Thomas: Ivan Tedesco sat out the 2013 season waiting on the opportunity that may have just arrived. Davi Millsaps has an injured right knee that may see him miss a few rounds of SX. Ivan has been riding and is a perfect fit to fill in for last year's opening round winner. No stranger to factory teams and equipment, Ivan won titles for Pro Circuit Kawasaki and was a member of both Factory Suzuki and Factory Honda before going to Valli Yamaha in 2011 and then leading the H&H Kawasaki effort in 2012. He has both racing and testing experience on multiple teams and brands, which makes him very valuable to race teams looking to improve their machine. As DC said, no one is predicting a Tedesco victory on January 4, but he is still very talented and undoubtedly motivated to make a statement. I feel this is a win-win situation for everyone involved. Ivan gets to race on equipment he feels up to the task and Rockstar KTM gets an elite level talent to put their bike on the track in Davi's absence. Surely Ivan is looking to get back into the mix after missing all of 2013. Can this be the spring board he was waiting for?
Steve Matthes: First of all it's great that Ivan Tedesco is back. I have to admit that I didn't think "Hot Sauce" would be able to secure a ride like this after sitting out an entire year, but good for him that it worked out. Tedesco is never one to cheat anyone on effort, he's not out there to ride around and collect money. He'll work hard, put 100 percent into this deal and his pride is strong enough that he'll want to give it his all. The sport's better having Ivan in it, no doubt about it and I hope he does well. At this point, with a year off and a stacked field, I feel that you could define Ivan as doing well if he put the bike in the top ten. If he does that after sitting out a season, then a tip of the chapeaux to him indeed.
But is anyone else confused by this whole deal? Only in our sport would a major rider be injured, his replacement be announced at a media launch and NO ONE explains exactly what's going to happen. I wasn't at the KTM media launch but I spoke with two people who were and no one seems to know what the deal is with Davi Millsaps. And maybe they don't exactly know what's up and how many races he's going to miss but surely with them introducing Tedesco to the media they have to have some idea, right? Some media reports are saying Davi's going to miss a race or two and some people are saying he's out for the supercross season. That's a pretty broad scope of races, no? Why doesn't someone clarify what the deal is with Tedesco riding for the team? Is this a full-time no matter what ride? A two race deal until Davi comes back?
Just search around the different media reports from the KTM intro and you'll get all types of answers as to what is going on with Millsaps. This whole thing is weird to me. But yeah, good to have Ivan back for sure. I just don't know for how long.