If you could look up motocrosser in the dictionary, you would most likely see a photo of Bobby Kiniry. A no-frills rider who will race anyone, anywhere to make a living, Kiniry is hoping 2014 will see him rebound from a 2013 season where he basically rode around on one leg. This New Yorker has bounced around from team to team—always riding hard and putting in good results—the last few supercross seasons before heading to Canada to race the Canadian Nationals.
We caught up with Kiniry to see what's up with him for next year, as well as a whole bunch of other talk about his 2013 season.
Racer X: Hey Bobby, your 2013 season wasn't what you wanted and it all started with your Velocity 3 team folding up early in supercross. Can you talk about your season that was?
Bobby Kiniry: It was a tough 2013 for me all around. But I ended up getting the same results as far as points-wise (15th in the Supercross points and 2nd in the Canadian points). One of those years it was just tough all around. To start the year off, the team folded and right away, about third round in, I had my first child so that threw a monkey wrench into things, trying to spend time at home [in New York] and race and test and everything all at once. I was always trying to find that new balance of life for myself. Toward the end of the year when things kind of stabilized with my U.S. ride and my Canadian ride I ended up putting some decent results together up in Canada, and actually riding the way I had ridden the previous year and things started clicking for me again.
I felt better, but at the same time I was fighting a real bad knee injury. I've been fighting it for years and it just kept getting worse and worse and then in Europe this past year before the supercross season I ended up tearing it up a little worse and that was just a lingering issue for me. That really kind of set me back at that point. It was tough for me to do what I had to do to be up front.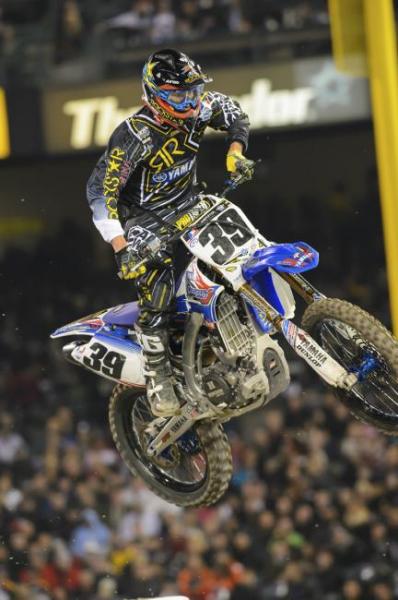 Consider this photo a collector's item. Velocity 3 graphics!
Simon Cudby photo
People see from the outside of the tent and they think everything's good, but I spoke to you a few times and with the baby, the team folding… you were not getting paid. You're trying to find a new place to race week to week. It's a lot of stress on a guy. And then of course your knee is killing you. People don't realize it's not all sunshine and rainbows.
It is a tough way to make a living. It's real stressful. You're expecting a certain amount of income coming in. I live in two different places, being that I'm from the Northeast. We're obviously unable to ride here throughout the winter, therefore I have to go to California. I need to be there during the winter anyway for testing and for the competition during the week. It pushes you a little more. It's a tough way to make a living especially with a family on a tight budget. Sometimes we're living separate from each other, which is obviously tough, as anyone would know. Just trying to find a balance on both ends and making it work and still being competitive and being able to train properly and mentally prepare for the weekend, because this is a very intense sport, mentally.
When did you know that things were going sideways with the Velocity 3 team?
Both Kyle Chisholm and myself were out in California and we were asked to pay for our entry for the first supercross. At that point we're like, we've been owed two or three paychecks already. None of my travel expenses or testing expenses that was agreed on in our contract had been paid. You're asking us to pay our entries now and you can't get us to the first race, and our hauler isn't ready, our bikes, or this, that, and the other. It was a train wreck from the get-go.
The closer we got to Anaheim, and that was the thing, because at that point they had us trapped and we really had nowhere else to go. Luckily Yamaha stepped in and really took care of myself and Kyle. We're obviously very thankful and can't thank them enough for doing that. But right away, within the first month, there were things starting to add up and add up. So it went sideways pretty quick for us.
Describe your knee injury a little bit.
It was a painful year all around for me. I really couldn't even go up and down the steps to get into my own house. Literally crawling up the steps on all fours! It was a bad deal, man. I really had to dig deep throughout the year to train, and not because I didn't want to but just because it hurt, just because of the pain in my knee. I couldn't even really spin on a bicycle let alone do a hill ride or anything on a road bike. It was my left knee. So my left-hand corners were pretty pitiful all year. I was scared to stick my leg out. Something as simple as landing on a basic double or tabletop became a big ordeal. It really sucked when there was a flat land jump where you really just had the over-jump the thing and land on flat ground.
I remember a couple races such as Unadilla and then Walton in Canada just landing on the doubles and just cringing for another half a lap in agony. For literally a half a lap just gritting my teeth. And when you're riding you can put up with a lot of pain, but that I really did feel. It was almost enough to pull off a couple times. But man, I've got to keep going. I'm up front. In Canada I ended up winning the race! There's no excuse to pull off. I made the choice to be out there; I'm not going to be a girl and pull off just because my knee hurts. If it hurt bad enough to not finish I shouldn't have raced. That's the way I looked at it. I'm going to put forth my best effort no matter what the circumstance is.
What was wrong with it and what did you get fixed?
It ended up having no ACL. Both my meniscus were gone, so it was just bone on bone. Then my kneecap was actually broken and there were pieces falling off of it. My arthritis on my tibia plateau and my femur were so bad they had to actually cut it off, grind the end of the bone off, drill in it, and create even deeper fractures. My bones were actually broken bad enough to where you couldn't call them anything but actual fractures. So my legs were actually broken. I had extra bad bone spurs growing off of them that were actually digging into my nerves they were so big. I couldn't believe it, seeing how I had let it go that long. Obviously there was a lot of floating debris in my knee from all these torn up parts and pieces missing and working their way in and out. Numerous bone spurs. They ended up drilling into my leg and helping bleed my bone to help heal up fresh again. Same with my kneecap; they had to cut a lot off of that. It was pieces falling off. It was broken. It was just a bad deal all around. They've replaced the ACL now.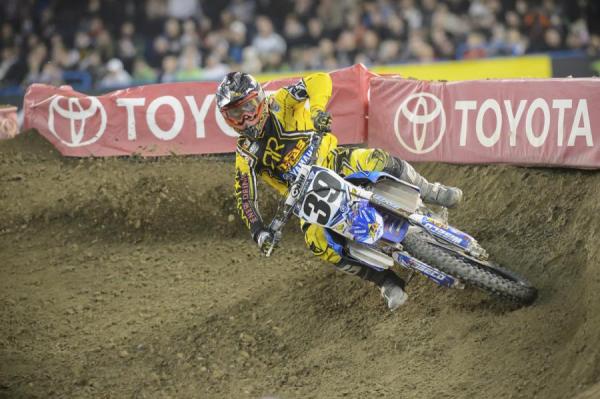 Thanks to Yamaha, BK found a home with N-Fab TiLUBE Yamaha for the rest of supercross. He then headed to Canada to fight for a title.
Simon Cudby photo
Geez, pretty gnarly, everything feel good now?
Yeah, everything feels good now. I'm about two months into my rehab and already I'm feeling better than I did all year. I can walk up and down steps now, get in and out of my truck. Feeling 100 percent better.
Talk about Canada this year. You've been up there four or five years now and have gotten second and third a bunch. This year you had to deal with Brett Metcalfe.
It was another fun year up there. I was glad to hear that Brett was coming up. Me and him have been racing since 2003. I think that was both our rookie years. Over the years I've just gotten to be good buddies with him so I was excited to do some more racing with him. We've had some good battles over the years in the U.S. It was another fun summer of battling with him. He ultimately got the better of me but we had a lot of good battles. I beat him a few motos and he beat me a few. It was just survival of the fittest.
There were a lot of disqualifications and docked points and stuff going on this summer from red flags, red cross flags, and all kinds of chaos. Obviously he had the better of the situation and had a good summer. Congrats to him. But it was a good year. The Yamaha ran great. I didn't have any DNF's. The Rockstar OTSFF Yamaha was great. It was a fun year.
Next year the series is sponsored by Rockstar so you have to be excited about that as a Rockstar rider up there.
I know. We're real excited that they came on board to support the series. Hopefully we can bring them home a championship this next year. The team had already been testing. As soon as we were done racing in Canada I had surgery and they kept on testing on the new bike and tried to get a head start for us and try and do anything we can to hopefully win the championship. I've been second two or three times and third another two or three times. I think it's about time to try and put one in the bag here.
What do you have going on for the 2014 supercross series? Are you going to be ready with the knee? What's happening with that?
At the time being I do not have a ride and I'm looking to race. I've got my knee fixed. I'm ready to go racing. I want to be there and thank all the sponsors for helping us out and put forth another good effort. At this point I'm trying to stay on the Yamaha just for the convenience of not having to switch for myself going into our outdoors in Canada. But I'm not 100 percent sure what's going on. I'm looking forward to the future. I've got a few things brewing. Hopefully I can see everyone here at Anaheim.