EnduroCross has a rep from its gnarly, high-speed defying of physics. Simply clearing huge obstacles without crashing (face-first onto rocks, even) appears to be the name of the game. But deep down inside, if you ask the riders who do it for a living, you'll find the challenge is much different. These boys can all get over the stuff. What they can't get over is super-spiked heart rates and arm pump. That is what this deal is all about, the no-rest-anywhere sprint of all sprints.
Now, this weekend at the Orleans Hotel in Las Vegas (which can proudly claim itself to be the Granddaddy of EnduroCross) there will be another element added on top of the formidable challenge of a 200 beats-per-minute ceiling and Popeye forearms: extreme championship pressure.
That's because Taddy Blazusiak, the defending champion of the series, in fact, the only champion ever in the series, had been facing a serious challenge this year from Mike Brown. Same old Mike Brown you've known in motocross circles since the previous millennium. Same Mike Brown who rode for Mitch Payton's Pro Circuit team twice with TEN YEARS between stints, and now it's been a dozen years since then. Mike is advanced in age but equally advanced in his skills. He's had a great season, and he and Blazusiak are tied in EnduroCross points heading into this Saturday night's finale. Tied, bro. You want to add a side of nerves to that spiked heart rate and gnarly arm pump?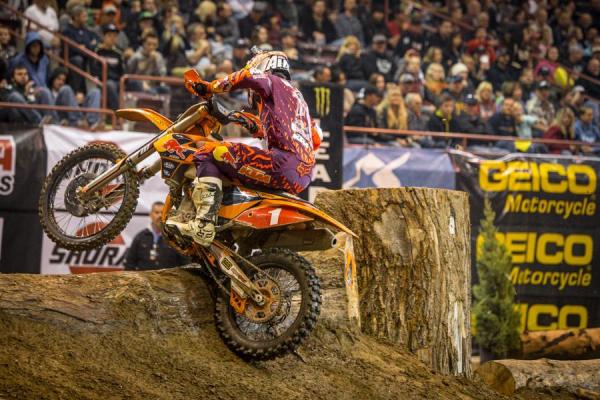 Taddy Blazusiak is seeking another title for his mantle.
Drew Ruiz photo
Blazusiak swept the entire EnduroCross season in 2011. He only lost five of the 29 main events held between 2009 and 2012. This year's collision course between KTM teammates happened through a combination of Blazusiak losing some of his edge and Brown getting better. Taddy has admitted that a few off-season injuries and surgeries have slowed his season.
"I was late starting my pre-season training because of shoulder surgery," he said after winning the previous race in Idaho, to draw even with Brown in points. "Then I was working on strengthening my shoulder, which isn't what you want for racing. So I wasn't as fast as I wanted to be early in the season. Then I spent some time competing on a rally bike, which wasn't good for my EnduroCross speed. When things are going well you don't think about it too much. But when you're not exactly where you want to be you realize that there are so many details that all need to fall into place. I feel like those pieces are only just coming together again. I'm back on track."
Brown started the year on fire, winning the first two rounds. After a few years in various off-road environments (Brown delivered a few WORCS titles for KTM and has always shown interest in racing more GNCCs back east, where he is from), the veteran put a real focus into EnduroCross this year. He selected the KTM 350XC-F and put all of his testing efforts toward it. Over the years, he's gone from top tens to top fives, then podiums and wins. Now he's good enough to be Blazusiak's first real title challenger.
However, Brown hasn't quite been the same after that rapid start. He led most of the event in Everett, Washington, for example, but admitted he might have been thinking about the title and points a bit too much, and tightened up. It opened the door for the man who will now act as the championship spoiler, trials champion Cody Webb.
In fact, even though Webb won the 2010 AMA Trials Championship, it's not really fair to call him a trials guy anymore. He rides moto all the time to pick up his speed for these events. On a factory Beta, has finished second in this series before, but a broken foot knocked him way back in points early this season. He has come roaring back, winning back-to-back races and proving just as fast and strong as either of the KTM men. Blazusiak edged him for the win at the last race in Idaho, but he's right there.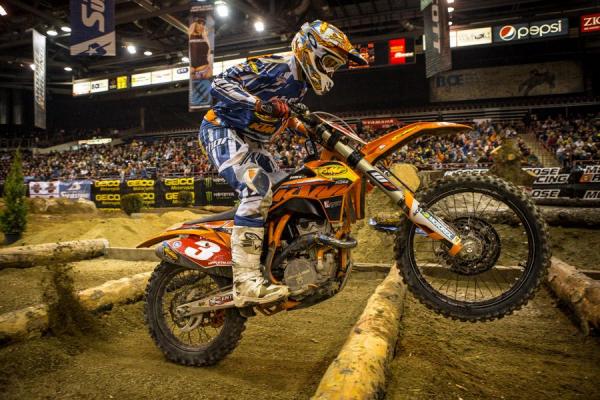 Mike Brown is looking for his first career EnduroCross title.
Drew Ruiz photo
And not alone. JCR Honda's Colton Haaker might be the flat-out fastest rider in the whole series, and one of these nights he's going to put all that speed together and win the main, as he's done before. Monster Energy Kawasaki's Taylor Robert is one of the most versatile and talented riders around, he can win on any night. What's crazy is that if Brown and Blazusiak have really bad races, Webb, Haaker and Robert are close enough in points to potentially steal the title.
Let's throw one more log on this fire. David Knight was one of the first big stars of EnduroCross. He was second behind Ryan Hughes at the first race ever, and a few years later started winning in dominant fashion. When the one-off event expanded into a three-race triple crown, with a $50,000 bonus on the line if a rider could win all three races. Knight swept the first two races and looked like a lock for the triple-crown. Until Blazusiak, then an unknown, stole the win from Knight in an all-time upset, costing him the big loot. Knight thought that Taddy, then a fellow KTM rider, was under orders not to do that! The big man from the Isle of Man was so mad that he ghost rode his bike off of a tractor tire in disgust.
The point of all this? Knight hasn't raced a points-paying EnduroCross in the U.S. in awhile, but he stays sharp racing similar events in Europe. Now he's coming back to Vegas to give it another shot. When Taddy has a title on the line. Very, very interesting.
In the meantime, KTM finds itself in a similar situation with Blazusiak and Brown as they did back then: two teammates going for the win, one will end the night very happy, the other will be very upset. Cue the nerves, heart rates and arm pump.