Las Vegas, NV
Monster Energy Cup
Monster Energy Cup
It's a little strange to pick the Monster Energy Cup for your first professional indoor race, especially on a 450, but Cooper Webb grabbed some valuable experience he can carry into a rookie supercross campaign in 2014. He talked about it after the race.
Racer X: First race on the 450, how was it?
Cooper Webb: It went pretty good. First Main Event was actually really good. I think I got ninth in the first one and was battling with those top guys and was up there in the second one, just got a bad start and kind of got stuck behind [Andrew] Short. But I felt good. I think I got 12th. Just looking to get back in the top 10 for the last one, and [Justin] Barcia took us both out. So that was unfortunate and kind of mangled my bike. I got up in last. Just kind of a bummer for the last race, but I thought overall it was good. I didn't know what to expect coming in. Just to come out safe and learn a lot, I feel like it was a good experience.
Last year you won the amateur race. Much different this year with it being your professional debut. Obviously expectations were probably a little more tempered?
Yeah, for sure. We kind of thought about it and we didn't really know where we stood. It was kind of those things, obviously this isn't amateurs anymore, and obviously I've never raced supercross. It was one of those things you can go and practice but you never know until you get to the race and actually do it. I thought I did well for myself and for the team.
Obviously you'll be racing the 250. What was the thought process in deciding to ride the 450? Just to kind of even the playing field?
Yeah, just mainly when I got to California the 250s they weren't quite ready so I just was messing around on a 450. Then we kind of talked where, if you get ready in time we can race Monster Cup. So it was cool. The goal was to race Monster Cup but I didn't make the final decision until three days before, actually. But it was cool. Yamaha really stepped up and helped out with the 450 and KYB and everybody. We busted our butts to be competitive and I felt like we were. I thought it was good. That's about it.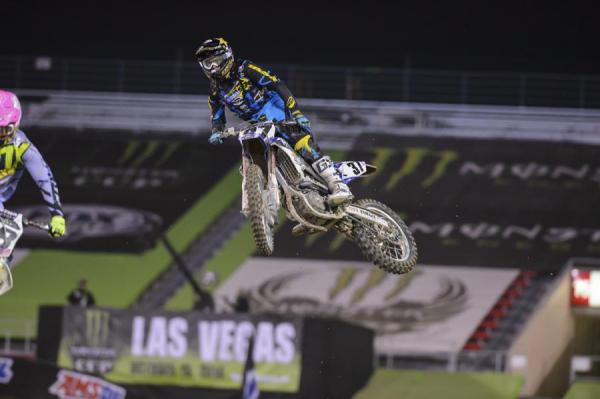 Webb finished 12th overall in his first Monster Energy Cup as a pro.
Simon Cudby photo
Looking forward to next year, does this race get you a little prepared? Does it give you anything going forward?
I think just the nervous side of it, because you're racing against the best guys in the world. When you go back to the 250 class obviously there's fast guys, but you don't look at them like you would look at a Villopoto or a Stewart. So I think it was good just racing a supercross track with fast guys. I think it'll make the transition to the 250 a lot easier.
Talk about the track. They basically just reversed it. You raced here last year. Was it much different?
Honestly I thought even though it was the same layout it was quite a bit different. Obviously it's some of the same obstacles but the way they kind of prepped it and stuff made the obstacles quite a bit different. Maybe it was just because I was on a 450, I thought this year the track was really good. I thought they did a great job. Only bad thing was the malfunctions with the split start.
Also we saw some malfunctions with the Joker Lane tonight. What was your strategy?
That Joker Lane, that was crazy for those guys to not hit it. It's weird. I was thinking about it every lap, when the optimal time would have been to hit it. It definitely played a part. The second race it kind of screwed me; the first race it helped me. So it's one of those things. It's not normal racing but it brings an excitement factor, that's for sure.
I think a lot of people have actually said they wouldn't mind seeing it at some supercross races. You haven't raced professionally supercross but you've watched the sport for a long time. What would your thoughts on something like that be?
It'd be different, that's for sure. I don't know; I feel like it's one of those things I think you need to just go out and race and not really worry about hitting something like that. But who knows. If they can figure out a way to make people do it or whatever. It does make it better I guess for some racing but it's like, that's how you make your pass. It's not like typical racing where you're bar to bar making a pass. I guess it's either way. It's a little tricky.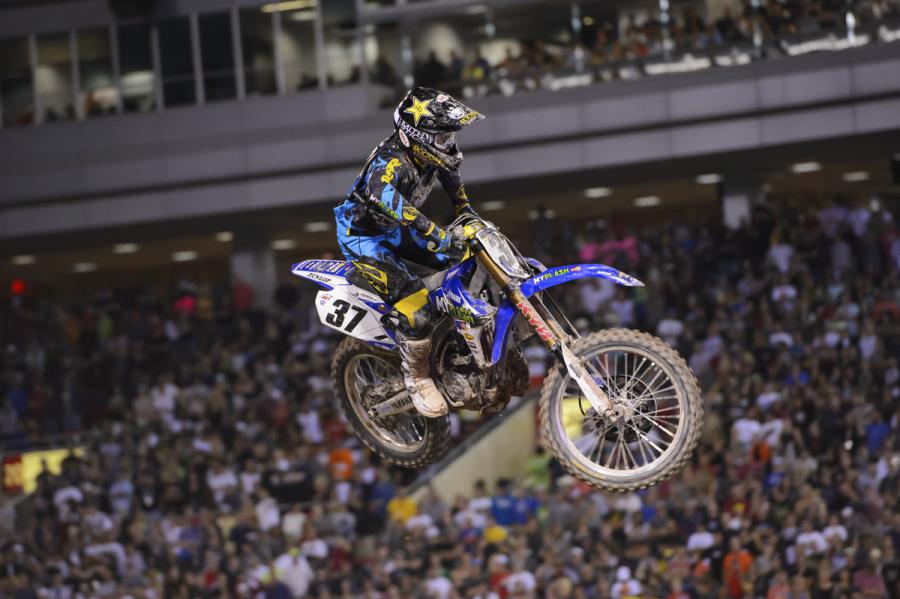 We may see Webb as early as Anaheim, but nothing is set in stone.
Simon Cudby photo
Obviously they can use this race to try new things, Olympic style scoring, things like that. What are your thoughts on some changes like they've done here kind of being brought into supercross?
I think some of it's really good. I'm not a fan of the split start because I think obviously it has malfunctions and I just don't see how… Like, one side tonight the dirt was really tacky and the other side was very hard-pack. So I just think it's one of those things where it's just a lot of gray area. That's something that I wasn't really a fan of. But I thought the layout this year was pretty good. I felt like you could pass pretty easily. With all the big berms and stuff it was also exciting. Didn't work out for me though.
Next season are we going to see on the East or West?
I'm not sure what coast. I think they're leaning more toward West right now but I couldn't care less. I think it would be cool if I could do West and maybe a few rounds on the East on the 450. Just kind of play it by ear.