FMF KTM's Charlie Mullins has been a busy man lately, wrapping up the Rekluse AMA National Enduro Championship a week ago, then battling for the AMSOIL Grand National Cross Country Championship, and now taking a two-week trip to Europe to race the International Six Days Enduro. He did find time to chat with us to tell us how it's all going.
Racer X: Hey Charlie, you're at the airport and headed to Italy for the ISDE. And you just raced a three-hour GNCC yesterday! The weekend before you wrapped up the AMA National Enduro title. That's a lot!
Charlie Mullins: Yeah I've definitely got my hands full this year. Luckily I was able to wrap up the Enduro title and get that pressure off of my shoulders. I raced the GNCC yesterday and had a good finish. I finished second, but I did lose a few more points to Kailub [Russell]. Now we're flying to Italy for two weeks, so I've been pretty busy.
Is each one of these things a totally different mindset, or is it not too bad racing these things?
It's actually not too bad. The GNCCs and Enduros, I've been doing both for years now, so I kind of have that figured out. The ISDE was something new for me last year, and it was fun.
ISDE doesn't even start until next Monday. So what do you do this far in advance?
This first week, it's just a lot of walking. We walk all the special tests, and I think there are six tests on each day. Each test is eight to ten kilometers long, and we'll walk each one two or three times. That's a lot of walking, but it's a must. Also, it's important to get over there and adjust to the terrain and the food.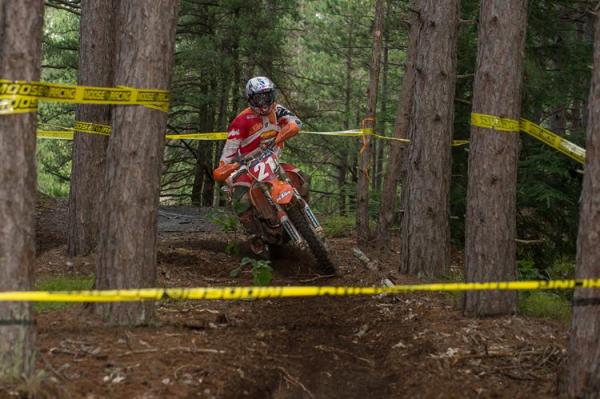 Charlie Mullins has wrapped up the Enduro Championship, but has work left to do in the GNCC series.
Shan Moore photo
For years, the U.S. team was never really competitive at the ISDE—we didn't have a really strong effort. Things have really picked up lately and the team seems much more organized and competitive.
Yeah, and that's the goal now that Antti, our KTM team manager here, has become the team manager for our ISDE team. It's gotten more serious, and we're wanting to overall one of these things sometime soon.
I think a lot of fans think of ISDE like Motocross of Nations, as if this is GNCC des Nations or something, but this is totally different, right?
Yeah, it's totally different than GNCC, or really even our National Enduro series over here. Basically ISDE is pretty much sprints throughout the day. You have six tests every day, and they're usually 6-12 minutes, just all out. A lot of grass track, and we have to run FIM approved tires over there, and that was a big adjustment to me last year. Luckily I was able to get my hands on a set this year so I could practice at home. I'm coming in much more prepared.
Yeah the sprint thing, if you practice for ISDE here, does it help you at all with your racing over here?
The National Enduros here in the U.S., they have special tests, but they're usually a good half hour long. The tests over there are much shorter, pretty much like motocross where you're all out and can't make any mistakes. It's a lot different than a three-hour GNCC!
You've also been dabbling in different bikes this year.
Yeah, basically I'm on my 450 full time in the GNCCs, and the 350 for the enduros. The 350, it's a lot easier to manage the power in the tight woods. But a 450 is awesome for GNCC, so I feel like I have a good setup right now with each.
In GNCC, Kailub Russell is on a crazy run with five wins in a row. What's your strategy for the final two rounds?
We have two rounds left and Kailub has a seven-point lead, and anything can happen. But pretty much, if I want to win that title, I have to win races. But Kailub is riding really well and he's really strong. I've definitely had my hands full with him this year, but all I can do is focus on myself. At the end of the year, I just want to know I gave it my all. I'm not going to leave anything out there, that's for sure. Hopefully it works out.
You and Kailub were pretty much dead even all year, you seemed to have a small edge early in the season and he has a small edge now. Anything you can point to that he has done or you have done that has led to this flip flop in the standings?
I'm trying to figure that out right now! He's riding good. I'm doing the best I can, and right now it seems like me and Kailub are the two strong guys right now, and then we also get [Josh] Strang and Thad [DuVall] in there. But Kailub and I, we've had some good battles, and it's been clean racing all year. It seems like we don't give each other much slack.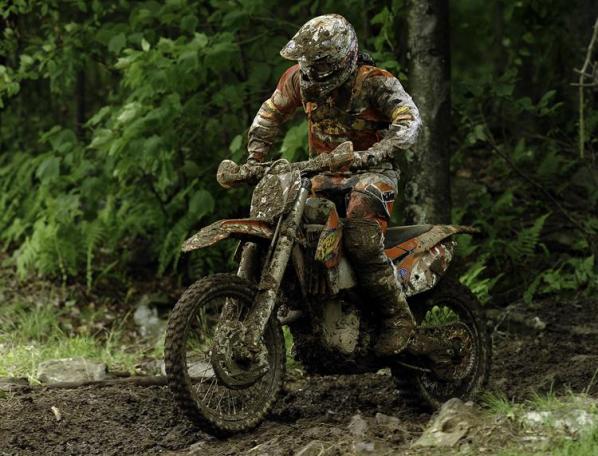 Mullins trails Kailub Russell by seven points with two rounds remaining in GNCC.
Harlen Foley photo
You're the only rider ever who has won a GNCC title and a National Enduro title. But it's never been done in the same year—how huge would it be to pull that off?
I think it would be pretty cool in the off-road world. That's been my whole goal, but it's hard. I've done both series since 2010, and it seems like one year I win one and finish second in the other. This year I have a shot at both, and it would mean a lot if I could do it—so I'm going to give it everything I have.
And then you've got to be looking forward to a nice break when it's all over.
Yeah it's been pretty tough, I did a one-off race in Montana in August, and ever since then I've been racing every weekend. I won't get one off until we're done at the end of October, and the Enduros started in February. So I'll be looking forward to kicking back in November and December.
Finally, what's the goal for the ISDE team?
My personal goal, I'd definitely like to be in the top ten overall, and top five would be awesome. For the team, I think we have a podium in us, I think we can do it. Our Junior team is strong, too, so I think if we could pull off a podium in each, it would be pretty big for us. This is the format the European guys are used to racing, but there's no excuse, we all know what to expect and it's just a matter of pulling together as a team, and trying not to have any bad days.