With motocross traveling duties complete, NBC Sports asked me to cover some off-road truck races over the weekend in Crandon, Wisconsin. You might not care much about that, but you will a little more when I piggyback assignments and run an interview I did with Rick "Too Hip" Johnson that I completed at the race.
And I don't care about off-road truck racing as much as I care about motocross, either.  But my relative lack of knowledge and insiderness in the Traxxas TORC (The Off-Road Championship) Series only helped me appreciate the very basics of what we all love about motocross—but probably forget far too often.
First, a word about the race, and I will let RJ handle it. "Tell the people Crandon is like Millville, Minnesota and Loretta Lynn's wrapped into one," said the 7-time AMA National Champion.
Sounds good.
Like motocross, Southern California is the heart of off-road racing, but Crandon International Raceway in Wisconsin has carved its own magical niche in the same vein of Millville or Loretta's. If you've gone to the Millville National, you know there's nothing going on in Millville besides that racetrack, and yet when you're at that track, you feel like you're in the center of the universe. Crandon is much the same, almost exactly the same in its Midwest sensibilities (if anything Crandon is even more remote, because at least Millville isn't too far from modernized places like Rochester, Minnesota or Minneapolis. For Crandon, I had to fly into Iron Mountain, Michigan, a land that time has forgotten. I even decided to indulge and get a hair cut at an old-fashioned barbershop in Iron Mountain's downtown. It was only old fashioned to me, though, because the place was quite contemporary compared to its surroundings. And when I asked if I could get some sort of "product" for my hair, well, the guy had no idea how I could style my hair with Barbasol, which is the only product he carried. At one point I mentioned all the hipsters running long hair and scraggily beards, and he said, "Yeah but people haven't done that since the 1960s." Sure they haven't.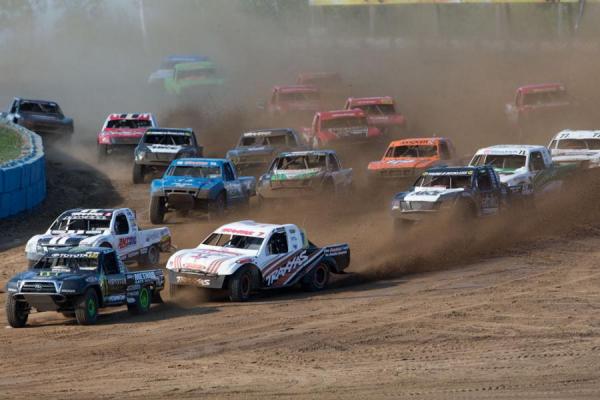 Crandon is famous for its land rush start, which is like motocross...with 900 horsepower trucks.
Photo by Vincent Knakal of Mad Media
Like Millville, the Crandon track gets universal love from racers everywhere. Like Loretta's, Crandon is an amateur haven, too. Yes, a haven of a sport you didn't even know people participate in. Between the mega-dollar pro races in TORC come amateur and sportsman classes, all competing for World Championship status. World Championships, really? Hey, why not? I saw drivers from Florida and California and everywhere in between, and I don't think anyone in Europe is interested in racing a rusted out 1979 Ford Bronco.
And that's what they race here. Somewhere in Wisconsin are driveways stuffed with old Broncos and pickup trucks, interiors ripped out, mufflers ripped off, roll cages installed and numbers painted on the side. Surely oil puddles on the ground. Once or twice a year, they race these trucks. Off road racing is a lifestyle in this neck of the woods, and that means when the pros come out in their NASCAR-meets-Baja trucks, complete with 900 horsepower and two feet of suspension travel, the fans at Crandon get it. They absolutely pack the place on Labor Day Weekend. The camping area—referred to as Jurassic Park due to its craziness—was sold out two months in advance.
Watching some of the amateur classes on Friday, I didn't quite understand. It wasn't awful, just a solid "meh." '79 Bronco races aren't the world's most riveting show. On the other end, I ogled the pro trucks in the pits, but wondered: Why so big? Why so loud? Why so expensive?
Many motorsports end up spending themselves out of existence, and right now off-road racing is particularly precarious since the short course world has been split into two camps, this TORC Series in the Midwest and the Lucas Oil Off-Road Series out West. And we all know the economy is still teetering and TV and Internet deals are changing faster than ever (TORC was broadcast on SPEED, for example). Does this sport really need hand built 900 horsepower trucks that cost hundreds of thousands to build, and break seemingly half the time? Is that healthy?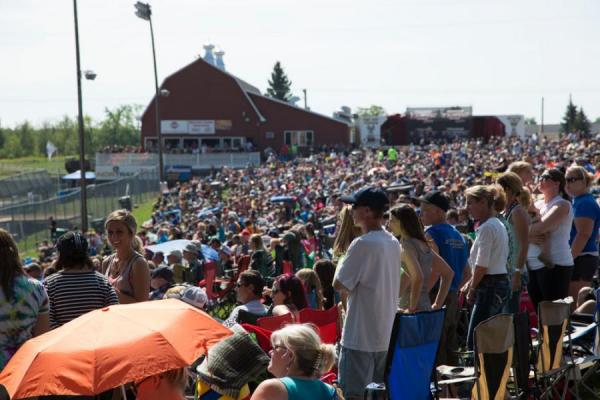 Crowd was definitely up to the level of an MX National.
Photo by Vincent Knakal of Mad Media
Ah, that was where I discovered my mistake. Yours, too. Our motocross involvement had run too deep. If you're reading this site, you're probably well beyond a casual fan, and you probably ride and race yourself. You've wrenched on bikes and gotten injured and follow all of these pro races closely. Too close, at times. We try to solve the deep problems and philosophize about making the sport better. Tracks, four-strokes, privateers, purse money, on and on. We hit these topics consistently, but the sheer bad assery of moto? We've taken that for granted.
At TORC, I was spending time asking deep questions, trying to understand the political and economic realities of that sport. I spent hours on Saturday studying the engineering behind the trucks, trying to figure out where the transfer case and differential were housed, and how the suspension systems worked. I was coming in like a lawyer or a scientist or an expert—I wanted to understand the whole sport down to the core level. I wanted to solve the world's problems.
Then I finally got to see the pro classes race. Yeah, eff all that deep thinking.
The pro classes slapped me in the face. They gave me what I wanted to see. It's not politics or economics or science. At the core, we want bad assery. We want things that are so loud, so fast and so big that it becomes almost scary to watch. We want churning roosts of awesomeness, guttural blasts of power, speed and race fuel. That's what Crandon provided. That's what motocross does. We want riders (and drivers) who are somehow cool in the face of doing things that would leave us peeing our pants. That's jumping LaRocco's Leap wide-open on a 450, or, at Crandon, winding out 900 horsepower at 100 MPH while all four tires are sliding, a concrete wall not far away. If Monster Energy Kawasaki told me: "Here's Villopoto's bike, go blitz these whoops" my answer, due to fear, would be no. If Rick Johnson's Red Bull/Menzies team told me to go out and floor that 900 horsepower truck and keep it pinned, I'd back away similarly.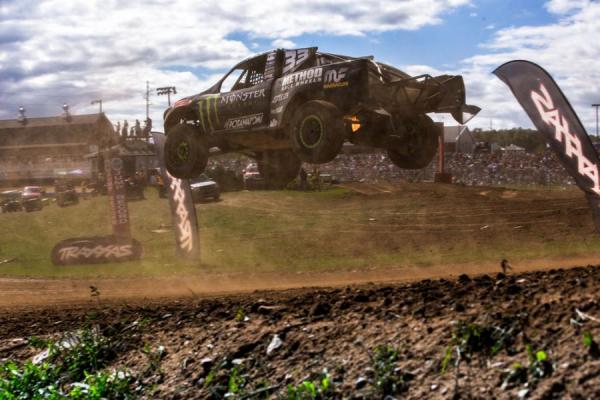 Jumps, dirt, speed and fire. What's not to love?
Photo by Vincent Knakal of Mad Media
Racing is bad assery. Sports at any top level are. 99 MPH fastballs are scary, 150 MPH serves are scary, 300-pound linemen at full speed are scary. But we follow this stuff so closely that we end up shoving that aside. If you like football, you want the analysts to talk about Xs and Os of the defense and offense, not just repeat, "These dudes are huge and fast and would kill you." We already know that, but because we already know that, we forget that. In motocross, we want to know about RV's setup and training and line choice and riding style. We almost forget the first ingredient to his success is straight ballsyness. He can hang on the throttle cable of that motorcycle with less fear than any other human on earth. Everything else comes after.
Maybe the next time I'm at a motocross or supercross race, I'll take a minute to appreciate that a little. Racing isn't just about technique and set up and line choice. It sure as hell isn't about money and politics. It's about speed and fear and warriors who crave one and ignore the other.
Crandon holds a really cool final race called the AMSOIL Cup. AMSOIL pays $40,000 to the race winner and the two pro classes, Pro 2 for two-wheel drive trucks, and Pro 4 for four-wheel drive, are pitted against each other. The 2WD trucks are a little slower, so they start the race in two rows, with the 2WD guys getting a head start. That's like taking the 250 and 450 classes and double gating them, with the 250s getting a small head start, and RV having to use Eli Tomac as his rabbit. I know, ET's lap times have been the equal or better of the 450s this summer. But we know Villopoto is the fastest man on the planet right now, right? Right? Imagine him having to blitz his 450 comp and then slice through 20 fast 250s, with Tomac sprinting in the distance. What would happen? Spectacular concept.
And Sunday's AMSOIL Cup race played out like a dream to the local fans, as west coast contenders like Johnson, Rob MacCachren and Bryce Menzies all became victim of mechanical problems and crashes. It would come down to 2WD leader CJ Greaves and 4WD leader Johnny Greaves, and, timed perfectly, Johnny caught CJ on the last lap to set up an all-out winner-take-all dash to the checkers. And Johnny, of course, is CJ's dad. In his superior 4WD machine, Johnny passed his son in the next-to-last turn. Then he went wide, CJ dove underneath, and they crossed the line side-by-side, dad backing off just enough to let his 17-year-old son take the $40,000. Crowd went nuts. Johnny said on the podium, "He got me, the little shit." Crowd went nuts again.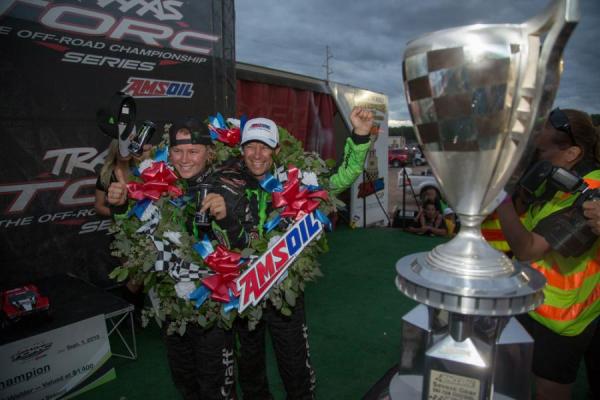 Off-road family values.
Photo by Vincent Knakal of Mad Media
Outside of Crandon, what happened at this race didn't mean much. Johnny Greaves is a legend in these circles but hardly a household name like Dale Earnhardt Jr. Maybe not quite in the same way Ryan Villopoto is, either (although Johnny is running the same Monster Energy colors, and in the end both are big players in small sports). No one at the event split the atom, cured cancer or uncovered the economic secrets to fix a recession—or even fix every aspect of racing.
But these fans know Johnny and they know CJ. If you were at Crandon at that moment, it was all that really mattered at that time. You felt like you were in the center of the universe and the middle of nowhere at the same time. Just like Millville, just like Loretta's, it was badass.