When Rick Johnson broke his wrist at the 1989 Gatorback National, he was unquestionably the best motocross and supercross rider in the world. The injury ended it all, as he was forced to call it quits after two years of trying to heal up and fight back to his old level.
The wrist cost the seven-time AMA National Champion his motocross career, but his head remained in the game. RJ still has an iron will, and he's applied that desire to other facets of speed. These days, he's one of the top guns in short course off-road truck racing, with a bunch of titles in the Traxxas TORC Series to his credit while driving the Red Bull/Menzies Ram. We found RJ in the pits over the weekend at Crandon, Wisconsin, and started bench racing just like the old days.
Racer X: Rick Johnson still races!
Rick Johnson: Yes, I've had multiple careers. After motocross, I started into the stock car career and I was progressing really well. I was following in Jimmie Johnson's footsteps, so to speak, until they said I was too old at age 35. So they wanted a younger driver, and I hung up the racing. I went into a bad state of depression. I had moved to North Carolina to race stock cars and I never really got the chance I felt I deserved. But that's racing, that's okay.
So I moved back to California and started doing some stunts, some schools, things like that. Then I got into TV, and worked my way back into a ride in the CORR Series, which is off-road. I was doing TV, helping with the tracks, and ended up getting a ride with Jim Baldwin. Then the CORR Series folded, so I started a series with a guy named Mitch Covington. A lot of the motocross people might know his son, Thomas Covington. Mitch and I started a series, but he moved on to do things at Monster, and I kept racing. But I've been driving actively. I was 2010 Pro 2 Champion, and 2011 and 2012 Pro 4 Champion. So I'm racing, and I'm doing some schools with military guys. I can't get into that too much, but I'm proud to say I work with military special forces, teaching guys how to ride in the desert, drive off-road, how to manipulate hills and rocks and sand washes. And also, skills you learn here in short course off-road racing—like how to crash people and how to prevent from getting crashed. Offensive and defensive driving. I really enjoy it. And I'm very happy with my family. My wife Stephanie and I have been married 23 years this year. My son Luke races out here, he just won the championship in the pro buggy division. My son Jake is playing lacrosse at CSU, and my youngest daughter is a freshman at San Diego Design College. So, we're empty nesters and we're having fun.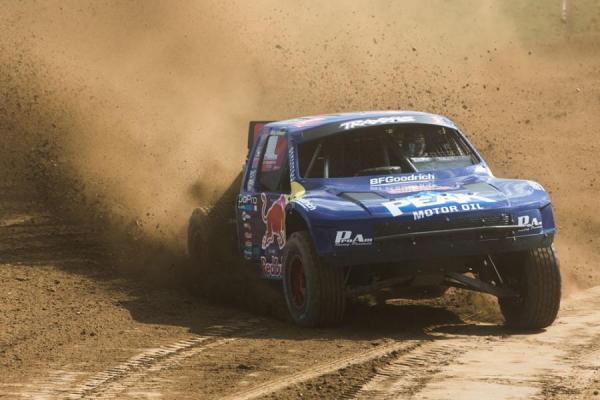 RJ still blasts berms.
Photo by Vincent Knakal of Mad Media
Well, this brings up a good point. You're now well beyond the age of 35, when the NASCAR teams said you were too old. And you still have the competitive fire burning.
Hey, what's that little giggle in your voice when you said well beyond age 35?
Ah yes, you're what, 37 now?
[Laughs] Right, 37 with a lot of experience! I'm 49 years old, and I've been a Red Bull athlete for the last five years, and Red Bull is going to keep me on for next year. I'm not the oldest Red Bull athlete, but I'm probably third or fourth. And we're still winning, we're still charging, we still have what they're looking for, which is that 100 percent effort.
Yes, you're just as competitive as always.
Yes. Every race is the Super Bowl to me. I'm sitting here before the race, I'm biting my nails, I'm sweating, there's a lump is in my throat. I don't want to let anyone down and lose. I think some people get their rocks off by winning, and winning is great. But it's a product of hard work and having a structured team around you. Winning is a team thing. But losing, I take that personally. I don't care if the truck breaks or a tire blisters, whatever it is, I take it personally and think about what I could have done differently. I mope around for a few days before I can get over it. Then it's off to work on what I can do better.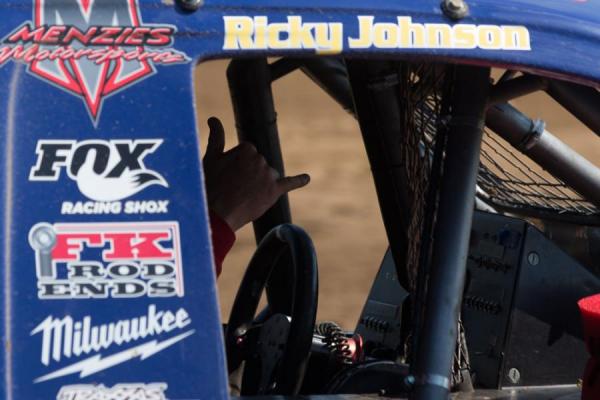 Hang loose.
Photo by Vincent Knakal of Mad Media
How much moto do you follow?
Everything. I watch as much as I can. Ryan Villopoto is the man right now. His intensity … he's following in the footsteps of Ricky Carmichael. Racing a guy like that, it's like a person you go to fight and they're willing to die. Are you willing to die, too? Because if you're not, don't fight him. And I'm not taking anything away from any of those other guys, [Ryan] Dungey is a stud, all of these guys are phenomenal. But Ryan Villopoto is just willing to go as fast as you have to go. If you go fifth gear, he'll go sixth, and I don't even care if the bike doesn't have a sixth gear, he'll find a way to make it go faster! If you jump 100 feet, he'll jump 110. That's his mentality, and some people are just special that way—and I mean special in every sense of the word. You have to be wired differently to be able to do that. I remember what that felt like. You forget about pain and consequence, and only victory stands in front of you. Unless those guys find it, they're not going to beat him.
I'll give you credit, though. A few years ago when Dungey was moving through the ranks, before he got on the 450, you had high praise for him and thought he would really make the transition well. He's proven that to be true.
Without a doubt, Dungey is awesome. It's kind of a scenario, you have two kinds of riders. Ryan Dungey is the David Bailey. I'm not going to compliment myself and say Villopoto is like me. Let's say Villopoto is Bob Hannah. He's ugly on the bike, but he just has sheer speed and will. But a lot of times you get hurt being that guy. Dungey is so solid, his work ethic, the commitment by his family, the team around him. He's so nice that he's boring. And that may seem like an insult, but it's a compliment. He races hard, he trains hard, he wins races, he's a good looking kid, his parents are awesome, he's got a good looking girlfriend, he represents all of his sponsors well. What's not to like? My only complaint is that he doesn't Instagram enough.
[Laughs] So you still ride with the military guys. With your old wrist injury, how well can you ride?
It hurts. It hurts everyday. I have two joints left in my wrist, one behind my pinkie and one joint in my hand. So when I ride, I twist the throttle by twisting it in my fingers. I basically ride one handed. So if you look at my hand, it doesn't have any calluses, I'm basically not even holding on with that hand. It's taught me to ride with my body, to where I'm basically not riding by just hanging on tight with my hands. You see new riders, they always get blisters. Guys who are new to riding, they get blisters. Guys who know how to ride, who know how to use the angles and the right technique, don't. I'm not fast, but my technique is pretty good at a certain speed.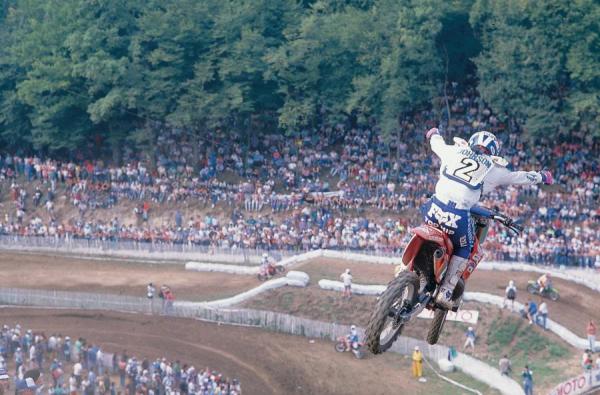 RJ enjoyed the heights of success in motocross.
Racer X Archives
The fact that your career ended the way it did—forced out with an injury—is some of that desire you still have now maybe because of that? You didn't get to race until you were burned out on it.
Yes. I don't mean to get all philosophical on you, but in life, you think you're supposed to reach these certain plateaus and reach these certain goals. Like it's your destiny. But now I've learned that life is a journey. You take something from each experience. If I had stayed in motocross, I probably wouldn't have gotten married, because motocross requires a very selfish life. So maybe I wouldn't have committed to her, and if I hadn't, maybe I wouldn't have my beautiful kids. And if I would have gotten that stock car ride, and by then I already had kids, would my kids have turned out to be idiots because there dad was never around? So of course I had goals, I wanted to be the very best motorcycle racer ever. I wanted to be the best racecar driver ever. I wanted to be the next Dale Earnhardt. I didn't think I would be, I knew I would be. I was going to will it to happen. But it didn't happen, and at first, it shattered me. I literally went through depression.
But then as you go through life, you have all of these peaks and valleys, and little victories. To put it into today's situation, I had a crappy weekend. I got a second yesterday, which wasn't bad, but I blew a motor today, so I didn't get to race my truck in the Cup race. I had to drive a teammate's truck. But hey, I got to help develop that truck. I have a very strong track record of guys that I've worked with. You know, Jimmie Johnson. Not bad. He does okay. Jeremy McGrath was a Team Green rider, and I went and grabbed him. Jeff Stanton, Honda didn't want him, but I said, "This kid has good technique, I can work with him." It turned out awesome, Jeff had a great career. Now in trucks, I'm working with my teammate Bryce Menzies and my son Luke Johnson. I'm proud of that. I don't look at Jeremy [McGrath] and resent him. I'm proud of him. I'm not going to get credit, but I know for a fact that I went up to his parents at Loretta Lynn's and said, "Hey, I want you on Honda's 125 team." Same thing with Stanton getting on a Honda. So I can take that with me. I can say, you know what, maybe it's getting time for me to move on and be a coach.