Eli Tomac: 1st overall – 552pts (Tied for 2nd after round 1, 2nd after round 6)
OF NOTE
: You know the story here. ET was solid early, and then went nuts in the second moto at Budds Creek (round five). He was the fastest rider in the series after that, winning an incredible 11 of the final 14 motos, and scoring second in the three that he didn't win!
Ken Roczen: 2nd overall – 493pts (1st after round 1, 1st after round 6)
OF NOTE: Kenny was super consistent in his first season and a half of motocross in the U.S., but then came Millville, where he crashed out of moto one. He had a few sup-par rides after that. Probably wouldn't have mattered through because Tomac was untouchable.
Marvin Musquin: 3rd overall – 411pts (4th after round 1, 4th after round 6)
OF NOTE: Musquin and Baggett were locked into a battle for third all year. After Southwick, Baggett was past the Frenchman and into third by a single point. Then Blake had some sub-par rides and Musquin cleared him by quite a bit—up 30 points after Unadilla—and third seemed a lock. Musquin really faltered down the stretch, though, and Blake almost caught him.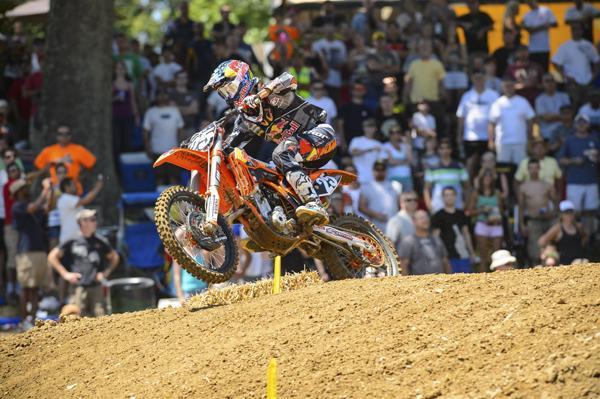 Although he struggled down the stretch, Marvin Musquin held off Blake Baggett for third in points.
Simon Cudby photo
Blake Baggett: 4th overall – 395pts (Tied for 2nd after round 1, 3rd after round 6)
OF NOTE: Blake was down 15 coming into Elsinore and everyone thought he was primed for a victory. With Musquin slumping, BB had a shot at third. But he crashed out of the first moto. He won got second in moto 2, but Movin' Marv still nipped him by 16 points for the season.
Zach Osborne: 5th overall – 356pts (5th after round 1, 5th after round 6)
OF NOTE: When we write stories like the one you're reading right now, it's almost laughable to the riders, because most don't even care what position they finish if it's not first. Not Zach, though! He really did set the goal of finishing in the top five and nailed that target. He was fifth after every single round this year!
Jeremy Martin: 6th overall – 300pts (8th after round 1, 8th after round 6)
OF NOTE: J-Mart had the perfect pro learning curve. Started off solid, built from there, then started blazing at the halfway mark. J-Mart was ninth in the standings after High Point, where his mechanic told me, "If we can just be in consistent and be top five by the end of the season, it would be like winning a championship." He had some ups and downs and was even back to ninth again after Washougal, then closed strong. He outscored Jason Anderson in points 129-58 in the last four races.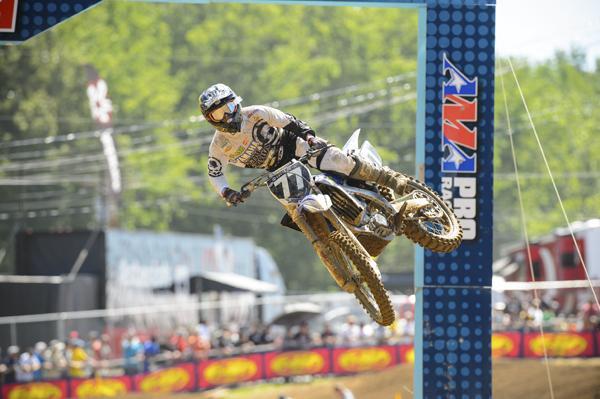 Jeremy Martin was the highest placing rookie in 2013.
Simon Cudby photo
Justin Bogle: 7th overall – 291pts (13th after round 1, 9th after round 6)
OF NOTE: Bogle desperately needed a solid summer after losing all of his momentum in 2012 due to injuries. The beginning of the year wasn't so hot—look where he was after Hangtown. Bogle spent most of the year about ninth in points, but surged into seventh at Washougal and then up to sixth after Utah. A bad final moto of the year at Elsinore—where the heat got to him—opened the door for Martin to slip past.
Jason Anderson: 8th overall – 260pts (7th after round 1, 6th after round 6)
OF NOTE: Like Osborne, Anderson was pretty much locked into sixth in points all year. It was his for the taking. Then the bottom dropped out. He averaged 26 points per race through the first nine races, and then averaged just seven points in the final three rounds. Crashes and weird stuff. Don't worry, he'll be fine next year.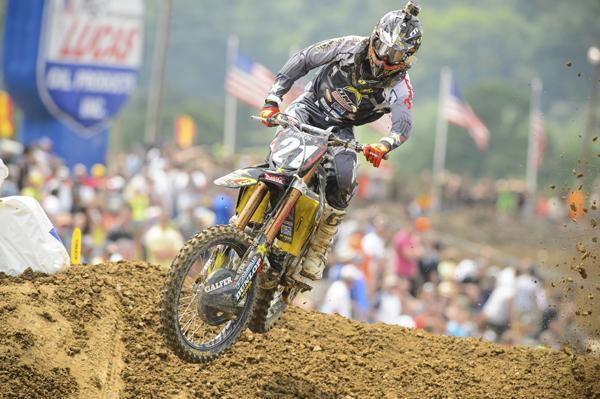 Jason Anderson averaged just seven points over the final three race or he may have been higher in points.
Simon Cudby photo
Cooper Webb: 9th overall – 255pts (11th after round 1, 10th after round 6)
OF NOTE: Cooper was blazing fast when the year began, but strange second-moto luck really jacked his points total early. He straightened out those consistency issues, but by then the rookie was beginning to get ground down by the week-in-week-out schedule. He rebounded, jumping from 11th to 9th in the final two races, passing Kyle Cunningham and Cole Seely in the process.
Kyle Cunningham: 10th overall – 228pts (6th after round 1, 7th after round 6)
OF NOTE: Top ten in the series is a pretty big deal, and Cunningham and Seely were duking it out for this honor right to the end. KC broke his foot in the final moto of the year and didn't finish, and Seely carded a 12th. Cunningham edged Seely by just five points in the end.