Unadilla MX
New Berlin

,

NY
Unadilla
Lucas Oil AMA Pro Motocross Championship
Six straight moto wins (and seven out of eight) have allowed GEICO Honda's Eli Tomac to take control of the 250 Class in the Lucas Oil Pro Motocross Championship. But those numbers don't tell the real story. It's how he has been winning the motos that really matters, as at Unadilla he once again had only mediocre starts, and then just blazed his way forward with lap times no one else could match. Eli's pretty low key about it all when he talks about it post race, though.
Racer X: Take us through your afternoon.
Eli Tomac: It was another awesome day for me. Was 1-1 in the two practice sessions. The first moto rolled around. The track was still pretty moist you could say; it was kind of tacky. Kind of made the bike feel soft. I was kind of thinking about changing up the setup a little bit but I was like, I really didn't want to stop so we were just going to stay right there. Once the first moto started, the first lap actually mayhem for me. I thought it was the craziest first couple corners I've seen all year in the 250 Class. It was like a huge … I don't even know … it was just spastic, I guess you could call it. And then I had to kind of settle in there for a while. Was able to make my way through the pack and I ended up getting by [Jeremy] Martin. He was riding super good again. Took another win.
Your very first professional race at Hangtown you were able to win. What's the difference between Eli Tomac at that event a couple years ago and where you're at right now?
That race, for me, the reason I won that was it was all pure adrenaline. I think now I actually do have the strength to make it through the whole day and through the motos. In 2010 I did struggle there after that first round. Now I legitimately tell myself I can win whatever race it would be.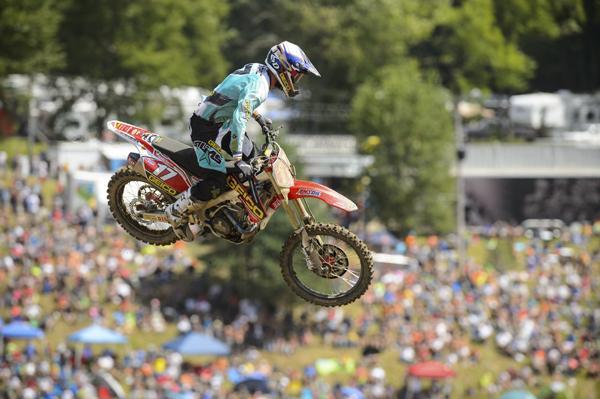 Eli Tomac has rattled off six straight moto wins to take control of the 250 Class.
Simon Cudby photo
These Oakley Bomb awards get passed out to the fastest rider in practice. There's a 450 guy and a 250 guy. But this week, you were even faster than any of the 450 riders. What's that like?
It is pretty cool. I am jumping up to that class next year, so you want to be somewhat close to those guys. But you can't completely compare the practices because the track can change. I found that out in the first practice today. I threw my fastest lap down when the green flag came out that first time. The track can change a lot. I'm not going to say that I'm the big dog yet!
You talked a little bit about the difference between 2010 and now. But even in the last four or five races it looks like something's changed with you. What have you changed up the program?
I can't remember which round it was; I think it was after Budds Creek. We made a pretty big improvement setup-wise on the chassis and suspension. I think that was the biggest thing for me, just being comfortable on the bike and I can feel like I can hold 35 minutes strong to the end.
The track was weird with how much faster you guys got from the first to the second practice. And it seemed like in the motos, everyone's best lap time and the lap times everybody was running at the end, it seemed like everybody dropped off a lot. What was it about the track where it was changing so much throughout the day on times?
It was just weird dirt all day. It was sticky and heavy and then the ruts would change a lot, so if there was a jacked up rut … some of the track was a little bit one-lined here and there, so if there was a big pocket or a big hole in that line, I think that's what made the lap time drop off so much.
You're obviously in a good zone right now. This is your fourth year in this series, so the things that you know now, is it one of those things where, "If I knew this two years ago, or last year…" are there lessons that you've learned where you're like, man, I've finally figure this out now?
I guess so. You just learn the tracks too. You can go out there in the first practice and kind of lay it down just because you have the track in your head already. I think that's huge in our series. It's just experience. You can't beat that.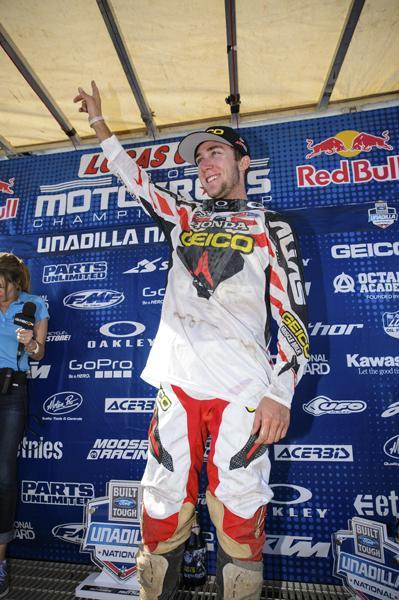 Tomac is on the verge of capturing his first career 250 Lucas Oil Pro Motocross title.
Simon Cudby photo
I know you worked really hard to try to get your starts consistent. Did you ever think the solution would be, just start eighth and just pass everybody anyway? Did you think that was going to be the solution to the starts?
[Laughs] It's not fun, especially on this track. The roost was pretty bad. I was kind of trying to move around so it wouldn't hit my hands. An eighth place start I don't see as acceptable for me. I don't like it but it's just something I have to deal with right now.
Today you had Matt Bisceglia as part of your team. Did you give him any advice in his first race?
Actually I didn't give him any advice. I don't even know exactly how he did. I don't know, I guess I'm just pretty quiet for some reason.