Unadilla MX
New Berlin

,

NY
Unadilla
Lucas Oil AMA Pro Motocross Championship
Interviews by Jason Weigandt, Steve Matthes and Chase Stallo
Justin Barcia, Team Honda Muscle Milk, 4-2 for second in 450 Class
You wanted to be on the podium here today. Are you happy? I know you wanted to win it, too.
Obviously I always want to win but the Ryans are killing it. Learning as the year goes, and getting better and just learning the 450. I did get to race it a few years back a little bit and that was good. But definitely can't wait to get better and better. Definitely want to keep on the podium; that's the biggest thing. Just keep going for it.
How much fun were you having on Thursday at press day?
Honestly I think that was the most fun I've had riding a dirt bike in a while. At Washougal I hurt my wrist and my fingers so I didn't really get to ride that much at home. Starting to get better now. Thursday was kind of the first day I got to ride a lot. They steepened the lips on the jumps so much and I was able to do huge whips. Obviously my track at home has big jumps. I like to do whips so that was fun. Eventually I hope I get to do X Games. But I don't know if I can whip it or not off a freestyle ramp!
This is the home race but it's not like you've got to ride here a lot, because they only really use this track for the pro Nationals. So explain your history here.
I say it's a home race and I feel like it's a home race, but there's the amateur track back there I got to race. It's not comparable to this track. I haven't really gotten to ride here until I was pro. I did grow up around here; only three hours away. This is definitely by far one of my favorite tracks. I really enjoy it. It was a man's track today. There were a lot of ruts, bumps. My bike was working good and I was really happy about that. It was a good day overall. – Jason Weigandt
Jeremy Martin, MyPlash/Star Racing Yamaha, 2-3 for second in 250 Class
Not only are you blossoming into the rider that the folks at Yamaha thought you were going to be, but you have to be a favorite with the fans and in the pits heading into 2014.
Yeah, for sure. One thing I noticed today was out on the track … I'm always going to have some fans, I think, but today was the first time I've noticed that I've gone to a race and more people were cheering me on. I could hear air horns when I was riding! I think it's pretty cool. I think I'm starting to grow a bigger fan base. It's awesome.
Take us through your motos.
Yeah, running up front the first moto was good. I learned a lot. I finally figured out why I was struggling at the beginning of the season. I wasn't breathing and my technique was just off. With the help of the whole Star team and the Carmichael farm I was able to turn it around mid-season. Now we're able to see the results. Riding with Ryan [Dungey] everyday at the farm, it's a big help. I've learned a lot from him. We both push each other big time.
Is it good to get a result like this at this track? I'm sure it's cool to lead in front of the home folks at Millville, but people are going to say, "Well, he just did good because he knows that track." What does this mean to back it up?
Honestly Millville helped me out quite a bit. I got the lead for a while and things started to kind of click a little bit and I came here. I felt more confident for sure. My starts have been good. Getting to lead was awesome. A lot of people think, "He was winning because it was Millville" or "He had a second in that first moto because it was Millville." So to be able to back it up here is a good feeling for sure. – Jason Weigandt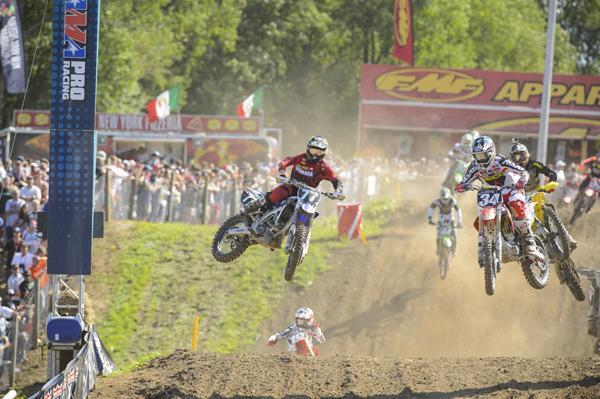 "I finally figured out why I was struggling at the beginning of the season. I wasn't breathing and my technique was just off." - Jeremy Martin
Simon Cudby photo
Ken Roczen, Red Bull KTM, 5-2 for third in 250 Class
Your afternoon, it didn't go traditional Ken Roczen style today. Tell us a little bit about it.
I don't know honestly. It's a good question of what happened. But we're trying to work on a few things. It's not where I want to be. It's not how I want to ride. I don't really know what I did wrong. It's just the way it is. Today was just an off day.
Second moto Eli [Tomac] caught you but you did everything you could to hold him back. It was a pretty good battle for three or four laps there.
I started off riding a totally different suspension that we tried last week, different than how I used to ride before. I just felt off. Coming into the first moto I went back to the stuff that I used to ride with. Totally struggled. Then for the second moto went back to the other stuff … it was crazy. But at this point after the first moto we had nothing to lose. I needed to learn what the difference was. I just feel like we still have a little bit of a ways to go. I'm happy though to have all the support that KTM and the whole team gives me. Trying to make things better. I'm for sure working on myself all the time too. Just got a little bit of stuff to do.
How about that battle though? It was pretty good.
I tried everything I can to hold him off a little bit. As soon as he passed me I tried to go after him and then I see what he did different but it took half a lap and he was gone. It was a tough one. But I didn't even feel that tired or anything. I feel like the track didn't really allow me to go any faster. I need to deal with it. I'm not putting my head down. I was more happy with the second moto than with the first one. I felt pretty strong, so no worries on my side. I think from weekend to weekend, from now there's only two races to go, but I think we will learn from it.
What about the first moto?
The first moto the start was not that good. The roost hurts. It's crazy. I had so much arm pump. I don't know why. I haven't had it this bad this year. Little bit of a bummer—especially with a track like that, when it's that rutty and that bumpy it's so hard to keep your groove. When I got off the track, I felt like I didn't even ride, I wasn't tired but I couldn't go faster because my arms just pumped up. I don't want to throw the bike away [and crash]. So, not too happy about it. – Jason Weigandt
Zach Osborne, GEICO Honda, 3-6 for fourth in 250 Class
Now the second motos are the problems.
No, just played it a little safe there in the second moto. Got kind of stuck in a little bit of a rut in the beginning and never really came out of it, but still it was a good day. I feel like a huge monkey's been lifted. I'll have her together for Utah.
It was a good day for you. A real dramatic race for you where you would move up, you would move back…
Yeah, for sure, but it was good to be able to battle like that. It got to about 15 minutes and I was still feeling good and decided to just drop the hammer. I started right up there and I was back to about seventh at one point and then went forward. It was really good. Huge positive from this weekend. Fourth overall today. I'm pretty pumped. – Steve Matthes
Trey Canard, Honda Muscle Milk 39-26 for twenty-ninth in 450 Class
That did not go well today. You okay?
Control, Alt, Delete.
You want to talk about a day …  so first of all, you go down in the first turn. Your front wheel is busted. Just jacked up.
That was moto 2. Moto 1 I lost a motor.
So you break in moto 1. Fourth, fifth.
I was in fourth.
And then second moto, awesome gate pick of course.
Yeah, 40th. I was just way outside. Actually timed the gate perfect and was looking to get a decent start, but someone must have got together. It was a straight-line for my front wheel. I don't know what went in my front wheel but I was straight over the bars, flying through the air.
I had two different riders tell me, "Wow, lucky I'm not Canard. That was ugly."
It was really bad. I was grateful to get up. I had to push my bike to the mechanics area because the spokes were busted out. I had to just kind of use some strength, or try to anyway, and it took them forever to get it going. I was actually a lap down. It was kind of a confusing race for me because I didn't want to mess anyone's race up but I still wanted to try to learn the track. I know, Lord willing, I'll be back here next year and hopefully in a good position. I wanted to take as much as I could with the bike setup and the lines and everything like that to try to take it into next year. – Steve Matthes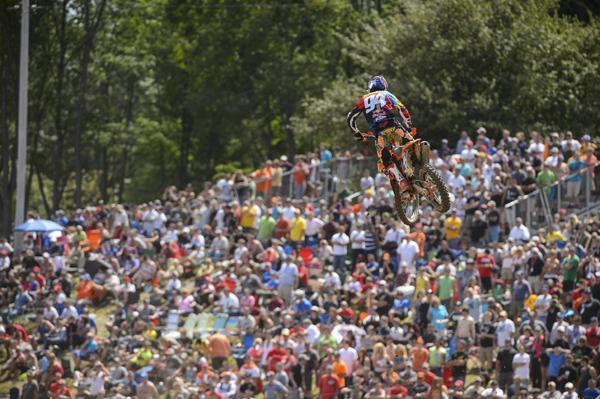 "I don't really know what I did wrong. It's just the way it is. Today was just an off day." - Ken Roczen
Simon Cudby photo
Cooper Webb, MyPlash/Star Racing Yamaha, 12-11 for twelfth in 250 Class
I saw your bad crash on TV. We heard you were out for the day, and then there you were, superheroing it. You raced both motos and did okay.
It was a pretty rough day. I crashed in practice. I'm not sure exactly what I did but I messed up one of my nerves I guess when I crashed. My whole arm went numb. I thought I broke my wrist or something. My hand's still pretty numb so I'm going to get it checked out as soon as I can. Rough day I guess. First moto I got a real bad start. Second moto I had a good start and I hit a barrel in the first turn and came out pretty far back again. I think I went 12-11.
Did it bug you out there, not feeling the grip or whatever?
I was having to ride kind of different. I was just going out there and trying to get some points. Try to do something with it.
What did you think of this track? A lot of guys don't like it. What did you think?
It's gnarly, that's for sure. I like the layout. It's got some pretty fun jumps. It's brutal. This is definitely one of the gnarliest tracks for sure. – Steve Matthes
Brett Metcalfe, Kawasaki (his own deal!), 10-6 for seventh in 450 Class
Not as good as Southwick. Good second moto. First moto crash at one point while you were up higher. You've still got to be happy. I think you ended up seventh overall.
It was okay. I'm a little disappointed the way it turned out today. But I think seventh overall is still okay. All day I just didn't really have it. It's kind of the first time all year I think I've had these kind of conditions where it was super deep. So it kind of caught me off guard chasing it, trying to get things dialed in, feeling comfortable on the track. I just couldn't quite get there. Second moto was better. I kind of hit some points that were really good on the bike and I felt a lot better. But both motos I was kind of up, a little bit closer to the front first moto and threw it away, bent everything. Clutch was hanging down. After that it was whatever.
Still picked some guys off though from where you were after the fall.
I lost a lot of positions. Still came through. Me and Jake [Weimer] were actually kind of coming through together. It was still good. Just a bummer about that mistake, but it happens.
Phil Nicoletti, N-Fab TiLUBE Yamaha, 13-9 for tenth in 450 Class
Talk about coming back home. Obviously it's good to be back but it comes with a lot of other distractions that you typically don't have.
No, it's true but it's still good. These guys get one race a year now. Used to be two with Broome, but it's been like that for a few years. It's been cool. My whole family, friends, cousins … it's been awesome. I try to stay in the truck most of the day but I have to come out and say hi to them once in a while. But it was good. They were all wearing Filthy Phil t-shirts and they were spread all throughout the track. It was cool. I was pumped.
And two pretty solid motos today.
One solid moto. First moto was absolutely dog crap. I just rode terrible. I was in eighth and three guys got me on one lap. I was just mind-blown at what I was doing, the lines I was taking. Just slamming all the ruts. The track was gnarly. You had to be really smart with your line choices and I wasn't like that. But second moto was a lot better. I had a better flow, got a decent start, and tried to figure out some lines quicker in the moto. That part was good.
You've been around this track quite some time. Talk about what the rain on Friday did, if anything, to the track.
I've been coming here since '08 just for Nationals. I came here press day and the track was ripped really deep which I was pumped about, but it was dry because they were waiting on the rain. Obviously Thursday night into Friday morning it just dumped down. It ended up shaping up really well. Practice was a little bit muddy, not as bad as I thought, but it turned out good, rutty and really technical.
I don't know if you heard it, but as you'd come around air horns and stuff were blaring. Is that something you feed off of?
It helps a lot more. Since we're a small team, I've only got two, three guys spread throughout the track, so it works out good when you come to your local race and you've got fans out there. I still see people I know on the sidelines. It's awesome. Waving towels, blowing their air horns, and wearing those t-shirts. I was excited. – Chase Stallo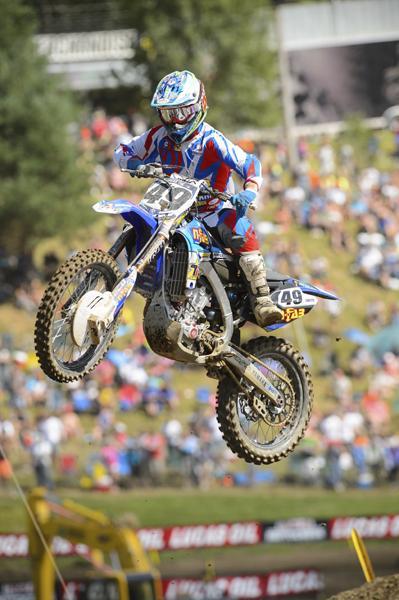 "I still see people I know on the sidelines. It's awesome. Waving towels, blowing their air horns, and wearing those t-shirts. I was excited." - Phil Nicoletti
Simon Cudby photo
Bobby Kiniry, N-Fab TiLUBE Yamaha, 22-16 for twenty-second in 450 Class
Your home track. Started off good first moto. Bad luck with that. Second moto of course with your awesome gate pick you did a typical meathead thing, you just persevered and got like sixteenth or something.
Yeah, first moto I was a little bummed. Got a really good start. I got a hole in my radiator first lap, and what are you going to do? So DNF there. I felt good. Qualified well in the morning. I felt like it was going to be a good day. Second moto, obviously started all the way outside. I was 40th gate pick. Watched Trey and those guys get into a massive pileup. I'm glad I missed that. That looked like it hurt. Hope those guys are all right. Went around that, so obviously started probably 35th. Got myself up with Malcolm Stewart, and got up to probably about 20th. Passed him, got together with him, went down, picked myself back up, bike was pretzeled. Got going and salvaged myself. I don't really know what my official result was; 16th, 17th, something like that. – Steve Matthes
Alex Martin, Rock River Racing Yamaha, 14-15 for 14th in 250 Class
Second race back from a pretty big crash. Feel a lot better this weekend?
Yeah, definitely. My head was definitely feeling a little bit clearer than it was at Millville. The weekend off really helped me regroup. Just charge and attack these last few races.
It seemed like today a little more aggressive than you were at Millville. Was it due to the injury?
Yeah, I think so. And also I've been in Oklahoma. Usually I'm in Club MX, but I went over to Oklahoma to do some suspension testing with the Merge guys and I think we were getting my setup dialed in a little more.
Talk about that. You've been down at Club for so long. What's the adjustment like to go somewhere else and train, even if it's just for a few weeks?
I love Club MX and those guys have done a ton for me. I can't thank them enough. I just really needed to do some suspension testing. That was my weakest area so I'm trying to get that figured out so I can have a good result these last couple races.
Going forward what are your expectations?
The way the season's been going I think it'd be really good for me to just be in the top ten. This year it's been tough. I've been around 15th and stuff but I'm battling with guys like [Darryn] Durham or [Martin] Davalos. It's so stacked this year. It's going to be a tough feat but I'd really like to be in the top ten. – Chase Stallo