On a breezy, almost chilly day in Upstate New York at Unadilla Valley Sports Center, Monster Energy Kawasaki's Ryan Villopoto and GEICO Honda's Eli Tomac came one step closer to cementing their respective championships as each rode to dominant 1-1 performances. Villopoto now holds a commanding 44-point lead and can now potentially wrap up his second 450 outdoor title at the inaugural Utah National in a week's time. Meanwhile, Tomac, who just two weeks ago entered Millville at a one-point disadvantage, is now 39 points clear of Red Bull KTM's Ken Roczen.
Cudby photos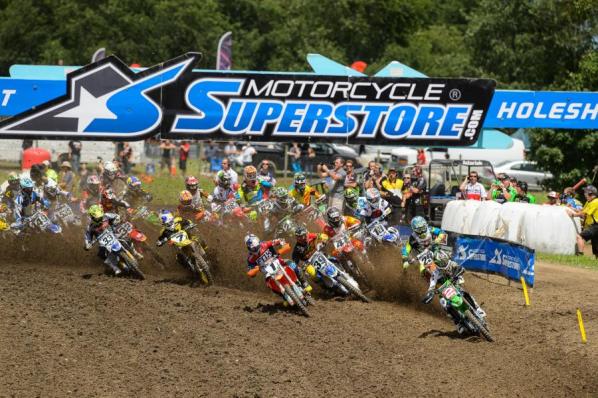 Monster Energy Kawasaki's Ryan Villopoto took command on the first 450 moto after snagging the Motorcycle-Superstore.com holeshot over Red Bull KTM's Ryan Dungey. Villopoto quickly began to open a lead over Dungey, riding unchallenged most of the way.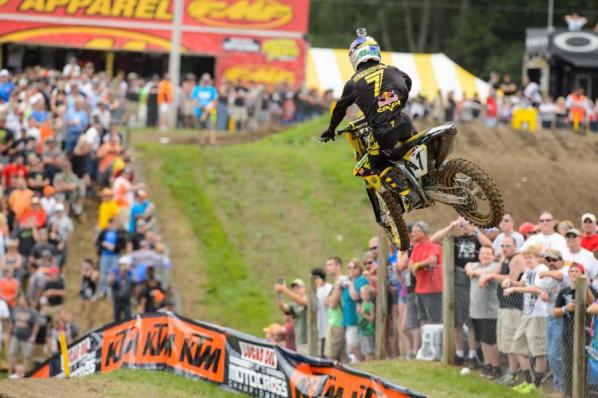 Yoshimura Suzuki's James Stewart quickly jumped into the fray, hugging the back wheel of Dungey early after starting outside the top five.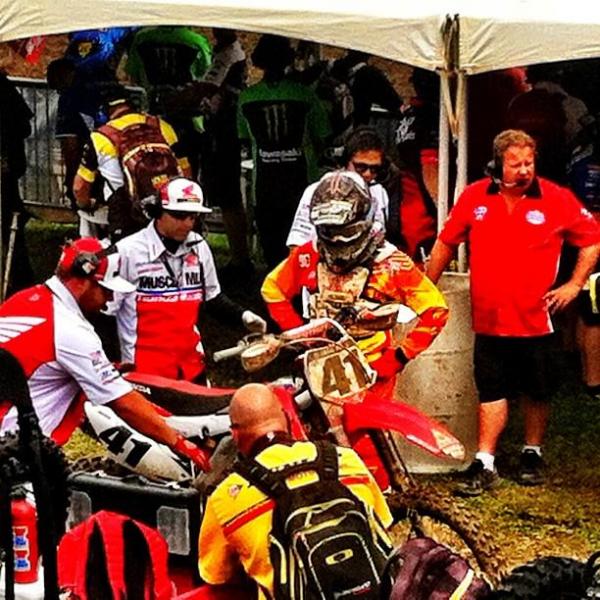 Chase Stallo photo
Honda Muscle Milk's Trey Canard was running inside the top five when a track marker got lodged inside his chain resulting in a DNF for the Oklahoman.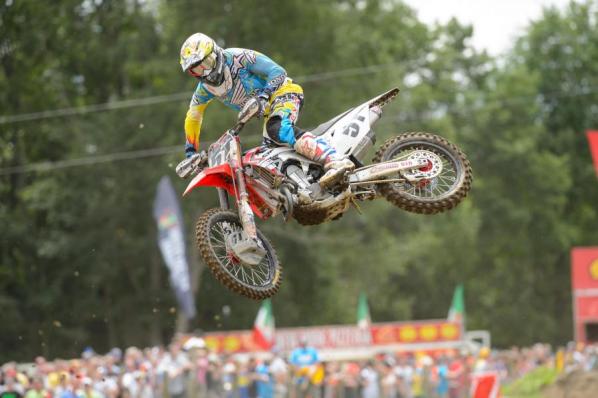 Canard's teammate Justin Barcia would inherit fourth. The New York fans flooded the hallowed grounds with cheers for one of their native sons.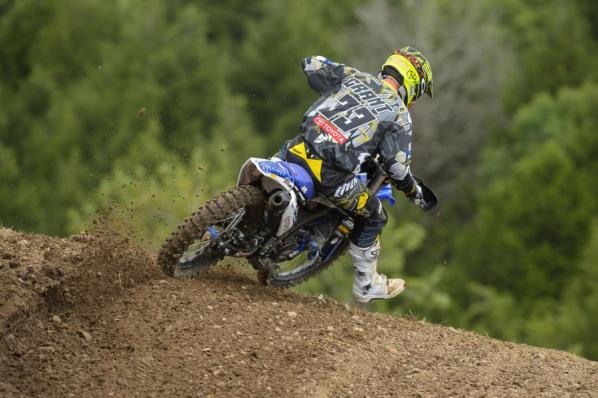 JGR/Toyota Yamaha's Josh Grant continues to be a major player down the stretch. Grant was superb in the first moto as he rattled off another top five finish.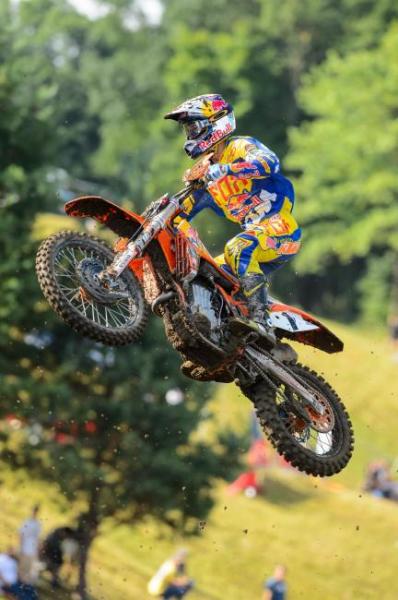 Ryan Dungey pushed away the advances of Stewart late in the race as he held on for second. Stewart would finish third in front of Barcia and Grant.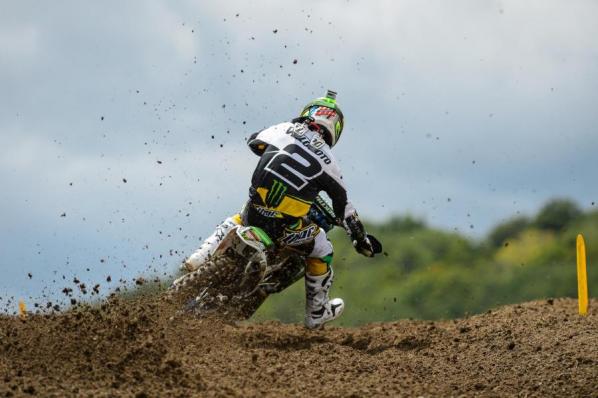 Ryan Villopoto was an absolute force as he dominated moto 1 to the tune of 20 seconds over Dungey.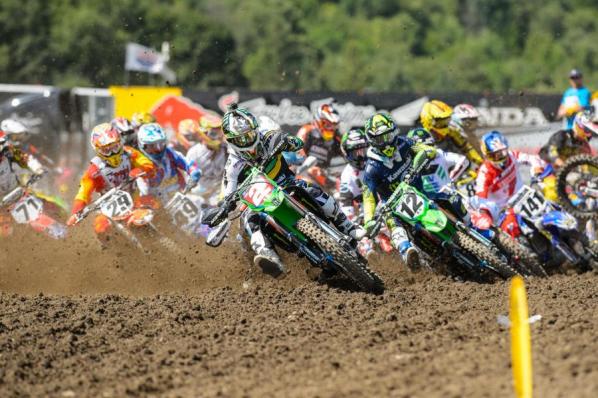 For the second time of the day Villopoto lead the pack around the first turn, securing the Motorcycle-Superstore.com holeshot over Justin Barcia and teammate Jake Weimer. Meanwhile, two huge pileups collected the likes of Alessi, Brayton, Canard and Malcolm and James Stewart. Alessi and James Stewart would not finish the race while Brayton and Canard finished thirteenth and twenty-sixth, respectively.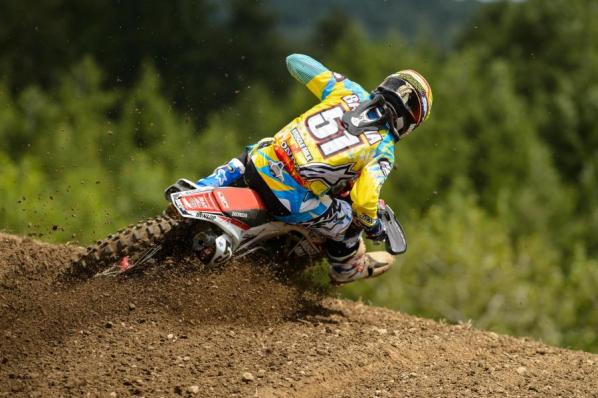 Barcia, who made his 450 debut at Unadilla back in 2011, applied early pressure to RV.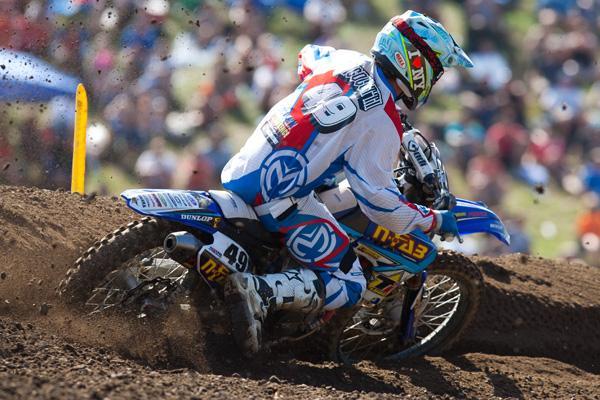 Phil Nicoletti photo
Hometown hero Phil Nicoletti (N-Fab TiLUBE Yamaha) worked his way into the top five off the start, giving something the New York fans to cheer about. Nicoletti would eventually finish the moto ninth.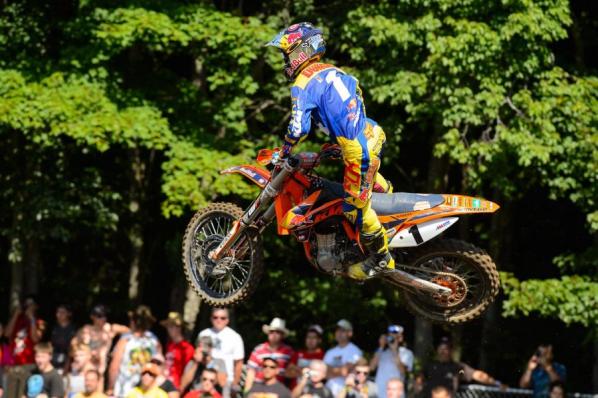 Following a start outside the top five Ryan Dungey had work to do. He got to the rear fender of Josh Grant, but Grant held steady, and it took the defending champion quite awhile to get around him.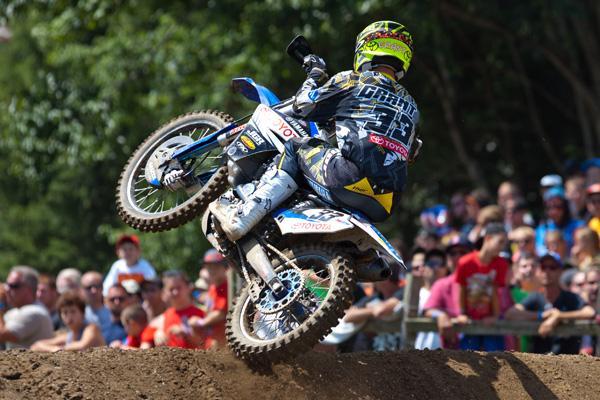 Andrew Fredrickson photo
Grant, who finished fifth in the first moto, kept Dungey in sight after the pass, until a crash with two laps to go knocked him back a bit--he didn't lose any spots though, which helped him collect fourth overall. then keep close once Dungey did finally get around. Grant would hold on for fifth after trailing off down the stretch.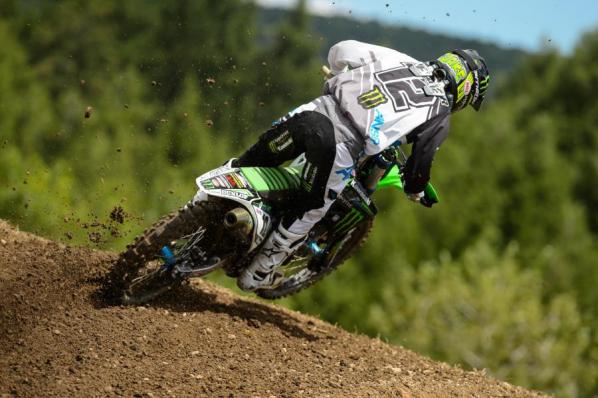 After Dungey was free from Grant, he  went after Weimer, who was running his best race of the season in a solid third. He was not going to make it easy on the defending champion. With Villopoto walking away with yet another moto win and Barcia holding onto a sizeable gap in second, the battle for third was heating between Weimer and Dungey.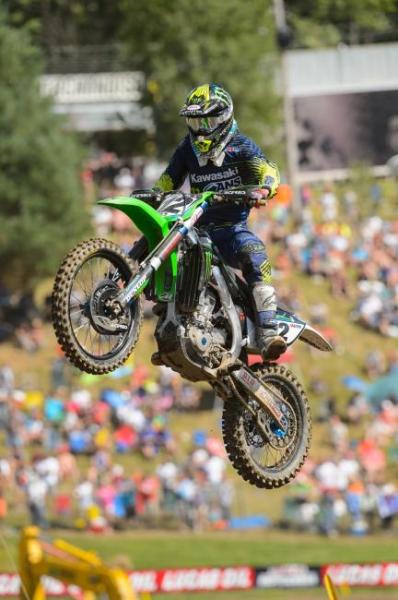 Dungey used a multitude of lines to try and get around Weimer, but the Idaho native stood strong in the face of adversity holding on for his first moto podium of the season.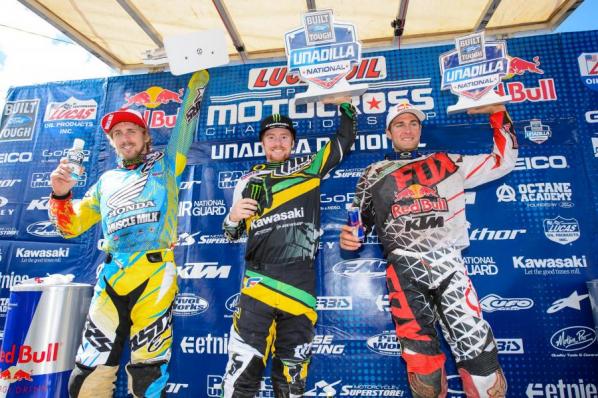 Villopoto, Barcia and Dungey stood atop the 450 podium at the end of the day.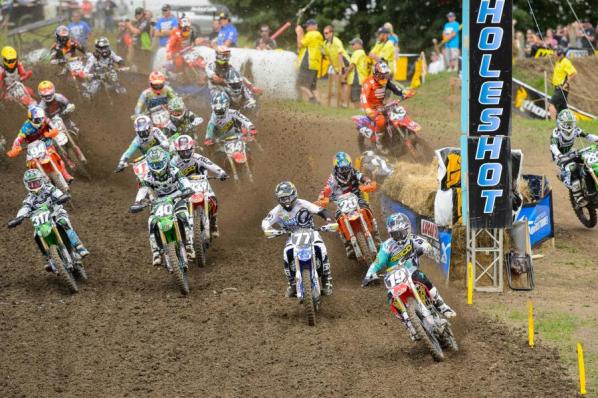 Holeshot artist Wil Hahn (GEICO Honda) was back up to his old tricks securing his unprecedented eighth holeshot of the season. Hahn would fall back to eventually finish the moto sixth.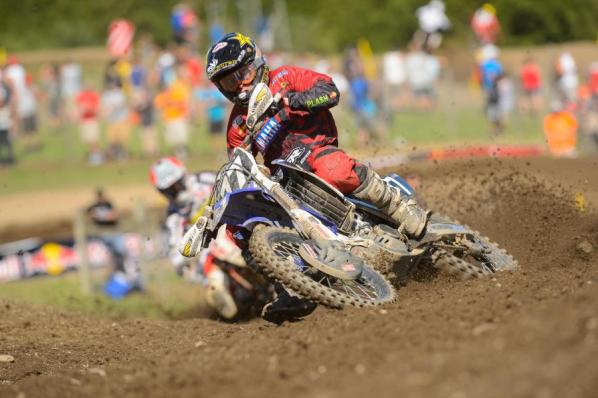 Hahn found early pressure in the form of red hot MyPlash/Star Racing Yamaha rookie Jeremy Martin and Red Bull KTM's Ken Roczen.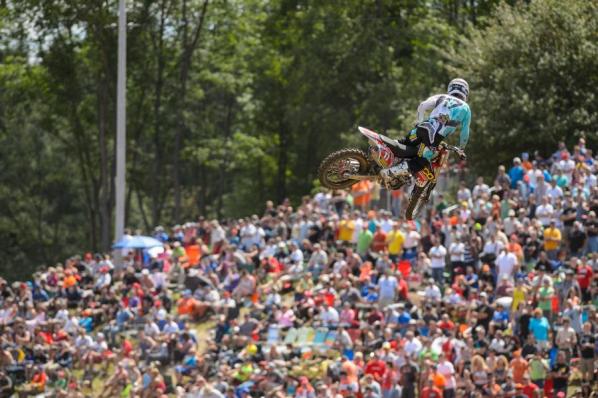 Meanwhile, Eli Tomac was off to another less than stellar start, finding himself outside the top five early in the moto. The battle for the lead quickly became a full on donnybrook between Hahn, Martin and Roczen, with Tomac joining the party around the 20-minute mark.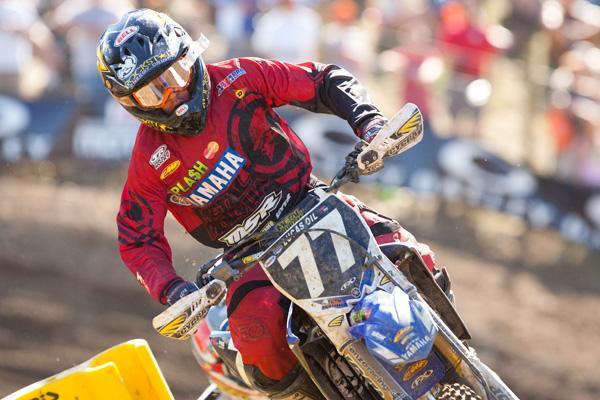 Andrew Fredrickson photo
Martin, who lead the first laps of his career at Millville, was the first one to take the lead over from Hahn. Roczen and Tomac quickly followed the lead of Martin, sending Hahn back to fourth.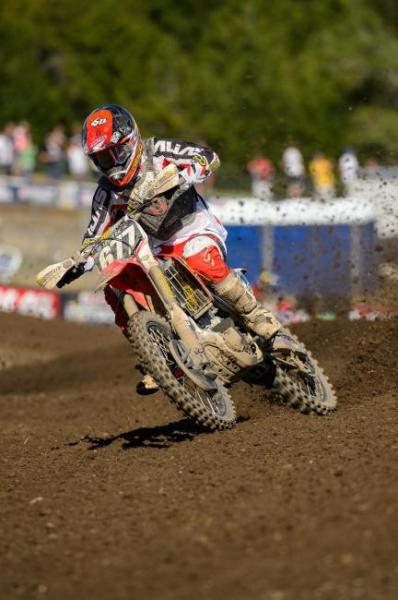 Tomac's GEICO Honda rookie teammate Matt Bisceglia's professional career got off to a rocky start as the 2013 Horizon Award winner crashed while inside the top fifteen ending his debut earlier than expected. After working his way around Roczen, Tomac used his veteran experience to eat up the rookie en route to a dominating moto one win. Martin was a solid second.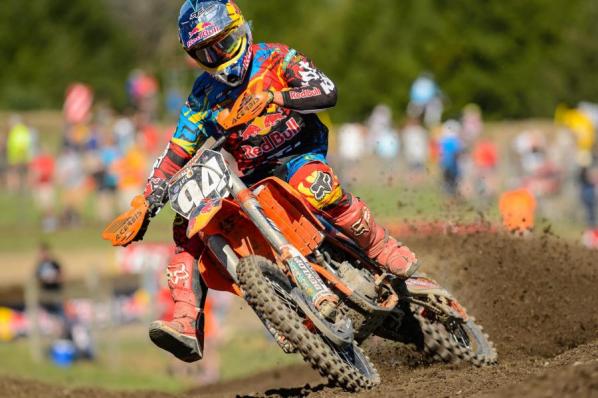 Roczen then started falling back, saying he was suffering from arm pump. Zach Osborne and Blake Baggett were able to get him, pushing the #94 to fifth.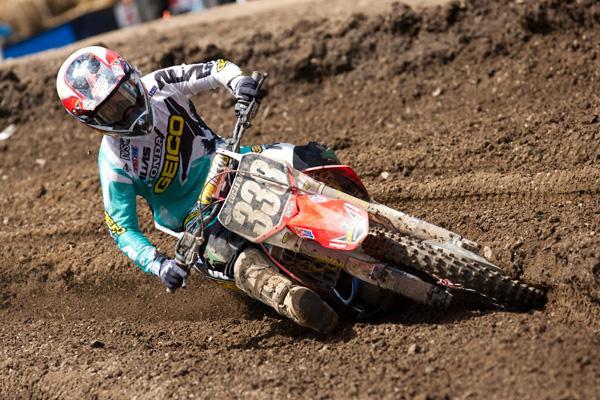 Andrew Fredrickson photo
A hard charging Osborne would round out the podium, barely holding off a furious last lap attempt from Baggett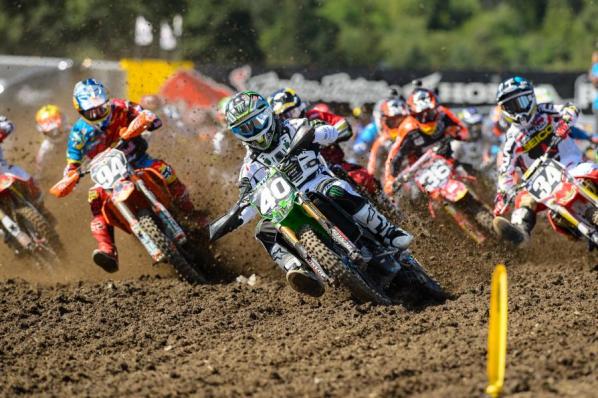 Surprisingly Wil Hahn did not grab the second moto holeshot! That honor belonged to Monster Energy/Pro Circuit Kawasaki's Martin Davalos. The Ecuadorian finished the moto seventh. It was Ken Roczen's turn to play the lead role in moto 2, as he quickly passed Davalos to take his first lead of the day. Eli Tomac started off the lead for the second straight moto, but it mattered little as he quickly worked his way up to the lead pack of Roczen, Martin and Justin Bogle.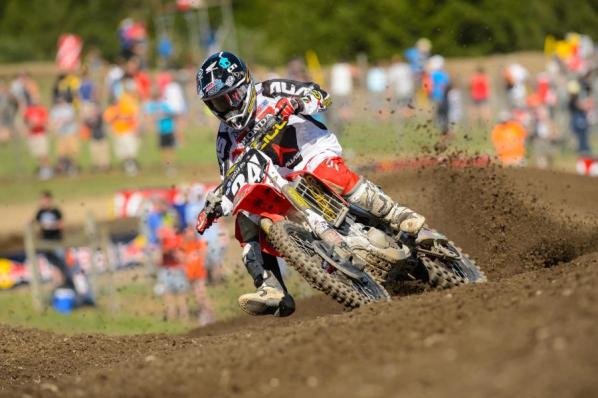 Bogle and Martin tried valiantly to hold Tomac at bay, but the points leader was too strong.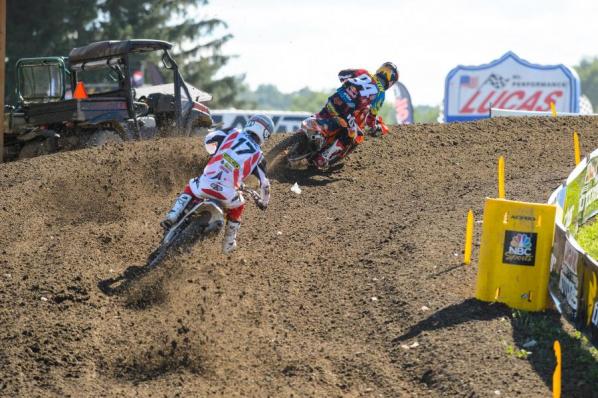 The two titans of the class were set for the ultimate clash, as Tomac pulled to within seconds of Roczen past the halfway mark. Roczen held strong, pushing aside Tomac's advances. But eventually Tomac showed his force, passing Roczen and pulling a slight lead. Roczen fought back, leaving everything on the track, put it was just not enough as Tomac rode to a 1-1 performance. Martin clipped Bogle in the waning seconds to capture his third moto podium in the last four motos.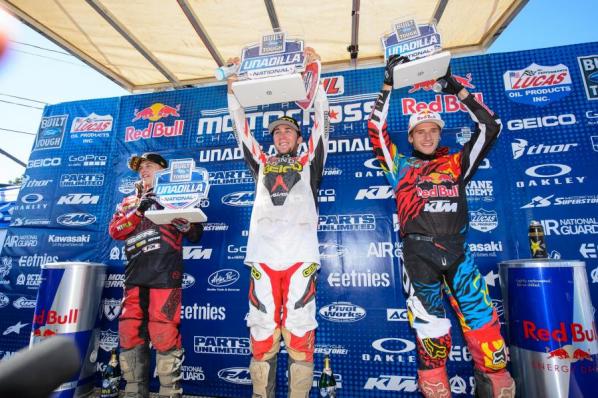 Eli Tomac, Ken Roczen and Jeremy Martin rounded out the 250 overall podium.
450MX Overall Results
1. Ryan Villopoto 1-1 Kaw
2. Justin Barcia 4-2 Hon
3. Ryan Dungey 2-4 KTM
4. Jake Weimer 9-3 Kaw
5. Josh Grant 5-5 Yam
6. Andrew Short 6-7 KTM
7. Brett Metcalfe 10-6 Kaw
8. Broc Tickle 8-8 Suz
9. Justin Brayton 7-13 Yam
10. Phil Nicoletti 13-9 Yam
11. James Stewart 3-40 Suz
12. Matt Goerke 14-14 KTM
13. Chad Reed 17-12 Hon
14. Jake Canada 25-10 Yam
15. Akira Narita 16-15 Hon
16. Tyla Rattray 11-20 Kaw
17. Malcolm Stewart 34-11 Hon
18. Mike Alessi 12-39 Suz
19. Zack Freeberg 15-24 Hon
20. Ben LaMay 22-16 Yam
Click HERE for full 450MX overall results.
450MX Point Standings
Ryan Villopoto 463
Ryan Dungey 419
Justin Barcia 347
James Stewart 289
Trey Canard 263
Andrew Short 220
Jake Weimer 216
Broc Tickle
Josh Grant 208
10.  Mike Alessi 204
11.  Malcolm Stewart 171
12.  Phil Nicoletti 162
13.  Chad Reed 157
14.  Justin Brayton 153
15.  Tyla Rattray 151
16.  Ryan Sipes 118
17.  Clement Desalle 58
18.  Brett Metcalfe 57
19.  Weston Peick 56
20.  Ben LaMay 51
Click HERE for full 450MX Point Standings.
250MX Overall
1.    Eli Tomac 1-1 Hon
2.    Jeremy Martin 2-3 Yam
3.    Ken Roczen 5-2 KTM
4.    Zach Osborne 3-6 Hon
5.    Blake Baggett 4-5 Kaw
6.    Justin Bogle 10-4 Hon
7.    Wil Hahn 6-8 Hon
8.    Marvin Musquin 8-9 KTM
9.    Cole Seely 9-10 Hon
10.    Martin Davalos 13-7 Kaw
11.    Kyle Cunningham 7-14 Yam
12.    Cooper Webb 12-11 Yam
13.    Jessy Nelson 15-12 Hon
14.    Alex Martin 14-15 Yam
15.    Adam Cianciarulo 19-13 Kaw
16.    Jason Anderson 11-34 Suz
17.    Kyle Peters 18-16 Hon
18.    Shane McElrath 17-17 Hon
19.    Justin Hill 16-18 Kaw
20.    Matt Bisceglia 37-19 Hon
Click HERE for full 250MX overall results.

250MX Point Standings
1. Eli Tomac 455
2. Ken Roczen 416
3. Marvin Musquin 359
4. Blake Baggett 329
5. Zach Osborne 296
6. Jeremy Martin 249
7. Jason Anderson 248
8. Justin Bogle 238
9. Kyle Cunningham 204
10. Cole Seely 192
11. Cooper Webb 189
12. Justin Hill 178
13. Martin Davalos 136
14. Darryn Durham 128
15. WIl Hahn 125
16. Adam Cianciarulo 99
17. Joey Savatgy 89
18. Blake Wharton 85
19. Alex Martin 74
20. Kyle Peters 50
Click HERE for full 250MX Point Standings.