Unadilla MX
New Berlin

,

NY
Unadilla
Lucas Oil AMA Pro Motocross Championship
Hello, everyone, and welcome to the Rev Up. With three rounds remaining in the 2013 Lucas Oil Pro Motocross Championship, there isn't a lot we haven't seen already. Or is there? The season has spawned some incredible scenarios already. Most of the questions have been answered.
- What would happen if Villopoto got a bad start or crashed?
- Can Ryan Dungey beat RV if they start 1-2?
- Is Tomac faster than Roczen?
- Can James Stewart win again?
- Did the rookies have enough speed to run up front?
In what has transpired to become one of the most competitive summers in a long time, we've seen so much, and thankfully one word has eluded the series; Domination. While Monster Energy Kawasaki's Villopoto and GEICO Honda's Tomac have strong point leads heading down the stretch, both riders have been vulnerable at times. Villopoto has shown the ability to steamroll the 450 Class, and has been spectacular often. But he was rather mediocre, by RV terms, the last time out in Millville. Villopoto has blown out motos with 30 second leads, but if he has another 6-4 day or a mechanical failure he could be in trouble as the sun sets on the championship.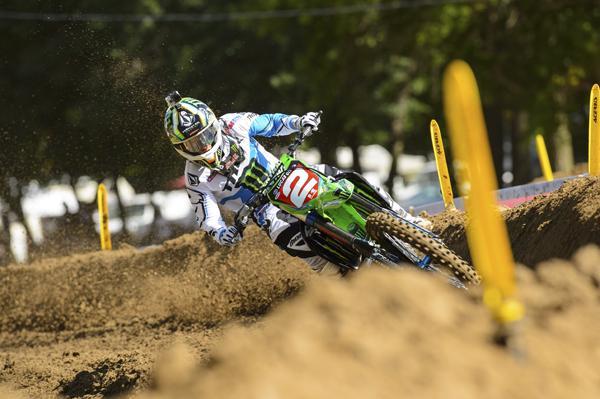 Ryan Villopoto looks to further increase his points lead at Unadilla.
Simon Cudby photo
The front runners now have company. Yoshimura Suzuki's James Stewart being the most recent winner in this division isn't that big of a surprise to me. He's been on it since RedBud and has gone 2-2-3-3-1-3 in his motos since a disappointing weekend in Southwick, where had he not crashed while leading moto one, he could possibly have pulled off the O/A. Muscle Milk Honda racers Trey Canard and Justin Barcia seem to have hit on something and are poised to make a late series push. Throw in a resurgent JGR mounted Josh Grant and the battle for the podium should be epic for Unadilla. Sadly, it remains a ghost town from sixth on back. The battles back there are great, but not at the same pace as the lead gang. There are a half dozen 450 riders that need to finish strong to salvage the summer.
Meanwhile, I think Eli Tomac is the fastest man in the world on a 250 right now. It isn't pretty for the whole 30 minutes, but he has found the next level of speed and seems comfortable with it. My stance on Eli remains in that you kind of have to watch him through squinted eyes because the chance of a big mistake looms large at his pace. His GEICO Honda is the fastest machine on the starting gate, and recently he has had the fastest teammates with Justin Bogle and holeshot king, Wil Hahn. I've heard some interesting whispers of a collaborative effort on the GEICO Honda power plants that may provide reason for seeing so much red up front on the holeshot. Speculation for now, but look for a report on this matter soon. Red Bull KTM's Ken Roczen has been sensational all series long, but handed over the red plate at Millville on the heels of a super-gnarly high side crash. His 27-point deficit is a bummer to the Orange Brigade, but don't cry for KTM as they are the only organization with multiple winners in the 250 Class. They've also had Dungey deliver wins on the 450, and they aren't out of the championship in either class. And in the 250s, there is so much competition. When the most recent crop of Loretta Lynn's rookies jump into the fire it is going to get even hotter. How much speed does the 2013 AMA Horizon Award winner, Matt Bisceglia, have? Hard to believe GEICO Honda now has even MORE talent under their awning.
On to Unadilla. Decades removed from the "Halcyon Days" where smoke billowed from conversion vans, and banners hung from fence lines reading, "And on the 8th Day God Created Bob 'Hurricane' Hannah," Unadilla remains the most nostalgic track in North America. From the first event in 1972 to this Saturday afternoon the craziest fans in motocross call Unadilla Valley Sports Center, near New Berlin, New York home. The complexion has changed, but Gravity Cavity is still there along with most of the track's original iconic landmarks, including the rocks. The dynamic natural design is a test for all, but has long been a friend to foreign racers. I say natural design, but one of the most popular jumps of the tour is the man made table top where Justin Barcia and Ken Roczen will be getting upside down in practice. To that end, who has been the summer's King of the pan? I say Roczen.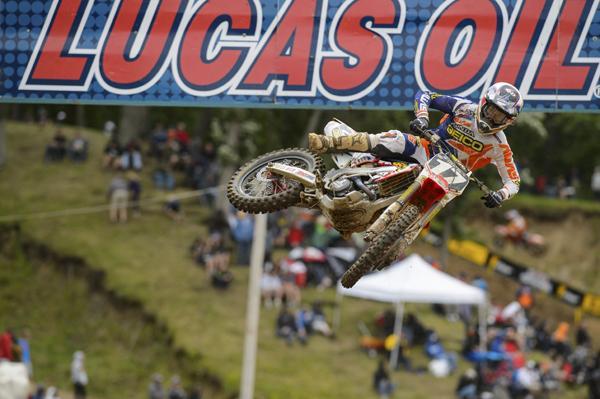 Tomac will be sporting the 250MX red plate for the first time all season at Unadilla.
Simon Cudby photo
Unadilla is special. She is the Lambeau Field of our sport, where the toughest racers in motocross history have thrived. It has been raining all week, and some of the most grueling mud races ever have taken place at 'Dilla, but once again it is going to be mid 70's and sunny on race day afternoon. How about that? Another perfect Saturday! It's time to return to the charge, damn it! Live television is back, and we're set for a three-race sprint to conclude the 2013 regular season. What else can happen? Are these championships already over? Is there anyone who isn't jacked up for another thrilla at Una'effing'dilla? The tension is rising headed down the stretch, and there is a lot of racing left. Old school, new school, Unadilla will always be Unadilla.
E-mail me at andy@racerxonline.com if you want to bench race. Thanks for reading, see you next week.