Unadilla MX
New Berlin

,

NY
Unadilla
Lucas Oil AMA Pro Motocross Championship
Shane McElrath shocked the amateur ranks at Loretta's last year by battling talents like Cooper Webb and Matt Bisceglia, and logging the fastest time of the entire 2012 event. Then came a whirlwind life change, as the Lucas Oil/Troy Lee Designs Honda team signed him and set him up for a pro debut at Hangtown. They decided to delay the debut until Unadilla this year, but McElrath, still relatively new to such success and support, is still in an adjustment period. After finishing second in both the 250 A and Open Pro Sport classes during the week, we chatted with him.
Racer X: How did the week go overall?
Shane McElrath: It was pretty good. The 250 Class was… two motos were muddy. I had no problem with that but I just kind of started out slow with myself. I just wasn't really where I wanted to be, but as the week went on I felt better and better. Just working on things here and there. My team manager and my mechanic, they weren't putting pressure on me to get a title. They know I can win just as well as I do. I've just got to work on everything. It's just gaining experience this week for next weekend. That's the big picture that we're shooting for.
How different was the experience here this year compared to last year? It had to be like night and day.
Last year that was like my last ditch effort. We didn't know what we were going to do after Loretta's last year if nothing happened. This year, it's hard with me being on a team because I put a lot of pressure on myself because I want to make the people supporting me look good. That's kind of what we had a talk about yesterday, is I put too much pressure on myself. A lot of times I'm too serious and that comes back to get me sometimes.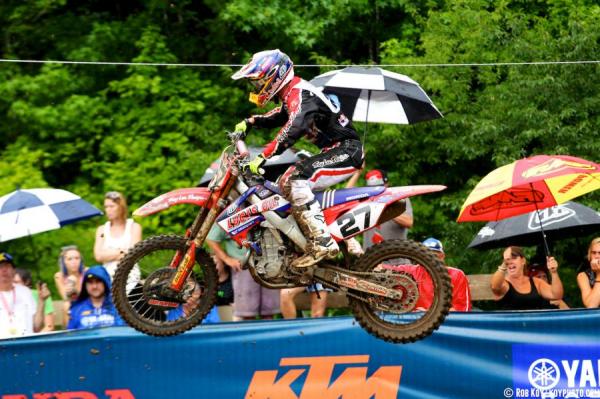 McElrath scored podiums in the 250 A and Open Pro Sport classes.
Rob Koy photo

So as far as putting in the work or being in shape and all that, that's never the issue?
No, I do what I'm supposed to and I just think too much and I try too hard sometimes.
That last moto obviously you had a shot at the title, and it looked like you had a pretty good start. What happened after that?
They just got out front quick. I just had a couple mishaps on the first lap; almost went down a couple times. They pulled out quick and I got stuck behind [Nick] Gaines. I didn't have goggles and I couldn't really work the lines too good out there that time, because there really was only about one line. About three-quarters of the way through I finally passed Gaines but it was too late. That was all I had.
This is going to be a big deal racing Unadilla. What are you thinking coming in?
I'm not as nervous as I probably would have felt like if I would have been at Hangtown, I guess. It's going to be fun. Living my dream. That's what my team manager has been trying to tell me. I'm living my dream; why put a lot of this pressure on myself and try too hard? So that's what I've been working on. And next weekend I'm more excited about it. I haven't really thought about Loretta's much, even coming up to this, and getting hurt before it. I was not too worried about Loretta's. It what comes after Loretta's that I had to think about and train for.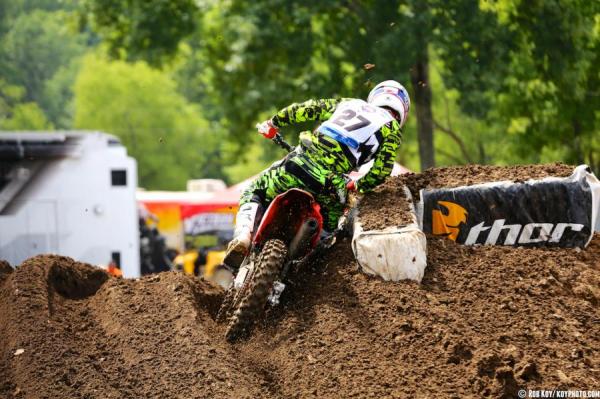 McElrath will make his pro debut this weekend at Unadilla.
Rob Koy photo
Yes you had an injury coming into this.
Yeah I separated my shoulder at Mammoth, lost a little time with that. I've only been back on the bike a few weeks now.
You're mentioning the pressure of riding for a team. Do you think it was harder for you than some other riders you're battling with here, because they have probably had really good support for four of five years? Meanwhile you had to adjust to all that. Was that tough?
Yeah, and it still is. My dad's always been my mechanic until this year. It still feels weird because for the last two years I've been on my own and done my own bike work. I live at Club [MX]. I'm just there by myself. It's weird going to a track and having a team there doing all the work. Especially at first, I didn't really know what to do. I was always asking if they needed me to help them or anything! Now I know that's what they get paid for. I'll help them out if they need it, but that's their job too. So I just need to relax back there and get ready to do what I need to do.