RedBud MX
Buchanan

,

MI
RedBud
Lucas Oil AMA Pro Motocross Championship
Trying to find support and a ride is a task in itself; keeping it is an entirely different challenge. When the Langston-Witt KTM team folded last winter, Les Smith was left without a ride. But Scott Witt, the owner of the team, decided to honor his contract with Smith, which ran through the 2013 season. Witt's new squad, Witt's End Racing, ended up partnering up with the BTOSports.com KTM squad, and when Michael Bryne was unable to race the supercross season while recovering from a leg injury, Smith filled-in. Following the arrival of Andrew Short to the team, Smith transitioned back to his original deal with Witt's End Racing, but would remain under the BTOSports tent. After missing time in Monster Energy Supercross due to a broken hand and cracked ribs, Smith entered the Lucas Oil Pro Motocross Championship at less than 100 percent—and it showed in his results, scoring just seven points through four rounds. Smith's recovery process has begun to improve, as has his results—he scored a season high thirteenth overall at Southwick. We caught up with the South Carolina native earlier this week to chat about his 2013 season, his relationship with Ricky Carmichael and more.
Racer X: It's been a rough start to the Nationals, but you seemed to turn things around at Southwick. Are things beginning to come together for you?
Les Smith: Yeah, it's starting to get a lot better. It's been a rough year. I got hurt in Minneapolis [supercross] and it affected the start of the outdoors. At Hangtown I didn't feel like I was ready to start but I figured the only way to get back in the swing of it was to get out there and start racing. That's what we did and I've just been working hard and staying true to my program and it's been getting better every week.
How hard is it to race yourself back into shape?
It's really tough. I was on the bike for about a week before Hangtown… and I even small things like blisters and that kind of stuff. It sounds dumb but that stuff is tough. I did a lot of training off the bike while I was hurt but you can't mimic being on the bike.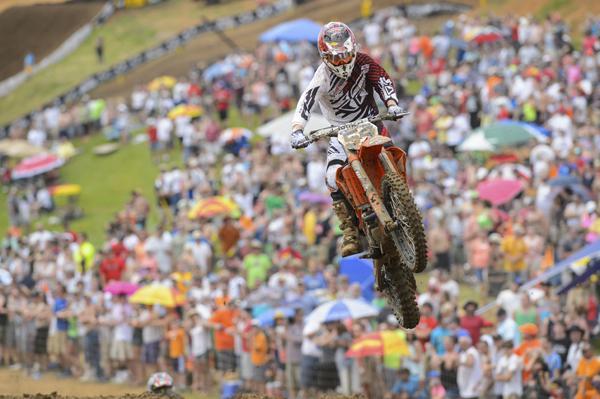 It has taken time for Smith to return to form following an injury in supercross.
Simon Cudby photo
A lot of riders coming back from injury talk about getting back their race intensity and that you can't match that. Is that fair to say for you?
Absolutely. I still don't feel like I have my race intensity where I want it to be. This weekend I felt good at the end of the motos, but I still need to get that intensity back at the beginning. The 450 Class ain't no joke, they get out there and roll with it.
You were the fill-in rider for BTOSport.com KTM in supercross before Andrew Short came on, and then you transitioned back to your original deal with Witt's End Racing. Explain how that works at the moment?
Scott Witt, the owner of the team I was on last year [Langston-Witt KTM], I had a contract with him this year and he stuck true to his word. Pretty much, he is my team. He honored my contract and I couldn't ask for anything more. The BTO guys transport my bike and let me use their truck. It's works out good. I have a good bike… I can't complain, I get to go racing every weekend.
Did you basically just have to change the plastics when you went back to Witt's End?
Yeah pretty much. I did switch back to my own bike, but the suspension and motor for the most part were the same. It wasn't a big change. But those guys are cool; they definitely helped me out a lot.
You have been training down at Ricky Carmichael's farm for quite a few years now. Talk about what that means to your program and what it means to be able to train with the GOAT?
It's awesome. I've been fortunate enough to be able to stay down here for a long time and I love it. The older I get the more I appreciate it. When I was younger I thought it was so hard and miserable and all that. And it is miserable [laughs]. It's a great thing. It's good to be able to surround yourself with people that want the same thing you want. People that want to work hard and want to do good. Having Ricky around and his mom Jeannie and Big Rick and even Ryan Dungey, he helps me out a lot. He kind of lifts me up and points me in the right direction on a lot of things and it's a big help.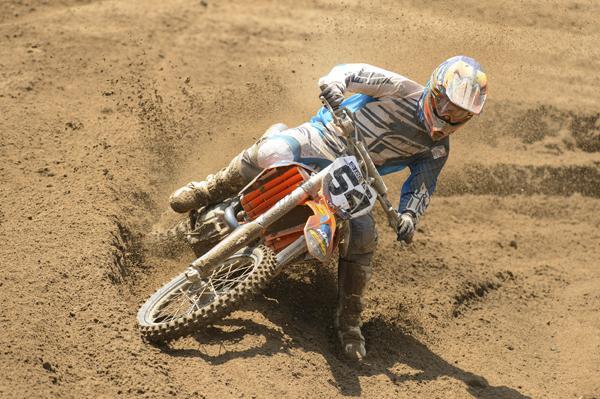 Smith has scored 25 points the last two rounds after scoring just seven points through the first four.
Simon Cudby photo
Jeannie is known to be tough and push her riders. You mentioned how tough it was when you were younger and how much you are able to appreciate it now. Looking back, do you ever think, "Where would I be without this?"
Absolutely. Everything is great about being down here. But honestly the best part about being here is Jeannie. She is incredible with me. She pushes me really hard. A lot of times you complain and think, "Man, this is way too hard," and you don't get it at first, but she makes you stay out there the extra time until you get it. You're kind of mad, but when you get in the truck and drive home, you're like, "Dang, she was right," I didn't leave anything on the table today, I stayed there until I got it and I actually did it. Without her there are a lot of time where that wouldn't happen.
What is a typical day down at the farm like?
It's nothing too crazy. I usually get up pretty early and do a bicycle ride in the morning and then head out to the farm and do a couple of sessions. We do all kind of different things out there. We switch it up a lot. I normally ride three days a week between the races. Nothing too out of the norm, but what we do is we try and do it right and do it hard. We try and set big goals during the week at the practice track and push through it.
Going forward, Southwick has to give you a boost in confidence to know your getting back to form.
Yeah, absolutely. It was nice to be able to see the hard work pay off. It was good in being able to see the work pay off, but I was close to a top ten and didn't get it and that's ultimately where I want to get to right now. After the year I've had if I can get up into the top ten, that would be awesome. So I just need to put my head down and do whatever it takes to get there.
Who would you like to thank for helping you out this season?
I would like to thank Scott Witt, Witt's End Racing, Bubba Burger, BTO, Throttle Jockey, FLY, Pirelli, FMF, X-Brand, Dubya and Mika Metals.