Buchanan, MI
RedBud
Lucas Oil AMA Pro Motocross Championship
Homeschool. It doesn't bring up thoughts of educational excellence, but it has become common for young racers looking to break through at the highest level of the sport. Think about all the high-school-aged rookies we've seen break through this season, and you'll realize that the typical school schedule doesn't mix well with racing. For the last decade, Andrea Leib has tried to fix that via her On Track private distance learning, which provides high-school educations for racers on the road. On Track recently became an AdanceED Accredited Online School, which is a really big deal. We talked with her about it.
Racer X: It's very interesting what you do. I think a lot of people have misconceptions about homeschooling in this sport, and I think you're trying to right some of those wrongs. I know that you have the right intent here, which is integrating motocross and education, and that's not as easy as some people think.
Andrea Leib: Right, absolutely. When it started, Jason, I really was calling it homeschool, but now I look back at it and I don't even consider homeschooling to be anything of this nature. Right now we're a private distance learning school, and we're accredited. And by 2019, 50 percent of high-schoolers will be learning online. And that's not just in sports or motocross, that is nationwide. So education is moving in that direction and we're at the forefront of it.
Wow. I would imagine that wasn't even in your thought process when this started! What was your main intention when this started?
My husband, Don, was taking Michael [son, Leib] all the way out to Florida to ride. I was really naive. I thought this was like tee-ball and we'd just play in the backyard. I didn't realize we'd be in motor homes and breaking down in Tennessee and Oklahoma. So Don says, "You're going to have to start homeschooling our kids." Ali was in eighth grade and Michael was in fifth grade. I was totally not into the idea of homeschooling. So for a year we experimented with a free charter school, and I was so unhappy. I'm a teacher with a master's degree, and I felt like nothing was happening. So I started tutoring some riders, and I realized a lot of the kids that were traveling, the teachers would give them two to three times more work than the kids who were in school, hoping that would make up for it. Then, after spring nationals, when the kids would go back to school, they would be so confused and their grades would start dropping. So I started my own group using a different vendor and kind of being the coach, helping these kids plan out how they were going to do school. That was better, but it still didn't have enough options for us, so I created our own program and our own curriculum.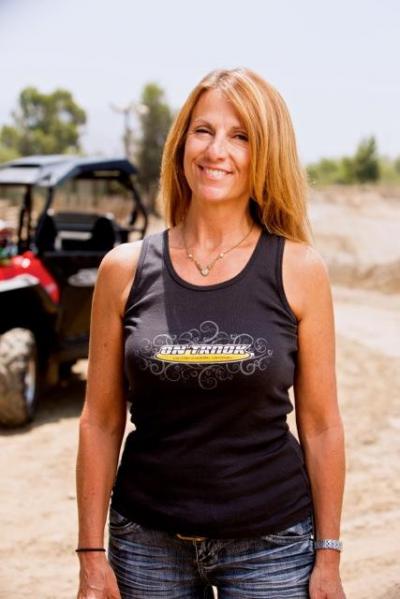 Andrea Leib started On Track to help young riders get an education while traveling the country.
William Vasta photo
It's come a long way here—you have excited news with accreditation.
Yes, the last two years, we've been really satisfied with the curriculum, how students are engaged in learning, and the level of commitment we're getting. We do surveys with parents and students and we can see learning is taking place. We knew it was time for accreditation. A small group of students, like maybe 5 percent, would come to me and say, "Hey, I'm trying to get into a vocational school and they won't accept me because I don't have an accredited diploma." I've had two or three disgruntled parents, and that's not okay with me. Plus, states change laws, which makes it difficult. But we wanted to be accredited, and it cost us a lot of money and time to do it. We worked really diligently to prove the level of education we provide, proving that learning is taking place, proving the achievement of our students. They came out here and interviewed many of our students and parents and some key people in the industry. They saw that this group has a need. A lot of the motorcycle community is trying to do homeschooling on their own, but they're not meeting standards. So they got that. We had our final meeting in March, and we were recommended to the board. Finally, last Friday, we got the seal, and now we can put that on our transcripts. They now meet California's high standards for graduation requirements. That means this is recognized by any college and any four-year university, as well as if they chose to go back to a regular high school. It's really important to me, because we're not a free charter school. I don't want ever to have a situation where parents are paying a good amount of money for a private education and then have it not fill their needs.
How does the program actually work? Obviously, riders live all across the country.
We have seven phenomenal learning coaches, which is what we call our teachers. Wanda Ezell has been with me for six years—I met her at MTF. She and Augusta Downey, they're my head teachers, then Lisa Jones, Stacey Baker, Stacey Underwood, Matthew Sherman, and Maureen Delgaudio are also on staff, and these teachers make themselves available to students. It's very important that the students can call them, text them, email them, Skype them, whatever. One thing I found when I was experimenting on my own kids [is that] there needs to be someone else the kids can go to. The parents will say, "What am I getting myself into?" And boy do I know what that feels like. I have a degree as a teacher, and I still felt that way. So we call the parents home coaches, they provide the discipline and the technology, and the teachers are the support system for the educational component.
We have two plans. We have test based on one learning management system, and we have online a new learning system. They can get ahead, they can accelerate. It's complicated, but we like options.
It's not just motocross that puts kids in this position. I remember reading a New York Times story a few years ago that talked about Ryan Scheckler, the skateboarder, and he wanted to go back to regular public school, but his performance just dropped off too far. He had a profession and was making a living from it, so he had to focus on it.
Yeah, there are other sports-related students coming to me, and I'm really excited about that. As a one-person administrator right now it's hard to do more, but especially with accreditation, the world becomes your oyster, so to speak. I've talked to agent groups who were looking for a program like mine. Because we understand a twelve-month sport, we understand how to customize the program. I understand when we do get into those areas; I think we can accommodate that growth.
What's your background?
I have thirty years in education. I graduated with a B.A. from a teacher college in New Jersey called Kean University. That day, I had my own kindergarten and nursery school. I moved out to California and became a regional training manager for KinderCare. I was with them for six years. But when I had Ali and Michael, I really wanted to stay home with them. So I started tutoring for about twelve years. Then I started substituting, and I went back to school to get my master's degree in education with an emphasis on counseling. I have realized counseling comes in handy a lot working in the motocross industry! I realized I could have had a nice full-time job and salary as a counselor, but I decided to do this on the road thing and see how it goes. It was completely crazy, but I could just not be without my family when we were traveling.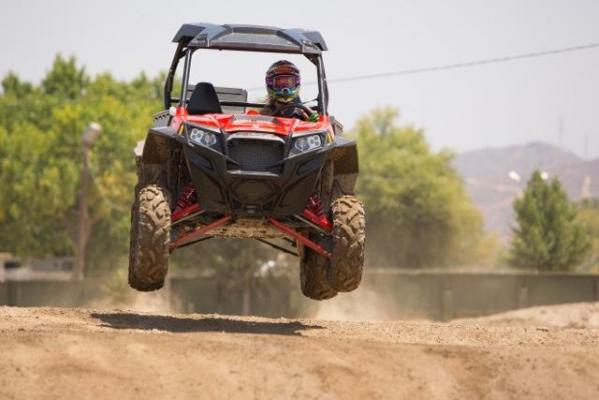 Leib also knows how to have some fun away from school and on the track.
William Vasta photo
It's gone well beyond just teaching your own two kids.
Yes, I think in the ten years … I should add it up, but I have to say we're close to 150 graduates. It's hard to keep someone in the program for four years. Part of it is money. There are some families that can't afford it. The Stewart family donated a scholarship the year Malcolm graduated. This year we're going to do a jersey-donation drive toward a scholarship fund. We've got some jerseys stacking up in our office—we have Ryan Villopoto and Trey Canard, and old Ian Trettel jersey, I'm sure Blake Wharton will give us one.... We'd like to have the riders give back and feel like they're helping young riders get an education.
Obviously, some riders that came through have gone on to successful pro careers, but do you have stories of riders who didn't make it and used this to fall back on?
Absolutely, that's the key. I used to call this plan B, because I didn't want to be a dream crusher, but for most of these kids it really is plan A. It's just a matter of how long you can push it off. We have great stories. Worth Hunter, he just graduated, and he has the first degree with our accreditation sticker on it. He needed that because he's applying to North Carolina State University. And I'm so excited about that. Now that he has his diploma, he can really take that next step.
Anything else you want to add?
The next step for us, we're working with a private educational consultant, and the goal this time is to become a California charter school. Our competition is free charter schools, but I don't feel like they … nothing against them, but it's hard for them to understand sports-related athletes. So by next July I hope to be able to tell you we're a California charter school, and what that means is anyone from the state of California would not have to pay tuition. That would be really exciting for a lot of families. Then the goal would be to have one on the East Coast and then in Texas to really pull the thing together as a school and pull in kids from other sports.
No end in sight.
This is definitely my life's work. I've always been passionate about individual differences. I know education is not very exciting to them, but knowing it's a road they have to take, I want to make it as exciting and rewarding for them as possible. I want them to make the most out of it. That's what it's all about.