Moto-X 338
Southwick

,

MA
Southwick
Lucas Oil AMA Pro Motocross Championship
N-Fab TiLUBE Yamaha's Jessica Patterson is calling it quits on her storied career, one of the best ever for a female motocross racer. JP$ ends it on top, coming through with 1-1 scores at the ChaplinKawasaki.com Southwick National to not only win the race, but the 2013 WMX Triple Crown. Here 1-1 performance helped her overcome points leader Sayaka Kaneshiro, who went 7-3, in the standings. After DNFing a moto earlier in the season, it was an impressive comeback for Patterson.
From here, Jessica will put her focus into a new career in the Amsoil Grand National Cross Country Series. But she gets to celebrate as a motocross champion one last time.
Racer X: Take us through your two motos in your final professional women's motocross series?
Jessica Patterson: It was pretty crazy. Coming into here, I love Southwick. It's an awesome place. It's kind of a bummer… I mean, it's not a big deal for me, but it's a bummer for everybody that it's not going to be here any longer. But since I'm not going to be here any longer, anyway, it's not as big a deal for me! So, still, it was sad. I knew coming in here that I liked the track. It's an awesome place. First moto it was pretty gnarly. It wasn't too bad. I think the previous years it's been way worse. I knew coming into here that I was going to put together two solid motos and however it happens, happens. I've had a lot of crazy things happen in my career. Me being in the lead and then something dumb happens. But it was good. I put together two solid motos. When I crossed the finish line after that first moto they're like, "you're pretty much tied. You have to win the second moto and you can win the title." And I was like, 'what?' Usually that stuff doesn't happen for me, I just don't win like that. I was pretty surprised. I was like, really? I knew coming into the second moto just going to have to put it together. I got a horrible start but passed pretty quickly. With the rain, the sand stuck right to you. It was pretty gross. I knew I was starting to run out of tear-offs and I had to make a move. Did it and pulled through.
What was going through your mind when you were working on the leader, Pettersson? The next thing you know, Mackenzie Tricker passed both of you in that blind corner in the back.
I knew she [Tricker] was there. I knew she wasn't going to give it up, either. At the same time I'm back there trying to pull tear-offs because I can't see anything, then they both go right back by me! And I'm like, oh crap. So I ended up passing again; I'm into second. And then Mackenzie was there. I tried to make an attempt and made it worse. I was like, 'I have to make a move fast; I'm running out of tear-offs.' I knew it was just time to go.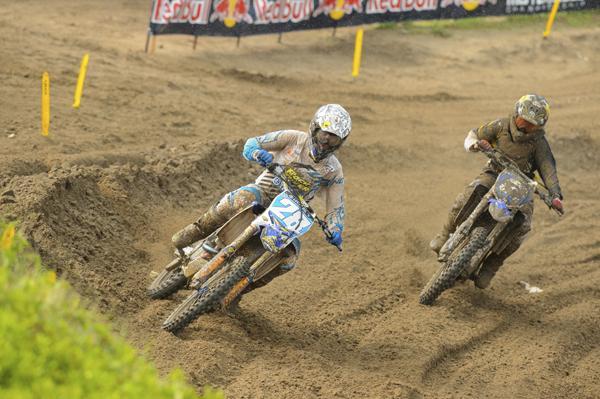 Patterson (2) had to come from behind in the second moto to capture the overall and the WMX Championship.
Simon Cudby photo
Did you do any special sand prep for this? I know you're from Florida so you know where to find sand if you need it, but did you do that for this?
Yeah, actually I came up here on Monday. We drove up Monday and there's a track like 45 minutes north of here that we usually go to. There's like a privateer national there. It was good. Just riding there every year has helped me a lot. Last year I wasn't able to ride there because of my broken hand so I think that kind of hindered it a little bit. But I was able to put some solid days together before this race and I think that helped out a lot.
Are you going to get on a concord jet and get to West Virginia and race GNCC on Sunday? Are you going to figure out a way to pull that off?
[Laughs] You know we were talking about it and we were trying to figure it all out. Randy's [GNCC Team Manager, Hawkins] was like, if you want to do it that's fine. But I'm going to go ahead and sit Snowshoe out. Since it's a little bit gnarly I don't want to go there tired. I want to be ready for that one from what I hear about it. So I'm going to sit that one out but after the break I'm going to be back full force doing the last four GNCCs. I'm just trying to learn so hopefully next year I'm not a roller coaster in that series.
You've been in this series for a long time. It looks like there's a new batch of girls coming up. What do you see for the future of women's motocross?
Well it's actually a real bummer. I wish there was something more. I don't really know what's going on for next year but hopefully there's something for them. Like you said, there's a good batch that's coming up. They're fast; they're young. They'll be here for a while. I remember being the age that Courtney [Duncan] and Tricker are now; it was a long road. I would like to see those girls stick around. Have something to look forward to. I don't know; I guess we're all getting up to speed. It would have been cool if all these girls were a little bit older you could have raced them the last few years, too. That would have made the series really cool and a little bit more exciting.
Obviously this is your last year doing professional motocross. Are you still going to do motocross here and there? Local stuff? You can't leave it completely behind, right?
I don't think so. I'll obviously still ride moto. With my off-road guys, they're all just like, "let's go ride moto!" like once a week. So we'll still ride it but I don't know. I might still show up if there's a women's money race somewhere. Maybe I'll show up for that. It's hard to say you'll never do it, it's something I grew up doing and it's something I still love to do. You never know, really. Actually I was thinking maybe when I do get older, maybe I come back to Loretta's in a couple years. When I get old though. I want to get up there in the age classes so I don't have to go so fast!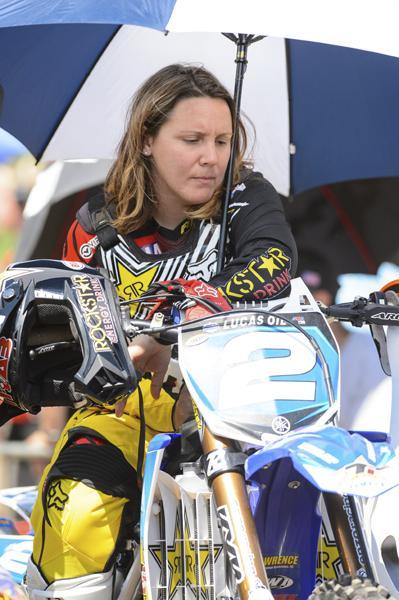 Patterson will tranistion to GNCC Racing full-time in 2014.
Simon Cudby photo
There are plenty of mini-dads in the sport. Think you're ever going to be a mini-mom?
Yeah, I don't know. Eventually, yeah. I want to at least give my off-road chance a year and see how that goes and then I don't know. Everybody's been pressuring me into it. [They say] You just need to take it easy and step back and become a mom, but I don't know if I could be that mom.
Are you saying Loretta's in an age class, not the women's class? Against the guys?
Yeah. I might as well try to. Maybe 35 or 40 plus. I don't know. It would be kind of cool if I did race only against the guys in the 40 plus, and if I did have a kid that made it to the race, we could both do it.
You've officially been retired for about 45 minutes now from racing. Has it settled in that this is probably the last motocross press conference you may be having as the WMX race winner?
A little bit. It's weird when I actually do think about it. Leading up to this week, training, and just getting ready for it, preparing and being like, man, this is the last time I'm actually going to go to a moto race and being 100 percent into it and going for a championship. It made me think about it after the day is done, you're like, that's it. It's kind of sunk in but at the same time it hasn't.