Six out of ten for the year and Red Bull KTM's Tony Cairoli. Simply multiply his 2013 haul so far by ten and you'll have the 60 wins that the Sicilian has now racked up in a decade of FIM Motocross World Championship prominence. The scene of his latest 1-1 scorecard was Uddevalla, Sweden and this victory carried special resonance after Cairoli's spectacular double DNF here last summer; a race he described as his very worst. The ghosts were banished with the best form of exorcism; a holeshot and escape act in one moto and then a toying game with teammate Ken de Dycker in the second. To complete arguably Cairoli's happiest meeting of 2013, his closest title challenger, Kawasaki Racing Team's Gautier Paulin, had an off-day and the reigning number one was able to steal another 20 points and extend his advantage at the top of the MX1 standings to 69; almost up three motos with fourteen left. Anything else? Oh yeah, Cairoli's knee tweak from Maggiora was clearly a non-factor; although 222 did mention that his regular soccer kickarounds with his team (just one small example of how tight the Italian KTM faction actually is) are now off the agenda.
Early summer weather in Sweden has never proved to be too reliable for the Grand Prix—one of only three fixtures/venues on the calendar that has remained constant since the beginning of the century. On Saturday the rain plummeted several times throughout the afternoon and ruined the slippery and worn track. The Qualification Heats were more akin to an enduro and it was strange to hear the bikes gurgling around the circuit with measured caution rather than flat-out aggression. The terrain was so delicate that Monster Energy Yamaha's Steven Frossard – a rider who had completed just two grand Prix in a whole year – was able to deftly control proceedings for a surprising pole position. It was telling that the two previous winners at Uddevalla – which took place in damp conditions both times – were first and second with Frossard heading Rockstar Suzuki's Clement Desalle.
Come Sunday, the skies had cleared and the mud had dried but the rutty and technical surface was a special feast for those who like to race motocross with precision. Passing, though, was naturally a casualty of the hardened lines.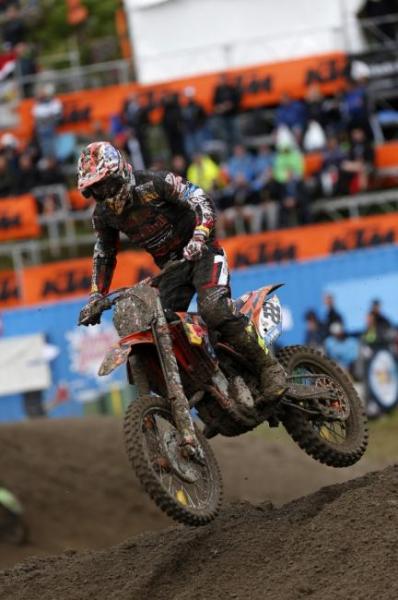 Cairoli captured his 60th career win in Sweden.
Ray Archer photo
The first MX1 moto felt like 35 hours, not 35 minutes thanks to a raft of similar lap-times and rock-solid 3-4 second cushions between the leading sect. Cairoli led Honda's Max Nagl, Desalle and de Dycker, the latter intensifying his spat with countryman Jeremy van Horebeek in what is becoming a grudge match of verbal mud-slinging and block-pass ugliness. Paulin was further back having lost the front wheel of the Kawasaki. Thankfully a choppier surface helped create more variety in the second moto although Nagl would fall twice to scrub any chance of a first podium for Honda in 2013.
Cairoli led, had a breather to watch de Dycker and then looked behind to see the force of aggression that was CLS Monster Energy Kawasaki Pro Circuit's Tommy Searle and decided to stop the games by regaining control. Searle's tussle with Desalle for third was intense and entirely watchable. The heat of the battle was such that Searle did not spot yellow flags on the finish line jump in the closing stages and his action of clearing the leap was deemed punishable. His hard-won top three position was sanctioned to thirteenth, cue the Brit's ire on Twitter post-race. The truth of the matter was that the flags were actually difficult to see from a particular line (this from the testimony of at least two other MX1 riders in the press room later) and virtually no straight run-up to the jump. Searle can feel harshly done in, but a similar incident at round two in Thailand had earned him a warning card from Race Direction, so he had little room. Desalle was a frustrated third overall for his seventh trophy of the campaign.
"I'm really happy. Last year here was one of the worst races of my career and now this is one of my best," said Cairoli. "With it being my 60th win this is a special day. My knee was OK and I hope I can start training normally this week."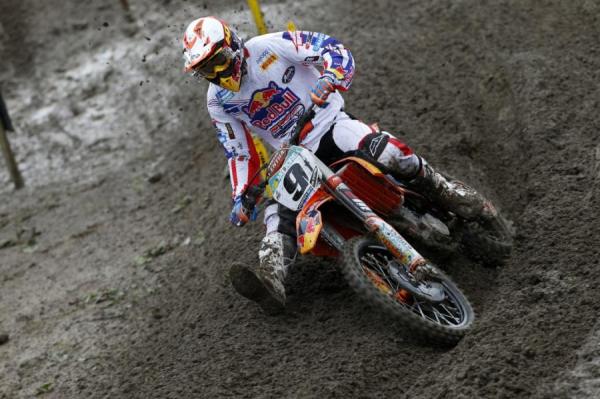 Ken de Dycker would finish second overall behind his KTM teammate.
Ray Archer photo
MX2 belonged to Red Bull KTM's Jeffrey Herlings who was none too complimentary of the track grading that levelled sections of the dusty hard-pack before both MX2 motos. But he crashed of his own accord on the first corner of the first race. The spill instigated a customary charge through the pack but he would only reach third position on this occasion allowing the impressive Christophe Charlier to win on the Monster Energy Yamaha prototype for the first time. He stated that some new engine mods had boosted the YZ250FM's power potential. Nestaan Wilvo KTM's Jake Nicholls was a steady second place for what were personal best results for both riders.
Herlings resumed normal service in the second moto and with teammate Jordi Tixier keeping his back from Charlier, the Dutchman had his tenth overall in a row, just two more wins away from Stefan Everts' record.
With the Grand Prix Commission deciding on a format for the FIM Motocross World Championship for 2014 and beyond that didn't really include any major changes aside from reducing the length of the motos to AMA durations (30 minutes and two laps, instead of the current 35), the rumour mill for the next season was able to crank up several gears in Sweden. This Grand Prix, traditionally staged on the first weekend of July, normally sees the presence of most of the major decision-makers when it comes to the factory line-ups for the next racing campaign but with teams only able to begin talks in earnest over the last week (and to consider a provisional racing schedule that will involve three overseas rounds to open the 2014 series) Uddevalla was the scene for speculation rather than signatures.
With Honda locked-up and seemingly Suzuki set to stay with Desalle, Kawasaki with Paulin, KTM with de Dycker next to Tony Cairoli then figures like Searle, Jeremy van Horebeek and Steven Frossard were at the top of the pile. There were some premature movements in Sweden that did force some talk about the actual worth of a contract. Small Italian manufacturer TM racing saw fit to inform an unhappy Shaun Simpson that they could mutually terminate their association. The former British Champion and top ten MX1 runner was then surprised to learn that ex-GP winner and rider for TM in 2011 Tanel Leok (who actually posted their best ever GP result with second place in the Czech GP that same year) had already been lined up as a replacement. Leok himself had left the confines of the British MVRD Honda squad, claiming the division had been amicable and for financial reasons. Simpson found solace in a temporary slot with JK racing on a Yamaha and commented to Racer X that he smiled every time he was on the bike. The Scot, and former MX of Nations Team GB runner, promptly beat Tony Cairoli to fourth position in the Qualification Heat on Saturday. In MX2, Finland's top hope Harri Kullas was riding for Sweden's Sakhar KTM in a one-off deal after separating from Gariboldi Honda's set-up. Kullas, fighting for confidence and to get his speed back after some injury problems, will soon hold the spotlight for the first Finnish GP this century in two weeks; so this development in Sweden was hardly ideal preparation.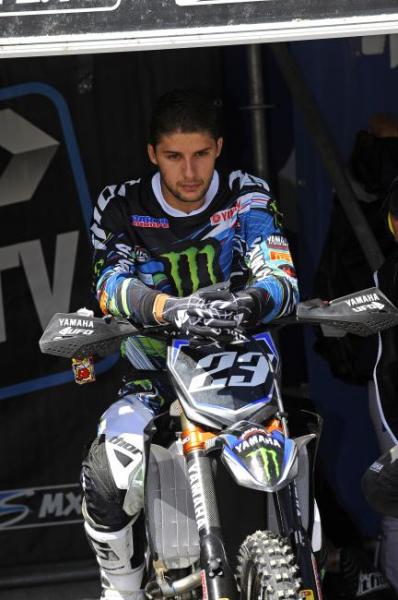 Christophe Charlier won his first career GP moto in Sweden.
Monster Energy photo
Then of course there was the Husqvarna press conference. The new chapter for the 103-year old brand will be written in the most part by KTM and as far as their rejuvenated racing operation is concerned there is an immediate structure in place with KTM satellite teams now turning white. F1 driver Kimi Raikkonen's team Ice1 will handle MX1 affairs while Belgian Jacky Martens (Husqvarna's last 500cc world champ) will convert his MX2 operation to Husky. KTM Sport Director Pit Beirer confirmed that the motorcycles will naturally be based on technology that they know and trust and it will be a period of several years before the bikes themselves develop their own character and identity. The annexing of two of the company's top non-factory squads was also not a major issue in terms of diluting KTM's presence. "Maybe now it is a little bit too much and we never planned to control the whole paddock," the German said. "That was never even a thing of dreams…we just wanted to win. We pushed so hard and we try to make the product better. It is a bit self-running now and it will not hurt the world if there is a bit less orange and some more Husqvarna.
"I know some people are already getting tired of KTM winning," he continued. "It is too big, too orange and too good. So to try something with a different brand is exciting. The reality today is 10,000 sales of Husqvarna and 110,000 of KTM; so we should not go too crazy and blow it up. That's why the investment of riders and teams needs to stay a little bit in balance against the KTM show."
There were three Americans in the paddock at Maggiora two weeks ago, none in Sweden. Michael Leib allegedly has an open door at Gariboldi Honda when he is good enough condition to compete and it remains to be seen if the Californian will be back in GP while Jimmy Decotis used some of his European sand experience to hit the ruts at Southwick after a premature end to what was a character building exercise in the World Championship.
Grand Prix speeds up in the next two weeks with the fifth trip to Latvia (host of next year's Motocross of Nations, no less) and then to Finland for a landmark return to the motorsport-obsessed country.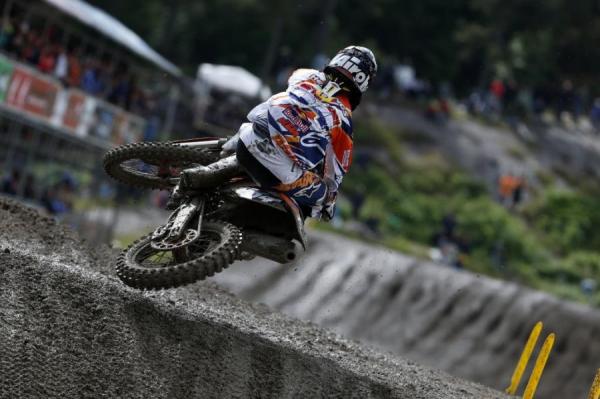 Herlings would win his 10th overall on the season in Sweden.
Ray Archer photo
MX1 Moto1
1. Antonio Cairoli (ITA, KTM), 39:17.944;
2. Maximilian Nagl (GER, Honda), +0:06.363;
3. Clement Desalle (BEL), +0:12.605;
4. Ken de Dycker (BEL, KTM), +0:14.381;
5. Jeremy van Horebeek (BEL, Kawasaki), +0:16.738;
6. Tommy Searle (GBR, Kawasaki), +0:26.765;
7. Gautier Paulin (FRA, Kawasaki), +0:28.030;
8. Steven Frossard (FRA, Yamaha), +0:34.768;
9. Kevin Strijbos (BEL), +0:48.040;
10. Davide Guarneri (ITA, KTM), +0:57.531
MX1 Moto2
1. Antonio Cairoli (ITA, KTM), 39:42.231;
2. Ken de Dycker (BEL, KTM), +0:01.399;
3. Clement Desalle (BEL), +0:03.749;
4. Gautier Paulin (FRA, Kawasaki), +0:19.796;
5. Jeremy van Horebeek (BEL, Kawasaki), +0:26.109;
6. Kevin Strijbos (BEL), +0:35.125;
7. Xavier Boog (FRA, KTM), +0:38.596;
8. Davide Guarneri (ITA, KTM), +0:41.299;
9. David Philippaerts (ITA, Honda), +0:54.992;
10. Maximilian Nagl (GER, Honda), +1:00.509
MX1 Overall
1. Antonio Cairoli (ITA, KTM), 50 points;
2. Ken de Dycker (BEL, KTM), 40 p.;
3. Clement Desalle (BEL, Suzuki), 40 p.;
4. Maximilian Nagl (GER, Honda), 33 p.;
5. Gautier Paulin (FRA, Kawasaki), 32 p.;
6. Jeremy van Horebeek (BEL, Kawasaki), 32 p.;
7. Kevin Strijbos (BEL, Suzuki), 27 p.;
8. Xavier Boog (FRA, KTM), 24 p.;
9. Davide Guarneri (ITA, KTM), 24 p.;
10. Tommy Searle (GBR, Kawasaki), 23 p.;
MX1 World Championship standings after 10 of 17 rounds
1. Antonio Cairoli (ITA, KTM), 467 points;
2. Gautier Paulin (FRA, Kawasaki), 398 p.;
3. Clement Desalle (BEL, Rockstar Energy Suzuki World MX1), 374 p.;
4. Ken de Dycker (BEL, KTM), 359 p.;
5. Kevin Strijbos (BEL, Rockstar Energy Suzuki World MX1), 298 p.;
6. Tommy Searle (GBR, Kawasaki), 289 p.;
7. Maximilian Nagl (GER, Honda), 253 p.;
8. Jeremy van Horebeek (BEL, Kawasaki), 237 p.;
9. Rui Goncalves (POR, KTM), 180 p.;
10. Davide Guarneri (ITA, KTM), 169 p.;
MX2 Moto1
1. Christophe Charlier (FRA, Yamaha), 39:24.898;
2. Jake Nicholls (GBR, KTM), +0:07.546;
3. Jeffrey Herlings (NED, KTM), +0:10.583;
4. Jordi Tixier (FRA, KTM), +0:11.189;
5. Dean Ferris (AUS, Yamaha), +0:27.543;
6. Alessandro Lupino (ITA, Kawasaki), +0:32.873;
7. Alexander Tonkov (RUS, Honda), +0:35.005;
8. Glenn Coldenhoff (NED, KTM), +0:40.106;
9. Jose Butron (ESP, KTM), +0:49.967;
10. Mel Pocock (GBR, Yamaha), +0:58.803;


MX2 Moto2
1. Jeffrey Herlings (NED, KTM), 39:28.573;
2. Jordi Tixier (FRA, KTM), +0:12.981;
3. Christophe Charlier (FRA, Yamaha), +0:16.220;
4. Alessandro Lupino (ITA, Kawasaki), +0:19.437;
5. Jake Nicholls (GBR, KTM), +0:31.339;
6. Dean Ferris (AUS, Yamaha), +0:36.060;
7. Jose Butron (ESP, KTM), +0:37.260;
8. Alexander Tonkov (RUS, Honda), +0:37.853;
9. Romain Febvre (FRA, KTM), +0:47.572;
10. Dylan Ferrandis (FRA, Kawasaki), +0:48.908;
11. Mel Pocock (GBR, Yamaha), +0:55.608;
12. Glenn Coldenhoff (NED, KTM), +0:56.628;
13. Maxime Desprey (FRA, Yamaha), +0:59.177;
14. Petar Petrov (BUL, Yamaha), +1:00.045;
15. Harri Kullas (FIN, KTM), +1:03.071;
16. Max Anstie (GBR, Suzuki), +1:31.592;
MX2 Overall
1. Jeffrey Herlings (NED, KTM), 45 points;
2. Christophe Charlier (FRA, Yamaha), 45 p.;
3. Jordi Tixier (FRA, KTM), 40 p.;
4. Jake Nicholls (GBR, KTM), 38 p.;
5. Alessandro Lupino (ITA, Kawasaki), 33 p.;
6. Dean Ferris (AUS, Yamaha), 31 p.;
7. Alexander Tonkov (RUS, Honda), 27 p.;
8. Jose Butron (ESP, KTM), 26 p.;
9. Glenn Coldenhoff (NED, KTM), 22 p.;
10. Mel Pocock (GBR, Yamaha), 21 p.;
MX2 World Championship standings after 10 of 17 rounds
1. Jeffrey Herlings (NED, KTM), 492 points;
2. Jordi Tixier (FRA, KTM), 363 p.;
3. Jose Butron (ESP, KTM), 311 p.;
4. Christophe Charlier (FRA, Yamaha), 306 p.;
5. Glenn Coldenhoff (NED, KTM), 282 p.;
6. Dean Ferris (AUS, Yamaha), 256 p.;
7. Jake Nicholls (GBR, KTM), 252 p.;
8. Alessandro Lupino (ITA, Kawasaki), 232 p.;
9. Max Anstie (GBR, Suzuki), 215 p.;
10. Mel Pocock (GBR, Yamaha), 179 p.;