Budds Creek Motocross Park
Mechanicsville

,

MD
Budds Creek
Lucas Oil AMA Pro Motocross Championship
Trey Canard's 2013 is judged by a different standard than most. Underlining his whole season, regardless of results, is his sheer enjoyment of just being able to race at all. That's an accomplishment in itself when you consider how badly he was injured last season. So while it gets tempting to wonder when Trey will make the next step and battled for race wins, those expectations are tempered by the fact that he wasn't even riding a year ago at this time. Coming back and scoring the occasional podium in a loaded 450 Class, like he did at Budds Creek, is pretty impressive.
Trey has handled the most important aspect during his 2013 comeback, which is just staying healthy and making the races. It's sad to say that his attendance has been spotty outdoors through the years, as evidenced that this weekend will somehow mark just his second-ever National at Southwick. Injuries kept him out in '08, '09, '11 and '12.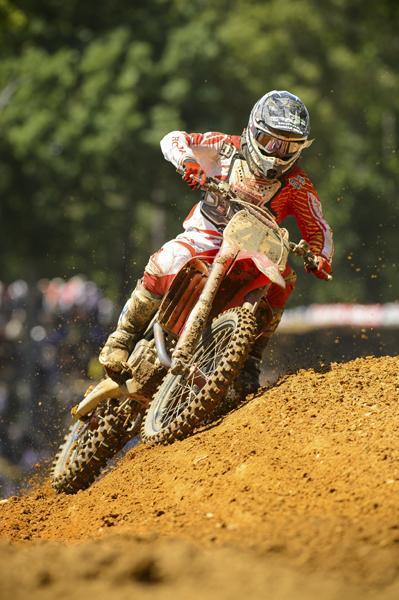 Canard is still new to the 450 Class outdoors, as he only had two races under his belt coming into the 2013 season.
Simon Cudby photo
"I've only raced there [Southwick] once at a National," said Canard after his motos at Budds. "It was a pretty good day. I had a bad second moto, but I won the first moto. It's always one of those tracks that you think about like Daytona: it's a legendary track and it's probably one of the more difficult tracks on the circuit. I'm excited, I just need the starts, and then hopefully I can push with the kind of intensity these guys have at the beginning of the moto."
Starts have done in Canard lately. He started the season getting off the gate well at Hangtown, and nearly grabbed a holeshot at Thunder Valley. Since then, he's been nowhere through the first turn, and that's making it harder for him to learn the pace and the style at the front of the 450 pack. And learning is what he needs to do, because he's actually quite new to this 450 National thing.
"It's a handful, for sure," says Trey of riding the bigger bike outdoors, something he had only done in two races before this season. "I think the difficult part is that the bikes, they react so differently. It reacts in a heavier way even though the weight isn't that much different. Also, the competition is more experienced. I think there's a level of maturity that isn't there in the Lites class. I think that's the biggest thing, these guys are so professional and mature. They have a lot of experience in winning races. That makes it tough, but that makes it fun. I'm so excited just to be out there. I haven't done it in what seems like forever, so I'm excited just to be back."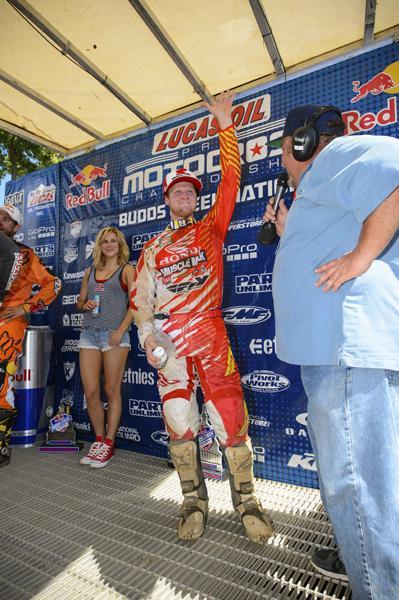 Canard scored his first podium of the season at Budds Creek.
Simon Cudby photo
Canard is notorious for being too hard on himself, but he started this season saying he'd be easier on himself and just find enjoyment from making it back to the races. Six months later, he's following through. Throughout the post-race press conference at Budds Creek, Canard uttered the words "I'm excited" nearly a dozen times. It's not just because he made the podium, it's because he's just happy to have put a string of injuries behind him and has recovered well enough to still be a factor. Along the way, he's learning the trade of 450 racing. Somewhere down the line, we might just throw away that underlining factor of Canard coming back from a big injury, and once again just see him as a guy that wins races.