Muddy Creek Raceway
Blountville

,

TN
Tennessee National (Muddy Creek)
Lucas Oil AMA Pro Motocross Championship
For the first time since 1997 Lucas Oil Pro Motocross returned to a starving Southeast fan base. The Built Ford Tough Tennessee National at Muddy Creek Raceway, just outside Bristol, played host to round three of the series. A massive crowd flooded the lush hillsides at the newly revamped raceway, which brought a new set of challenges along with it.
Through four 450 Class motos Monster Energy Kawasaki's Ryan Villopoto was a perfect four of four—with little sign of the streak disappearing soon. He had been challenged by the likes of Justin Barcia and Ryan Dungey, but has showed all season that he was the alpha male. But on a humid southern afternoon, Dungey put a halt to the streak with 3-1 moto scores, taking his first overall win of the season.
Jeff Stanton, Justin Barcia's long-time trainer, has spoken about the rookie having "boy strength" compared to the "man strength" of Villopoto and Dungey. In the first professional moto ever held at the esteemed venue it was Villopoto's "man strength" versus Barcia's "boy strength." Villopoto secured his first Motorcycle-Superstore.com holeshot of the season with Barcia and his teammate Trey Canard following. Defending 450 Class champion Dungey was buried on the start, putting himself in a hole he had a hard time digging out of.
Barcia actually passed Villopoto early, then Villopoto got him right back, leading to a great battle for the lead. Early on, Barcia would hold serve, keeping within a few bike lengths of the leader. But lap six provided the breaking point as Villopoto clipped off a two second advantage, leaving Barcia to battle for second.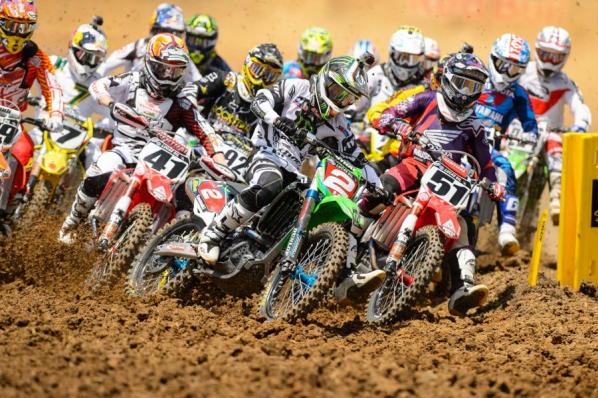 Villopoto started the day with the first 450 Motorcycle-Superstore.com Holeshot, but Barcia (51) quickly passed him to ignite a battle. Villopoto would repass him, and then pull away at the halfway mark.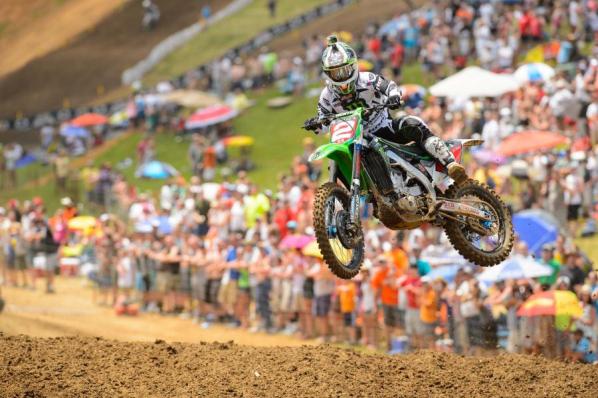 At the halfway mark, Villopoto put the hammer down and left Barcia behind.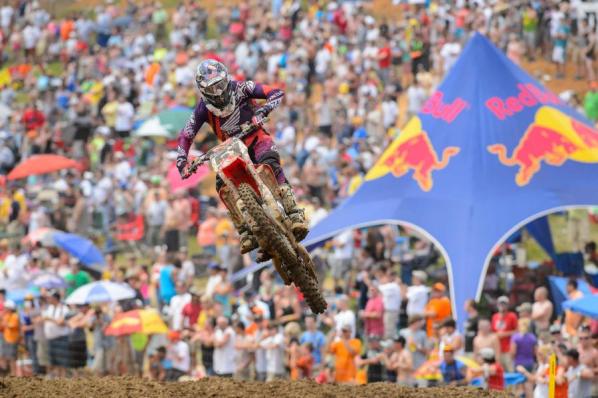 Barcia led early again in moto two. Villopoto then crashed while running second, giving the rookie a shot at his first-ever 450 overall win.
While RV was running away with his fifth consecutive moto win, Trey Canard was left picking his way through the pack after he carted huge in the straight away before the finish line. Canard was down for a few moments and then would have to go to the pits for repairs. He would remount and finish 29th.
Dungey methodically dug himself out of an early hole, putting moves on Mike Alessi and then James Stewart to finish third. Clement Desalle made a furious late charge to take fifth with Alessi, Josh Grant—who had to recover from a bad start—Phil Nicoletti, Ryan Sipes and Justin Brayton rounding out the top ten.
Villopoto, seeking his sixth consecutive moto win, was joined at the hip with Dungey and Barcia in the second moto, but his win streak was put in jeopardy following an early crash that sent him stumbling back to 16th. With Villopoto buried, it left Barcia and Dungey to duke it out for the overall. Dungey was strategic early, hanging near and waiting for a mistake. When that mistake never came, Dungey, feeling the pressure, dug down and made a pass stick late in the race. Dungey would cruise from there, holding off Barcia for the win and ending Villopoto's win streak at five motos.
Meanwhile Villopoto was working his way through the pack at a rapid pace, eventually getting to third before another crash set him back to fifth. RV then charged again, tracking Alessi down for fourth and pushing Canard to the final corner for third. Alessi, Stewart, Kevin Strijbos, Jake Weimer, Desalle and Andrew Short would round off the top ten.
Dungey's second moto win matched with a third in the first moto would edge Barcia's 2-2 scores for the overall. Villopoto (1-4), Stewart (4-6), Alessi (6-5), Desalle (5-9), Strijbos (14-7), Short (12-10), Canard (13-11) and Tickle (13-11) made up the top ten overall.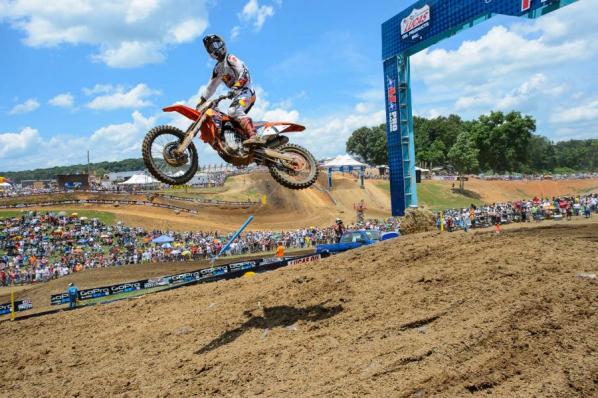 In moto two, Dungey had to work past Barcia to take the lead. From there, he was able to nothc the overall via 3-1 scores.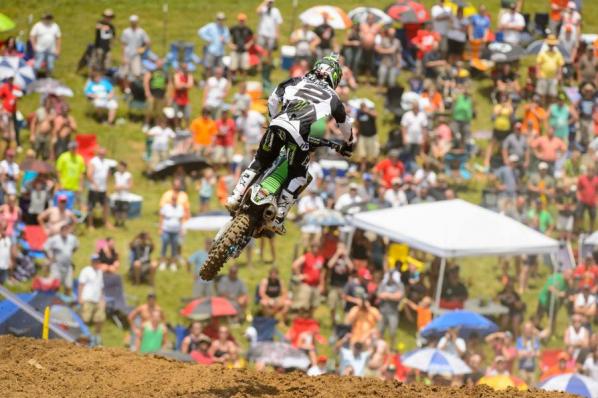 Villopoto raged back from 16th to fourth, but then crashed again to drop to fifth. He would regain fourth by the finish.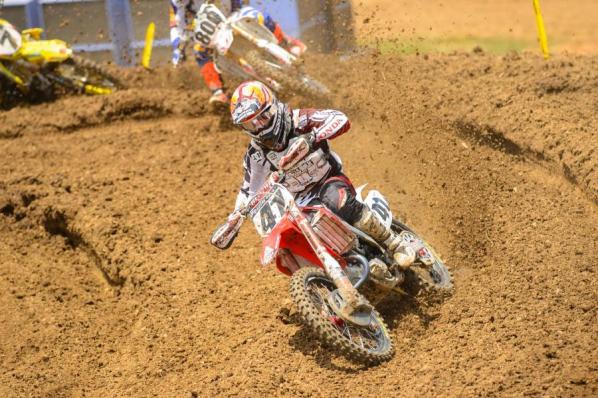 Canard bounced back from a hard crash in moto one to card third in moto two.
The 250 Class offered up another intense day of racing, with a third overall winner in as many rounds emerging. Marvin Musquin secured his second overall win in his American motocross career at the inaugural Tennessee National, and like Unadilla a season ago, the site of his first win, the Frenchman did it without winning a moto.
Musquin's Red Bull KTM teammate was on fire early in the day, blistering the field in practice but he failed to grab the Motorcyle-Superstore.com holeshot in moto one. That honor belonged to GEICO Honda's Justin Bogle, who is beginning to return to form after missing all of Monster Energy Supercross with injury. Bogle was joined up front by teammate Zach Osborne, who briefly took the lead before being re-passed by Bogle, and MyPlash/Star Racing Yamaha rookie hotshot Cooper Webb. But Bogle was unable to hold the lead, crashing before making it through the first lap. The lead was inherited by Webb—the first time the rookie has lead in Lucas Oil Pro Motocross—and he held the lead for the first few laps.
But Webb soon received heavy pressure from points leader Ken Roczen, who made quick work of the rookie. Webb's work was not done as he still had the likes of Musquin, Blake Baggett, Zach Osborne, Jason Anderson and Eli Tomac to deal with. The young gun held off the barrage of Osborne and Anderson, but succumbed to the pressure of Baggett and Tomac.
With the battle ahead dispersing, and the mid-pack charge of Osborne fading after a late crash, Roczen cruised to his fourth moto win on the young season. Musquin would take second with Baggett, Tomac, Webb, Osborne, Anderson, Kyle Cunningham, Cole Seely and Joey Savatgy closing out the top ten.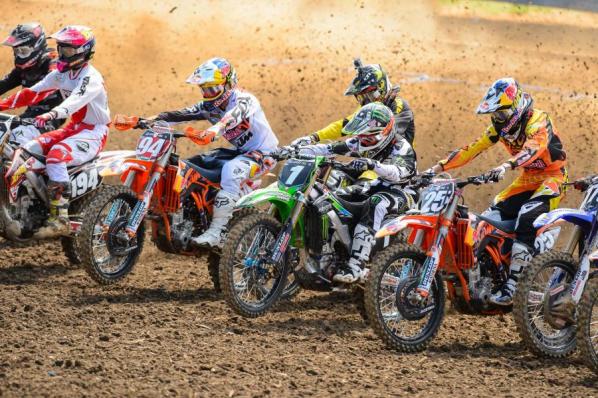 The 250 class provided great racing as always.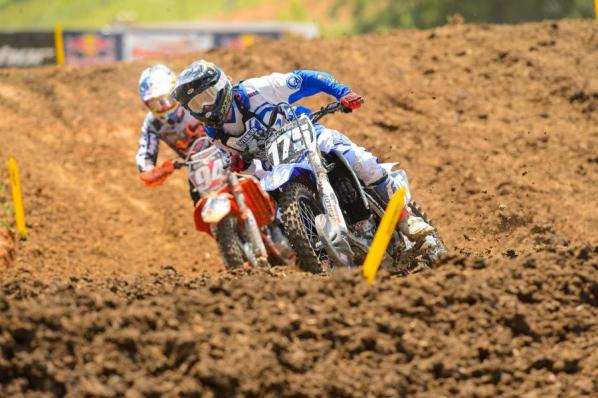 In moto one, Cooper Webb  made his way around GEICO Honda men Zach Osborne and Justin Bogle to take the lead on his MyPlash/Star Yamaha.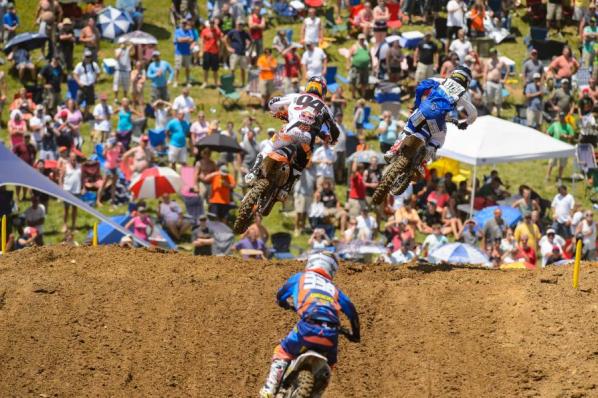 But Ken Roczen (94) was just too much, eventually getting around the rookie for the lead.
Cudby photos
Just like last week at the Rockwell Watches Thunder Valley National, the second moto belonged to Eli Tomac. The GEICO Honda rider used an open track after grabbing the Motorcyle-Superstore.com holeshot and crushed the field to the tune of seventeen seconds over Musquin.
With Tomac out of sight attention quickly turned to Roczen, who was dealing with a second consecutive bad start. Roczen pushed past the GEICO Honda duo of Osborne and Bogle and was looking to make a charge at Baggett who had made his way past earlier.
Roczen quickly moved to the rear fender of Baggett, and using some creative inside—and outside—lines, got past the defending champion. The overall was Roczen's to lose at that point and a late mistake did exactly that. With Baggett still on his heels, Roczen was dealing with traffic on the downhill after The Bomber triple jump, and was unable to take the line he had been using. This threw him off just enough to send off the track, losing his position to Baggett, and the overall in the process.
The GEICO duo of Osborne and Bogle finished fifth and sixth, respectively, in the moto, with Anderson, Martin Davalos, Blake Wharton and Jeremy Martin rounding out the top ten.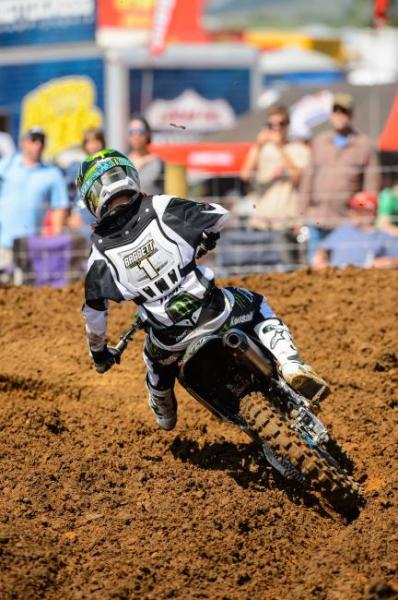 Blake Baggett's third in moto two prevented Roczen from getting the overall win.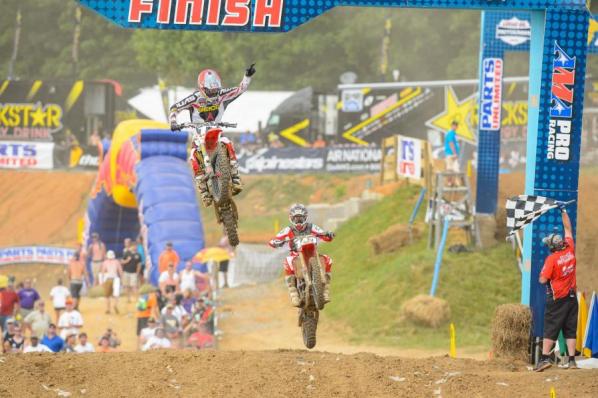 And while Tomac dominated the second moto, his fourth from moto one prevented him from grabbing the win, too.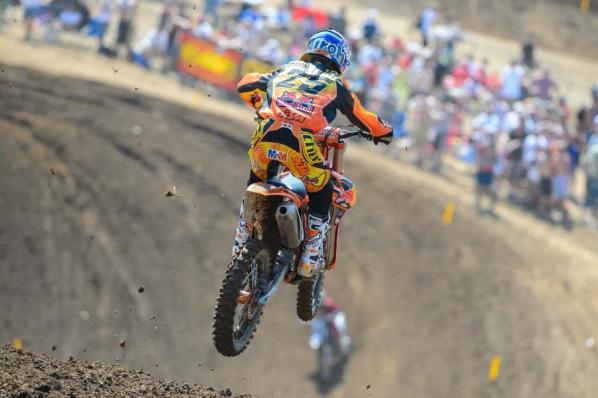 It all led Marvin Musquin to the overall victory via 2-2 scores.
Cudby Photos
It was Musquin, with solid scores of (2-2) who grabbed the win, edging the scores of Tomac (4-1) and Roczen (1-4). Baggett (3-3), Osborne (6-5), Anderson (7-7), Bogle (12-6), Cunningham (8-11), Wharton (11-9), and Webb (5-15) finished out the top ten overall.
The Lucas Oil Pro Motocross Championship heads to High Point Raceway in one weeks time.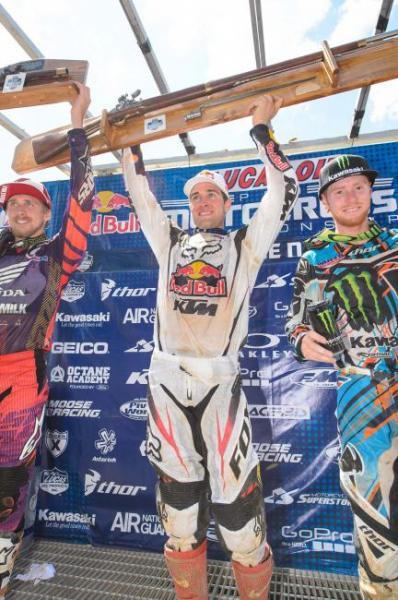 450 Overall Results
1. Ryan Dungey
2. Justin Barcia
3. Ryan Villopoto
4. James Stewart
5. Mike Alessi
6. Clement Desalle
7. Kevin Strijbos
8. Andrew Short
9. Trey Canard
10. Broc Tickle
11. Jake Weimer
12. Chad Reed
13. Josh Grant
14. Phil Nicoletti
15. Ryan Sipes
16. Justin Brayton
17. Tyla Rattray
18. Malcolm Stewart
19. Les Smith
20. Vince Friese
21. Nick Wey
22. Michael Byrne
23. Ben LaMay
24. Fredrik Noren
25. Broc Schmelyun
26. Chris Blose
27. Vann Martin
28. Heath Harrison
29. Travis Sewell
30. Seth Rarick
31. Ronnie Stewart
32. Austin Howell
33. Derek Anderson
34. Tevin Tapia
35. Robert Lind
36. Jeff Gibson
37. Michael Stryker
38. Dusty Pipes
39. Cameron Stone
40. Robby Marshall
450 Moto 1 Results
Ryan Villopoto
Justin Barcia
Ryan Dungey
James Stewart
Clement Desalle
Mike Alessi
Josh Grant
Phil Nicoletti
Ryan Sipes
Justin Brayton
Tyla Rattray
Andrew Short
Broc Tickle
Kevin Strijbos
Chad Reed
Michael Byrne
Les Smith
Jake Weimer
Nick Wey
Broc Schmelyun
450 Moto 2 Results
Ryan Dungey
Justin Barcia
Trey Canard
Ryan Villopoto
Mike Alessi
James Stewart
Kevin Strijbos
Jake Weimer
Clement Desalle
Andrew Short
Broc Tickle
Malcolm Stewart
Chad Reed
Vince Friese
Ben LaMay
Fredrik Noren
Nick Wey
Les Smith
Broc Schmelyun
Michael Byrne
450 Class Championship Standings
1. Ryan Villopoto, Seattle, Wash., Kawasaki, 143
2. Ryan Dungey, Belle Plaine, Minn., KTM, 133
3. Justin Barcia, Pinetta, Fla., Honda, 114
4. James Stewart, Haines City, Fla., Suzuki, 99
5. Trey Canard, Oklahoma City, Okla., Honda, 90
6. Mike Alessi, Victorville, Calif., Suzuki, 85
7. Tyla Rattray, Wildomar, Calif., Kawasaki, 59
8. Clement Desalle, Belgium, Suzuki, 58
9. Andrew Short, Smithville, Texas, KTM, 54
10. Ryan Sipes, Elizabethtown, Ky., Suzuki, 49
250 Overall Results
1. Marvin Musquin
2. Eli Tomac
3. Ken Roczen
4. Blake Baggett
5. Zach Osborne
6. Jason Anderson
7. Justin Bogle
8. Kyle Cunningham
9. Blake Wharton
10. Cooper Webb
11. Martin Davalos
12. Joseph Savatgy
13. Cole Seely
14. Justin Hill
15. Jeremy Martin
16. Alex Martin
17. Darryn Durham
18. Jackson Richardson
19. Dillan Epstein
20. Brady Kiesel
21. Nico Izzi
22. Kyle Peters
23. Jesse Wentland
24. Jacob Baumert
25. Mitchell Oldenburg
26. Lance Vincent
27. Ryan Zimmer
28. Daniel Herrlein
29. Todd Krieg
30. Justin Starling
31. Joseph Dalzell
32. Johnny Moore
33. Luke Davie
34. Dakota Kessler
35. Ignacio Pazos
36. Daniel Lippman
37. Cody Woodworth
38. Justin Freund
39. Sean Hackley, Jr.
40. Drew Gossleaar
250 Moto 1 Results

Ken Roczen
Marvin Musquin
Blake Baggett
Eli Tomac
Cooper Webb
Zach Osborne
Jason Anderson
Kyle Cunningham
Cole Seely
Joey Savatgy
Blake Wharton
Justin Bogle
Martin Davalos
Darryn Durham
Alex Martin
Justin Hill
Dillan Epstein
Nico Izzi
Jackson Richardson
Kyle Peters
250 Moto 2 Results

1. Eli Tomac
2. Marvin Musquin
3. Blake bagget
4. Ken Roczen
5. Zach Osborne
6. Justin Bogle
7. Jason Anderson
8. Martin Davalos
9. Blake Wharton
10. Jeremy Martin
11. Kyle Cunningham
12. Joey Savatgy
13. Cole Seely
14. Justin Hill
15. Cooper Webb
16. Alex Martin
17. Darryn Durham
18. Brady Kiesel
19. Jackson Richardson
20. Jess Wentlan
250 Class Championship Standings
1. Ken Roczen, Apolda, Germany, KTM, 138
2. Eli Tomac, Cortez, Colo., Honda, 132
3. Marvin Musquin, Corona, Calif., KTM, 116
4. Blake Baggett, Grand Terrace, Calif., Kawasaki, 110
5. Zach Osborne, Abingdon, Va., Honda, 96
6. Jason Anderson, Edgewood, N.M., Suzuki, 77
7. Cooper Webb, Morehead City, N.C., Yamaha, 65
8. Kyle Cunningham, Aledo, Texas, Yamaha, 62
9. Justin Bogle, Cushing, Okla., Honda, 61
10. Jeremy Martin, Millville, Minn., Yamaha, 61