Lakewood, CO
Thunder Valley
Lucas Oil AMA Pro Motocross Championship
For a rider once called COW—Crash Or Win—James Stewart was smiling pretty brightly after a pair of 3-3 finishes at the Lucas Oil Pro Motocross Championship opener at Hangtown. With the bike setup he and his Yoshimura Suzuki team had, and the time they had to get ready for the opener, third was all they expected. Remember, Stewart's biggest fault over the last few seasons has been the inability to stay up, stay healthy and finish a series (just think that one year ago at this time he was 4-0 in the 450 Class, only for the bottom to drop out in the fifth moto). He wanted to take the long game this time.
As for that bike setup, Stewart's team manager, Mike Webb, said they learned plenty at Hangtown, and their biggest goal was to improve stability. The cure? It might come from a steering dampener the team placed on the bike. With James' over-the-front riding style, stability is paramount, but you can't just rake the front wheel out to find it, because then you compromise front end traction, which could lead to wash outs and crashes. So Suzuki tried a different route, hoping the dampener can give the stability they need while maintaining grip for corners. Webb says Stewart's arms got tight pretty quickly at Hangtown, which made it hard to push. This could be a cure.
So they'll play that long game, and try to score as many points as possible until they feel 100 percent with their setup. Maybe then they can race for wins. But unfortunately, the consistency battle quickly dried up, too, thanks to one crash at the start of the first moto. And this one had nothing to do with James or his bike setup.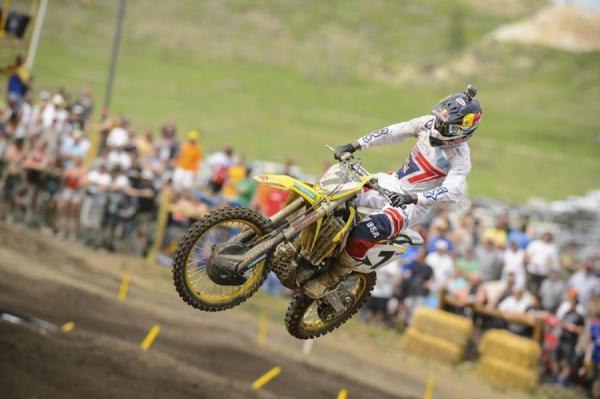 A 15th in moto one at Thunder Valley has put Stewart in a big points hole.
Simon Cudby photo
Simply, Jake Weimer went down in a turn, and Stewart, right behind him, had nowhere to go and crashed into the downed Kawasaki KX450F. Yes, the chances of being a victim always go up when you don't start up front, and this is just something that happens in racing.
The tough part is, this year's 450 field is exceptionally deep, and charges from the 30s to the top ten are not easy. The lap charts show Stewart 11th on lap one, and then 38th on lap two, after the crash. Then came the steady move forward—36th, 33rd, 29th, finally ending the moto in 15th. For all that, he scored just six points, 19 less than race winner Ryan Villopoto. Even a third would have resulted in 14 more points.
He minimized some damage with third in moto two, but now the points hole is much deeper. Stewart is fifth in points, a whopping 34 behind Ryan Villopoto already. If he can't get on to RV's pace, the point is essentially moot. But if he does, this race could loom large.
Of course, Stewart had a perfect score at this time a year ago, and that didn't get him anywhere as far as a title goes. That time, a crash in Colorado essentially ended his season. Sometimes minimizing the damage is a victory in itself.