Ken Roczen accomplished two things on Saturday night in Las Vegas: Not only did he became KTM's first Monster Energy Supercross Champion, he also became the first German to win a supercross title (though the legendary Adolf Weil won the Trans-AMA title way back in 1973). K-Roc joins a long list of imports who have won SX championships, going all the way back to the very first AMA Supercross Champion....
PIERRE KARSMAKERS: The first man to claim what was then called the Yamaha Super Series Championship was Pierre Karsmakers, the Flying Dutchman of 1974. Karsmakers actually landed in the States in 1973, after earning a racer/coach gig with Yamaha through good rides in the previous fall's Trans-AMA tour. He won the Daytona race that year, but it was considered a national; he won Daytona again in 1974, by then a standalone series, and ended up atop the points.
JEAN-MICHEL BAYLE: Although a few guys came to the States after Karsmakers in pursuit of success (most notably Japan's Koji Masuda, Australia's Jeff Leisk, and Canada's Ross Pederson), but it wasn't until the arrival of Jean-Michel Bayle that another foreign rider would win a supercross title. Bayle was the one who really got the ball rolling for international talent to try their hand at learning American supercross, and no one ever did it as well as the great JMB did in winning the 1991 Supercross Championship.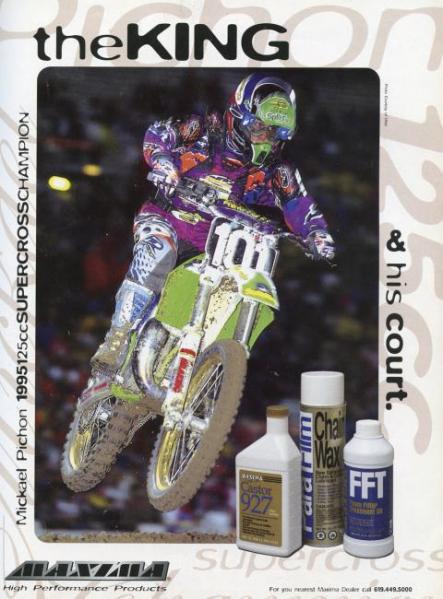 Pichon won two East Region 125 Supercross titles during his career.
MICKAEL PICHON: After Bayle, the floodgates seemed to open from France, and first to make a real impact in his wake was Mickael Pichon. He won his first SX as a Cadre Rouge Honda rider with help here from Pro Circuit. He was then signed a full deal and won two East Region 125 Supercross crowns. Pichon got hurt right when he started his 250SX career, and then he ended up back in Europe winning world titles. It would have been great to see him race SX in his prime....
ERNESTO FONSECA: "Lobito" started showing up on the U.S. amateur circuit with help from the Buffalo brothers at BSY Yamaha in Florida, traveling across the Gulf of Mexico from his home in Costa Rica to race against better competition. By the time he graduated from Loretta Lynn's in 1998 he had a Yamaha of Troy ride, but he wasn't exactly as hyped as guys like Travis Pastrana and James Stewart were at the time. Yet when Fonseca jumped into supercross racing, he immediately made a name for himself and a place in the record books: He's the only rider in Monster Energy Supercross history to win the first four races he entered. Fonseca would take the East Region in 1999 on a YZ125, and then two years later win the West on a YZ250F, making him the first man to win a major title on Yamaha's 250 thumper. And he beat a Frenchman, Rodrig Thain, in doing so.
STEPHANE RONCADA: RonRon came through the same Yamaha of Troy pipeline as Fonseca, though he actually came by way of France—and he was there back when it was Honda of Troy, having caught the late Phil Alderton's eye before he moved his team from red to blue. Roncada won a hotly contested East Region battle in 2000 with Travis Pastrana, winning by four points. But Pastrana got even by winning the outdoor title by two!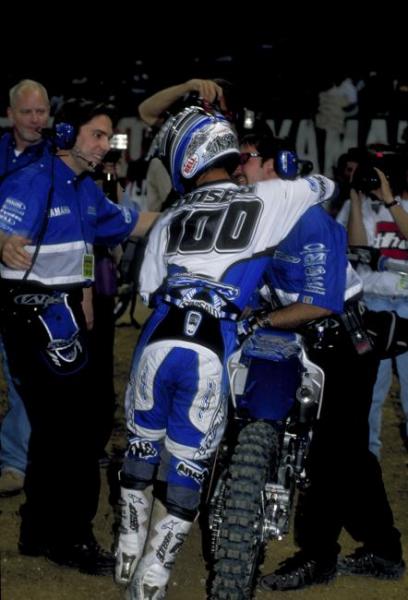 Fonseca won two SX titles during his career.
Racer X Archives photo
CHAD REED: The most successful moto immigrant of all is Chad Reed, the two-time #1 supercross rider in the world, having won the title in 2004 and '08. The Australian also won the 2002 East Region 125 Championship while riding for Yamaha of Troy. Reed came within maybe a lap of sweeping that whole series, held up only by Branden Jesseman's win at the last round in the Pontiac Silverdome. Reed is still on the circuit, running his own TwoTwo Motorsports Honda operation, with direct factory support from Team Honda.
GRANT LANGSTON: Every list seems to include Grant Langston, the globetrotting South African who has a 125cc World MX Championship, an AMA 125cc National MX Championship, titles in both the East and West Regions of 250 Supercross, and a 450 National Motocross Championship from 2007. Incredibly, Langston has always been on such a move that he rarely got to be on a motorcycle with a #1 plate attached! Even after he won the outdoor title in '07, Grant had to soon retire due to a problem with his eye caused by a bout with cancer. He is now 100 percent healthy, doing some broadcast work for the Amsoil Arenacross Series.
BEN TOWNLEY: One of the hardest-working motocrossers of his generation, New Zealand's Ben Townley landed on these shores in 2006 to learn supercross, only to injure himself and miss the whole series. He then DNF'd the first round of 2007's East Region Supercross Championship, digging himself a deep hole on the #101 Monster Energy/Pro Circuit Kawasaki. But BT101 persevered, using the same skills and work ethic that led him to an MX2 World Championship in Europe to lock down the title, edging Canada's Darcy Lange. Unfortunately, "Townley Hurt" became a frequent headline on this site and many others, and Ben began a slow descent out of motocross. Still, when he was healthy, he was a badass on any track, on any bike.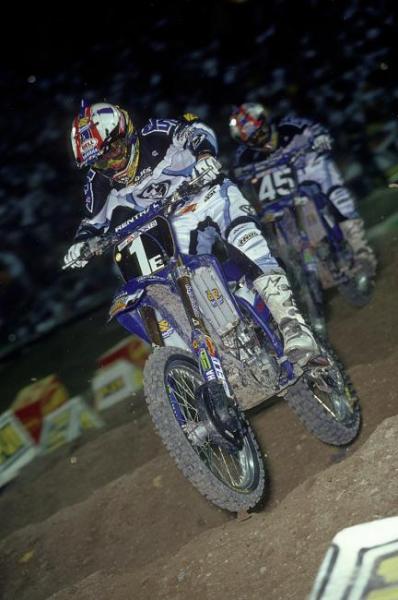 Reed has three SX titles to his names.
Racer X Archives photo
CHRISTOPHE POURCEL: We always thought of Jean-Michel Bayle as the most enigmatic of Frenchmen, even more so than Mickael Pichon, but then along came Christophe Pourcel to really set the standard for puzzling and fast. Pourcel was also a world champ before he came to the States, and he ended up winning a pair of East Region Supercross titles and twelve main events for Monster Energy/Pro Circuit Kawasaki. Then things just didn't work out between CP377 and … well, any U.S.-based factory 450 teams, in large part because of the recession and smaller budgets. He's drifted around the past couple of years, and we keep hoping for a full-blown comeback, but right now he's just riding at his home in Florida, doing some teaching, and waiting for the right situation to come along. We think.
KEN ROCZEN: And that brings us back to the top of the list and the most recent international champion, Ken Roczen. He was nearly joined on this list by his friend and teammate Marvin Musquin, who came about a bike length away from winning the East Region. Roczen wore the #1W plate at the East-West Shootout, which he also won, and then said he was glad because that was his last race on a 250 in supercross. He's got the Lucas Oil 250 Pro Motocross Championship first, of course, then we will likely see this kid on a 450 come January 4, 2014 at Anaheim.